MLB DFS: DraftKings and FanDuel Pitching 6/24
Published
5 months ago
on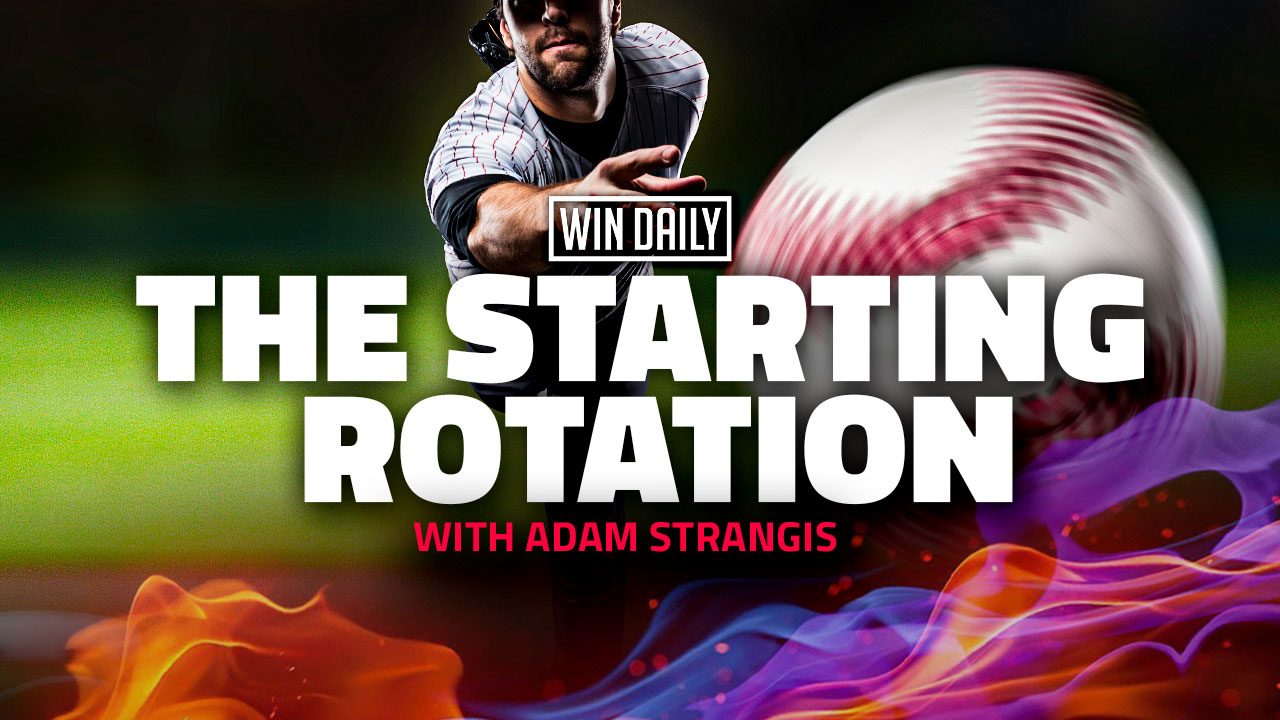 MLB DFS: DraftKings and FanDuel Pitching 6/24
Friday beings another massive 14-game slate with a set of pitching that has some good teams up at the top and then it tapers off significantly. The top guy tonight may be a surprise given some names but he is my clear favorite and finding other pitchers could be the challenge. Let's figure out the main target up top and talk about who else we like in the MLB DFS: DraftKings and FanDuel Pitching 6/24!
Aces
Aaron Nola
Through the first 14 starts of the year, Nola is sixth n the league in total strikeouts at 99 and that has equated to a 28.7% K rate because only Sandy Alcantara has pitched more innings than the 89.2 that Nolas has thrown. The xFIp is 2.89 and the ground ball rate is over 45% so a lot of his profile really makes sense and we know he has upside as evidenced by his 31 DK points in the last start. The four-seam/curve/sinker is the man mix and the sinker has been impressive with 24 strikeouts on just a 9.8% whiff rate but the curve is the strike-out star with a 40.2% whiff rate and 39 strikeouts. San Diego is 25th against the curve this season and the status of Manny Machado is still up in the air. He's yet to hit the IL but he also hasn't played since a horrible-looking ankle sprain a few days ago. Even with Machado, the Padres are 20th in wOBA, 25th in ISO, and 19th in OPS to go along with a 22.2% K rate when facing righties. Each side of the plate has a K rate over 27.5% and Nola is going to be my main Ace tier pitcher tonight.
Luis Severino
It's the second straight very difficult matchup for Severino but he fared well until the very end against the Jays and this is another lineup that could set up well for his strengths. It also didn't help that the bullpen allowed two runs against him so that changed his start drastically. There is no denying that Houston is the tougher matchup than the Padres and they rank fifth in OPS, third in ISO, fifth in wOBA and wRC+, and then they only strike out 20.4% of the time. The path for Severino to succeed is to avoid the lefties (a difficult task for any pitcher against Yordan Alvarez, Kyle Tucker, and Michael Brantley) because he's been ridiculously good when facing a righty. Severino got nine Jays and his K rate when facing a righty is 37.5%, the xFIP is 2.54, and the wOBA is just .269. His changeup and slider both have whiff rates over 32% and they have combined for 53 strikeouts but he generally throws them more when facing a righty, especially the slider. He's expensive but he can dominate the six righties he should face and make it worthwhile.
Alek Manoah
Normally, seeing four lefties or more is an avoid for Manoah because his splits can be difficult to work around. Lefties really are still giving him issues with a .315 wOBA, a 4.67 xFIP, and just a 15.2% K rate but Milwaukee is up to seventh in K rate against righties at 23.8%. and even though they have the fourth-highest ISO, Manoah does not allow a lot of home runs at just a 0.72 HR/9 even against the left side. When he sees a righty, the K rate jumps to 31% and the FIP is 2.00 and he can thank his slider with a 33.1% whiff rate and the wOBA is under .210. Manoah is in the 98th percentile in hard-hit rate which is wildly impressive and he gets a swing-and-a-miss 11.4% of the time. Milwaukee is sixth against the slider so there are reasons it could be kind of a poor start for Manoah but I think he has a nice bounce-back.
Honorable Mention
To me, Justin Verlander is the clear third player here and at least in GPP, I will almost surely be underweight on him. Sure, it's Verlander in a big game and he can still pitch extremely well but there are certainly some hangups here. Perhaps the largest one is the K rate dips under 24% against the right side of the plate and the wOBA is higher at .266. I believe both the other players have an easier path to pay off a five-figure salary and Verlander has been up and down in the last five starts.
Michael Kopech is another player I struggle with because he is capable of monster scores, having posted two 30-point games in the past five starts against the Yankees and Dodgers. His other three starts have combined for one exit after 13 pitches and a combined 5.2 DK n the other two. A big red flag is his 2.38 ERA continues to be way out of whack with the 4.54 xFIP. The fly-ball rate has climbed above 53% at this point as well and the xFIP is almost 5.00 when he's pitching at home with a K rate that dips under 24%. He would be nothing more than a 20-max play for me with the range of outcomes he's displayed.
Mid-Range
Jeffery Springs
Yesterday say lefty Justin Steele have some big success against this Bucco lineup until his defense helped extend his pitch count and he stayed in the game just a bit too long. Springs has over 20 DK point potential here with a 26.8% K rate, a 0.98 WHIP, a 42% ground ball rate, and a 13.7% swinging-strike rate. The xFIP is 3.25 but the FIP drops under 3.00 and the ERA is still just 2.00, the 54 innings pitched have been very successful. His changeup remains his best weapon with 31 strikeouts and a whiff rate over 37%, although the Pirates are 11th against it. It didn't work out the last time for Springs but he's been excellent against the right side of the plate with a .239 wOBA, a 0.43 HR/9, a 28.8% K rate, a 2.16 FIP, and a 2.87 xFIP. It is interesting to see a 2.31 HR/9 against the left side of the plate which opens up Oneil Cruz at lower ownership than we've seen him since the call-up. Even then, Springs has some strong upside here.
Merrill Kelly
I suspect that Kelly could be the chalk SP2 on DK tonight, which is pretty understandable. We've been hammering the Tigers offense all season and even in the past two weeks, they've been in the bottom three of our offensive categories although the K rate has dropped to just 20.6%, a welcome shift for them. It helps that Kelly doesn't see any major splits as even the left side is only at a 0.56 HR/9, a 19.7% K rate, and a 3.57 FIP with a .296 wOBA. He's still mixing the pitches well with the four-seam being the most-used pitch at 30.8% although that does have a .349 wOBA allowed. Every other pitch is no higher than .317 and that's the sinker, which is the least-used pitch. The change/cutter/curve mix makes up about 55% of the mix and the highest wOBA is .290 and Kelly has a 4.09 xFIP with a hard-hit rate of 29.7%. There is nothing spectacular with Kelly but he's a crafty veteran pitcher that can get it done in this spot.
Honorable Mention
There is a small case for Dylan Bundy as he's been way better at home results-wise with a 2.29 ERA but there are issues. The xFIP at home is higher than on the road, which would lead us to think some bad things are on the way for him. Both sides of the plate have at least a .324 wOBA and while Colorado is generally one of the worst offenses in the league on the road against righties, I'm not sure I have the guts to click on Bundy.
Punt Range
Mitch Keller
This does not appear to be the slate to dip into the punt range and don't get this twisted, I'm not going all-in on Keller or pretending there isn't risk. However, he's been trending in a positive direction across the past seven starts with 33 IP, 26 K's, 16 walks, and a 1.36 WHIP. Now, that's not anything special but he's under $7,000 and Tampa is fourth in K rate against the right side of the plate. They're also 28th in OBP and wOBA, 27th in OBP, 19th in ISO, and just 20th in wRC+. The seasonal stats look pretty rough so you're banking on the improvement as of late but even then, Keller has been better against the left side with a .318 wOBA, 4.16 FIP, and a 0.61 HR/9. This could all end horribly but he does open up some very interesting builds as well.
Rony Garcia
Let's continue to get nuts and potentially capitalize on Garcia being due for some positive regression. His 4.97 ERA does not match up with a 3.47 xFIP and the 17.4% HR/FB rate is very high. That tends to be an issue when you're giving up a 46% fly-ball rate and a 39% hard-hit rate but Garcia also has a 27.3% K rate. Arizona went through a spurt where they were hot but that's faded over the past month as they're back in the bottom 10 in OPS, wOBA, wRC+, and the K rate is still 23.8%. There is still some massive risk because one area where the D-backs are still succeeding is ISO where they rank 13th but Garcia also has favorable splits when facing lefties. They only have a .278 wOBA, a .197 average, a 29.7% K rate, and a WHIP under 1.00. The curve has a 38.5% whiff rate and 19 strikeouts while the four-seam has 17 while Arizona is 27th against the curve. They do hit the fastball better at 15th but if you get the 18.5 DK that Garcia scored on the last slate, you're going to be in great shape.
Missed The Cut
Nick Pivetta – Missed the Cut might be a bit harsh because he's pitched extremely well this season and he could again. However, now we're talking about Pivetta at just under $10,000 and I'm just still not buying it. Cleveland has the best K rate in baseball against righties at 17.9% and the xFIP against lefties for Pivetta is 4.54 with just a 22.7% K rate. I just don't see how he's paying off the salary now.
Cole Irvin – The K rate is just 16.5% and the xFIP is 4.35, which is not exactly what we're looking for but the Royals can struggle pretty badly against lefties and he has a shot for 18 DK. I just normally don't try and get behind these styles of pitchers because at least Keller and Garcia have more tangible upside.
Stacks
White Sox
Cardinals
Twins
Rangers
Blue Jays
Nationals
Phillies
Thank you for reading my MLB DFS: DraftKings and FanDuel Pitching 6/24 and make sure you follow me on Twitter at @bucn4life! Be sure to sign up for an ALL ACCESS GOLD ACCOUNT account here at Win Daily Sports. Gain access to our Projection Models and jump into our Discord where we will have our experts talking plays across every sport and slate!