MLB DFS: DraftKings and FanDuel Pitching 6/22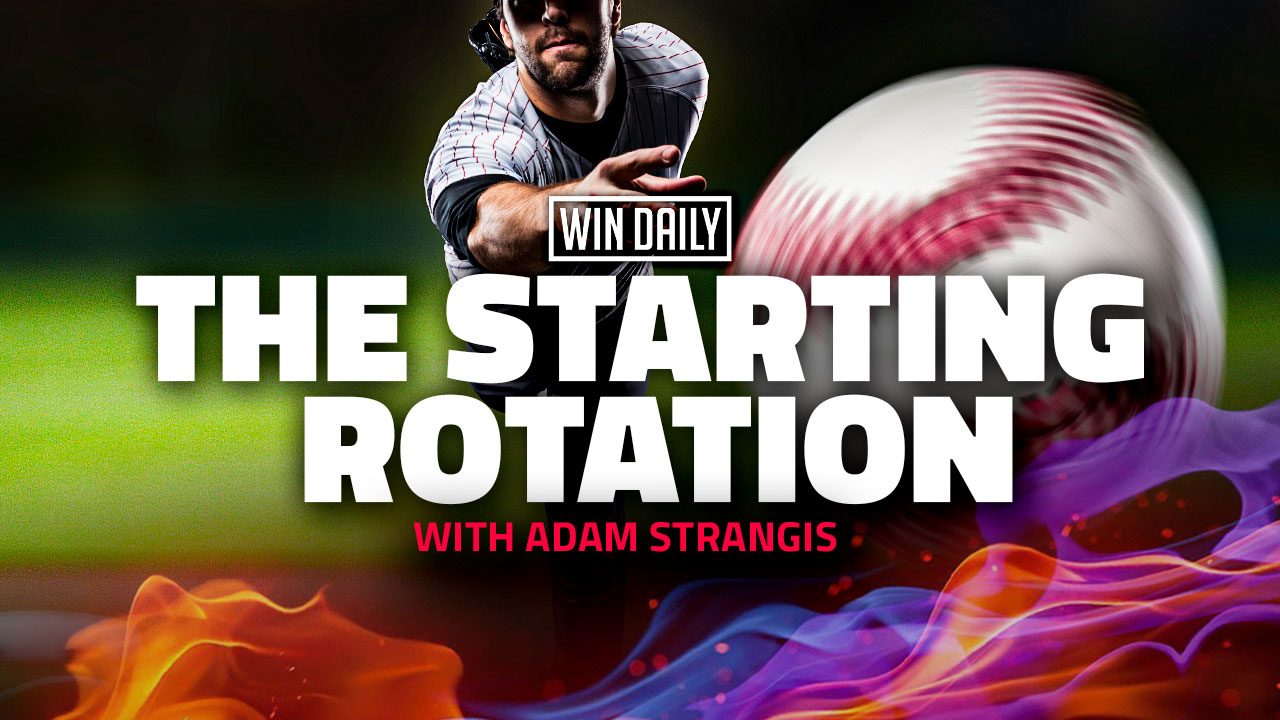 Wednesday has nine games on the main slate and the pitching options are serviceable, if not spectacular. There are a couple of bigger names but the matchups aren't exactly the most appealing for the most part and I think this slate has an enormous range of outcomes tonight as far as pitching. Let's talk about him and others in the MLB DFS: DraftKings and FanDuel Pitching 6/22 to figure out who we like and why!
Aces
Carlos Rodon
As I mentioned, the Ace pitchers didn't get an easy draw and that includes Rodon but he's reminded us of his upside of the past couple of starts and Atlanta does still strike out at a 23.8% clip when facing a lefty. The Braves are also in the top three in wOBA, wRC+, ISO, and OPS when facing a lefty so this is far from an easy matchup. Rodon has generated a 30.5% K rate to go along with a 3.20 xFIP and 13.4% swinging-strike rate, but that brings us to another concern. For one, the SwStr% is down 1.5% from last year and a big reason for that is the fastball usage. Rodon is throwing it more than last season by over 4% and the wOBA has climbed to .291 from .264. Atalanta leads the majors against fastballs this year as well and Rodon has been worse on the road with a 3.83 xFIP and 23.9% K rate. Despite missing Ozzie Albies, this might be a better spot to use Rodon as a GPP option and not in cash at the salary.
Charlie Morton
You pretty much have to throw away the seasonal stats for Morton because the season has been ugly, but his past three starts in June have produced MUCH better results. The wOBA has fallen under .300, the K rate has jumped to 39.2%, and the xFIP is 1.96 compared to the 4.00 ERA. Lefties have been an issue but Morton pulled this last year where he suddenly just had everything clicking. One of the big changes has been his curveball has been out of the negative rating in the past three starts and in two of them, he threw it over 35% of the time. He's going to need it because the Giants are seventh against the curve. Morton is pricey but his last three starts beckon at what he looks to be capable of even still, so he's on the table and I'll be interested to see what the field does with him.
Mid-Range
Sonny Gray
We've yet to find an easy matchup and Gray doesn't end that streak. The Guardians have the best K rate when facing a righty in the league and they've dropped under 18%, the only team to do so. They're also 13th in OBP and OPS while they rank 10th in wRC+. Having said that, Gray has been excellent this season with a 2.09 ERA, a 3.13 xFIP, and a 2.74 FIP. His K rate has come down a bit but we're still talking about a 27.8% mark with a 9.7% swinging-strike rate, and his called strikes are doing a lot of lifting. That is at 20.9% and speaks to his sinker that has 24 strikeouts (no pitch has more than eight) despite the 18.8% whiff rate. Another thing Gray has going for him in this matchup is the .213 wOBA when facing a lefty to go along with a 2.13 FIP and a 2.91 xFIP. He doesn't walk anyone at a 3.2% rate so he sets up roughly about as well as you can against the Guardians lineup.
Shohei Ohtani
I'm assuming that he's going to be popular after another 26 DK points in his last start and the pitching profile looks very strong. The xFIP is 2.84, the K rate is 31.3% and a 14.6% swinging-strike rate. That would be the best mark Ohtani has ever put up past the rookie season that only covered 51.2 innings so he's already over 60 this season. His slider/splitter/curve mix all have whiff rates over 40% and they have totaled 55 strikeouts out of 87. The Royals have hit 21% when facing righties for the K rate and even though the wOBA when facing a lefty is .314, the BABIP is .329, the K rate is over 30%, and the xFIP is 2.90. He can be inconsistent but the profile overall doesn't offer anything to really pick at here and he might be my favorite pick of the night.
Honorable Mention
I have a blind spot for Triston McKenzie because everything yells that he shouldn't be producing like this. The xFIP is 4.45 compared to a 2.96 ERA and that's with a 1.41 HR/9 already. The fly-ball rate is 54.5% and that's always going to be tough to survive a full season with, especially when you're only sporting a 22.4% K rate. It's scarier for McKenzie tonight from the splits perspective as well because the wOBA against righties is .300 and the K rate drops, and the Twins' power bats are mostly on the right side.
This just depends on your risk tolerance but Shane Baz rebounded from a poor first start of the season and threw six scoreless innings while striking out seven against the Orioles. We've seen precious little of him in the majors thus far (21.2 regular season innings) but he does have righties at a .201 wOBA, an average under .120, an xFIP of 2.54, and a K rate over 36%. On the surface, that's exactly the kind of pitcher I want when facing the Yankees and he should be good for about 80 pitches tonight. It's just a matter of coming off the injury which has cost him all but two starts this year. He is a wild card, even on what I think is a wilder slate.
Punt Range
George Kirby
We've been chasing him for a little bit and he's had a tougher road lately with starts against the Angels, Red Sox, Mets, Sox again, and Texas. This will be the second time he faces the A's and that produced arguably the best start of his career with nine strikeouts. Even though he allowed eight hits and four runs, the xFIP was 0.99 and the FIP was 2.13, two of the best marks of his career. He was the victim of some bad luck and he still brings in a 22.9% K rate and a WHIP of just 1.14. With so few innings under his belt, it's impressive enough that he's not getting blown out of the water and Oakland has the eighth-highest K rate against righties in the league. His fastball is also getting the highest whiff rate of any pitch at 27.1% and it has 27 of the 41 strikeouts for Kirby while Oakland is 28th against the pitch this year. Kirby has struggled with the right side so far with a 2.84 HR/9, and a 4.20 xFIP, but the A's aren't very good overall.
Honorable Mention
I think there's a chance that Jordan Montgomery might be chalky at his salary but I'm not sure since there are interesting options down low. The 3.59 xFIP is totally fine but the K rate is so low at 19.4%. It's weird because Montgomery has always been a solid source with a career rate of 22.7% but he hasn't been above five strikeouts in any of the last 10 starts.
I also want to talk about Michael Wacha as he takes on the Tigers and he might go another start that the 2.28 ERA doesn't catch up to the 4.23 xFIP. His K rate is barely above 17% but this is the Tigers offense we're talking about. If he's not going to be rostered very much, I'll have an interest here in GPP settings.
Alright, it is time to get a little nuts. I'll preface this by saying these are two pitchers we normally stack against and you can CERTAINLY do that tonight. I will too but these two pitchers are in quietly some of the strongest matchups on the board. This is gross but I think Patrick Corbin could actually have a good start here. For one, his xFIP is only 4.35 compared to the bloated ERA and even though the K rate is just 17%, the ground-ball rate is 47.8% and the strand rate is only 59.1%. His slider still has a 32.1% whiff rate and 23 strikeouts although the Orioles are third against that pitch this year. However, they whiff over 25% of the time when facing a lefty and rank 22nd in wOBA, ISO, and 21st in OPS. There is a world where Corbin hits 16 DK or higher in this matchup and the Orioles will have one player with a wOBA over .340 in their lineup tonight at most.
The second player is Daniel Lynch because if he can avoid Mike Trout and Tyler Ward, the lineup gets easier to deal with. After those two, Luis Rengifo has a .327 wOBA and Ohtani is at .303 (with a K rate over 27%) and that's about it. For context, even with Ward and Trout dominating, the offense as a whole is 24th or worse in every offensive category and has a 24.2% K rate. Lynch is sitting at a 4.45 xFIP and a 22.4% K rate but flashed his upside in his last start with 10 strikeouts against the A's. Oakland ranks right around the Angels as an offense, which is crazy to think of. Los Angeles has been putrid on offense lately and he could make things work with any lineup you want. Obviously, both of these guys are crazy risky.
Missed The Cut
Tarik Skubal – I'm probably not ready to challenge the Red Sox with Skubal, although he's been very strong all season long. The past two starts have been dicey in tough matchups and another one is on tap with Boston ranking in the top 10 in all of our offensive categories.
Stacks
Pirates/Cubs Game Stack
Braves
Cardinals (I want Goldy back)
Orioles
Angels (Mostly just Ward/Trout)
Thank you for reading my MLB DFS: DraftKings and FanDuel Pitching 6/22 and make sure you follow me on Twitter at @bucn4life! Be sure to sign up for an ALL ACCESS GOLD ACCOUNT account here at Win Daily Sports. Gain access to our Projection Models and jump into our Discord where we will have our experts talking plays across every sport and slate!
Related Topics: