MLB DFS Aces and Stacks for DraftKings and FanDuel for 10/05/2022 – Win Daily Sports
Published
8 months ago
on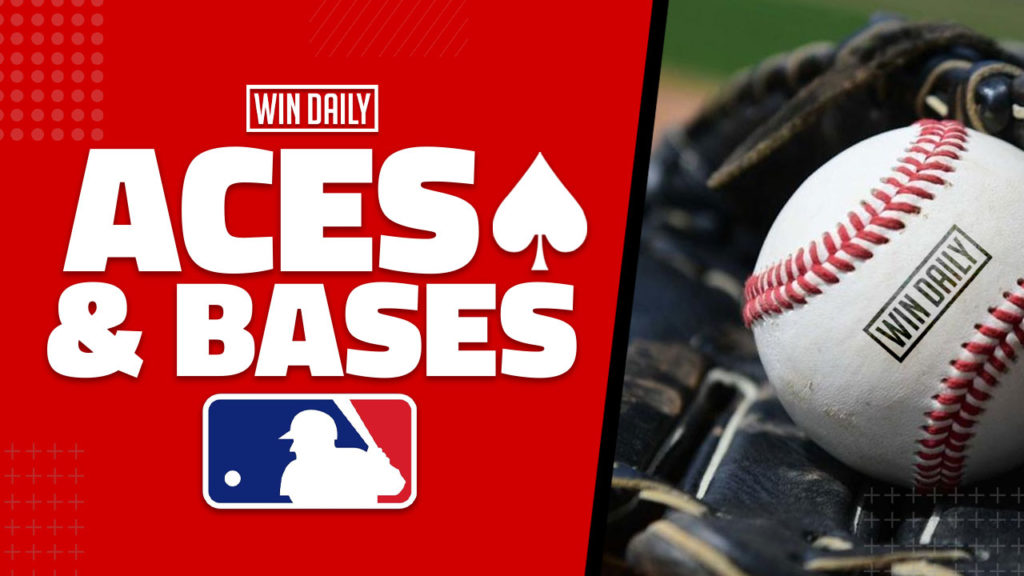 Welcome to the Wednesday edition of the Aces and Bases, where I'll be going through the top MLB DFS Aces and Stacks on DraftKings and Fanduel. 
Well, we've made it friends.  Today is the final day of the regular season.  If you've followed along this season, I thank you.  It's been a wild ride.  We had some ups and downs, but most importantly we had some fun.  All teams are in action today starting at 4 pm est.  I suggest waiting until lineups are out to make any semblance of a lineup today.  Things can get wonky as playoff teams don't want to risk injury and non-playoff teams, welly they probably just aren't that good. 
Let's dig in and see if we can find some stacks to use today!
MLB DFS Aces – Main
Corbin Burnes vs. Arizona Diamondbacks
I doubt we get a full allotment of innings out of Burnes today as he's already at a career-high 199 innings.  That said, he's the best pitcher on the mound tonight with a solid matchup.  He's also coming into this one off a dominant 8-inning, 7-strike-out performance against the Marlins.  If we get a notice that he's all systems go today, he'll be my SP1 as he has a solid matchup today.
Shohei Ohtani vs. Oakland Athletics
Ohtani being nearly $11k on DK is a tough one.  Does he pitch a full game?  Do they pull him after 5?  This time of the year it's extremely tough to lock in expensive pitchers, but what a matchup he has today.  Michael Lorenzen was able to strike out 7 Athletics in just 6 innings of work yesterday. 
The A's are a bad lineup and one that Ohtani can absolutely dominate.  This is the same matchup he had a week ago that saw him strikeout 10 in a masterful performance. He's only at 161 innings on the year, so it's possible he has some extra string to play with today.
After these 2 today, it's really a crapshoot.  A case could be made for Clayton Kershaw, but I doubt he pitches more than a handful of innings.  Yusei Kikuchi is in a solid matchup, but he's only been pitching a few innings.  Max Fried won't go too long either against the Marlins, but he's in a great spot.  
MLB DFS Stacks – Main
Milwaukee Brewers vs. Merrill Kelly
With this game being in Milwaukee, I suspect the Brewers will want to put their best foot forward for their fans after missing out on the playoffs.  I'm sure the home crowd would be extremely disappointed if their stars sat so we should expect their regulars to get some meaningful innings today. 
Although Kelly has pitched well this season, the last month has been horrific.  Over the last month, Kelly has given up 11 homers and 15 barrels in just 29 innings of work.  He's coming off an appearance that saw him give up 8 ER to the Giants.  We'll want to attack Kelly with lefties. They have a .416 slugging % vs. him this season and 12 of the 21 homers he's given up have been to lefties.    
Core:  My core this afternoon with the Brewers will be Rowdy Tellez, Christian Yelich, and Kolten Wong.  Tellez had a breakout season in 2022, hitting a career-high 34 homers and driving in a career-high 88 runs.  Those good times should continue this afternoon in this matchup.  Wong is another Brewers bat that in comparison to his years past, had a solid season. 
Wong set a career-high in homers as well with 15 bombs this season.  He's been really strong vs. righties this season, with a .277 AVG and 14 bombs against them.  He's less than $4k today on DK and should return value here. 
Secondary Pieces/Value:  Other Brewers bats I like this afternoon will be Hunter Renfroe, my boy Jace Peterson, and Garrett Mitchell.  Peterson helped me get a takedown earlier in the year, and he'll help me again today.  I use him at low ownerships against average righties and more often than not, it pays off. 
Cleveland Guardians vs. Jon Heasley
The Jon Heasley we've come to know returned last time out.  After putting together back-to-back solid outings, he gave up 4 ER to the lowly Detroit Tigers in his last outing.  He'll have a much tougher task against a really solid Guardians lineup. 
The way to dominate Heasley is with lefties.  They have a slugging % over.500 and a wOBA of .373.  12 of the 19 bombs he's given up this season have been to lefties.  Thankfully this game is at home and the Guardians should play their regulars a bunch today in front of the home crowd.
Core:  My Guardians' core will consist of Steven Kwan, Jose Ramirez, and Josh Naylor.  While Steven Kwan won't win the Rookie of the Year award, what a season he has had!  He's hitting .299 and could swipe base number 20 today.  For a rookie, he's shown an incredible eye with a .372 OBP.  He won't get us much power, but if he gets on, there's a strong chance he'll look to steal a base today. 
Next up is JRam.  Ramirez is currently stuck on 29 homers.  A homer run today would give him 30 homers for the third time in his career.  He's already set a career-high with 124 RBI.  He certainly did not take his foot off the pedal after signing that fat contract at the start of the year.   
Secondary/Value: After my core, I'll fill this stack out with guys like Amed Rosario, Andres Gimenez, and Will Brennan. If Brennan makes the lineup today against a righty, he'll be a lock for me.
New York Mets vs. Erick Fedde
You'll notice a trend here, but I'm going to focus on home teams with my stacks today.  And the Mets are no different.  This will be the final regular season game at Citi and although they'll host the Padres starting Friday, they'll still want to put their best foot forward today for a dejected home crowd. 
It also helps that they get a nice matchup vs. Fedde.  Fedde has given up at least 3 runs in 4 straight games and should make it a fourth today.  Fedde is giving up a slugging % over .400 to both sides of the plate so I won't be too concerned with splits. 
Core: My Mets core will start with Jeff McNeil, Pete Alonso, and Francisco Lindor.  If the Mets have any hopes of beating the Padres in round 1, they'll need these 3 to be on fire.  McNeil is currently leading the NL batting race, just a notch better than Freddie Freeman.  The last time we saw a Met win the batting title was Jose Reyes in 2011.  Reyes pulled himself out of the game after securing the title. It didn't go over too well and I doubt we see McNeil pull the same shenanigans.  He's been the Mets' best hitter all year and that will continue on the final day of the season. 
What a season from Alonso!  131 RBI and 40 homers!  He'll look to cap off a solid 2022 season with a strong showing in front of the home crowd.  Look for him to take Fedde Deep today.  
Secondary/Value:  I also like September Player of the Month Eduardo Escobar, Brandon Nimmo, Daniel Vogelbach, and Luis Guillorme.  All Mets are pretty much in play today against a bad pitcher and bad bullpen.  If Francisco Alvarez gets the start at DH today, he makes for a great punt at C.    
MLB DFS Summary
Other attackable spots tonight are the Dodgers vs. Chad Kuhl, Angels vs. Ken Waldichuk, Cubs vs. Graham Ashcraft, and Mariners vs. Tyler Alexander.  Lots of bats in play today. 
Make sure to check out our Home Run Model. And Also make sure to drop into Discord where we're constantly talking about plays for every slate.
Good luck and hope to see you in the green.
Make sure you follow me on Twitter at @rangerzfan79 and be sure to sign up for an ALL ACCESS GOLD ACCOUNT here at Win Daily Sports. Gain access to our Projection Models and jump into our Discord where we will have our experts talking plays across every sport and slate!
New to the DFS writing world but have been playing DFS since BVP was cool. Started play season long fantasy when sporting news was used to calculate weekly scores. Originally from Brooklyn, NY but now a Baltmore resident.