MLB DFS Aces and Stacks for DraftKings and FanDuel for 10/03/2022 – Win Daily Sports
Published
2 months ago
on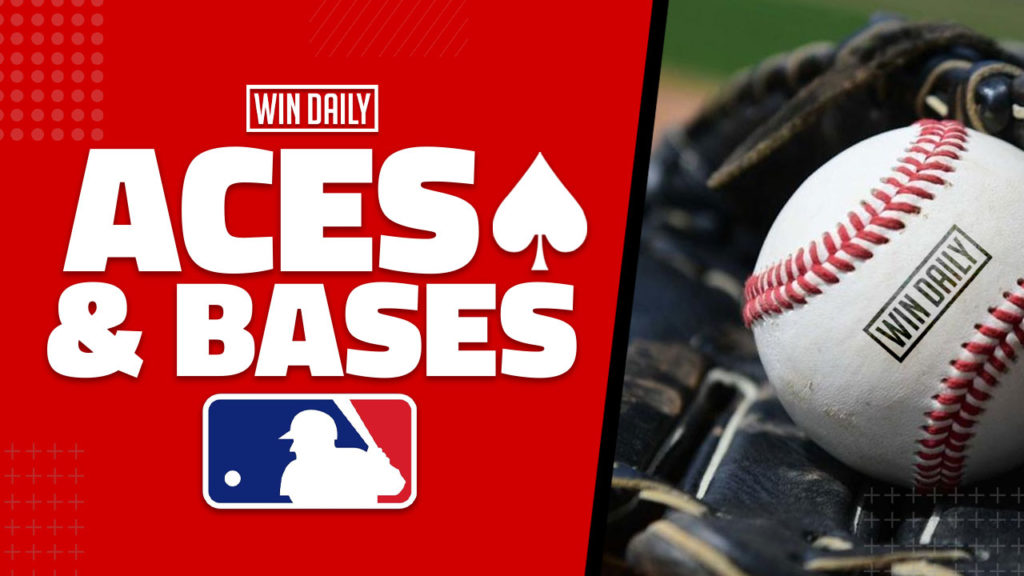 Welcome to the Monday edition of the Aces and Bases, where I'll be going through the top MLB DFS Aces and Stacks on DraftKings and Fanduel. 
Tonight's main slate is an 11-gamer that really only has 4 games that truly mean anything.  With a Braves win or a Mets loss tonight, the Braves will clinch another NL East title <insert mopey face emoji>.  The only other games that really mean anything at this point will be the Brewers vs. Arizona and Philly vs. Houston.  The Brewers are in must-win territory at this point with the Phillies having a 2-game edge on the wild card.
Let's dig in and see if we can find some stacks to use today!
MLB DFS Aces – Main
Brandon Woodruff vs. Arizona Diamondbacks
Coming off a 2 straight losses to the Miami Marlins, the Brewers turn the ball over to their ace in Brandon Woodruff.  Woodruff is pitching as well as he's ever pitched.  Over his last 4 outings, Woodruff has struck out 42 hitters, while only giving up 4 ER.  His 37% K rate over the last month far exceeds anyone else pitching tonight. 
With him in a game that matters and their game starting earlier than the Phillies tonight, we can expect Woodruff to be one of the few pitchers that throw a full allotment of innings tonight.  He is far and away the SP1 tonight. 
George Kirby vs. Detroit Tigers
The last time George Kirby faced the Tigers he went 5 innings, striking out 5 and not allowing a run.  My hope is that we see something similar out of him today.  At this point of the season, we can't expect any pitcher outside of the few that have anything to play for to go any longer than a handful of innings.  With Kirby priced at $9k on DK, we'll need him to go about 6 strong and get a handful of strikeouts. 
Based on his history, that's absolutely in play.  Especially against a Tigers projected lineup that has just a .292 wOBA vs. righties over the last month.  They've also hit for limited power with just a .135 ISO vs. them.  This is a good spot for Kirby to make his final appearance before the playoffs start later this week.  
Joe Musgrove vs. San Francisco Giants
Although the Padres did clinch a playoff spot yesterday, they can't fully take their foot off the pedal just yet because they have just a one-game lead over the Phillies and can somewhat control their matchup in the first Wild Card round.  Joe Musgrove doesn't have massive K upside but he does have a respectable 25% K rate over the last month. 
Facing off against a Giants team playing out the string, Musgrove should be able to dominate in this one.  He'll also be making his final tune-up for the playoffs. At just $8.7k tonight on DK, he's fairly priced considering his ceiling.  He's reached 30 DK points twice over the last month or so, so there's definitely some upside here. 
At this point of the season, I don't really trust any pitchers outside of Woodruff.  Pitching right now is more of a crapshoot as there's no reason to have pitchers go long, especially for teams already in the playoffs and those that have been eliminated.
MLB DFS Stacks – Main
New York Mets vs. Corey Abbott
Using the Mets after they just were swept by the Braves and all but losing their shot at the NL East feels a little dirty.  Well, it feels a lot dirty.  That said, they are still one of the few teams that have anything to play for tonight.  While their chances at the NL East are about as slim as slim could be, tonight's potentially the last game of the season that matters for them.  I'm sure the flight home from Atlanta was an uncomfortable one for the Mets last night and I hope it was. 
They get a great matchup against a pitcher in Corey Abbott that has struggled in his last couple of starts.  Across both starts vs. the Braves, Abbott allowed 8 ER in just 9 innings of work.  He allowed 3 homers also across those 2 games.  With Abbott, we mostly want to focus on the lefties.  Against Abbott this season, lefties have a .536 slugging % and a .387 wOBA.  Those numbers get even more exaggerated when he's on the road like he will be tonight. 
Core:  My core tonight with the Mets tonight will be Jeff McNeil and Eduardo Escobar.  These 2 have essentially been the Mets' best hitters in recent games, especially Jeff McNeil.  McNeil is currently riding an 8-game hitting streak.  Over those 8 games, he's had multi-hit games in 7 of them.  His season-long average is all the way up to .326, just a point behind Freddie Freeman for the lead in the NL.  Escobar has also been swinging a hot stick for the Mets.  He has multi-hit games in 3 of his last 4 games.   
Secondary Pieces/Value:  Other Mets I like here will be Brandon Nimmo (potentially his final Mets regular season homestand), Pete Alonso, Francisco Lindor, and Daniel Vogelbach.  Vogelbach provided the majority of the Mets' offense last night.  Of the 3 hitters, he's probably my favorite tonight as he's the cheapest.   
Milwaukee Brewers vs. Tommy Henry
The Brewers need a handful of prayers to make the playoffs.  One of those prayers was answered with getting to face a beatable pitcher in Tommy Henry.  Henry's last 3 starts have been brutal.  He's given up 17 ER in just 17 innings of work.  It doesn't take a math degree to know that's a bad ratio.  Over his last 2 games, Henry has given up 6 homers.  6, not 5, not 4, not 3, 6!  I'm not going to be overly concerned with splits here.  Both sides of the plate have been hitting him hard. 
Core:  My Brewers core will consist of Hunter Renfroe, , Willy Adames, and Andrew McCutchen.  These 3 should be hitting at the top of the lineup tonight with a lefty on the mound.  Renfroe has really solid vs. lefties over the last month, with a .167 ISO and .341 wOBA.  He's also been one of the more consistent Brewers hitters all year. They'll need him to step up big time tonight. 
Next up will be Willy Adames.  Adames, while a little more of a K risk than Renfroe, also has a ton of upside tonight.  He's a little cold at the plate right now, and that happens with him from time to time, but a matchup with Henry is something that can really set him off. 
Value:  After my core, I'm going to lock in some value with this lineup.  Mike Brosseau, Keston Hiura, and Tyrone Taylor are all incredibly cheap tonight and get the platoon advantage.  All 3 are under $2.5k tonight, setting us up for a ton of salary relief in a plus environment.  Taylor and Brosseau have both been crushing left-handed pitching over the last month and would be the priority here.
Los Angeles Angels vs. Adrian Martinez
Other than padding stats and getting some playing time for the kids, the Angels have little to play for tonight. That said, they get a great matchup against a pitcher in Adrian Martinez that loves, and I mean loves giving up homers.  Over his last 24 innings on the mound, Martinez has given up 7. 
He also likes giving up hard contact as he's given up 8 barrels also over that stretch.  This is also a spot I'm not going to be overly concerned with splits.  Righties have a .523 slugging % vs. him and lefties have a .481.  Both sides can hit him hard. 
Core: My Angels' core will be the usual, Mike Trout and Shohei Ohtani.  They are both extremely expensive tonight at over $6k a piece.  If I had to pick one, I'd go Trout here.  In just 116 games, Trout has been able to put together another amazing season.  He's up to 39 homers and his next one will give him 40 for the third time in his career.  It's scary to think what he could do if he had a fully healthy season and a good lineup to hit in.  Maybe next year, right?   
Luis Rengifo could also be considered a core piece here.  He's shown some upside this season with 17 bombs.  This is a spot where he could absolutely lead off the game with a homer. 
Value:  There's also some really solid value in this lineup.  Livan Soto is just $2.4k on DK and is coming off back-to-back 3 hit games.  While 3 straight games with 3 hits may seem farfetched, he should do well tonight in this spot.  Jo Adell is also hot at the plate and is just $2.6k.  He's hit safely in 4 of his last 6.    
MLB DFS Summary
Other attackable spots tonight are the Rays vs. Dick Mountain, Blue Jays vs. Dean Kremer, and Dodgers vs. Jose  Urena. 
Make sure to check out our Home Run Model. And Also make sure to drop into Discord where we're constantly talking about plays for every slate.
Good luck and hope to see you in the green.
Make sure you follow me on Twitter at @rangerzfan79 and be sure to sign up for an ALL ACCESS GOLD ACCOUNT here at Win Daily Sports. Gain access to our Projection Models and jump into our Discord where we will have our experts talking plays across every sport and slate!
New to the DFS writing world but have been playing DFS since BVP was cool. Started play season long fantasy when sporting news was used to calculate weekly scores. Originally from Brooklyn, NY but now a Baltmore resident.