MLB DFS Aces and Stacks for DraftKings and FanDuel for 09/28/2022 – Win Daily Sports
Published
8 months ago
on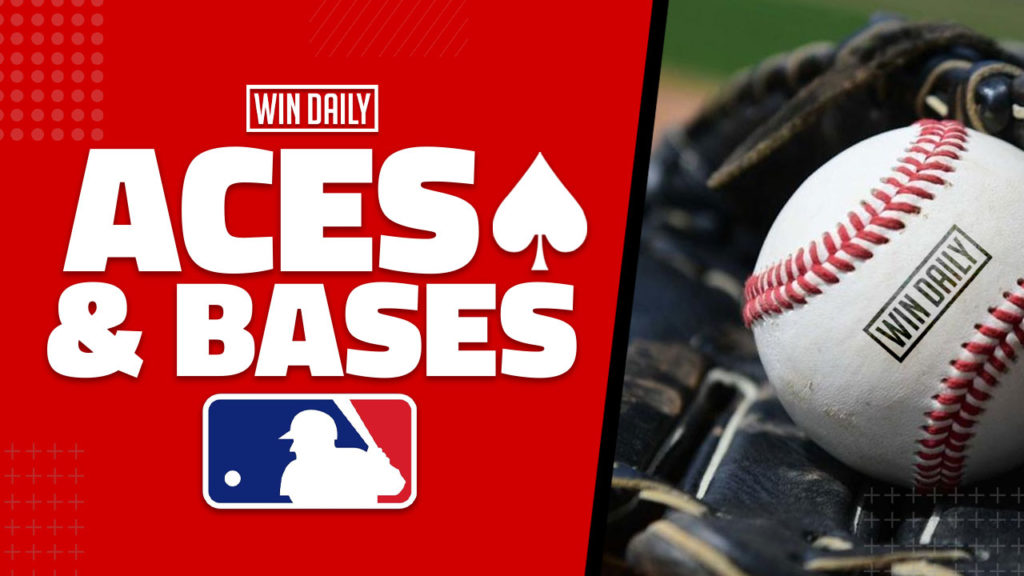 Welcome to the Wednesday edition of the Aces and Bases, where I'll be going through the top MLB DFS Aces and Stacks on DraftKings and Fanduel. 
Tonight we have a massive 12-game slate of MLB DFS tonight. In case you haven't noticed, we're at the point in the season where things have gotten wonky.  Carlos Carrasco was in a smash spot last night and was negative DK points.  The White Sox were 2-hit last night by Baily Ober.  And the Rangers bullpen was able to wipe the floor with the Mariners.   
Let's dig in and see if we can find some stacks to use today!
MLB DFS Aces – Main
Zac Gallen vs. Houston Astros
The matchup isn't great for Gallen tonight as the Astros are one of the top lineups in the league.  That said, we thought the same thing about his matchup in his last outing vs. the Dodgers and he went on to pitch 8 innings of 1-run ball while striking out 13.  Zac Gallen is the real deal folks.  All of his metrics are top-tier. 
He gets ahead of most hitters with a 67.5% first strike percentage and has a chase rate of nearly 33%.  His 35.9% k rate over the last month is top of any pitcher on the hill tonight.  He's been lights out over the last few months.  There's definitely a risk in using him as an SP1 tonight, but there's also a ton of upside for him with the way he's pitching right now. 
Justin Verlander vs. Arizona Diamondbacks
Spot starter Luis Garcia was able to hold the Diamondbacks in check last night.  There's absolutely no reason to think that Justin Verlander can't do the same tonight as he's in a way different class than Garcia.  Since coming off the IL, Verlander has only thrown 11 innings.  Over those 11 innings, he was able to K 13 batters and give up just 2 ER. 
Although the Orioles were able to get 6 hits off of him in 6 innings last outing, most of those hits were just dumb luck as they were held to a 27% hard-hit rate in the game.  He was up to 93 pitches in his last outing so I don't think we'll need to worry so much about a pitch count with Verlander.  This is a solid spot tonight for him tonight        
Brandon Woodruff vs. St. Louis Cardinals
We have another stud pitcher in a not-so-great spot with Brandon Woodruff facing off against the Cardinals.  Woodruff has been lights out over the last month though.  His K rate is up to 32% over that stretch and he has just a 2.76 ERA.  That 2.76 is right in line with his 2.94 xFIP.  Woodruff has also been doing a great job in limiting hard contact as hitters have a sub-30 % hard-hit rate vs. him over the last 30 days. 
While the matchup is tough, Vegas really likes Woodruff as they have the Cards with an IRT of just 3.22 tonight.  The biggest downside for the Woodruff thought tonight will be that the Cardinals do not strike out much vs. righties.  Over the last month, the projected lineup has just a 17% K rate vs. righties.  That somewhat puts a limit on his ceiling tonight. 
Other starters I do like tonight will be Jose Quintana vs. the Brewers.  The Brewers are very susceptible to lefties and Quintana is pitching well.  I also like George Kirby vs. the Rangers.  The Rangers are way better vs. lefties.  I'd take his last outing with a grain of salt.  The Athletics did the same thing to Jacob Degrom a few days later.  Aaron Nola vs. the Cubs is a solid spot as well.  As you can see, pitching is loaded tonight. 
MLB DFS Stacks – Main
Atlanta Braves vs. Josiah Gray
The Nationals are doing absolutely nothing to help my Mets win the NL East.  So far in this series, the Braves have put 8 runs in both games. There's no reason, and I mean no reason with Gray on the mound tonight, to believe they can't do it again in game 3 of this series.  One of the centerpieces of the Scherzer/Turner to the  Dodgers trade, Gray just hasn't pitched well.  He's coming off a stretch that has seen him give up at least 4 ER in 4 consecutive starts.  The last 2 of those games were against the star-studded lineup we call the Miami Marlins. 
Throughout his brief career, the biggest struggle for Gray has been the ability to keep the ball in the ballpark.  This season he has an HR/9 of 2.33.  Anything over 2 is just horrendous.  He's the type of pitcher you can go home run hunting off of.  While he's bad to both sides of the plate, we really want to grab any and all lefties here.  They have a .357 ISO against him over the last month and a .492 wOBA.  21 of the 37 homers he's given up this season have been to lefties. 
Core/Value:  Knowing all of that, I'm starting out my Braves core with Eddie Rosario, Michael Harris, and Matt Olson.  Olson is finally starting to show some signs of life at the plate.  He has hits in 3 consecutive games and even threw in a walk last night.  This is the type of spot that he should continue to fight his way out of the wet paper bag that he's been in for quite some time. 
Next up is Michael Harris.  He may be my favorite bat of the night and will be a lock in all of my lineups.  He's coming into this one hot, with 7 hits over his last 4 games.  There's an excellent chance that he takes Gray very deep tonight.  Rosario is the value here and it also happens to be his birthday.  We always play the birthday narrative, especially when in a matchup like this. 
Secondary Pieces:  Other bats I'll look to include here tonight will be Ronald Acuna, Austin Riley, and Travis d'Arnaud.  All three have wOBA's over .350 vs. righties over the last month.  Acuna is heating up and is coming into this off of a 2 homer game last night.  He's pricey tonight over $6.1k.  I'm not going to force him in, but he's a solid play.  Marcell Ozuna is also a solid value play here.  He's under $3k on DK and will help you fit some of the more expensive bats. 
Los Angeles Angels vs. Adrian Martinez
Adrian Martinez is currently locked into one of his worst stretches of pitching this season.  Over his last 3 starts, Martinez has allowed 16 ER in a little under 14 innings of work.  He's also given up 6 homers during those 3 games, 4 coming against the Astros in a single game.  While the Angels are nowhere near as strong of a lineup as the Astros, they have some major weapons that can do some damage tonight. 
With this stack, I'm not going to be overly concerned with splits. Both sides of the plate have slugging %'s over .500 against Martinez.  He's given up 6 homers to both sides of the plates as well. 
Core:  The core of any Angels stack starts with Mike Trout and Shohei Ohtani.  Both guys stand solid chances to homer tonight.  Martinez throws his sinker 50% of the time to lefties.  This is a pitch that Ohtani crushes.  Over the last few years, Ohtani has a .372 ISO and a .531 wOBA against righty sinkers.  He should absolutely smash tonight. 
There's not much that needs to be said about Mike Trout.  He's the best hitter in the game when healthy and he's healthy.  Both of these guys will be tough to fit together.  My lean is Ohtani right now.       
Secondary/Value: Other bats to include here will be Taylor Ward, Mike Ford, and Mickey Moniak. Both Ford and Moniak are min priced on DK tonight and open up a world of opportunities for us. They also have, albeit a limited sample size, great numbers vs. righty sinkers.
Boston Red Sox vs. Dean Kremer
This Orioles/Red Sox series has been something, hasn't it?  It's been an absolute gold mine for MLB DFS. The 2 teams have combined for 44 runs across the 2 games so far.  The Red Sox were on the better end last night after scoring 13.  The wild scoring should continue tonight with Dean Kremer and Rich Hill on the mound. 
I do like the Red Sox better though as the Orioles haven't been great against lefties.  While the ERA has been low for Kremer over the last month, the xFIP is nearly 2 runs higher at 4.44.  He's due for some regression and it could come tonight against a hot Red Sox lineup. 
Core/Value: With my Red Sox core tonight I'll look to lock in Triston Casas, Alex Verdugo, and Rafael Devers.  All three of these hitters will have the platoon advantage tonight and are the hottest hitters in this Red Sox lineup right now.  Let's start with Casas. Casas is super-hot right now.  He has homered in 3 of his last 6 games and had the best game of his young career last night, going 3-4 with a homer and 2 RBI. 
Devers is also hot at the plate right now.  He has 5 hits in this series in 9 AB.  He's also driven in 3 runs during the series.  He's homered off of Kremer before and I wouldn't be shocked if he did it again tonight. 
Value:  Other bats I like here are going to be Reese McGuire and Rob Refsnyder.  Both guys are cheap tonight, with McGuire at $2.6k and Refsndyer at just $2.5k.  Refsnyder is having a solid series, with 4 RBI and 4 hits.        
MLB DFS Summary
Other MLB DFS stacks I really like tonight will the Mets vs. Luzardo and Orioles vs. Dick Mountain.   
Make sure to check out our Home Run Model. And Also make sure to drop into Discord where we're constantly talking about plays for every slate.
Good luck and hope to see you in the green.
Make sure you follow me on Twitter at @rangerzfan79 and be sure to sign up for an ALL ACCESS GOLD ACCOUNT here at Win Daily Sports. Gain access to our Projection Models and jump into our Discord where we will have our experts talking plays across every sport and slate!
New to the DFS writing world but have been playing DFS since BVP was cool. Started play season long fantasy when sporting news was used to calculate weekly scores. Originally from Brooklyn, NY but now a Baltmore resident.