MLB DFS Aces and Stacks for DraftKings and FanDuel for 09/26/2022 – Win Daily Sports
Published
2 months ago
on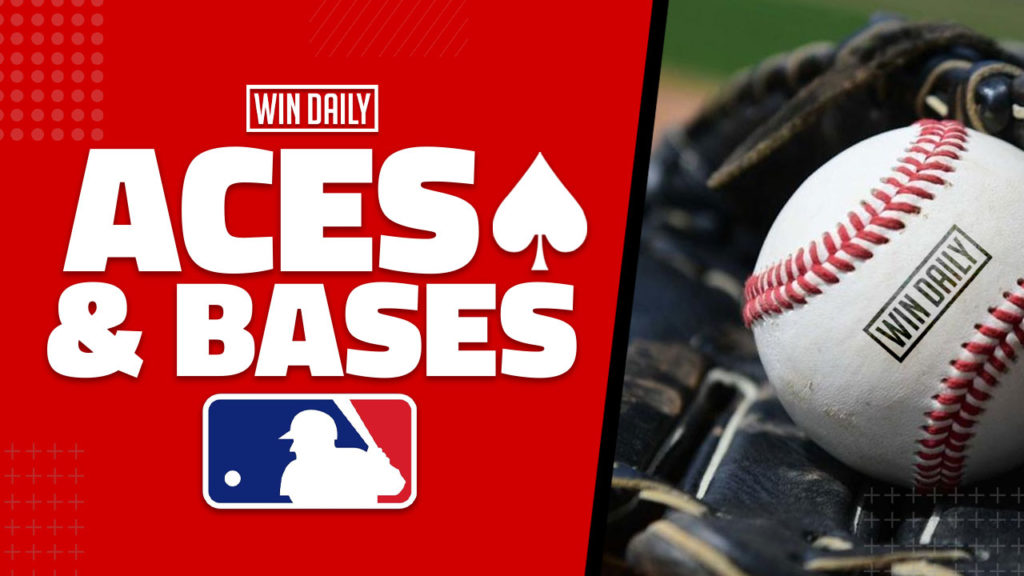 Welcome to the Monday edition of the Aces and Bases, where I'll be going through the top MLB DFS Aces and Stacks on DraftKings and Fanduel. 
Tonight we have a small 4-game slate of MLB DFS tonight.  With so few teams on the schedule, we'll be extremely limited with our options.  Pitching, for all intents and purposes, is absolutely gross tonight.  If you were to take a slate off, pick tonight.  If you do play, play light. 
Let's dig in and see if we can find some stacks to use today!
MLB DFS Aces – Main
Bryce Elder vs. Washington Nationals
The rookie pitcher for the Braves will be making the eighth start of his career tonight.  So far, the results have been very good for the 23-year-old.  Over his last 3 starts, he's been brilliant.  He's allowed just 2 ER over 18 innings of work and has struck out 22 hitters. 
One of those starts came recently against this same Nationals team and he was able to walk right through them.  While it's always tough to face a team a second straight time, our options are limited right now and Elder has been really good.  I'm willing to roll the dice on such a short slate on him. 
Luis Severino vs. Toronto Blue Jays
Luis Severino made his first inning last week in more than 2 months.  He looked extremely sharp vs. the Pirates, going 5 strong while striking out 6 and allowing just 1 ER on 2 hits.  While the Blue Jays are a much tougher opponent than the Pirates, Severino has been strong all year when healthy.  His K/9 is just about at 10 and he has an xFIP and ERA right under 3.40. 
The Blue Jays are going to be a tough draw for Severino, but the Blue Jays have shown at times this season to have nights where they simply just don't show up.  Severino also lines up well with the Blue Jays.  He throws his slider around 45% of the time to righties and he'll face a lineup filled with righties tonight.  Outside of Bichette, all of the regulars in this lineup have a whiff rate over 30% to righty sliders.  There could be a lot of upside tonight for Severino, more than the risk hopefully.        
Roansy Contreras vs. Cincinnati Reds
I told you that pitching was rough tonight didn't I?  The Pirates' 22-year-old right-hander will be making his 17th start of the season tonight.  That's the most that he's had in any season since A ball in 2019.  The Pirates have been mostly capping him at 5-6 innings and we can't expect tonight to be any different.  With options so limited tonight, I'm willing to go with an abbreviated start from him over some of the other gems this slate brings us. 
This will be start number 3 vs. the Reds so far this season.  In his first 2 starts, Contreras was pretty solid, allowing just 2 ER and striking out 10 over 9 innings of work.  At $7.5k tonight on DK, we aren't going to need too much from him to get value.  He's been in double-digit points on DK in 6 consecutive starts.  If he can do that again tonight, I'll be content. 
A case could also be made for Chase Anderson tonight.  He's pitched extremely well over his last 3 starts, allowing just 4 ER.  He's also just $6.3k on DK tonight.   
MLB DFS Stacks – Main
Atlanta Braves vs. Corey Abbott
The Braves get arguably the best matchup tonight as they take on Corey Abbott.  Abbott is coming into this game off one of his poorer starts of the year.  Against the Braves a week ago, he allowed 4 ER in just 4 innings of work.  In that start, and what really has me going back to this spot, he gave up a 50% hard-hit rate and 2 barrels. 
Through the first handful of appearances for Abbott, he had been doing a good job of only allowing soft to medium contact.  That has really shifted of late.  In his last 3 appearances, he's allowed 75%, 54%, and 50% hard-hit rates.  In his last 14 innings of work, he's given up 6 barrels and 3 homers.  Hitters are now seeing him incredibly well.  We'll want to kick off our Braves stack with lefties. They have a .519 slugging % vs. him and a .384 wOBA.  That said, righties have a .452 slugging % vs. him too, so we won't want to ignore them.     
Core/Value:  I'm starting out my Braves core with Eddie Rosario, Michael Harris, and Matt Olson.  Of the 3, Harris is going to be my favorite.  He's been tormenting righties over the last month as he has a .503 wOBA and a .322 ISO.  He's also been solid vs. them all season.  His average against them this season is up to .330 with 17 homers. 
Up next is Eddie Rosario.  Rosario has been playing sparingly and my hope is that he's in the lineup today.  He's just $2.5k on DK and in a matchup he should do well in.  When in the lineup recently, he's been good.  He has hits in 4 straight, including a 2 hit performance yesterday vs. the Phillies. 
With Olson, there's a risk.  Over his last 9 AB, he's whiffed 6 times.  He's in one of the worst stretches of baseball in his career right now.  That said, Abbott is a low strikeout pitcher and if ever there was a bounce-back spot for him, tonight would be it. 
Secondary Pieces:  Other bats I'll look to include here tonight will be Ronald Acuna, Austin Riley, and Travis d'Arnaud.  All three have wOBA's over .350 vs. righties over the last month.  Acuna and Riley are the heart and soul of this team.  If you can fit them tonight, and you should be able to with the cost of pitchers, play them.    
Baltimore Orioles vs. Connor Seabold
As someone that lives 20 minutes from Camden Yards, just the mere fact that they are just 4 games out of the playoffs on 9/26 is something I never thought would have been possible this season.  The Orioles need to win just about every game at this point to stay in the playoff hunt and get a great matchup today. 
Connor Seabold hasn't pitched much this season, but when he has he's been pretty bad.  He's been on the mound with the big club 4 times so far this season. In those 4 appearances, he's allowed 19 ER in just 16 innings of work.  Allowing more than a run per inning is a pretty rate!  Against Seabold, I'm not going to be overly concerned with splits.  So far his in brief Major League career, Seabold hasn't shown the ability to get either side of the plate out so I won't be too concerned with splits. 
Core:  I'm starting my Oriole stack tonight with the 3 guys that should be at the top of the lineup, with 2 guys being the future of this organization.  I'm going to build around Cedric Mullins, Adley Rutschman, and Gunnar Henderson.  Henderson is coming into this one on the cold side, going hitless in his last 4 games.  A matchup with Seabold should wake him.  Henderson's been strong vs. righties over the last month, with a .374 wOBA and a .224 ISO. 
Through the first few months of his career, Rutschman has shown why he was the first overall pick in 2019. He's been a beast behind the plate and has also been really solid offensively.  He's been good vs. righties over the last month, with a .382 wOBA and a .205 ISO.  At $4.7k tonight on DK, he's the cheapest he's been in quite a while.  Let's take advantage of that "discount".   
Secondary/Value:  Other Orioles bats I like tonight will be Anthony Santander, Terrin Vavra, and Kyle Stowers.  Should Vavra and Stowers make the lineup tonight, they'll be great value plays.  Both are at or just about at the min price on DK tonight and will get the platoon advantage.  
Boston Red Sox vs. Jordan Lyles
A complete game stack here is in play.  While Jordan Lyles has been much improved this season, most of that has been at home.  His road ERA this season is 2 runs higher at 5.48.  He's been way more susceptible away from Camden Yards and we'll want to take advantage of that. 
Before his complete game shutout of the Tigers, Lyles had thrown 2 duds.  One of those duds was against this same Red Sox team.  In that game, he allowed 8 ER in just a little less than 4 innings of work.  While I doubt we see a carbon copy of that game, I do expect the Red Sox to be able to hit him hard tonight.  With Lyles, we want to prioritize getting lefty bats against him.  They have a nearly .500 slugging % vs. him and a .360 wOBA.  14 of the 24 homers he's allowed this season have been to lefties. 
Core: Knowing that Lyles is way worse against lefties, I'm going to prioritize getting Rafael Devers, Alex Verdugo, and Reese McGuire into my Red Sox MLB DFS stack. While Devers is the big name here, Verdugo and McGuire are actually the batters that have been against righties over the last month. Verdugo has a wOBA of .379 vs. them and an ISO of .214. McGuire has been even better, with a .324 ISO and a .375 wOBA. All 3 will be in my Red Sox stack tonight.
Value:  After my core, I'll look to get in guys like Xander Bogaerts, Tommy Pham, and for value Yu Chang.  Chang, while in limited AB, has a .438 wOBA vs. righties over the last month and is just $2.2k on DK tonight.        
MLB DFS Summary
Other MLB DFS stacks I really like tonight will the Pirates vs. Anderson if you don't use Anderson and the Yankees vs. Gausman. 
Make sure to check out our Home Run Model. And Also make sure to drop into Discord where we're constantly talking about plays for every slate.
Good luck and hope to see you in the green.
Make sure you follow me on Twitter at @rangerzfan79 and be sure to sign up for an ALL ACCESS GOLD ACCOUNT here at Win Daily Sports. Gain access to our Projection Models and jump into our Discord where we will have our experts talking plays across every sport and slate!
New to the DFS writing world but have been playing DFS since BVP was cool. Started play season long fantasy when sporting news was used to calculate weekly scores. Originally from Brooklyn, NY but now a Baltmore resident.