MLB DFS Aces and Stacks for DraftKings and FanDuel for 09/22/2022 – Win Daily Sports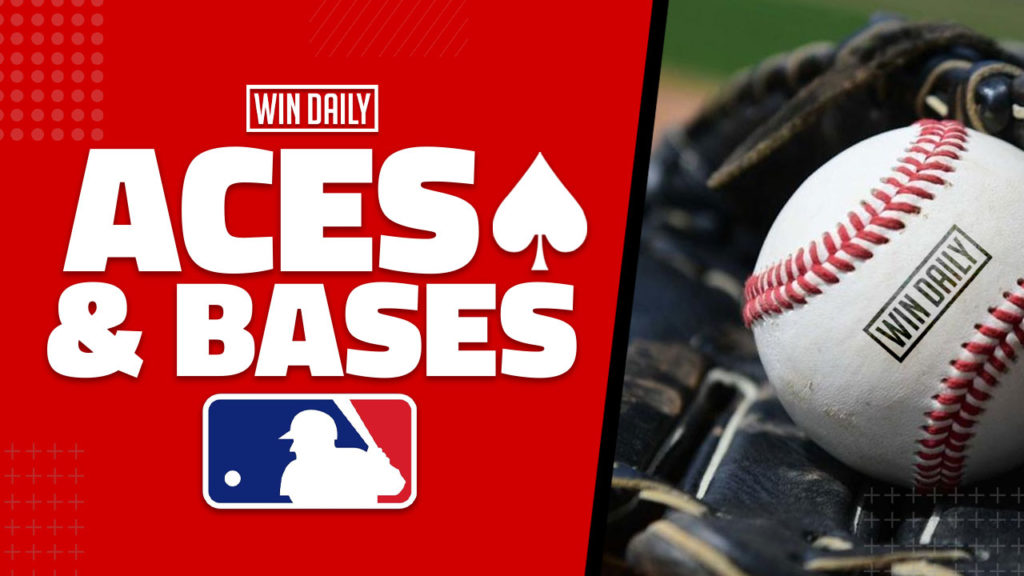 Welcome to the Thursday edition of the Aces and Bases, where I'll be going through the top MLB DFS Aces and Stacks on DraftKings and Fanduel. 
Tonight we have a nice-sized 8-game slate of MLB DFS tonight.  I will more than likely be paying up for both pitchers tonight as there is no clear-cut safe stack. 
Let's dig in and see if we can find some stacks to use today!
MLB DFS Aces – Main
Justin Verlander vs. Baltimore Orioles
Justin Verlander gets a strong matchup tonight vs. the Baltimore Orioles.  While the Orioles have significantly improved this season, they can still be dominated and that's what will happen tonight at the hands of Verlander.  Verlander continues to age like a fine wine.  His age 39 season has been one of the best of his career. His ERA is at an all-time low of 1.78 and his HR/9 is the lowest since 2010. 
This is going to be only his second start after a 2-week sting on the IL.  His first start could not have been better as he went 5 strong, striking out 9 and not allowing a baserunner.  He faced the Orioles at the end of August and struck out 6 in just 3 innings.  That was his last start before heading to the IL.  Look for him to pick up right where he left off in that start. 
Brandon Woodruff vs. Cincinnati Reds
Brandon Woodruff is also a pitcher that gets a solid matchup tonight.  This is a Reds lineup that can be had and it's also a lineup that Woodruff has had success against.  Woodruff faced the Reds a week and a half ago and struck out 11 in 6 innings of work.  He's had double-digit strikeouts against the Reds twice this season.  He's also reached double-digit strike outs in 3 of his 5 outings. 
The K's have finally been back for Woodruff and with that, I'll want to lock him in as one of my MLB DFS starting pitchers.  He's been dominant over the last month, with a 31% K rate and just a 2.48 ERA.  Look for him to continue his domination of hitters tonight against the Reds.      
Hayden Wesneski vs. Pittsburgh Pirates
The young right-hander from the Cubs made his first start last week vs. Colorado and it could not have gone better.  He went 7 strong, allowing just 1 ER and striking out 7.  While I'm not going to chase a result like that, doing it again against a weak Pirates lineup is not out of the question.  The Pirates have some young talent, especially in the likes of star in the making O'Neil Cruz. 
That said, they are also a free-swinging team that strikes outs a lot, and by a lot, I really mean a lot.  Over the last week, the Pirates have had a nearly 39% strike-out rate.  If you're looking to go cheap with one of your starting pitchers tonight, going with Wesneski is a good path to go down.  It's risky, but the reward may be worth it.      
I also really like Shane Bieber tonight.  McKenzie was able to absolutely dominate the White Sox last night.  There's definitely a scenario where Bieber can do the same. 
MLB DFS Stacks – Main
New York Yankees vs. Michael Wacha
The Yankees exploded last night vs. the Pirates for 14 runs.  While I don't see the same exact thing happening tonight, I do expect them to put up a decent amount against Michael Wacha.  We have 2 teams tonight on the polar opposite ends of the standings.  The Yankees have a 6.5-game lead with just 14 games to play and the Red Sox are dead last in the AL East.  The Yankees have their foot on the pedal right now to increase their lead so they can be the AL East champs. 
While Wacha hasn't been bad, I'm going to take my chance tonight on the team that actually has something to play for.  Wacha has historically been worse against righties.  They have a .449 slugging % against him in his career and a .331 wOBA.  Both numbers are significantly higher than righties. 
Core:  My core tonight with the Yankees will be centered around Aaron Judge.  Judge should be an auto-play at this point for everyone, regardless of what his price is.  He leads the American League in just about every meaningful offensive stat.  He didn't homer last night, but he did have 2 doubles and scored 2 runs, good enough for 16 DK points.  He's expensive at $6.5k tonight on DK, but wouldn't it be cool to get a takedown with Aaron Judge in your lineup on the night he gets number 61? 
Secondary Pieces: After Judge, I'll look to include Gleyber Torres, Giancarlo Stanton, and Josh Donaldson. Of the three, Torres is going to be my favorite. Over the last month, he's been really solid vs. righties with a .185 ISO and a .372 wOBA. He's also coming into this game hot as he's hit safely in 10 straight. Over those 10 games, he's had multiple hits in 6 of them, including 2 homers last night. Torres is also reasonably priced at $4.1k on DK.
Value: I'm willing to pay up for Judge tonight for a couple of reasons. One, he's the best hitter in the game. And two, the Yankees have some value in their lineup. Oswaldo Cabrera and Harrison Bader are both under $3k and have competent bats. Cabrera is my favorite of the 2. He has 5 hits in his last 13 AB, including a Grand Slam last night.
Cleveland Guardians vs. Johnny Cueto

This pick may upset a couple of our Discord regulars, but the Guardians should be able to get to Cueto tonight.  From a pure ERA and HR/9, this is the best season that Cueto has had since way back in 2016.  That said, there are still some metrics for Cueto that have me interested in attacking him.  His strikeouts are at the lowest point since of his career.  That means he's also giving up the most contact of his career.  Over the last month, he's given up an 83% contact rate. 
While it doesn't always work out, attacking pitchers that allow a ton of balls in play is normally a recipe for success.  Cueto is also coming off one of his worst starts of the year.  He just gave up 5 ER in 4 innings of work against the lowly Athletics.  That's the second time in 4 starts that teams have scored at least 5 ER against him.  Could father time be catching up to the 36-year-old? 
Core/Value:  My core with the Guardians tonight will be the 3 guys really hitting the ball well right now, and that's going to be Amed Rosario, Steven Kwan, and Myles Straw.  That's essentially going to be a 9,1,2 stack.  Rosario is the hottest of the bunch, with 14 hits in his last 35 AB.  Over that stretch, he has multiple multi-hit games and is reasonably priced at $4.1k tonight. 
Next up is Kwan.  Kwan is piping hot right now, with 12 hits over his last 4 games.  Over those 4 games, he's had at least q3 hits in 3 of them and has 4 straight games of at least 17 DK points.  Straw is going to fit the mold of being a core piece and also a value piece tonight.  He's just $2.2k on DK and is really seeing the ball well right now.  He's hit safely in 10 straight and will look to extend that hitting streak tonight in a solid matchup.           
Secondary: After my core, I'll look to plug in guys like Jose Ramirez, Josh Naylor, Oscar Gonzalez, and Andres Gimenez. Ramirez, while not a core for me tonight, is always in play due to his ability to get stats in multiple ways.
Atlanta Braves vs. Ranger Suarez
With a win tonight, the Braves can pull to within a half-game of the Mets in the NL East.  They lost a tough one to the Nationals yesterday and will look to rebound against a Phillies team that is clinging to their playoff lives right now.  The Braves have been one of the better teams vs. lefties this season.  They should be able to get to Suarez tonight. 
Suarez has not been great over the last month.  His walks are way up with a 4.15 BB/9 and he's been giving up a ton of medium to hard contact.  With Suarez, we really only want the righties here.  Righties have a .406 slugging % vs. him and a .328 wOBA.  11 of the 12 homers he's given up this season have been hit by righties
Core: My core tonight with the Braves will be a bit different as I'm not going to force Austin Riley in.  I am though going to look to force in Dansby Swanson and Travis d'Arnaud.  Both of these guys have crushed lefties over the last month.  Swanson has an ISO of .250 and wOBA of .360.  d'Arnaud has a .412 ISO and a .525 wOBA.  Both of these guys should be able to hit well off of Suarez tonight.       
Value: After my core with the Rangers, I'll look to get in Riley if he fits and then William Contreras, Ronald Acuna, and then Robbie Grossman for value.  My reasoning for not building around Riley tonight is that he's cooled off pretty dramatically.  That said, he's still been a powerhouse vs. lefties this season and could go off at any time.   
MLB DFS Summary
Other MLB DFS stacks I really like tonight will be the Red Sox vs. Taillon and Astros vs. Bradish.   
Make sure to check out our Home Run Model. And Also make sure to drop into Discord where we're constantly talking about plays for every slate.
Good luck and hope to see you in the green.
Make sure you follow me on Twitter at @rangerzfan79 and be sure to sign up for an ALL ACCESS GOLD ACCOUNT here at Win Daily Sports. Gain access to our Projection Models and jump into our Discord where we will have our experts talking plays across every sport and slate!
New to the DFS writing world but have been playing DFS since BVP was cool. Started play season long fantasy when sporting news was used to calculate weekly scores. Originally from Brooklyn, NY but now a Baltmore resident.