MLB DFS Aces and Stacks for DraftKings and FanDuel for 09/21/2022 – Win Daily Sports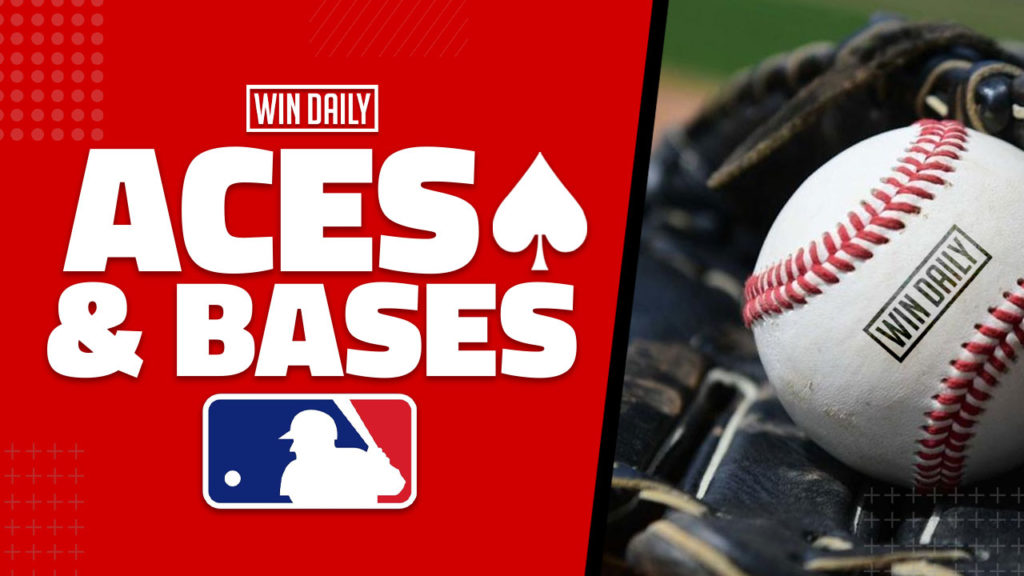 Welcome to the Wednesday edition of the Aces and Bases, where I'll be going through the top MLB DFS Aces and Stacks on DraftKings and Fanduel. 
Tonight we have a nice sized 9-game slate of MLB DFS tonight.  We're at the point of the season where teams are starting to jockey for playoff position, or are fighting for the playoff lives. 
Let's dig in and see if we can find some stacks to use today!
MLB DFS Aces – Main
Robbie Ray vs. Oakland Athletics
Robbie Ray has had an up-and-down season in 2022.  He's shown flashes of the 2021 Cy Young-winning pitcher, but he's also thrown some duds like he did last time out vs. the Los Angeles Angels.  That said, I do think he has one of his better outings tonight vs. a pesky, but average at best Oakland Athletics lineup. 
He's faced the Athletics 3 times already this season and has had double-digit strikeouts in 2 of them.  The projected lineup tonight for the Athletics has just a .255 wOBA against lefties over the last month and a 26% K rate.  There's definitely going to be some upside for him tonight and he's priced fairly at just $9.6k on DK tonight. 
Triston McKenzie vs. Chicago White Sox
The price is a little on the high end for what I like to pay for Triston McKenzie, but options are extremely limited tonight, especially with one of the better pitchers on the mound in Snell being in an awful matchup.  McKenzie has put together a really solid season.  He's reached double-digit wins for the first time in his career and he also has the lowest ERA at just 3.08. 
Over the last month 2.5 months, he's had just 2 games allowing more than 3 ER.  If we ever attack the White Sox, it's with a right-handed pitcher.  They're extremely beatable tonight and while McKenzie is expensive, he's proven his worth this season.  He has back-to-back games over 20DK points and hasn't been in single digits since way back in June.  He has sneaky upside tonight as the last time he faced the White Sox he K'd 14 of them.       
Bailey Ober vs. Kansas City Royals
I said options were limited tonight and I meant it.  Ober is cheap tonight at just $7.7k on DK and gets a really solid matchup vs. a bad Royals team, a team that is on pace to lose well over 90 games this season.  Their lineup has been more anemic than usual as they've scored just 15 runs over the last month. 
The lineup that Ober is expected to face tonight has a .296 wOBA vs. righties over the last month and just a .108 ISO.  Ober hasn't pitched much this season due to injury, but his first start coming off the IL was very solid, allowing just 1 hit in 5 innings against the Guardians.  He was also able to strike out 5 in that game.  Against a much weaker Royals lineup, he should be able to come close to that again tonight.  He's a solid value SP2 tonight.  Pairing him with Ray gives you more than $4k per batter on DK tonight.      
MLB DFS Stacks – Main
Los Angeles Dodgers vs. Madison Bumgarner
This is the matchup that dreams are made of.  The Dodgers tonight get the best matchup of the day as they'll be taking on a pitcher in Madison Bumgarner that just continues to struggle night in and night out when he's on the mound.  MadBum got shelled in his last outing, allowing 5 ER in 5 innings of work, while allowing 3 homers to the Padres.  He continues to give up just a ton of hard contact. 
Over the last month, he's given up a hard-hit rate of over 42% and has allowed 11 barrels in his last 19 innings of work.  MadBum has been especially bad against righties over the last month.  They have a .319 ISO vs. him and a .429.  While they will be my priority tonight, lefties won't need to be ignored as they've been crushing him too. 
Core:  My core with the Dodgers tonight will be the trio of Mookie Betts, Trea Turner, and former Met Justin Turner.  I don't need to get into much detail about Betts and Turner.  They are 2 of the better hitters in the game, especially against lefties.  Betts has been absolutely crushing lefties over the last month with a .556 ISO and a .504 wOBA.  He's expensive at $6k on DK tonight, but on FanDuel he's somehow just $3.5k.  Someone was asleep at the wheel when they set that and he's a must-play over there. 
Justin Turner has also been crushing lefties recently.  Over his last 20 AB, he has a .333 ISO and a .567 wOBA against them.  At $4.7k on DK tonight, he's absolutely in play with how well he's handled lefties.   
Secondary Pieces/Value: After my core, I'll look to use the rest of the Dodgers lineup where they fit as the entire team will be in play tonight. The 3 guys at the back of this lineup will provide us a ton of value in a great spot. Trayce Thompson, Hanser Alberto, and Miguel Vargas are all under $3k tonight and will give us a ton of flexibility with our payroll tonight. They'll make paying up for Betts and Tuner much easier to swallow.
Minnesota Twins vs. Daniel Lynch

While Daniel Lynch has shown some promise, he's still shown that he is young and makes a ton of mistakes.  He has 3 consecutive starts allowing multiple homers, with one of those being against this same Twins team a week ago.  Over his last 23 innings of work, Lynch has allowed 7 homers and a 38% hard-hit rate. 
Until he can control the homers, he's someone we should always consider stacking against.  Especially with a high-powered offense like the Twins.  I'm not going to be overly concerned with splits against Lynch.  Over the last month, both sides of the plate have crushed him.  He's especially bad against lefties as they have a .532 wOBA during that stretch. 
Core:  My priority with the Twins tonight will be Carlos Correa and Gio Urshela.  Combined, these two will cost us an average of $4.2k which isn't too bad.  Carlos Correa has been on fire over the last month vs. lefties, with a .579 wOBA and a .750 ISO.  He's also coming into this one hot as he has 8 hits over his last 14 AB.  Although the Twins have been a huge disappointment this season, it hasn't been due to Correa. 
Next up is Gio Urshela.  Urshela has also been very strong vs. lefties over the last month, with a .469 wOBA and a .269 ISO.  He should continue with that strong hitting tonight with this matchup.         
Secondary: Next up I'll look to include guys like Jose Miranda, Gary Sanchez, and Nick Gordon. Even though Gordon is in the L/L matchup tonight, Lynch has struggled with lefties his whole career. Gordon will absolutely be a K risk but he has also sneaky power as he one of the top expected slugging %'s in all of baseball this season. He's just $3.2k and is really hot right now, with 5 hits in his last 8 AB. He'll someone that has upside at a low cost and low ownership.
Texas Rangers vs. Tucker Davidson
No team has been a bigger disappointment this season than the Texas Rangers, in real life and MLB DFS.  They were expected to compete for a playoff spot this year but have already been eliminated.  That said, they get a good matchup tonight vs. Tucker Davidson.  This is also a team that has performed significantly better vs. southpaws this season than righties.  In Davidson, we have a pitcher that has given up a 7.27 ERA over the last month and has also allowed 4 homers in 17 innings of work over that stretch. 
His biggest struggle though has been his command.  His BB/9 over the last month is an astounding 5.71.  If the Rangers can show any level of patience tonight, they'll get plenty of runners on.  This is another matchup where we won't need to worry about splits.  Davidson has been equally bad against both sides of the plate, as each has a slugging % over .450.
Core: I'm going to start my build tonight with Nate Lowe, Marcus Semien, and Adolis Garcia.  Lowe is someone that i love using in L/L matchups.  Over the last month Lowe has a wOBA over .400 vs. lefties.  On the year, he's hitting .341 against them and has a .553 slugging %.  He excels in these matchups and is reasonably priced at $4.2k on DK. 
Next up will be Marcus Semien.  Semien has been hitting the ball well recently, with 6 hits in his last 17 AB.  He's also had a 46% hard-hit rate over that stretch. He should dominate in this matchup tonight.     
Value: After my core with the Rangers, I'll look to grab value.  And they'll have a ton of it tonight.  Mark Mathias, Josh Jung, Leody Tavares, Sam Huff, and Bubba Thompson are all under $3k tonight and will provide for flexibility.  My favorite of the bunch will be Jung as he's been solid since being called up.  Over 19 plate appearances against lefties, he has a .421 ISO and a .423 wOBA.  He's as solid of a value as we'll see tonight.  
MLB DFS Summary
Other MLB DFS stacks I really like tonight will be the Mariners vs. James Kaprielian and both sides of the Coors game. 
Make sure to check out our Home Run Model. And Also make sure to drop into Discord where we're constantly talking about plays for every slate.
Good luck and hope to see you in the green.
Make sure you follow me on Twitter at @rangerzfan79 and be sure to sign up for an ALL ACCESS GOLD ACCOUNT here at Win Daily Sports. Gain access to our Projection Models and jump into our Discord where we will have our experts talking plays across every sport and slate!
New to the DFS writing world but have been playing DFS since BVP was cool. Started play season long fantasy when sporting news was used to calculate weekly scores. Originally from Brooklyn, NY but now a Baltmore resident.