MLB DFS Aces and Stacks for DraftKings and FanDuel for 09/19/2022 – Win Daily Sports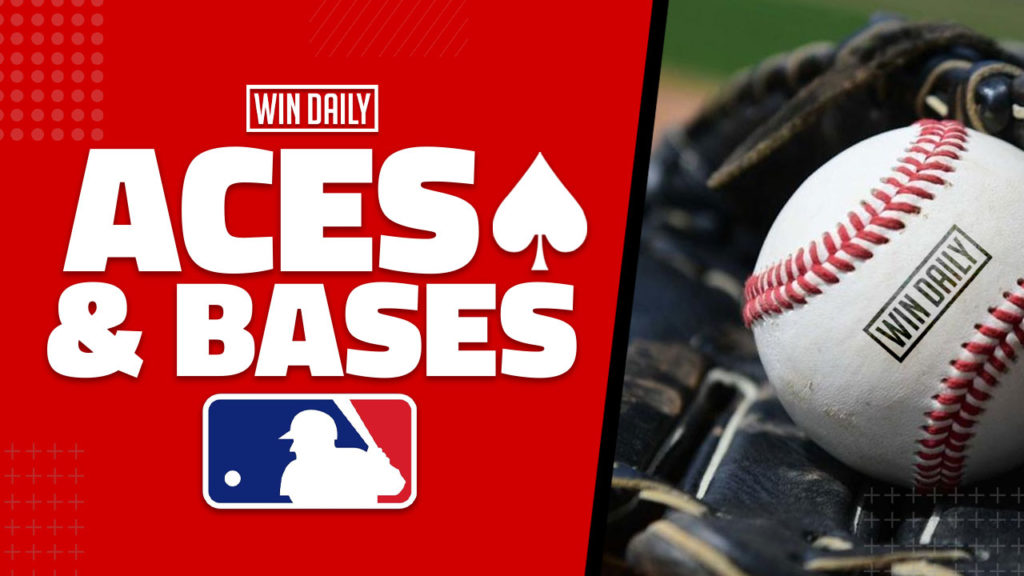 Welcome to the Monday edition of the Aces and Bases, where I'll be going through the top MLB DFS Aces and Stacks on DraftKings and Fanduel. 
Tonight we have a nice-sized 7-game slate of MLB DFS tonight.  We're at the point of the season where teams are starting to jockey for playoff position, or are fighting for their playoff lives.  We have a little bit of both of that tonight with many teams in action tonight in the playoff hunt.  That will make for even better baseball. 
Let's dig in and see if we can find some stacks to use today!
MLB DFS Aces – Main
Clayton Kershaw vs. Arizona Diamondbacks
Of the aces on the hill tonight, Clayton Kershaw gets arguably the best matchup on paper.  While the Diamondbacks have been better against lefties over the last month, they're still the Diamondbacks facing Clayton Kershaw and this is a matchup that Kershaw should be able to navigate with some level of ease. 
Over the last month, Kershaw has been the dominant Kershaw we've grown to appreciate.  He has just a 1.5 ERA over 18 innings of work and a 28.8% K rate.  He just faced this team a week ago and went 7 strong without giving up an ER and striking out 5.  With his price being under $10k tonight at $9.7k on DK, we don't need a double-digit K performance.  We just need a similar performance to last time as it netted him 27 DK points.  I'll take that every day of the week from a pitcher under $10k. 
Max Scherzer vs. Milwaukee Brewers
The matchup isn't great for Scherzer tonight, but he's a big game pitcher in a big game for the Mets tonight.  The Mets are clinging to a 1-game lead right now and the Braves get a soft matchup tonight vs. Washington.  They'll need the bulldog that is Max Scherzer to bring his A+ game tonight and I think he does. 
He's coming off a rehab start that saw him strike out 7 in just 3 and two-thirds innings.  The Brewers are a solid lineup, but also a lineup that can go ice cold instantly.  The projected lineup tonight for the Brewers has a 23% K rate over the last month to righties while having just a .157 ISO.  I really like this spot for Scherzer tonight to have one of his 8-10 K games while giving up just a run or 2.      
Wade Miley vs. Miami Marlins
The Marlins have been one of Major League baseball's worst teams this season against righties.  They haven't been great against righties either, but against lefties, they've been awful.  The Marlins have just a 68 wRC and a .589 OPS as a team vs. southpaws this season.  That's just horrendous. 
They'll have a tough time tonight vs. a pitcher in Miley that has thrown 2 very strong games in a row since sitting out for the 3 months.  Over his last 2 outings, he's struck out 11 while giving up just 3 ER.  At just $6.6k tonight on DK, he'll make for a decent SP2.      
MLB DFS Stacks – Main
Baltimore Orioles vs. Tyler Alexander
I wish the Orioles had better numbers as a team vs. lefties, but this is still a strong matchup for them tonight and they could help us get a take down in MLB DFS tonight.  Tyler Alexander is coming into this one really struggling.  In his 5 starts over the last month, he's given up 7 ER twice and has given up at least 3 in all but one of them.  He's just been giving up way too much contact to have any level of success.  His contact rate over the last month is massive 88.60%.  That's significantly higher than any other pitcher throwing tonight.  That much contact leads to a ton of balls in play and the more balls in play, the better chance of putting runners on and scoring. It's as simple of an equation as there is in sports. 
Also over the last month, he's given up 8 homers and 12 barrels.  Over just 23 innings of work, that's really bad.  Another thing that we have going for us here is that Alexander has been dreadful on the road.  His home ERA this season is 3.57.  On the road, it's more than double that at 7.30. 
Core:  My core with the Orioles tonight will be Austin Hays, Adley Rutschman, and Anthony Santander.  After coming out of the gates struggling to hit lefties, Rutschman has been really strong against them over the last month.   He has a .250 ISO and a .361 wOBA.  With how poorly Alexander has pitched on the road, this is a spot that Rutschman should continue to smash in. 
Next up will be Anthony Santander.  Santander has been arguably their best hitter vs. lefties this season.  On the year, he's hitting .296 vs. them and has a .898 OPS thanks to a .535 slugging %.  He's $4.9k on DK tonight so he's a bit pricy, but this is definitely a spot for him to smash in. 
Secondary Pieces/Value:  After my core, I'll look to plug in Orioles pieces where I can.  With Rutschman and Santander being the only hitters over $4k tonight for the Orioles, this lineup will be filled with value.  One of my favorite pieces to this lineup tonight and most nights will be Jorge Mateo.  Mateo, while not spectacular, has done a little bit of everything for the Orioles.  He's hit for some power and stolen some bases.  At just $3.4k he's extremely affordable for someone that has tons of upside in this matchup. 
Ryan McKenna is also a potential solid value tonight at the min-price of $2k.  If he hits close to the front of the lineup, I'll like him a lot more though. 
Atlanta Braves vs. Corey Abbott

Corey Abbott has somehow been able to limit the damage in every single appearance this season but the 1 against the Phillies where he gave up 7 ER in less than 4 innings of work.  The only reason he's been able to limit the damage is thanks to a low hard-hit rate of just 29.70%.  He's teetering with damage as he's also given up a 65% flyball rate over the last month. 
With not having strong swing and miss stuff, giving up that many flyballs is a recipe for disaster and that very well could come at the hands of the Braves tonight.  The Braves will be looking to inch closer to the Mets in the NL East race.  With the easier of the matchups between the 2 times, it's quite possible they draw even with the Mets tonight. 
Core: The bats I'm most interested in here are going to be Ronald Acuna and William Contreras.  These 2 guys are really the guys that are hitting the best right now. Acuna seems to finally have hit a consistent stride.  He has hits in 5 of his last 6 games and has had really full box scores in 2 of his last 3 games. He also has extra-base hits in 4 of his last 5 games.  Contreras is also hot.  He has hit in 4 straight games, including a homer in yesterday's 5-2 victory over the Phillies.   
Secondary Pieces: Other bats I like here but aren't going to prioritize are going to be Austin Riley, Matt Olson, and Michael Harris.  Similar to the Giants, none of these guys are smoking the ball right now but can go off in an instant.  Can Abbott be the slump buster that some of these cold Braves bats need?  It's quite possible.      
San Francisco Giants vs. Chad Kuhl
I haven't been the biggest fan of playing the Giants this season, but they get a strong matchup tonight and an even stronger hitting environment.  Sometimes playing Coors is inevitable and tonight is going to be one of those nights with limited spots for offense.  The former Pirates pitcher, Chad Kuhl has not had much success this year.  His ERA of 5.33 is the highest of his career and his K/9 of 7.08 is the lowest it's been since his rookie year in 2016.  He's coming into this game having given up at least 3 ER in 10 straight games so we know the Giants should score at least that many, but more than likely many more than that. 
Kuhl has been getting rocked over the last month.  His hard-hit rate of 45.8% is by far the highest rate of any pitcher on the mound today.  I'm not going to be overly concerned with splits here as Kuhl has been bad vs. both sides of the plate.  The one caveat here is that the Giants aren't hitting the ball very well right now.  You can make an easy case to fade in MLB DFS tonight, but it's Coors and even the worst hitting teams can excel here. 
Core: I'm going to build around Joc Pederson tonight. He's the one guy in the lineup that has really shown any level of power vs. righties over the last month. His .340 ISO and .465 wOBA vs. righties over the last 30 days is far and away the best out of any Giants hitter.
Secondary: After Pederson, I'll look to add guys like LaMonte Wade, Mike Yastrzemski, Wilmer Flores, and J.D. Davis. While these bats aren't exactly hitting the cover off the ball right now, this is a great spot for them to bounce back and put up solid numbers.
MLB DFS Summary
Other MLB DFS stacks I really like tonight will be the Rockies vs. Junis, Tigers vs. Wells, Astros vs. Rasmussen, and Dodgers vs. Kelly. 
Make sure to check out our Home Run Model. And Also make sure to drop into Discord where we're constantly talking about plays for every slate.
Good luck and hope to see you in the green.
Make sure you follow me on Twitter at @rangerzfan79 and be sure to sign up for an ALL ACCESS GOLD ACCOUNT here at Win Daily Sports. Gain access to our Projection Models and jump into our Discord where we will have our experts talking plays across every sport and slate!
New to the DFS writing world but have been playing DFS since BVP was cool. Started play season long fantasy when sporting news was used to calculate weekly scores. Originally from Brooklyn, NY but now a Baltmore resident.