MLB DFS Aces and Stacks for DraftKings and FanDuel for 09/12/2022 – Win Daily Sports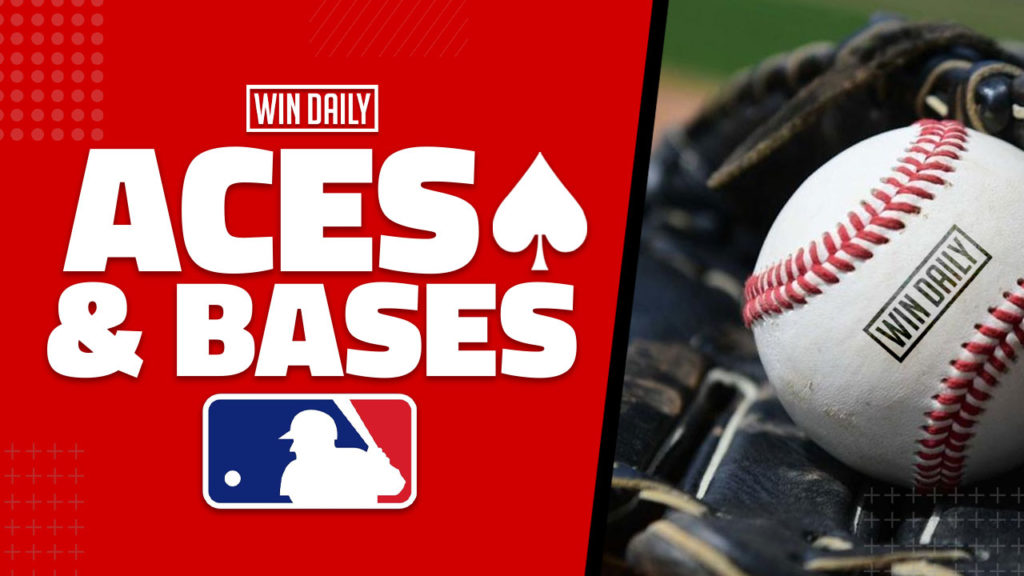 Welcome to the Monday edition of the Aces and Bases, where I'll be going through the top MLB DFS Aces and Stacks on DraftKings and Fanduel. 
Tonight we have a nice-sized 6-game slate of MLB DFS to navigate through.  As has been the case with smaller slates, the earlier 6:40 games are included so we'll want to make sure we get out lineups in early. 
Let's dig in and see if we can find some stacks to use today!
MLB DFS Aces – Main
Chris Bassitt vs. Chicago Cubs
While guys like Max Scherzer and Jacob Degrom are the big names in this Mets rotation, Chris Bassitt has been the cog that has quite possibly been the most important.  Outside of a quick trip to the IL for a minor bout with Covid, he's been the guy that consistently goes out and gives them strong innings.  He's not a pitcher that's going to normally blow away a team with K's, but in his last outing he got his strikeouts up to 10. 
He has it in him and when he needs to get some, he can.  He's been dynamite over the last month with just a 2.59 ERA and is facing off against a Cubs team that is striking out almost 29% of the time over the last week.  I wish his price was a little cheaper than $10k on DK, but there's definitely upside in this outing as the projected lineup tonight for the Cubs has a 28% K rate vs. righties over the last month.  
Spencer Strider vs. San Francisco Giants
I typically reserve starters going against the Giants when we have a lefty on the mound, but tonight is a bit different.  There are few pitchers in the game currently that have the strikeout upside that Strider gives us.  He can mow down any lineup and tonight's matchup won't be any different.  Over the last month, Strider has had a massive 38.50% K rate.  Even against lefties, which he'll see plenty of tonight, he has a 29% K rate vs. them over the last month. 
After an absolutely brutal loss yesterday to the Mariners, the Braves will need a crisp start from Strider tonight and I think they get it.  With the upside that he has, $10.1k on DK feels like a very fair price, especially considering that out of his last 8 starts he's been under 20 DK points just 3 times.  
Framber Valdez vs. Detroit Tigers
Tonight's not a night that I'm going to get fancy with pitching.  I'm going to be sticking in the upper tier and the final piece to the puzzle with pitching for me will be Valdez.  He gets a strong matchup vs. a bad team.  While the Tigers have been a bit better of late, I just don't see a scenario where they are able to get to Valdez tonight. 
He's been light's out recently and has a 28.2% K rate over the last month.  He's hit 20 DK points in 5 straight starts and hasn't been in single digits in more than 4 months.  He's arguable the safest pitcher on the mound.  He does give up some hard contact but his ability to keep the ball on the ground with a nearly 64% groundball rate helps him to limit any damage.    
MLB DFS Stacks – Main
Cincinnati Reds vs. Bryse Wilson
Oh, what a solid matchup the Reds get tonight.  Bryse Wilson is just not a good pitcher.  Over the last month, Wilson has pitched to a 6.88 ERA.  Over his last 17 innings of work he's surrendered 4 homers and has allowed 6 barrels.  His hard-hit rate over that stretch is a massive 40.30% and has allowed an 85% contact rate.  You guys know me by now to know that this is the type of matchup I target.  A contact pitcher that's giving up a ton of hard contact. 
The Reds can certainly fail here.  But the odds are in their favor to put up a healthy amount of runs against Wilson and then a bullpen that has a 6.45 ERA over the last 2 weeks.  The main way to attack Wilson is with lefties.  They have a slugging % pushing .600 and a wOBA of .415.  10 of the 17 homers he's surrendered this season have been to lefties.  
Core/Value:  Jake Fraley and T.J. Friedl are going to be my priority here.  Both guys are in monster spots to produce tonight and are ridiculously priced tonight. We can start with Friedl since he'll more than likely be leading off.  He's just $2.8k tonight on DK and has crushed righty pitcher over the last month.  He has a .438 wOBA and a .350 ISO.  He's cheap and productive. 
Next up will be Fraley.  Fraley has also been really good vs. righties over the last month, with a .311 ISO and a .416 wOBA.  He also lines up extremely well with Wilson.  Against lefties, Wilson throws his changeup around 50% of the time.  Against righty changeups, Fraley has a .355 ISO and a .388 wOBA.  At just $3k tonight on DK, he's another value play that will be in my core.                
Secondary Pieces/Value:  After my core with the Reds, I'll look to include guys like Jonathan India, Kyle Farmer, and Aristides Aquino.  Although he had a quiet last couple of games, Farmer's coming off a solid week that saw him have 8 hits in his last 22 AB.  He also had 2 homers over the last week.  Against righties over the last month, he has a .313 wOBA.  While I prefer lefties against Wilson, he's still giving up .454 slugging % to righties.  Farmer's in line for a solid day. 
India is also in line to have a strong night at the plate.  He has a .357 wOBA vs. righties over the last month.  My only concern with him tonight is that he is pricey at $5.3k on DK. 
New York Mets vs. Javier Assad
After falling to second place for the I believe the first time this season, the Mets' offense has come back with a vengeance.  Over the last 2 days, the Mets have combined to score 20 runs and there's a good chance they add a good amount of runs to that total tonight.  They get a strong matchup tonight vs. Javier Assad.  Although the surface numbers for Assad haven't been bad, there are some signs that he's been a bit lucky so far to keep an ERA under 3 over the last month. 
He hasn't been fooling any hitters as his chase rate of 24.70% is one of the lowest of any pitcher tonight and he's also giving up a ton of hard hits at over 35%.  When locked in, this Mets lineup can be extremely patient and productive.  Assad has a massive 4.11 BB/9 over the last month and if the Mets can remain patient, they'll get on base a healthy amount against a pitcher with a 1.43 WHIP.  With Assad, you attack him with lefties.  Lefties have a .579 slugging % and a .410 wOBA. 
Core:  My core with the Mets MLB DFS stack will be Francisco Lindor, Brandon Nimmo, and Eduardo Escobar.  Since coming back from the IL, Escobar has been on a tear.  Just in the past week, Escobar has 13 hits in his last 25 AB.  He's homered 3 times and has also driven in 5 while scoring 6.  Considering his productivity of late, the $4.2k on DK tonight is very reasonable. 
Next up will be Brandon Nimmo.  This is where the patience comes in.  Nimmo has walked 6 times over the last week and is facing a pitcher that gives up walks at a high pace.  I'm not chasing walks here, that's silly, I'm chasing what happens next.  If he gets on early, there's an extremely strong chance that he also scores a run.  He's scored 6 times over the last week after being on base 13 times. He's in line to get on base multiple times tonight and also score multiple runs. 
My final core piece here is going to be Lindor.  In his last 24 AB, Lindor has 8 hits.  One of those left the park and with a matchup against a pitcher that is bad against lefties, Lindor homering tonight is not out of the question. 
Secondary: I also like Tyler Naquin, Pete Alonso, and Jeff McNeil here. My favorite of this group is going to be Jeff McNeil. McNeil has been a beast vs. righties over the last month with a .392 wOBA. While he hasn't shown much power vs. them, he's also not priced that way. He's just $4.6k on DK tonight. He's been a hit machine over the last 2 games with 5 hits in 8 AB. He'll continue with that tonight in a favorable matchup.
Houston Astros vs. Eduardo Rodriguez
Rodriguez has back-to-back starts that have not been good.  He gave up 5 ER to the Mariners and then followed that up with a poor outing against the Angles that saw him give up 3 homers.  That makes it 5 homers in his last 11 innings of work.  Not a pace you want to see heading into a tough matchup vs. the Houston Astros.  The strikeouts have all but evaporated as he has just a 17% K rate over the last month and an 89% contact rate.  Giving up that much contact vs. a team like the Astros won't help Rodriguez get back on track tonight and should lead to the Astros being a solid MLB DFS stack. 
Core: My core for the Astros will be their three main guys, Jose Altuve, Alex Bregman, and Yordan Alvarez.  After struggling due to some bad luck, Bregman's bat has finally come alive.  He has 5 hits in his last 17 AB, including a homer yesterday.  Over the last month, he has a solid .471 wOBA vs. lefties and a .273 ISO.  After a monster day at the plate yesterday, he should continue that today in a strong matchup. 
Alvarez is another bat in this lineup that has woken up.  He's smashing the ball right now, with 5 barrels over the last week.  I never fear a L/L matchup with Alvarez, especially against a pitcher giving up a slugging % well .600 to lefties in 2022. 
Secondary Pieces: Other pieces I like here are going to be Trey Mancini, Chas McCormick, and Kyle Tucker. Tucker is another Astros bat that excels in L/L matchups. He has a .311 wOBA and a .257 ISO vs. them over the last month.  He's also coming in hot with 3 games over the 20 DK In his last 5.  Tucker is really pricey thought tonight at $5.2k.  That's why he's not a core for me tonight, just a complimentary piece.       
MLB DFS Summary
Other MLB DFS stacks I really like tonight will be the Rangers vs. Braxton Garrett and Tampa Bay Rays vs. Jose Berrios. 
Make sure to check out our Home Run Model.
Good luck and hope to see you in the green.
Make sure you follow me on Twitter at @rangerzfan79 and be sure to sign up for an ALL ACCESS GOLD ACCOUNT here at Win Daily Sports. Gain access to our Projection Models and jump into our Discord where we will have our experts talking plays across every sport and slate!
New to the DFS writing world but have been playing DFS since BVP was cool. Started play season long fantasy when sporting news was used to calculate weekly scores. Originally from Brooklyn, NY but now a Baltmore resident.