MLB DFS Aces and Stacks for DraftKings and FanDuel for 09/09/2022 – Win Daily Sports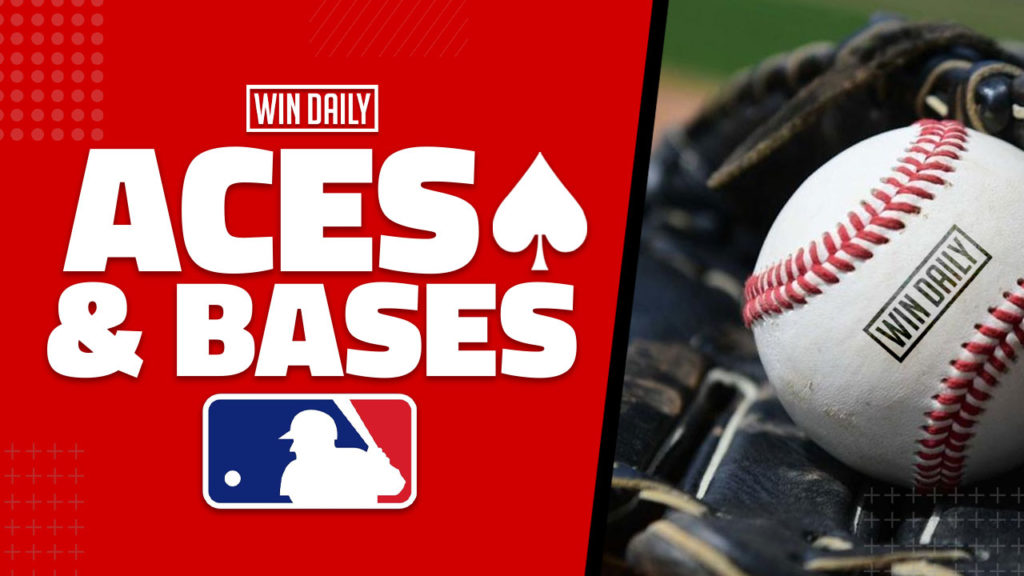 Welcome to the Friday edition of the Aces and Bases, where I'll be going through the top MLB DFS Aces and Stacks on DraftKings and Fanduel. 
Tonight we have a solid 12-game slate of MLB DFS to navigate through.  The slate is void of our top end starters, but we do have some nice mid-tier pitchers to use.  We also have some great spots for our MLB DFS stacks tonight.
Let's dig in and see if we can find some stacks to use today!
MLB DFS Aces – Main
Ross Stripling vs. Texas Rangers
It may seem weird to have Ross Stripling as one of our top pitchers tonight, but if you look behind the curtain and see what he's done this season, it's been pretty good!  Over the last month, Stripling has pitched to a 2.59 ERA while having a really solid 28.7% K rate.  He also has one of the top chase rates of any pitcher on the mound tonight with a 32.1% chase rate. 
The Rangers, once thought to be a top offense in the league after a handful of moves in the offseason, have been very mediocre vs. righties this season.  They have just a .677 OPS vs. righties with a nearly 24% K rate.  This is a matchup that Stripling should excel in and is only $8.2k on DK tonight.    
Nick Lodolo vs. Milwaukee Brewers
Nick Lodolo may have the most upside out of any pitcher throwing tonight.  He's facing off against a Brewers team that strikes out at a really high rate vs. lefties.  In looking at the projected lineup for the Brewers tonight, only Renfroe has a K rate under 24% vs. lefties over the last month.  As a team, they have a 32.2% K rate vs. lefties over the last month and just a .274 wOBA.  It also helps that Lodolo has pitched pretty well over the last month. 
His 3.30 ERA over his last 30 innings pitched is decent.  He's been succeeding because he's been able to get ahead of the majority of the hitters he's been facing.  His first strike % of 73.60% over the last month is way higher than anyone else on the mound tonight.  With no true aces on the hill tonight, I'm willing to risk it with Lodolo tonight. 
Lucas Giolito vs. Oakland Athletics
Using Lucas Giolito this season in MLB DFS has been the equivalent of playing Russian roulette.  He's been a huge risk and has had arguably the worst season of his career. That said, the matchup for him tonight is gold and is one that should get him right.  The A's struggle vs. righties.  The projected lineup tonight has really struggled vs. righties over the last month.  They have a high K rate of 27.7% and have lit for littler power with a .122 ISO. 
Homers have been Gio's biggest weakness season and having a team light in power will work in his favor.  While never safe, I do like this spot for Gio tonight.  I will more than likely lock in the duo of Stripling and Lodolo, but if you want to go a different route, Gio makes sense tonight.   
MLB DFS Stacks – Main
Chicago White Sox vs. James Kaprielian
I normally prefer to use the White Sox vs. lefties only when playing MLB DFS, but this is a strong matchup for them tonight.  James Kaprielian is not a good pitcher, and he's also a pitcher that's been worse at home.  His home ERA this season is all the way up to 5.87.  In the spacious Oakland Coliseum, pitching to contact has caused him to give up just a ton of damage at home.  Over the last month, Kap has a contact rate of nearly 84% and is giving up a ton of fly balls at 53%. 
You all know me by now, I love attacking pitch-to-contact pitchers.  The more balls in the play, the better chance for damage.  With Kap, we want to focus on the righties in the White Sox lineup.  Righties have a nearly .490 slugging % vs. him this season and a .367 wOBA.  Both are significantly higher than lefties. 
Core:  My White Sox core tonight will be the 3 guys in the middle of the lineup, Jose Abreu, Eloy Jimenez, and Gavin Sheets.  Yes, Sheets is a lefty but he's also the guy in the White Sox lineup that has been close to the top of all offense metrics vs. righties this season.  Over the last month, he has a .242 ISO vs. righties with a .399 wOBA.  He should have a solid night and is only $2.6k tonight.  He's not only a piece of my core but also a solid value piece.
My favorite person in this lineup though will be Eloy Jimenez.  He's a reverse splits hitter who excels in matchups vs. average to below-average righties.  Tonight, he faces an awful righty.  His average is up to .313 vs. righties and his slugging % is over .500.                 
Secondary Pieces/Value: Other bats that I really like here tonight will be Elvis Andrus, Romy Gonzalez, and Yoan Moncada. All three have been hitting the ball very well over the last week. Andrus is 10 for his last 31 and has driven in 8 guys over the last week. He's also scored 7. He'll be at the top of the lineup tonight and is only $2.8k on DK. Gonzalez, while hitting ninth, has also been red hot. He has 10 hits in his last 23 AB and has also scored 7 runs. He too is dirt cheap at $2.3k tonight.
Philadelphia Phillies vs. Patrick Corbin
Although Corbin has pitched much better of late, he's due for a blow up game.  He's only allowed 4 ER over his last 3 starts, but he's given up multiple barrels in each and is still giving up a ton of hard contact.  He's been extremely lucky with BABIP's of .111 and .188 in his last 2 starts.  You can only get so lucky for so long. 
The last time Corbin faced the Phillies he didn't make it out of the first.  He surrendered 6 ER in just two-thirds of an inning.  While I don't expect an exact replica of that outing, I do expect him to struggle vs. a Phillies team that has been very good vs. lefties this season.  The projected lineup for the Phillies tonight has a .196 ISO vs. lefties over the last month and a .364 wOBA.  With Corbin, we want to prioritize righties against him.  They have a .524 slugging % vs. him and a .387 wOBA.  22 of the 25 homers he's given up this season have been to righties. 
Core:  My priority here will be Alec Bohm, Rhys Hoskins, and JT Realmuto.  Hoskins has been a beast vs. lefties over the last month, with a .242 ISO and a .416 wOBA.  He also has solid numbers vs. Corbin's pitch of choice vs. righties, the sinker.  Against lefty sinkers, Hoskins has a .250 ISO and a .378 wOBA over the last few years.  Although anything is possible, on paper he's in a solid matchup tonight.  Realmuto also has solid numbers vs. lefty sinkers.  He has a .182 ISO vs. them and a .405 wOBA.   
Secondary:  Other bats I'll look to grab here will be Bryce Harper, Kyle Schwarber, and Jean Segura.  While Schwarber and Harper will be in L/L matchups, we don't need to shy away from that with Corbin.  Lefties still have a .365 wOBA vs. him and a .467 slugging %.  They are both in solid matchups and if history repeats itself, Corbin won't last too long in this one. 
He's not a core for me tonight, but Segura is pretty close.  He's been really good vs. lefties over the last month, with a .415 wOBA and a .229 ISO.  He also excels vs. lefty sinkers.  Over the last few years, he has a .414 ISO vs. them and a .550 wOBA.  At just $4.3k he's reasonably priced considering the matchup. 
Toronto Blue Jays vs. Dane Dunning
After a successful trip to Baltimore, the Blue Jays Wild Card lead is now up to 4.5 games.  They'll look to continue to pad that number with a soft matchup vs. Dane Dunning tonight.  Dunning has struggled over the last month, pitching to a 5.92 ERA and allowing 4 homers in his last 24 innings of work.  Over those 24 innings, he's also allowed 9 barrels and a 1.77 WHIP.  He's been struggling and it's a spot we'll want to exploit. 
I'm not going to be overly concerned with splits against Dunning as both sides of the plate have pretty equal numbers on the year. That said, over the last month righties have a .454 wOBA vs. him and a .286 ISO.  This is a lineup filled with righties. 
Core: The only Blue Jays bat I'm really going to force into my MLB DFS stacks tonight will be Bo Bichette.  He is on an epic tear right now as he's had 16 hits in his last 31 AB.  He's also homered 5 times over that stretch and has driven 14 runs.  His series against the Orioles is one of the main reasons their Wild Card lead is what it is right now.  He's expensive at $5.7k on DK tonight, but the matchup speaks for itself.   
Secondary Pieces: After Bichette, the rest of this lineup is in play. Guys like George Springer, Vlad Guerrero, Matt Chapman, and Alejandro Kirk all make sense tonight. They all hit righties well and all have upside. Should Teoscar Hernandez come back from the Paternity list tonight, he'd also be in play. You can plug and play any of these guys to get some productivity.
MLB DFS Summary
I also really like the Guardians tonight vs. Dylan Bundy in MLB DFS.  He's been extremely lucky over the last month to not give up more damage than he has.  You can only give up an 86% contact rate for so long before other teams truly take advantage of it.  A .210 BABIP is just not sustainable and the Guardians are really good.  Dodgers vs. Clevinger are also very much in play. 
Make sure to check out our Home Run Model.
Good luck and hope to see you in the green.
Make sure you follow me on Twitter at @rangerzfan79 and be sure to sign up for an ALL ACCESS GOLD ACCOUNT here at Win Daily Sports. Gain access to our Projection Models and jump into our Discord where we will have our experts talking plays across every sport and slate!
New to the DFS writing world but have been playing DFS since BVP was cool. Started play season long fantasy when sporting news was used to calculate weekly scores. Originally from Brooklyn, NY but now a Baltmore resident.