MLB DFS Aces and Stacks for DraftKings and FanDuel for 09/05/2022 – Win Daily Sports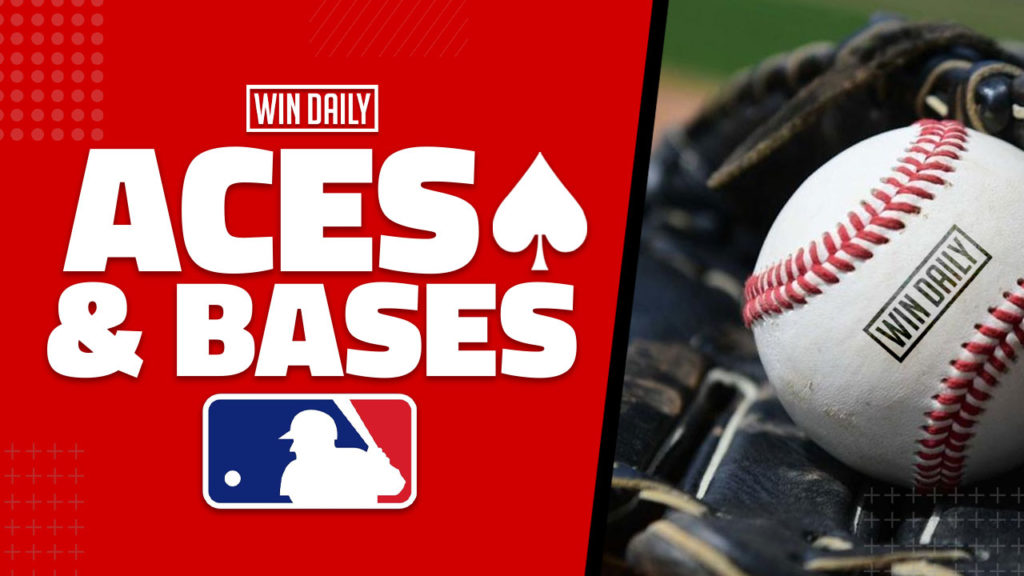 Welcome to the Monday edition of the Aces and Bases, where I'll be going through the top MLB DFS Aces and Stacks on DraftKings and Fanduel. 
Happy Labor Day!  The focus of today's article will be on the 6-game slate starting at 6:40 pm est.  That slate brings a couple of top prospects making their Major League debuts.  It should be a fun slate of baseball tonight.
Let's dig in and see if we can find some stacks to use today!
MLB DFS Aces – Main
Andrew Heaney vs. San Francisco Giants
On paper, this is as good of a matchup as a pitcher can get.  To start, Andrew Heaney has been absolutely lights out.  Over the last month, Heaney has a massive 35.6% K rate and 2.7 xFIP.  He's coming off a stretch that has seen him strike out 28 batters over his last 3 outings.  He should be able to walk through this Giants lineup with ease tonight.  Over the last month, this projected lineup for the Giants has a 34% K rate vs. lefties and has done little in the way of power. They have just a .078 ISO and a .271 wOBA vs. lefties over the last month.  Anything can happen on any given day, but this is a beautiful matchup for Andrew Heaney tonight and I'll be locking him in as my SP1. 
Blake Snell vs. Arizona Diamondbacks
Snell is another pitching coming into the game tonight in solid form.  Over the last month, Snell has had a nearly 33% K rate at 32.7%.  He's also pitched to an ERA of just 3.12.  While the Diamondbacks have been a bit better vs. lefties over the last month, if we look at their season as a whole it's been pretty bad. They have a season-long K rate of 23% and just a .682 OPS vs. lefties.  If Snell is on point tonight with his pitches, he should be able to navigate pretty easily through this Diamondbacks team. 
Jose Suarez vs. Detroit Tigers
I will more than likely be sticking with Heaney and Snell as my pitching combo on tonight's slate, but if you want to grab a lower-priced pitcher Jose Suarez may be your guy.  While he's not flashy in any sense of the word, he's been extremely consistent from a strike-out perspective and gets a really nice matchup tonight vs. the Tigers.  Over his last 7 starts, he's had at least 5 strikeouts 6 times and hasn't allowed more than 3 ER in well over a month.  This Tigers lineup is not very good, especially against lefties.  Tonight's projected lineup for the Tigers has a .101 ISO and a .280 wOBA vs. lefties over the last month.  Matchup plus his price of $7k on DK make him an intriguing SP2 tonight if you're looking to spend up on bats. 
MLB DFS Stacks – Main
Houston Astros vs. Martin Perez
The Houston Astros face off against Martin Perez tonight for the second time in a week.  If it's anything like the first outing (it will), the Astros will be the team to take us to the top of the leaderboards of our MLB DFS contests.  Perez really struggled in that outing, allowing 5 ER in just 5 innings of work.  He struggled with his command as he gave away 4 free passes and also allowed 9 hits. 
This game was not an anomaly because if we look at Perez's worst outings this season, they have come against the Astros.  The Astros scored 7 ER against him at the beginning of August.  They have his number of late and it should continue tonight.  With Perez, we want to attack him with righties.  Throughout his career, righties have a .448 slugging % and a .345 wOBA. 
Core:  My Astros Core will be Jose Altuve, Alex Bregman, and Jeremy Pena.  These three have been the Astros' best hitters of late and will all get the platoon advantage tonight.  Altuve is coming into this game super-hot.  He had another 3 hits yesterday, and that makes it 10 hits over his 5 games.  He also has 5 straight games of last least 13 DK points, with 3 of the games well being well over 20. 
Bregman has been dynamite against lefties over the last month, with a .543 wOBA and a .409 ISO.  While he's cooled off a bit over the last couple of games, this matchup against Perez tonight should wake him up.         
Secondary Pieces:  After my core, I'll look to sprinkle in Yordan Alvarez, Kyle Tucker, Christian Vazquez, and Trey Mancini.  While Alvarez and Tucker will both be in an L/L matchup, I never shy away from using either of them in this type of matchup.  Over the last month, Alvarez has a .417 wOBA vs. lefties.  He's one of the top lefty hitters in the league with the same handedness.  Since coming to the Astros in a trade at the deadline, Mancini has been really good vs. lefties.  He's hitting .350 vs. them and has an OPS of .900.  At just $3.9k on DK, he'll be a cheaper way to get exposure to this stack.   
Los Angeles Angels vs. Tyler Alexander
This is far from a safe pick as it's the Angels.  But they get a great matchup vs. Tyler Alexander.  I love using bats vs. pitchers that give up massive contact rates.  No pitcher on tonight's slate has a higher contact rate over the last month than Alexander.  At 88.4%, he's significantly higher than any other starter tonight.  To make matters even more fun, his hard-hit rate over the last month of 38.70% is also tops of any pitcher on the mound tonight. 
So we have a pitcher giving up lots of contact, while also giving up a ton of hard contact?  Give me this every single day.  It won't always work out for us as the BABIP gods aren't always in our corner, but putting the ball in play for a team is a must in order for them to be successful.  Alexander is far worse against righties, as they have a .484 slugging % vs. him and a .347.  9 of the 11 homers he's given up this season have been to righties. 
Core:  I'm starting my Angels stack with Mike Trout, Shohei Ohtani, and Luis Rengifo.  A healthy Mike Trout is what baseball needs and it appears we have a healthy Mike Trout.  His homer yesterday brings him to 29 homers in less than 100 games.  He's the face of Major League baseball and he'll rake tonight in a cake matchup.  While Ohtani won't get the platoon advantage tonight, he's been extremely solid vs. lefties over the last month. He has a .437 wOBA vs. them and a .357.  People tend to shy away from L/L matchups, I don't and neither should you, especially with Ohtani. 
Secondary:  After my core, I'll look to add complimentary pieces like Andrew Velazquez, David Fletcher, and Taylor Ward.  While Ward has cooled off significantly, he still is the same guy that showed a ton of upside earlier in the year.  This is the type of matchup where hopefully the old Ward shows up and busts out of recent struggles.  His price is all the way down to $3.1k on DK, where earlier in the year he was over $5k.  He has upside at this price point. 
Chicago White Sox vs. Marco Gonzales
The White Sox vs. a lefty feels almost like a trap play these days in MLB DFS, but with the return of Luis Robert they are close to full and that's a big bat in the lineup for them.  While Gonzales hasn't pitched awful, he also hasn't been anything special.  In his last outing, he gave up 3 ER against a far inferior lineup in the Tigers. 
He's another pitcher that pitches to contact, with a nearly 84% contact rate over the last month.  Against a solid White Sox lineup, that could pose a lot of problems for him.  The projected lineup tonight for the White Sox has a .399 wOBA vs. lefties over the last month and a .180 ISO.  They should do well again in his matchup. 
Core: My White Sox core will be the 3 guys at the top of the lineup, Elvis Andrus, Luis Robert, and Jose Abreu.  Getting Robert back is huge for the White Sox.  He's been one of their top hitters vs. lefties on the year, with a .380 average and a .549 slugging %.  While Andrus is more of a value play at $2.8k, he's also going to be a big piece of my core tonight.  He's been really solid since being put at the top of the lineup.  Over the last month, he has had a .391 wOBA vs. lefties and a .286 ISO.  At his price and position in the lineup, he's one of my favorite plays on the night slate.   
Secondary Pieces: He's not part of my core, by I also really like Yasmani Grandal. After a slow start to the year, he's been really solid vs. lefties. In his last 18 plate appearances vs. them, he has a .623 wOBA and a .417 ISO. He's pretty cheap at $2.9k on DK and has immense upside. I also really like A.J. Pollock. He's been one of the White Sox best hitters recently, with hits in 7-straight games. He's also inexpensive at just $3.4k on DK.
MLB DFS Summary
Other stacks I like tonight will be the Dodgers vs. Logan Webb and Guardians vs. Brady Singer. 
Make sure to check out our Home Run Model.
Good luck and hope to see you in the green.
Make sure you follow me on Twitter at @rangerzfan79 and be sure to sign up for an ALL ACCESS GOLD ACCOUNT here at Win Daily Sports. Gain access to our Projection Models and jump into our Discord where we will have our experts talking plays across every sport and slate!
New to the DFS writing world but have been playing DFS since BVP was cool. Started play season long fantasy when sporting news was used to calculate weekly scores. Originally from Brooklyn, NY but now a Baltmore resident.