MLB DFS Aces and Stacks for DraftKings and FanDuel for 09/02/2022 – Win Daily Sports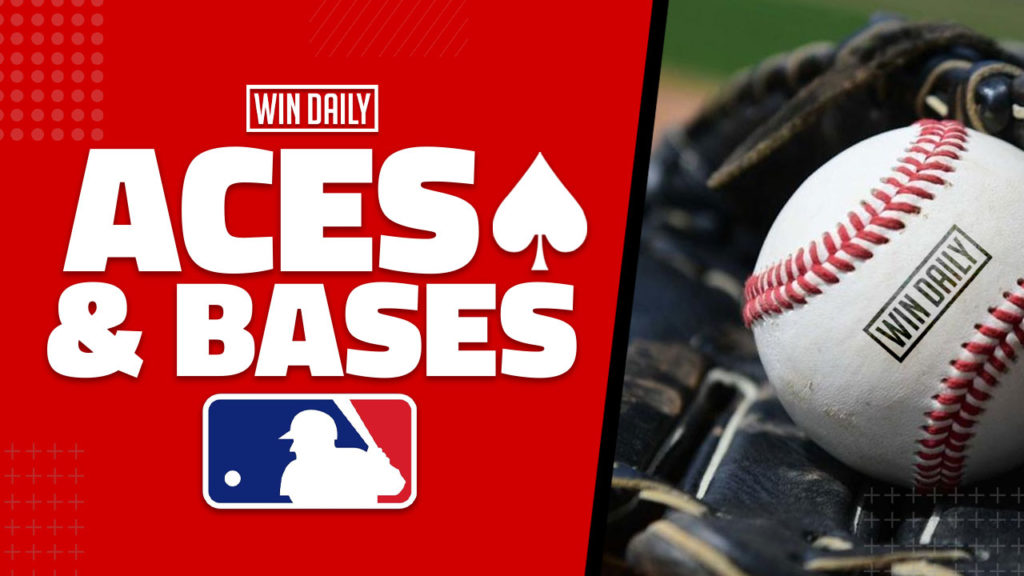 Welcome to the Friday edition of the Aces and Bases, where I'll be going through the top MLB DFS Aces and Stacks on DraftKings and Fanduel. 
Tonight we have a solid 13-game slate of MLB DFS to navigate through.  It's a Dallas Keuchel night and you know that means one thing, lots and lots of runs!
Let's dig in and see if we can find some stacks to use today!
MLB DFS Aces – Main
Charlie Morton vs. Miami Marlins
In what should be a low-scoring game tonight, I'm going to side with Charlie Morton as one of the top pitchers tonight.  Over the last month, no pitcher on tonight's slate has had a higher strikeout rate.  His K rate of 34.4% over the last month is well ahead of the nearest person and even though this Marlins lineup doesn't k too much, there's still going to be some upside for Morton. 
This Marlins lineup doesn't do much against righties, with a .125 ISO and a .285 wOBA over the last month.  At just $9.3k on DK tonight, he's not someone that will break the bank and very well could go 7 strong with 6 strikeouts, and allowing just a pair of runs.  I'm going to lock in Morton and that price and not think back.
Jordan Montgomery vs. Chicago Cubs
After busting out of the gates in his Cardinals career, Montgomery came back down to earth in his last outing vs. the Braves.  That's the thing, it was the Braves.  They are one of the best teams in the league vs. lefties.  The Cubs?  Not so much.  We should see the return tonight of a pitcher that has made Brian Cashman lose many nights of sleep in August.  Prior to that Braves start, Montgomery had only allowed 1 ER through his first 4 starts. 
One of those starts was against this same Cubs team where he pitched a complete game shut out with 7 punch outs.  Can we expect a repeat tonight?  Probably not, those are rare these days.  But this Cubs team is awful against lefties, with a .145 ISO and a .269 wOBA for tonight's projected lineup vs. lefties over the last month.  He's just $9.2k on DK tonight and a pairing of Morton and Montgomery may take us to the top of the standings.
David Peterson vs. Washington Nationals
If you want to save a bit of cash for your MLB DFS stacks tonight, I suggest moving down to David Peterson at $8.3k on DK.  He's been lights out over the last month, with a 1.69 ERA and a nearly 27% k rate.  He hasn't allowed more than 3 ER in a start since way back in June.  Peterson will also have the luxury of facing a weak-hitting Nationals lineup.  Over the last month, they have just a .160 ISO vs. lefties.  Peterson should be able to hold down this lineup for the Nationals with ease tonight as the Mets look to increase their 3-game lead in the NL East. 
MLB DFS Stacks – Main
Boston Red Sox vs. Dallas Keuchel
I say this with a straight face, Dallas Keuchel has no business being on a major league mound.  The Rangers must really lack depth in the minors to have signed Keuchel after absolutely miserable stints in both Chicago and Arizona.  I guess it's a good thing that he's still pitching because that means we have a very clear target for at least one of our MLB DFS stacks.  Red Sox should absolutely smash tonight. 
Keuchel has given up at least 6 ER in 6 of his 13 starts this year.  Just think about that for a second.  Most pitchers may give up 1 or 2 clunkers in a season.  He's given up 6 in nearly half his starts.  While both sides of the plate have done well against him, I want to focus more so on the righties here.  Righties have a .606 slugging % vs. him this year and a wOBA of .426.  All 11 bombs that have been hit against this season have also been hit by righties. 
Core:  My Red Sox core will be Tommy Pham, Xander Bogaerts, and J.D. Martinez.  These 3 guys have been the best Red Sox hitters vs. lefties.  Since joining the Red Sox, Pham is hitting .364 vs. lefties with a nearly .600 slugging %.  He was a bit of a disappointment last night in a game that featured 17 runs, but tonight he'll be back on the saddle in a great matchup. 
Bogaerts has been really strong vs. lefties this season, with a team-leading 24 wRC.  He's sporting an OPS over 1.000 and is coming into this game as hot as anyone in the game.  He has multi-hit games in 5 straight and will almost certainly make it 6 straight against just an awful pitcher in Keuchel.           
Secondary Pieces: Everyone else in this lineup is considered a secondary piece. If they are in the lineup tonight for the Red Sox, they are in play. My favorite of the rest though will be Alex Verdugo, Rafael Devers, Trevor Story, and Kike Hernandez. Hernandez and Story are historically very strong vs. lefties and won't break the bank tonight. Story is $4.8k and Hernandez is just $3.6k. He'll make a very cheap play in this lineup that has an IRT of nearly 6 tonight. We typically see those in Coors games, not Fenway games. Vegas knows how bad Keuchel is.
New York Mets vs. Josiah Gray
After facing one of the top pitchers of our generation in Clayton Kershaw yesterday, the ball may look like a beach ball tonight coming out of the hand of Josiah Gray.  While Gray may blossom into a solid major league pitcher, he just hasn't shown enough consistency yet in the big leagues.  He gives up way too much contact and way too many flyballs.  Over the last month, his flyball rate is 53%.  That's significantly higher than any other pitcher on the mound tonight. 
When you throw that many flyballs, you're asking for trouble and he's gotten into plenty of it.  Over the last month, he's given up 8 homers in just 21 innings of work.  He's been lucky so far as with a WHIP of less than 1.5, most have been solo shots or 2-run shots.  Against a solid Mets lineup that is extremely patient, that WHIP should go up tonight leading to a larger potential for 3-run shots or dare we say it, a grand slam.  Against Gray, we'll want to start our MLB DFS stacks with lefties.  Of the 32 homers (LOL) he's given up this season, 19 have been hit by lefties and they have a .404 wOBA vs. him. 
Core: My Mets stack is going to start with Brandon Nimmo, Francisco Lindor, and Daniel Vogelbach. Lindor is in an absolute smash spot tonight. Outside of Alonso, he's shown the most power vs. righties this season. He's homered 15 times vs. them and has a slugging % of .463 vs. them. He's expensive at $5.7k on DK tonight, but the matchup is just so good for him. I also really like Vogelbach here and he comes in at a much more appealing price of $4k. Since joining the Mets, he's slugging .500 vs. righties and has an OPS over .900.
Secondary/Value:  After my core, I'll look to add guys like Pete Alonso, Starling Marte, Tyler Naquin, and Jeff McNeil.  Alonso is always in play as he's been one of the most productive hitters in baseball this year.  He's up to 105 RBI and has 31 homers.  While the lefties are the priority, Alonso is always a homer waiting to happen.  I like Naquin a lot here, but he's always a pinch-hit risk and that's something we need to keep in the back of our heads.  McNeil is in play as well.  He's had a phenomenal season in 2022, hitting .320.  That should continue tonight against Gray. 
Baltimore Orioles vs. JP Sears
It's September and the Baltimore Orioles are still playing meaningful baseball.  What was a franchise in absolute disarray a couple of years ago, is now considered close to a model franchise with a solid farm and a solid Major League team.  This is also an Orioles team that has been crushing lefties over the last month.  The projected lineup tonight has a .232 ISO vs. lefties over the last month and a .361 wOBA. 
They'll get a solid matchup tonight vs. a pitcher in Sears that should struggle.  While his ERA has been low over the last month at 2.53, his xFIP is more than a run and a half higher at 4.80.  He's been extremely lucky with a nearly 88% LOB %.  He gives up way too much contact to keep an ERA that low for too long. 
Core: My Orioles stack will start with Ryan Mountcastle, Anthony Santander, and Ramon Urias.  Mountcastle and Urias will cost us a combined $6.9k tonight on DK.  Both guys have crushed lefties over the last month and there's no reason to think that won't continue tonight vs. Sears.  Over the last month, Mountcastle has a .500 ISO and a .468 wOBA vs. southpaws. 
Urias has also been really good, with a .333 ISO and a 75% hard-hit rate.  Of my Orioles core, only Santander is pricy as he's at $5.1k.  He's deserved that price tag as he's quietly had a monster year.  He's up to 24 homers and 74 RBI in 2022.  He's hitting close to .300 vs. lefties this year and is slugging well over .500. 
Value: If history repeats itself, we should see Ryan McKenna in the leadoff spot tonight vs. the lefty. If that does happen, he becomes one of the top value plays on the board tonight. At just $2k on DK, we're getting someone that has a .522 wOBA vs. lefties over the last month and a .375 ISO. Let's hope Hyde throws him in there tonight because that will free up a ton of salary relief for us.
MLB DFS Summary
Other stacks I like tonight will be the Tiger vs. Daniel Lynch, Twins vs. Davis Martin, and Cardinals vs. Adrian Sampson. 
Make sure to check out our Home Run Model.
Good luck and hope to see you in the green.
Make sure you follow me on Twitter at @rangerzfan79 and be sure to sign up for an ALL ACCESS GOLD ACCOUNT here at Win Daily Sports. Gain access to our Projection Models and jump into our Discord where we will have our experts talking plays across every sport and slate!
New to the DFS writing world but have been playing DFS since BVP was cool. Started play season long fantasy when sporting news was used to calculate weekly scores. Originally from Brooklyn, NY but now a Baltmore resident.