MLB DFS Aces and Stacks for DraftKings and FanDuel for 08/25/2022 – Win Daily Sports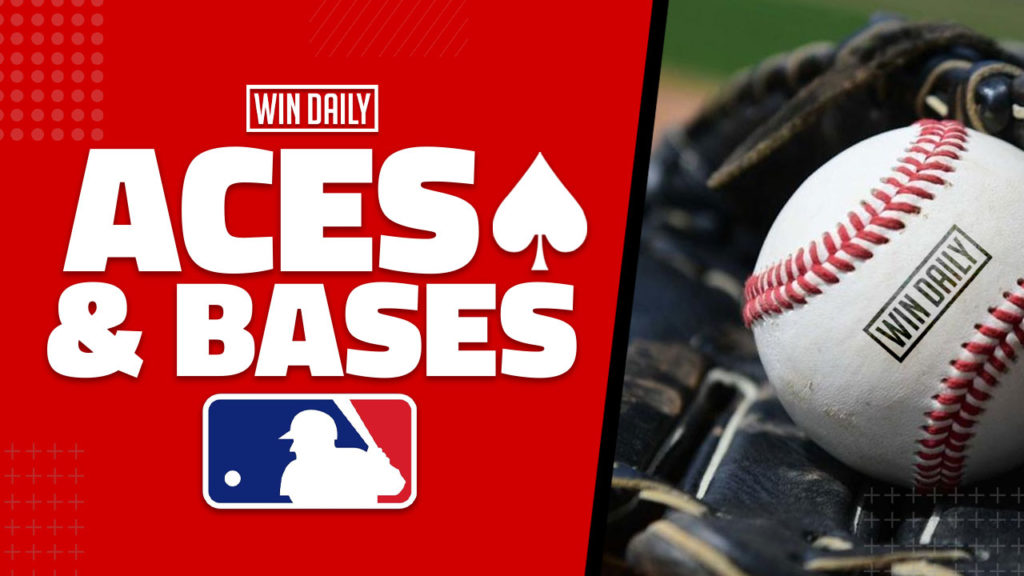 Welcome to the Thursday edition of the Aces and Bases, where I'll be going through the top MLB DFS Aces and Stacks on DraftKings and Fanduel. 
Tonight we have a nice-sized 6-game slate of MLB DFS to navigate through.  On the hill, we have one of the best in the game.  Thankfully, we also have some gas cans to attack. 
Let's dig in and see if we can find some stacks to use today!
MLB DFS Aces – Main
Jacob Degrom vs. Colorado Rockies
Even if this game was in Colorado, I'd still be recommending Jacob Degrom.  Altitude means nothing when you can't hit the ball.  Degrom tonight will be far and away the best pitcher on the slate.  He's going to be the extreme chalk, but we'll need to eat it.  Some of his metrics over the last month are just insane.  He has a 45% K rate, a 22.90 swinging strike rate, a 62% contact rate, and a .51 WHIP.  He's coming into this one with some extra rest as well so he should have some extra juice in the arm.  It also helps that this Rockies offense is nowhere near as good away from Coors as it is in Coors.  Pitch Degrom tonight and don't overthink it. 
Aaron Nola vs. Cincinnati Reds
Aaron Nola should be able to have his way tonight with the Reds.  Over the last 30 days, Nola has been pretty good.  He's pitched to a 2.92 xFIP and has a 28.90% k rate.  That k rate ranks second of all the pitchers on the hill tonight over the last month.  Although he struggled in his last outing, that was against the Mets and not the Reds.  Prior to that outing, Nola had 3 straight games giving up no more than 1 ER in each.  The games he's struggled this season have all been against good lineups.  This lineup he'll face tonight is not good.  Nola should have a good night on the hill.
Jameson Taillon vs. Oakland Athletics
This is more of a testament to the Athletics and lack of pitching depth tonight than it is Jameson Taillon.  Taillon is also pretty inexpensive tonight at just $7.5k on DK.  I think that Taillon is an average at best pitcher, but he gets a great matchup against a bad Athletics team.  Over the last month, Taillon has pitched to a 4.25 ERA while having an xFIP of just 3.5.  He's been a little unlucky and with a soft matchup, his luck should turn his way.  While I will more than likely go double aces tonight with Degrom and Nola, going with Taillon as your SP2 will help you load up on some of the biggest bats tonight.
MLB DFS Stacks – Main
New York Mets vs. Ryan Feltner
The New York Mets come into this one clinging to a 1.5-game lead over the Atlanta Braves.  They just had a stretch of 27 games in 26 days and had their first day off yesterday in nearly 4 weeks.  That means they'll be coming into this one well rested.  With a matchup against a struggling Feltner, they'll be one of my top MLB DFS stacks on the night.  Although Feltner pitched well in his last outing, it was against a struggling Giants lineup.  Prior to that, he had back-to-back games giving up 5 ER. 
This is the type of matchup for him tonight where he could give up another 5 ER outing.  Feltner gives up a ton of hard contact, 38% over the last month.  If he's sloppy in the zone tonight, he'll continue to give up hard contact against one of the best teams in the league vs. righty-pitching.  
Core: I'm going to build my core with the Mets tonight around Jeff Mcneil, Starling Marte, and Pete Alonso.  2 of these guys are hot, and one is not.  Let's start with Alonso.  Alonso has been as unlucky as you can get recently.  Over the last week, Alonso has just 5 hits.  His BABIP over that stretch is a minuscule .160.  At some point, those balls that he's putting into play are going to fall, and it's going to happen tonight. 
Now back to the 2 guys that are hot.  Both McNeil and Marte have been 2 of the Mets' best hitters over the last week.  McNeil has 11 hits in his last 29 AB and Marte has 10 in the same amount of AB.  Marte is my favorite of the 3 tonight as I tend to use him more against righties.  Over the last month, Marte has a .217 ISO vs. righties and a .368 wOBA. 
Secondary Pieces: Not in my core, but definitely in my pool of players tonight for the Mets will be Brandon Nimmo, Francisco Lindor, Mark Canha, and Daniel Vogelbach. Both Lindor and Vogelbach have crushed righties over the last month. Lindor has a .448 wOBA vs. them and Vogelbach has a .411. If you decide to fade Alonso tonight, and I can't really argue against it, going with Vogelbach makes for a nice play. He'll save you some money and he's been extremely productive for the Mets.
Value:  Brett Baty will make a fine-value play tonight.  He'll be making his Citi Field debut tonight and gets the platoon advantage.  Baty is also only $2.5k on DK and he'll save us a ton of money.
Philadelphia Phillies vs. Justin Dunn
Justin Dunn has now made 3 starts in the big leagues this year.  1 good one, 1 average one, and 1 bad one.  He'll add to the bad one's tonight vs. a solid Phillies lineup that put up a 7 spot last night.  Through his first 3 starts this season, Dunn has really struggled with his control.  Even though he held the Pirates to just one run in his last outing, he walked 4 batters in just 5 innings of work.  While that may work against a below-average Pirates lineup, putting that many hitters on with a free pass vs. a solid Phillies lineup is a recipe for disaster. 
When he's not walking batters, he's also giving up a ton of hard contact.  His hard-hit rate through his first 3 starts is 38%.  Only 3 pitchers on tonight's slate have given up more hard contact over the last month.  We want to attack Dunn with righties.  Righties have a .577 wOBA vs. him this season and a massive slugging % of 1.000. 
Core: My Phillies core will start with J.T. Realmuto and Rhys Hoskins.  Both guys are coming into this one playing extremely and have done well against righties.  Realmuto homered last night and went 3 for 5.  Against righties over the last month, he has a .399 wOBA and a .277 ISO.  He's a lock in all of my lineups tonight.  Next up will be Hoskins who also had a solid night last night.  He went 2 for 4 with 3 RBI.  Against righties over the last month, he has an ISO of .200 and should be in a position to build off his solid Wednesday night.     
Secondary:  Other bats that I like in this lineup tonight will be Kyle Schwarber, Alec Bohm, Nick Castellanos, and Jean Segura. I'm still somewhat hands-off with Schwarber in MLB DFS due to his lack of productivity recently, but he didn't strike out last night and that's a step in the right direction for him.  Castle has finally been hitting the ball better and now has hit safely in 14 straight games.  His price is only $4.1k and definitely has some upside in this matchup. 
New York Yankees vs. James Kaprielian
The Yankees somewhat woke up vs. the New York Mets this week, taking both games of the series.  They'll get a great matchup tonight vs. a pitcher that just continues to luck out.  He's pitched to an ERA of 3.04 over the last month while having an xFIP 2 runs higher. You can only give up the amount of contact that he gives up and the number of flyballs that he gives up before you blow up. 
Kap has also been worse at home this season than on the road.  His home ERA stands at 4.57, while on the road it's 4.08.  We'll want to target righties here.  Righties have a .480 slugging % vs. Kap this season, compared to just a .397 for lefties. 
Core: I'm going to build my MLB DFS Stack around Aaron Judge here.  While the Coliseum in Oakland isn't known for homers, there's no stadium in the world that can contain Judge.  Over the last month, he's crushed righties, with a .355 ISO and a .452 wOBA. If you're stacking the Yankees tonight, start with Judge and then just add around him with pieces.   
Secondary Pieces: Other pieces I'll look to add here will be D.J. LeMahieu, Josh Donaldson, Anthony Rizzo, and Andrew Benintendi. I know my preference is righties here, but Rizzo and Benintendi have been 2 of the better hitters in the Yankees lineup of late, especially against righties. With LeMahieu and Donaldson, they're both cold and Kap gives up a ton of contact and this is the type of matchup that can help them break out of their funks.
MLB DFS Summary
Other stacks I like tonight are going to be the Blue Jays vs. Kutter Crawford, the Astros vs. Chris Archer, and the White Sox vs. Jordan Lyles.
Make sure to check out our new Home Run Model, it's been running white hot!
Good luck and hope to see you in the green.
Make sure you follow me on Twitter at @rangerzfan79 and be sure to sign up for an ALL ACCESS GOLD ACCOUNT here at Win Daily Sports. Gain access to our Projection Models and jump into our Discord where we will have our experts talking plays across every sport and slate!
New to the DFS writing world but have been playing DFS since BVP was cool. Started play season long fantasy when sporting news was used to calculate weekly scores. Originally from Brooklyn, NY but now a Baltmore resident.