MLB DFS Aces and Stacks for DraftKings and FanDuel for 03/30/2023 – Win Daily Sports
Published
2 months ago
on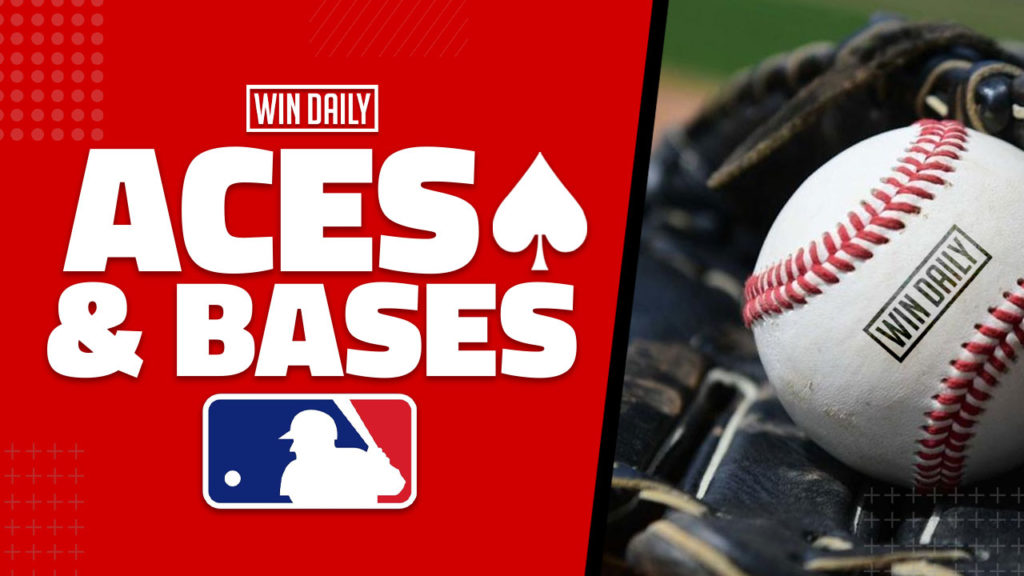 Welcome to the first edition of Aces and Bases for the 2023 season, where I'll be going through the top MLB DFS Aces and Stacks on DraftKings and Fanduel. 
We did it, my friends.  We made it through the winter and the MLB season is finally upon us.  If you haven't noticed yet, the game is very different this season.  With the newly implemented pitch clock, the game is faster.  We'll definitely see some different things happening earlier in the season until all the players are fully used to playing quicker. 
That said, it's still baseball and it's going to be fun to watch.  We have a great 11-game slate today of MLB DFS today.  With it being opening day, we have some studs on the mount so we'll have a lot of low-scoring games.  We also have some really bad pitchers throwing, so there should still be some offense.
Let's dig and make some money!
MLB DFS Aces – Main
Max Scherzer vs. Miami Marlins
Max Scherzer is coming off what was mostly a successful 2022 campaign in his first season with the Mets. While he did spend some time on the IL last season, when he was healthy, he was the Scherzer we have come to love.  His K/9 were in line with his career numbers and he still managed to get double-digit victories, a rarity these days with pitchers not going too long in games. 
Scherzer gets arguably one of the easier matchups today as he'll face off against the Miami Marlins. While their lineup is a little improved over last season with the addition of Luis Arraez, they are still a bad lineup. The projected lineup for the Marlins today had just a .110 ISO and a .285 wOBA vs. righties last season. Scherzer should be able to navigate this lineup with ease this afternoon.
Shane McClanahan vs. Detroit Tigers
Another pitcher with a solid matchup today will be Shane McClanahan. McClanahan is coming off a very solid sophomore season. In his second season, McClanahan set career highs in both wins and innings pitched. At just $7.7k on DK today, we'll be getting a pitcher that had a 30% K rate in 2022. I'll take that every day of the week.
This Tigers lineup is not one that will strike fear in any pitcher's eyes.  It's pretty weak up and down the lineup.  Last season, this team had just a .129 ISO vs. lefties.  The Tigers will more than likely throw out 8 righties today.  McClanahan had a higher K rate last season vs. righties than he did lefties and that sets him up for a solid day today.  You should feel very confident throwing McClanahan out in your lineups today.
Corbin Burnes vs. Chicago Cubs
I expect Corbin Burnes to have a monster season in 2023. I wouldn't be shocked to see him win the NL Cy Young award this season. Burnes is coming off a very solid 2022. Like McClanahan, Burnes also set career highs in both Wins and Innings pitched. While the K's were down a smidge from years past, his K rate was still at a very respectable 30% in 2022. I expect that number to climb this season.
The Cubs lineup will be improved this season with the additions of Dansby Swanson, Cody Bellinger, and Mancini. That said, it's still a below-average lineup and one we'll be able to chase K's against, especially with a righty on the hill.  This projected lineup today for the Cubs had a 25% K rate vs. righties in 2022.  There's definitely some upside in throwing out Burnes today. 
MLB DFS Stacks – Main
Atlanta Braves vs. Patrick Corbin
When I opened up the schedule today and saw that Patrick Corbin was the opening-day starter for the Nationals 2 things came to mind.  The first was that they were going to have an awful rotation this season.  Corbin is the epitome of a gas can and while he'll eventually throw out a gem, more often than not he's hot garbage. 
The second was that the Braves would be extremely popular.  They'll be popular for good reason.  Corbin was atrocious in 2022.  He pitched to a nearly 5 xFIP and gave up a nearly 50% hard-hit rate. His 58 barrels against far exceed any pitcher on the hill today.  When Corbin is on the mound, we attack!
This stack will start with Austin Riley today.  He was one of the best in baseball against lefties last season, with a .336 ISO and a .435 wOBA.  He should continue to smash against lefties today in a very soft matchup.  Next up will be Ronald Acuna.  Acuna is now far removed from the knee surgery that saw him start out slowly last season.  He matchups up extremely well today vs. Corbin.  Corbin mostly throws a sinker to righties.  This is a pitch that Acuna has done well against, with a .375 ISO. 
I also really like Matt Olson here.  Never fear the L/L matchup, especially against Corbin.  Olson also has really strong numbers vs. lefty sinkers.  Other guys I like here will be Sean Murphy and Travis d'Arnaud.
Tampa Bay Rays vs. Eduardo Rodriguez
2022 was not kind to Eduardo Rodriguez.  He had one of the worst seasons of his career last year.  His strikeouts were down significantly and his xFIP was one of the highest numbers of his career.  To make matters worse for him, he'll be facing off against a Rays team that just crushes lefties.  The projected Rays lineup today had a .171 ISO and a .337 wOBA vs. lefties last season.  They have some lefty smashers and we'll want to take advantage of that today.  
My priority with the Rays stack today will be Randy Arozarena.  He smashed lefties last year, to the tune of a .240 ISO and a .382 wOBA.  Fresh off his WBC stint, he's becoming a force to be reckoned with.  He'll be in all of my lineups today.  Next up will be Yandy Diaz.  While he doesn't hit for much power vs. lefties, he does have a very high wOBA of .379.  He'll set the tone at the top of this lineup today.  
My value plays in this lineup will be Isaac Paredes, Christian Bethancourt, and Jose Siri.  Of the bunch, Paredes is my favorite as he showed a lot of pop at times last season.  Franco, Margot, and Ramirez are also very much in play today. 
Boston Red Sox vs. Kyle Gibson
The Baltimore Orioles offense is going to be a fun one to watch this season.  They are much improved up and down the lineup.  The rotation however is still one that is awful and one we'll be able to attack often.  On most teams, Kyle Gibson would be a back-of-the-rotation guy.  For the Orioles, he's being asked to be the ace of the staff.  That says a lot about the Orioles' pitching staff.  With Gibson, I'm not going to be overly concerned with splits.  His numbers against both sides of the plate are pretty similar.
Any Red Sox stack needs to start with their star player, Rafael Devers.  Devers had a very solid year vs. righties in 2022 and he made us some money with our MLB DFS lineups.  He had a .252 ISO and a wOBA that was pushing .400.  He's extremely pricey today at nearly $6k, but he should do extremely well in this matchup vs. Gibson.  Next up will be a newcomer to the states, Masataka Yoshida. 
Yoshida was a star in Japan and his skillset should transfer pretty nicely to the states.  He'll be hitting in the middle of this lineup today and is fairly priced at $4.4k.  Other guys I really like here today will be Trison Casas at just $2.9k on DK, Reese McGuire at just $2.2k, and Alex Verdugo.  The Red Sox are set up today to put up a big number on opening day.  Vegas likes them a lot, and so do I!
MLB DFS Summary
We waited many months for this day and it's going to be a great one.  I plan on loading up on both Rays and Braves with my bats.  My pitching will be focused on Mad Max and Shane Mac.  This will hopefully be a recipe for success today!
Make sure to drop into Discord where we're constantly talking about plays for every slate.
Good luck and hope to see you in the green.
Make sure you follow me on Twitter at @rangerzfan79 and be sure to sign up for an ALL ACCESS GOLD ACCOUNT here at Win Daily Sports. Gain access to our Projection Models and jump into our Discord where we will have our experts talking plays across every sport and slate! 
New to the DFS writing world but have been playing DFS since BVP was cool. Started play season long fantasy when sporting news was used to calculate weekly scores. Originally from Brooklyn, NY but now a Baltmore resident.