MLB DFS: Aces and Bases for Thursday – 06/10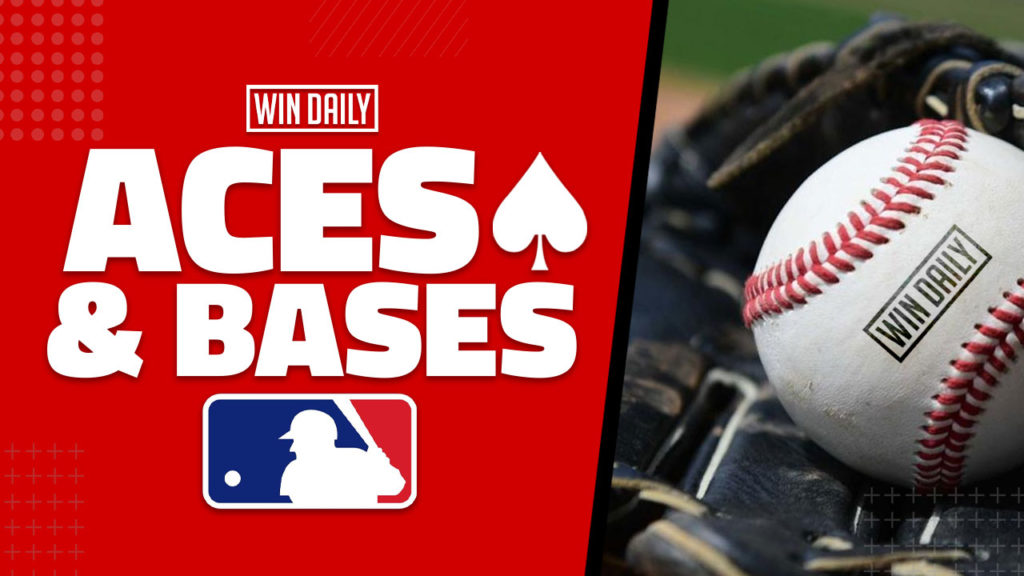 Welcome to the Thursday edition of Aces and Bases. Today we have 2 slates of MLB DFS to navigate through on Fanduel. An early 4 game slate and a main 6 game slate.
For today I'm going to do an overview of the early slate and then provide the normal 3 aces and 3 bats for the main slate. Pitching is somewhat underwhelming on both slates today. We do however have some great hitting environments, especially on the main slate.
Let's dig in to today's slates!
MLB DFS: The Early Slate
My lean here with pitching is Zach Wheeler ($11.5k) vs. Atlanta Braves.  Wheeler has been dominant this year.  An argument could be made that he's been one of the top pitchers in the game this season.  Over the past 30 days he has a near 38% K rate and a .216 xFIP. 
The match-up is a bit daunting as he's facing a strong Braves lineup.  Braves can be had though as evidenced by Eflin's 7 K performance last night.  If Eflin can do it, so can Wheeler. 
The other pitcher I'm considering here is Julio Urias ($10.8K) vs. Pittsburgh Pirates.  Pirates are a mess and aren't doing much against lefties this year with an ISO of .125.  While they don't K as much as I'd like, Urias still has a 30% K rate over the past 30 days and I think he'll still get some K's in this matchup.  
For bats my top stack outside of the chalk Dodgers will be the Milwaukee Brewers.  I like attacking Castillo when I can.  I think this is a spot we can exploit.  Castillo is giving up a ton of base runners this year and some power.  My focus here will be the lefties.  Daniel Vogelbach ($2.4k), Christian Yelich ($4k), and Omar Narvaez ($2.5k) all match-up well to Castillo's pitch mix. 
I'm also looking to the Detroit Tigers vs. Justus Sheffield.  Sheffield on the year has a 5.29 xFIP.  That's bad.  While he does give up a lot of ground balls, he also gives up a ton of hard contact, especially to righties.  I hope Eric Haase ($3k) is back in the lineup today because he matches up really well as he has crushed sinkers this year.  Jonathan Schoop ($3k) will also be a main target here.  
MLB DFS: The Main Slate Aces
Max Scherzer ($11k) vs. San Francisco Giants – I should preface this with there's a ton of weather concern in this game.  If it plays without any concerns Mad Max will be my top arm. 
On the year Scherzer has a 36% K rate and a 3.25 xFIP.  His K rate is the top on the slate.  While the Giants offense has been pretty good of late, they are still striking out at a near 27% clip vs. righties on the year.  Scherzer is the clear cut favorite on the night.  
Trevor Rogers ($10.1k) vs. Colorado Rockies – Rogers has come back down to a earth bit over the past 30 days.  On the year, his K rate his 30%.  If we dial that back to the past 30 days it's hovering around 25%.  So there's been a bit of regression with his strikeouts.  He's had some tough match-ups in there though so I'm going to give him the benefit of the doubt. 
Today he gets to face off against a Rockies team that struggles away from home.  I like the chances of Rogers returning to his early season form and rebounding with a 50 burger tonight.
Mike Minor ($8.2k) vs. Oakland Athletics – My builds will be tailored around the first two guys I mentioned.  I am however a bit intrigued by Minor.  Outside of his outing vs. the Twins, Minor has been pretty good over the past 30 days. 
Since early May, Minor has a 3.56 xFIP and a 29% K rate.  Those marks plus just a 29% hard hit rate have enabled him to put together a string of really solid starts.  While I don't normally like to target pitchers against the A's, I do think this is a good match-up for Minor. 
His main secondary pitch is his slider.  If we look at the projected lineup for the A's tonight, they all have whiff rates over 20% with many of them being over 30%.  Not a safe pick, but if you have a strong risk appetite Minor may be your guy tonight.
MLB DFS: The Main Slate Bats
New York Yankees vs. J.A. Happ – Happ is one of my favorite punching bags.  Yes, we've seen the Yankees struggle at times vs. lefties.  Matz dominated them just a couple of weeks ago. 
Tonight will be a different story.  Happ is just a gas can at this point in his career.  He has a 5.83 xFIP, a 47% FB rate, and a near 38% hard hit rate on the year.  He's giving up big numbers consistently.  In 4 of his last 5 outings he's given up 9 ER, 6 ER, 4 ER, and 5 ER. 
With the Yankees tonight we need to focus on the right side of the plate.  Happ is giving up far worse numbers to righties than lefties.  While this season has been a struggle for the Yankees against lefties, if we look at a larger body of work we can see that guys like Giancarlo Stanton ($3.6k), Aaron Judge ($4.3k), Gleyber Torres ($3.4k), and Gary Sanchez ($2.7k) all have had serious power numbers vs. lefties. They'll be my targets tonight.
Toronto Blue Jays vs. Dallas Keuchel – Yes, Keuchel is an extreme groundball pitcher.  To righties it's at 61%.  That's a whole lot of groundballs.  That said, he's also someone that is susceptible to the long ball.  He's given up 6 in his last 27 innings of work. 
The Blue Jays have a ton of guys that do well against left handed sinkers.  Guerrero ($4.4k) and Hernandez ($3k) both have ISO's over .250 in a decent sized sample.  Bichette ($3.5k) is another guy that has had success against Keuchel's pitch mix.  While the Yankees are my favorite stack, the Blue Jays aren't far behind.   
Miami Marlins vs. Chi Chi Gonzalez – Another one of my favorite punching bags is our dear old friend Chi Chi.  Gonzalez is someone that is going to meet up with regression. 
Over his last 30 days Gonzalez has just a 3.2 ERA.  Not bad right?  Well his xFIP is 4.86.  He's skating by with some luck.  He's giving up a ton of contact with just a 5% whiff rate and a 41% hard hit rate.  At some point, those hard hit balls are going to fall and the damage is going to happen. 
While the Marlins lineup is nothing to get overly worried about, they do have some guys that have some pop and with Gonzales not missing many bats I'm not as worried about their high strikeouts. Chisholm ($3.3k), Marte ($4.2k), Aguilar ($3.6k), and Dickerson ($2.4k) are all fine targets here as Gonzalez is bad vs. both lefties and righties.
MLB DFS: The Main Slate Wrapup
Pitching tonight will be centered around the likes of Rogers and Scherzer.  With the Washington game at risk w/ weather, Rogers may be heavily owned so going to someone like Minor may be needed tonight.  Yankees will be chalk but the match-up is just so good.  It may leave the Blue Jays under-owned in a very good match-up. 
Good luck today and tonight and hope to see you in the green!
Make sure you follow me on Twitter at @rangerzfan79 and be sure to sign up for an ALL ACCESS GOLD ACCOUNT here at Win Daily Sports. Gain access to our Projection Models and jump into our Discord where we will have our experts talking plays across every sport and slate!
New to the DFS writing world but have been playing DFS since BVP was cool. Started play season long fantasy when sporting news was used to calculate weekly scores. Originally from Brooklyn, NY but now a Baltmore resident.