MLB DFS: Aces and Bases – 8/21 (FanDuel Main Slate)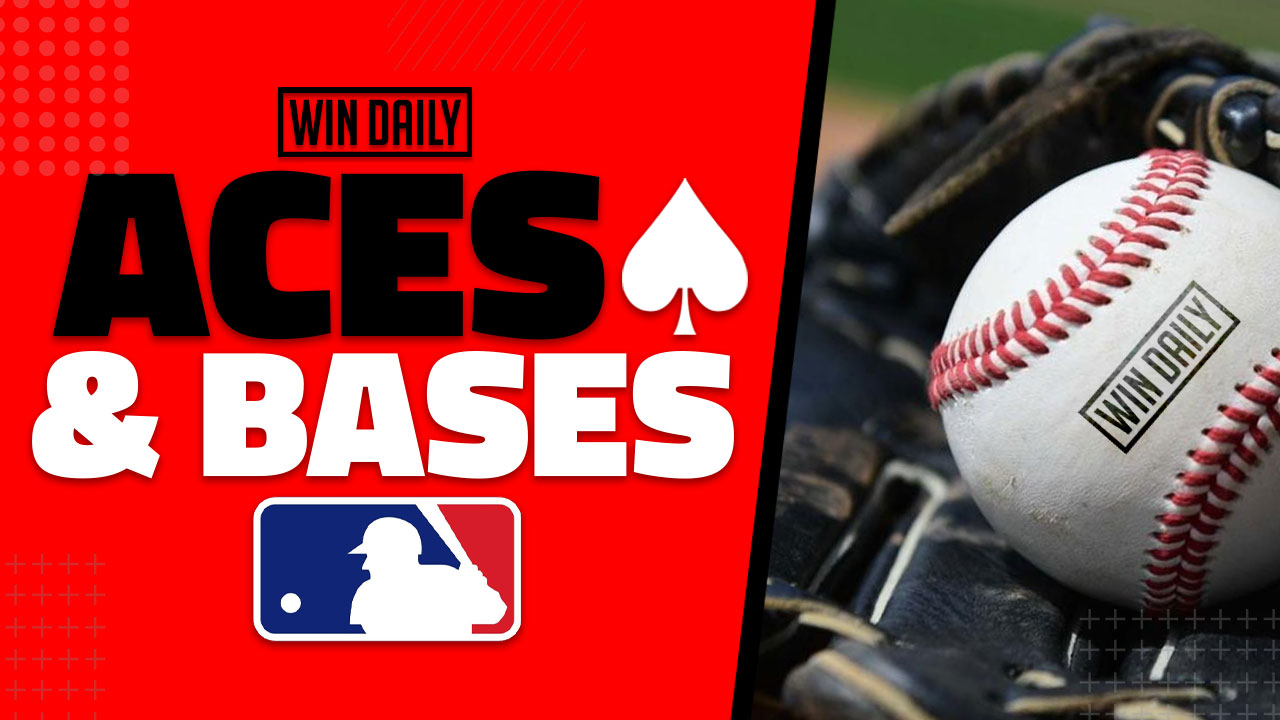 Today's edition of Aces and Bases focuses ONLY on FanDuel's six-game MLB DFS Main Slate for 6:40PM ET, hopefully finding you some green screens!
The biggest weather threat is in Baltimore for the Braves-Orioles, and while we can certainly target hitters for this game, I'm not interested in either pitching option. Pricing is really tight on FD, much unlike the free squares for Colorado on DK, and it feels like all the best hitters on the slate are $3,500 and up — but we have some ways to attack this in GPPs and give ourselves a great shot at spiking a top finish.
MLB DFS: The Aces
Top MLB DFS Ace: Eduardo Rodriguez ($9,800)
It may seem crazy to say given his dynamic range of outcomes, but Rodriguez facing the strikeout-prone Rangers is the clear ace of the slate, especially with how much weight FD gives Ks and just how iffy the next two options (Joe Musgrove and Aaron Nola) have been over their past few starts. I love a good risk-reward pick as much as the next guy, but we just haven't seen enough from the starting pitchers in the PHI-SD game to warrant using them at those prices. Rodriguez, though, gets a great spot against a Rangers team that is dead last in wOBA (.284) vs. LHP. He has 10K upside in this matchup and should get the requisite run support to notch a W. The only problem in rostering him comes when it's time to stack up some hitters, but we do have some great value options on the Cardinals (more on that later).
Best GPP Value: J.A. Happ ($8,100)
The crafty veteran lefty is definitely someone that we could have looked to attack with right-handed mashers earlier in the season, but he's completely turned around his season this August. Since he was traded to St. Louis, Happ's allowed just three runs over 16.2 innings (1.62 ERA) with an 11:5 K:BB in his three outings. He's sporting a dynamite .251 wOBA against opposing hitters in that stretch, and there's nobody on this Pirates lineup that really scares me. He's looking at around 25-30 as a floor with 45+ upside at a price point where nobody else has that kind of ceiling. He's worth the investment and leaves $3,300+ per hitter — which helps us get the guys we need.
The other GPP Play: Wade Miley ($8,800)
Nobody likes playing soft-tossing Wade Miley, but he's probably going to be relatively popular on this slate because he draws the Marlins, a lineup that's chock full of some guys that aren't necessarily household names. In fact, his popularity could dictate a few GPP stacks of the Marlins hitters just because it'll be easy to get a portion of our builds way ahead of the projected ownership for guys like Lewis Brinson, Jesus Aguilar and Brian Anderson. But in my GPP builds where I'm not stacking Marlins, he's a viable value option. I just wouldn't exceed 20-25% with him if we're doing 10+ lineups. He's another guy with a 25-30 point floor and 45+ upside, but like I said — he'll be pretty chalky, and if we're looking for leverage we're looking elsewhere.
MLB DFS: The Bases
Top Stack: Boston Red Sox
With all due respect to the game in Coors and the Braves against Matt Harvey in a game that's likely to get pretty wet, my top stack is going to be the Red Sox against Jordan Lyles, who's been dreadful. Lyles sports a .355 wOBA, .207 ISO, 40+% hard contact rate, 1.7 HR/9, a miniscule 16% K rate, a hilariously high 11% BB rate and a 49% fly ball rate. The Sox are going to mash, and getting exposure to their 1-7 hitters is a priority. The top four among them would be J.D. Martinez ($4,000), Rafael Devers ($4,200), Xander Bogaerts ($4,100) and Hunter Renfroe ($3,600) — who's having a career year and has greatly improved his production vs. RHP. I also like leadoff man Kike Hernandez ($3,600), Kyle Schwarber ($3,700) and Alex Verdugo ($3,000) and, if he gets the start, a dirt-cheap Travis Shaw ($2,300). I'll be mixing and matching Sox builds in just about all of my GPP entries, except for the random couple where I get some Coors exposure — which I don't think is a huge priority on this slate based on FD's inflated pricing. There's plenty of value in that Colorado lineup on DK, but it's cost prohibitive on FD where we need to save a few bucks.
GPP Value Stack: St. Louis Cardinals
The Cards are the clear value play that allows us to fit Rodriguez and/or the necessary Red Sox bats. Tommy Edman ($3,000), Tyler O'Neill ($3,200), Paul Goldschmidt ($3,800) and Nolan Arenado ($4,300) are the best four bats, but we might not be able to get Goldy and Arenado in there because of their hefty prices — which is fine in GPPs since we have more options in Paul DeJong ($2,700) and Harrison Bader ($2,900). Yadier Molina is really inexpensive at $2,500, and he's locked into that No. 5 spot right in the middle of all the action.
Contrarian GPP Stack: Miami Marlins
We'll start with the guys I mentioned earlier — Aguilar ($2,900), Brinson ($2,800) and Anderson ($2,900) and throw in Miguel Rojas ($2,800) for good measure. Wade Miley limits hard contact, but this is a bunch that could fluster him by just getting the ball in play, and relying on the "bloop and a blast" method. Again — this is a contrarian mini-stack not to be used in more than 20-25% of your GPP builds if you're multi-entering. Jazz Chisholm, Jr. ($3,200) and Jesus Sanchez ($2,300) are also options.
Make sure to keep an eye on the starters as lineups are released. Good luck tonight, and please utilize the MLB Projection models to land on your one-offs and off-the-wall value plays!
I'm a writer from upstate NY in a cool little Hudson River town called Coxsackie. Too many interests to list, but the films of David Lynch, the books of Kurt Vonnegut, the music of Jack White and the maddening sport of golf are near the top of my list. Big into DFS, specializing in baseball, football, golf and hoops. I've written for FFToday.com, RotoExperts and Baseball America, to name a few.