MLB DFS: Aces and Bases – 6/12 (FanDuel Main Slate)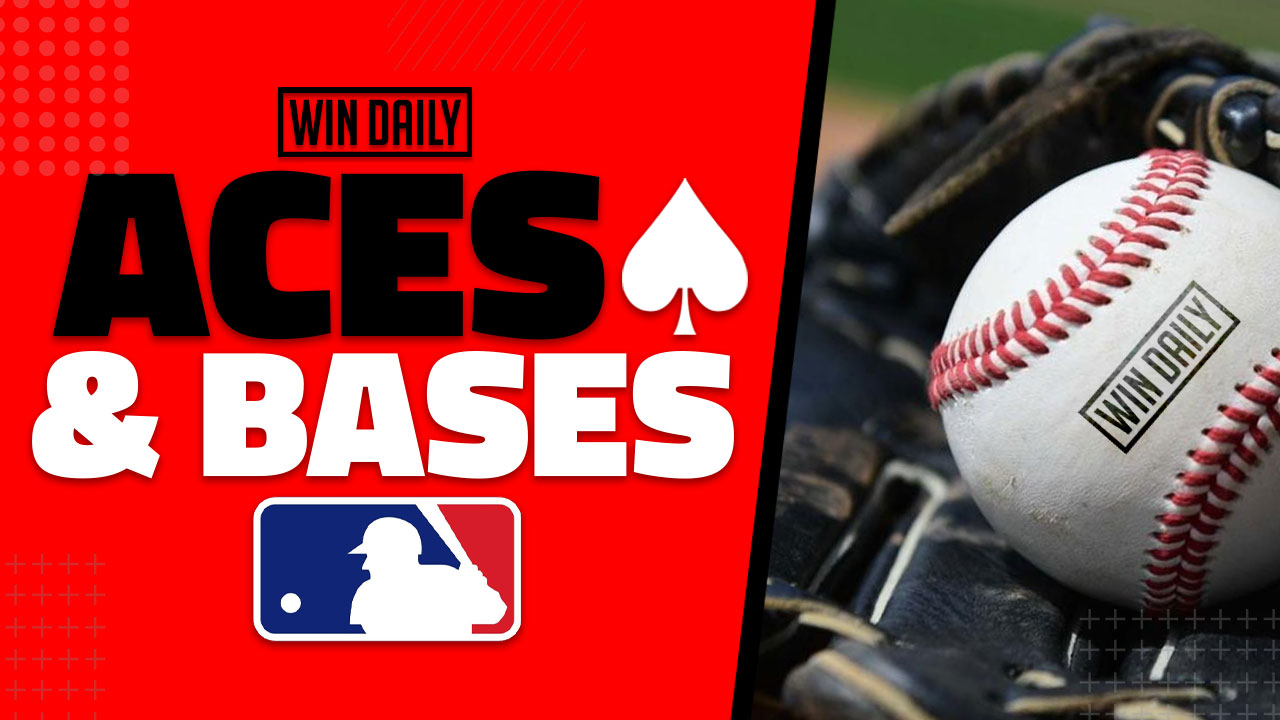 Today's edition of Aces and Bases focuses ONLY on FanDuel's monster 14-game MLB DFS Main Slate for 4:05PM ET, hopefully finding you some green screens!
The weather concerns in this slate are sparse and minor, and we shouldn't be concerned about any delays that could impact the pitchers we're targeting today.
MLB DFS: The Aces
Top MLB DFS Ace: Corbin Burnes ($12,000)
There's definitely part of me who wants to roster Trevor Bauer, and the Dodgers RHP is certainly worth a look on DK at a discount, but on FD, Burnes makes the most sense as top dog, as he possesses the most strikeout upside on the slate. While some simulations actually have Bauer projected for a higher total tonight (even WinDaily's model gives Bauer the slight value edge — likely due to the TEX team K rate of 26.8% vs. RHP), the new crackdown on foreign substances has had a detrimental effect on the K numbers of a few pitchers, "Tricky Trevor" included. Burnes, as Adam Strangis points out in his must-read 6/12 Starting Rotation article, is coming off a monster start where he racked up 13K and 70 FD points. He's a top five MLB pitcher and FanDuel's scoring allows him and his 18.5% swinging-strike rate (a metric that ranks behind only Jacob deGrom this season) the chance at 60+ each and every night he takes the mound. We'll have to get a little creative with our hitting stacks to build something we can be confident with, but Burnes is a great option for cash games and I'll be using him in some GPPs as well.
Best GPP Value: Joe Musgrove ($8,300)
For the second straight week, Muskrat Joe takes our top value spot. He was serviceable in that role last week with a 10 K outing, but he did get knocked around a little bit to the tune of 9 hits and 3 ER — and the pedestrian 5.0 IP kept him from receiving the crucial quality start bonus we need from our SP. Adam and I both like him for today's slate, and the fact that he's kept his ERA, FIP, and xFIP under 3.00 in this career year make me happy to recommend him against the Mets. who strike out at a team rate of 23.7%. Musgrove is carrying a career-high 34.2% K rate and limiting his free passes, and the Mets don't have their usually lefty firepower without a few of their better offensive players. Joe's unlucky 6/5 start still yielded 36 FD points, and this time he's the same price and should eclipse the 40 mark.
Contrarian GPP Play: Jameson Taillon ($6,200)
I was actually a little giddy when I saw that Adam was on Taillon as a GPP value play today, because he's one of the first options I considered when I thought "contrarian play" for this slate. Taillon is effective against right-handed bats and the Phillies (who have a bunch of them) strike out at the third-highest rate in MLB (26.4% — tied with MIA and MIL). I wouldn't blame anyone for going a little safer with value options like TB LHP Rich Hill ($7,700 vs. BAL), but the Orioles relatively low K rate (20.2%) vs. LHP makes me think he lacks the same upside, value and leverage for GPPs. If we want to stack some of the best bats, we'll need what Taillon offers in salary relief to get there.
MLB DFS: The Bases
Top Stack: Atlanta Braves vs. MIA RHP Zach Thompson
AS of 11:11 a.m. EST, there's no line yet on this game, but you'd have to imagine that the high-powered Braves offense is projected for 5+ runs against a 27-year-old rookie making just his second major-league start. Thompson's minor-league metrics don't jump off the page and the Braves have just too much firepower to worry about using them. Go with Ronald Acuna ($4,300), Freddie Freeman ($3,400), Ozzie Albies ($3,400) and a still-discounted Austin Riley ($2,700) in a four-man stacks, swapping out Albies for value options (and righty mashers) William Contreras ($2,200) and Abraham Almonte ($2,100) if you need the salary savings to get four Braves in your build.
Value Stack: Milwaukee Brewers vs. PIT RHP Chad Kuhl
The Brewers have a bunch of risky but potent hitters in their lineup to go along with the consistently excellent bat of Christian Yelich ($3,800), including Avisail Garcia ($2,700), Omar Narvaez ($2,200), Daniel Vogelbach ($2,600), Luis Urias ($2,700) and Willy Adames ($2,200). Left-handed OF Jace Peterson is also an option at just $2,200. I'm particularly interested in four-man combos that prominently feature Narvaez, Yelich and Vogelbach as a three-man core, with Urias, Garcia, Peterson and Adames alternately making up the fourth Brewer bat. Giddyup!
Update: Luis Urias is sitting this one out.
Contrarian Stack: Oakland A's vs. KC RHP Jackson Kowar
The A's are never all that popular as a team stack on big slates, and today they could be in for an offensive explosion against Jackson Kowar, who carries a 54.00 ERA after one career start — a rocky debut outing against the Angels on Monday. The usual suspects are in play here, from "Mashing" Matt Olson ($3,500) to leadoff hitter Mark Canha ($3,700) and a slew of low-priced options including Tony Kemp (just $2,000!), Jed Lowrie ($2,900) and Sean Murphy ($2,400). I'm also quite enamored with Seth Brown ($2,400) as a risk-reward value option, and I'll be mixing and matching a few different four-man combinations of these six A's hitters in my large-field GPP entries.
Update: Both Lowrie and Canha are not starting on Saturday.
Other stacking options: NYY RH bats vs. PHI RHP Vince Velazquez, CIN LH bats vs. COL RHP German Marquez
Good luck, and make sure you utilize the MLB Projection models to land on your one-offs and off-the-wall value plays!
I'm a writer from upstate NY in a cool little Hudson River town called Coxsackie. Too many interests to list, but the films of David Lynch, the books of Kurt Vonnegut, the music of Jack White and the maddening sport of golf are near the top of my list. Big into DFS, specializing in baseball, football, golf and hoops. I've written for FFToday.com, RotoExperts and Baseball America, to name a few.