Insight Sheet: The Open Championship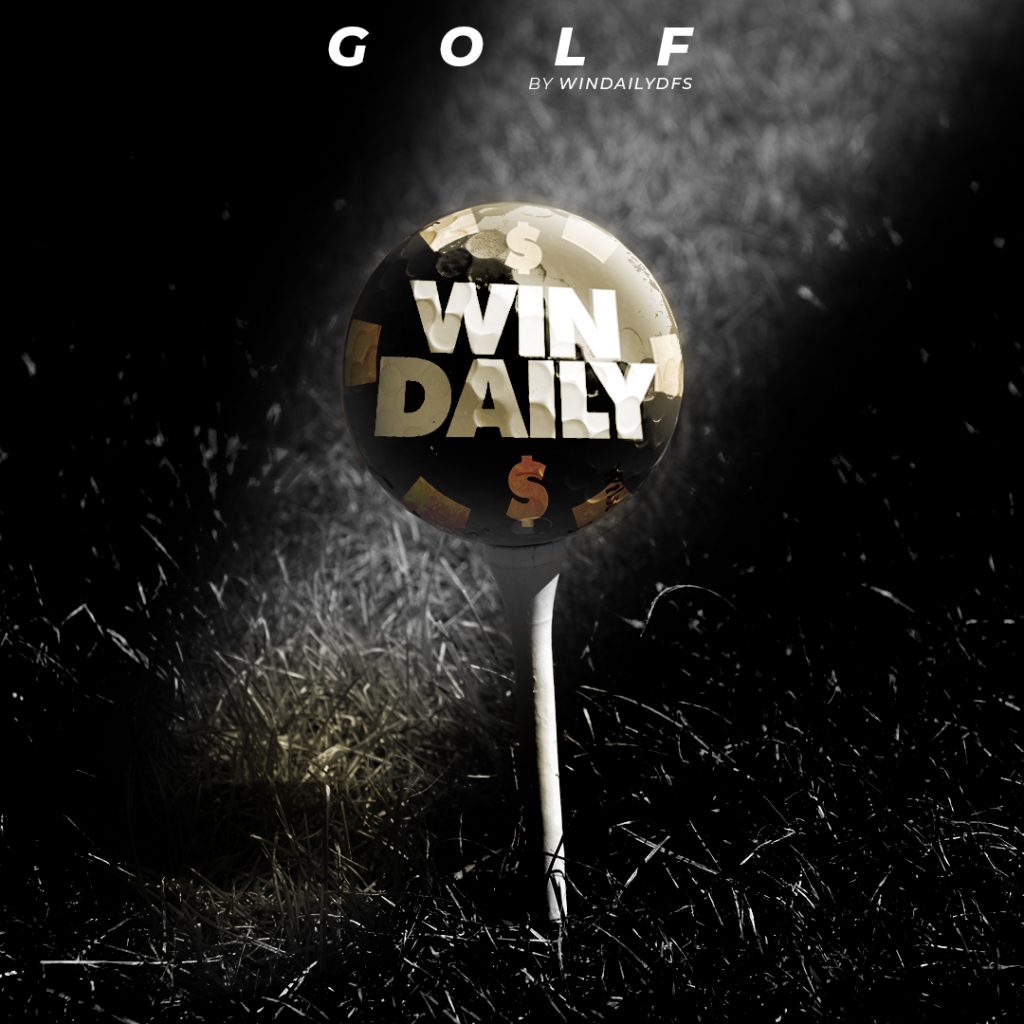 The Insight Sheet gets you ready before lock with all of your DFS PGA needs. This week at the The Open Championship, you'll find the model's Top 50, Vegas odds, Data Golf World Ranks, key stats and my personal player pool. Player picks and the model use DraftKings pricing. It should be noted, players are picked as an overall play. Players can and should be used for all DFS sites.
Sign up NOW for WIN DAILY Premium Gold right here!Projections, weather reports, wagering info, 24/7 expert chats and more!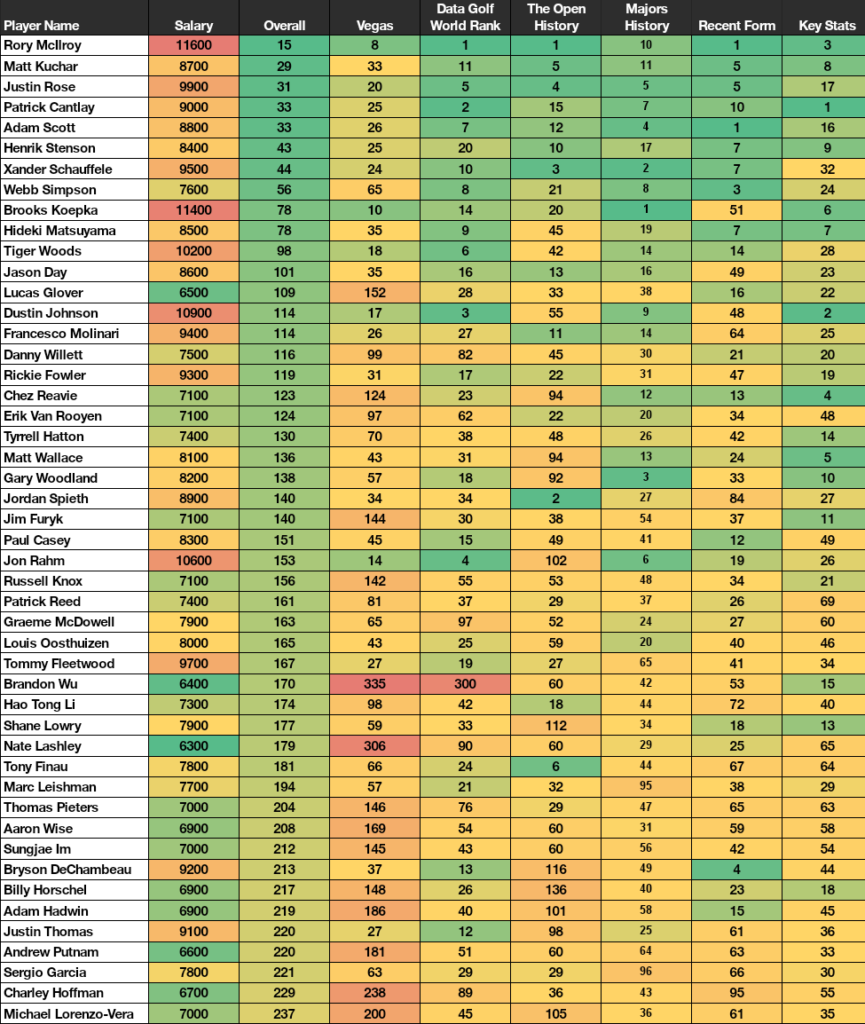 Players priced between $12,000 and $9,000
Rory McIlroy – $11,600
I don't think I need to go into too much detail here. Top Five in every stat except one, major history, he's 10th. Vegas' odds on favorite and I do not believe the pressure of playing at home will affect him. (Projected Ownership – 18%)

Brooks Koepka – $11,400
After the U.S. Open, I'm buying into the idea that Koepka plays for the majors. At this point I think it's foolish not to play him in some capacity. Until this streak ends I'll be riding Koepka for every major. It's interesting to note that The Open Championship, has seen his worst finishes though. (PO – 12%)

Xander Schauffele – $9,500
I'm sure he doesn't like to hear it, but he's a mini Koepka. It won't be until he wins a major that the title will drop. Always shows up in the biggest contests, despite form coming in. Like Brooks, I doubted his ability to turn it on when needed. No longer. (PO – 13%)

Patrick Cantlay – $9,000
Number four overall in my model. Cantlay is Top 15 in every stat. He played in the British Open last year and finished 12th. He's been on a tear as of late, finishing 15th, 21st, 1st, 3rd, 3rd & 9th his last six tries. I'm expecting Cantlay to be one of the highest owned golfers if not the highest. (PO – 24%)
Players priced between $8,900 and $8,500
Adam Scott – $8,800
Scott might as well be an the older Cantlay or vice versa. Either way they're evenly ranked in the model. Scott has more Open Championship history but doesn't quite have the recent form as Cantlay. Don't get me wrong, his recent form is great, 7th, 2nd, 8th and a 18th finish. Expect Scott to be almost as highly owned as Cantlay as well. (PO – 22%)

Matt Kuchar – $8,700
He might be evil, but I don't care. Kuchar has been having his best season. He's number two in my model this week, with both event history and recent form leading the way. Will most likely be a staple in cash games this week. (PO – 20%)

Hideki Matsuyama – $8,500
Three Top 20s in his last six attempts in the Open Championship. Six Top 25's in his last six starts. You can probably pencil him in for a Top 20 and watch him climb the leaderboard on Sunday. (PO – 20%)
Players priced between $8,400 and $8,000
Henrik Stenson – $8,400
If you've read The Range article you saw Stenson as number one overall in strokes gained total. Even better than McIlroy, technically. Deadly accurate with his three wood off of the tee. Wouldn't be surprised to see Stenson contend this week at the British Open. (PO – 20%)

Gary Woodland – $8,200
Woodland has a great stinger in his arsenal. What he doesn't have is the greatest track record at the Open Championship. It hasn't been terrible, just very up and down. Woodland has been playing well this season though. I don't know if he wins this week but it eerily feels like the U.S. Open all over again. (PO – 8%)

Matt Wallace – $8,100
Wallace has been playing well, both on the PGA and Euro tour. Plays well at the majors, though he didn't place well in his only attempt at the British Open. 11th on the Euro Tour in birdies and 39th in Tee to Green. I like Wallace as a lower owned golfer. (PO – 10%)

Louis Oosthuizen – $8,000
For some reason people do not like to play Oosthuizen for DFS. Actually I know why, he tends to pull himself out of the race early. He's been known to withdraw after lock, burning lineups along the way. At $8,000 though he has decent recent form and a former winner, almost twice. Ill take the risk for the upside for this lower price tier. (PO – 8%)
Players priced between $7,900 and $7,500
Marc Leishman – $7,700
Price wise I feel this is the perfect spot for Leishman. Just a solid player with good event history and recent form. The 21st world ranked player by DataGolf standards. If things break his way, we could see Leishman atop the leader board come Sunday. (PO – 13%)

Webb Simpson – $7,600
Simpson comes in 8th on my overall model. He's also the 8th ranked player in the world according to DGWR. Comes in with good form and solid major history. A complete game and if I could wager, my card would probably start with Simpson (65/1) for the Open Championship. (PO – 16%)

Matthew Fitzpatrick – $7,600
Fitzpatrick won't be found on the model's Top 50. He resides at number 64th overall. His lack of success at the British Open is whats holding him back right now. He has a 14th and a 2nd on the Euro Tour to go along with his 12th and 21st finish in the U.S. Open and Masters respectively. I believe his form and momentum are heading in the right direction. (PO – 7%)
Players priced between $7,400 and $7,000
Tyrrell Hatton – $7,400
Always a Twitter clip away from showing the world how funny he is or what a bonehead mistake he just made. Hatton is coming off of five made cuts on the PGA and a 14th place finish at last weeks Scottish Open. Rounding into form at the right time. Though if his ownership seems to be rising I might pivot elsewhere. (PO – 8%)

Hao-Tong Li – $7,300
Solid Open Championship history with two made cuts and a 3rd place finish. Two out of three made cuts on the Euro tour as well with two Top 15 finishes. Li is 1st in birdies, Top 10 in both Par 4 & 5 scoring and 9th in strokes gained off the tee on the Euro Tour. (PO – 5%)

Chez Reavie – $7,100
Is there a golfer with more disrespect than Reavie? Comes in making five out of the last seven cuts, including a win at the Travelers. Not to mention his 3rd and 15th place finish at the U.S. Open and PGA Championship respectively. He's clearly priced wrong, DGWR has Reavie rated as the 23rd best golfer right now. I'll have plenty this week. (PO – 7%)

Erik Van Rooyen – $7,100
Rooyen has better Vegas odds than 14 golfers above him in pricing. EVR played at the Open Championship last year and finished in 17th. Three Top 20s in his last six starts on the Euro Tour. He also has a 43rd and 8th in the last two majors in the U.S. Wiesberger might be playing really well, but he's never fared well at the British open. I'll take Rooyen and a fraction of the ownership over Wiesberger. (PO – 10%)
Players priced between $6,900 and $6,000
Andrew Putnam – $6,600
Will need to get it done with his approach and putting game to play on the weekend. No Open Championship history but did come in 4th at the Scottish Open last week. Been trending up in the last month or so. I think he keeps the arrow pointing up this week. (PO – 5%)

Lucas Glover – $6,500
If there was ever a play that I thought was a trap it's Glover. Number 13 in my model this week, he's Top 40 in every metric. He should be at LEAST another $1,000 more this week. It looks like a free space, feels like a trap. Becareful. (PO – 7%)

Andrea Pavan – $6,400
European Tour only, Pavan has been playing very well. In his last eight starts he has two Top 25, a 15th and two Top 5 on his resume. A flier only but I'll take a chance. (PO – 2%)
Thank you for reading. You can find my other work here on my Author Page. Follow Win Daily Sports (@WinDailyDFS) and myself (@DFSPatrickScott) on Twitter for up to date news.
Stat source: FantasyNational