Hot Shot 11/22 – NHL DFS Picks for DraftKings and FanDuel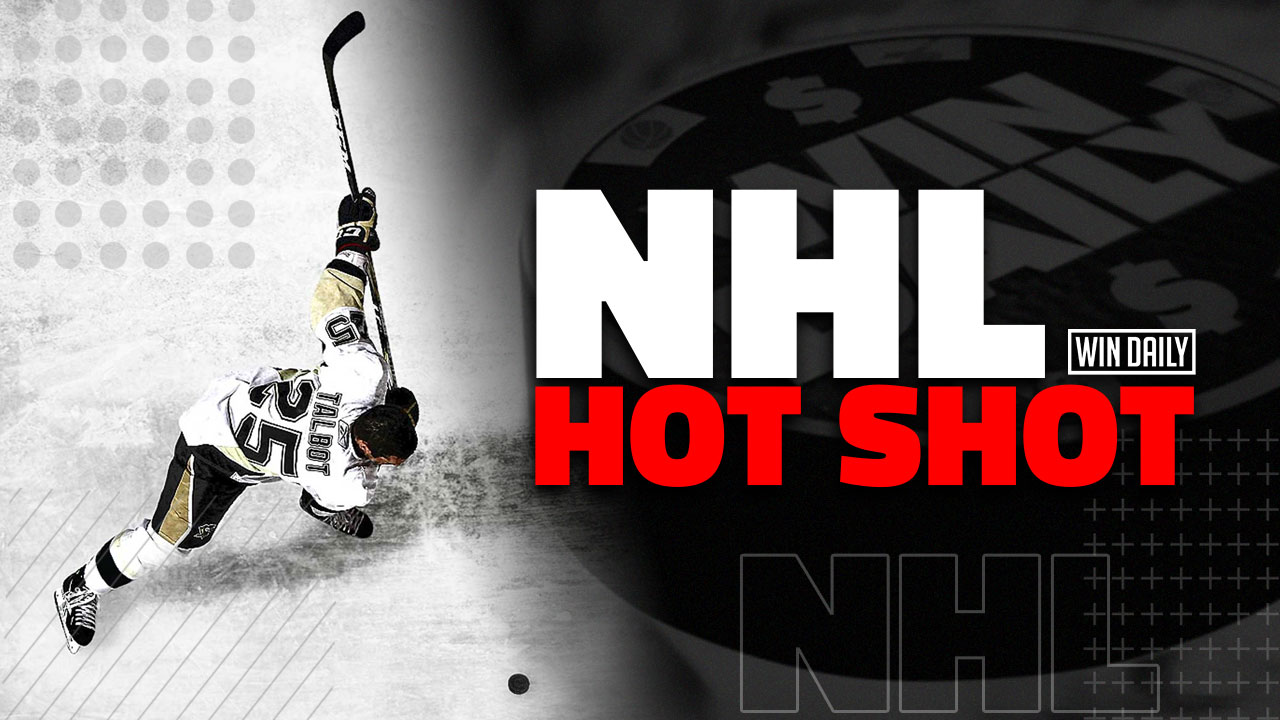 After last night's nice 9 game slate, we end up with a baby 2-gamer tonight. This one looks interesting, and will be a very volatile slate. Keep it light tonight and prep for tomorrow's massive slate. Check out our NHL DFS picks for tonight below. Good luck!
Goalies
With only four teams in action tonight, we will list the goalies in order of risk below, from safest to riskiest. As usual, be sure to keep an eye on news through the day to verify they draw the start.
Igor Shesterkin – New York Rangers: Igor is hands-down the best goalie on this slate from a talent perspective. He has some fantastic numbers this year, and the Rangers have a good chance at winning this game tonight.
Jake Allen – Montreal Canadiens: The Canadiens host the Sabres tonight, who have been pretty bad of late. They have been losing like crazy, and are averaging just 1 goal per game over their last five. Allen's numbers aren't pretty, but this is more about the matchup.
Jonathan Quick – Los Angeles Kings: Quick has been very inconsistent of late. He has a whopping 4.67 GAA over his last five, and those types of numbers are scary when you think of him facing the Rangers. We know the Rangers can score, and they should be able to take advantage of Quick tonight. However, from a risk/reward standpoint, Quick can be a solid deep GPP option, since the volume will be there.
Craig Anderson – Buffalo Sabres: Anderson's numbers actually aren't terrible. However, this is an unfavorable matchup for him and the Sabres tonight. Montreal looks to be in a prime spot tonight. We aren't saying don't use him at all, but he should be reserved for MME style play for tonight.
Lines to Build Around
These NHL DFS lines are considered top plays for the night and can be considered the focal point of your builds. They will be listed by position in the following order: Center/Winger/Winger/Correlating Defenseman (if applicable).
Stacking Notes: Before we get into plays, we want to cover a quick note about stacking on a 2-game slate. In general, on DraftKings especially, a preferred build on a bigger slate is 3-3-2, covering your bases with D-men and dropping a forward off of a stack. On a two game slate, stacking a full forward line makes a lot of sense from a leverage standpoint. For example, if a common build is to play Zibanejad with Kreider and Fox, you can get different by playing Zibanejad with Kreider and Vesey instead. As most people will leave Vesey off, if he benefits from that line scoring, you will have an advantage on the field.
In our example above (Zib/Kreider/Vesey), add your second full forward line stack, and then fill in your D spots with floor. If they correlate with the two stacks, great, but if not, that's ok. Chase blocked shots and shots on goal as much as possible so that you get the most out of those two D spots.
Montreal Canadiens 1 – Nick Suzuki/Cole Caufield/Kirby Dach/Michael Matheson: Based on the line matching for Montreal, this line tends to find itself against the better or best lines for the opposition. That means that this line should see a majority of the Thompson line for Buffalo tonight, who is giving up a massive 34.83 SCA/60 and 17.94 HDCA/60. It helps that this line has been on fire recently, so definitely get some Canadiens in your lineups tonight.
New York Rangers 2 – Vincent Trocheck/Artemi Panarin/Barclay Goodrow/Adam Fox: This line has a date with the Kings' top line tonight, who are giving up 38.46 SCA/60 and 21.64 HDCA/60, which means that this line could absolutely break the slate. The matchup should be pretty wide open, as this line is not a stellar defensive line themselves. A game stack with this line and the Kings' top line is certainly a possibility tonight.
High Risk Lines
These are NHL DFS plays that carry significantly more risk, but could pay off at low ownership. They will be listed by position in the following order: Center/Winger/Winger/Correlating Defenseman (if applicable).
Buffalo Sabres 1 – Tage Thompson/Jeff Skinner/Alex Tuch/Rasmus Dahlin: The Sabres have gone cold recently, but this top line is in play on a two game slate. They have to break out of that slump at some point, and there is a possibility that tonight could be the time to do so. The Canadiens are giving up goals, so there should be chances, but the worry here is that Buffalo just cannot convert. Their matchup with the top Canadiens' line could be limiting, which is the risky part of this play, but on two games, anything can happen.
Los Angeles Kings 1 – Anze Kopitar/Kevin Fiala/Adrian Kempe/Drew Doughty: Fiala moves back to the top line, and, as mentioned above, this line should see the second line for the Rangers tonight. This sets the top line up for an interesting look, and this line could be a little sneaky tonight. The field will likely be on Shesterkin, so they may be a leverage play.
NHL DFS Honorable Mentions: LAK2, NYR1, MON2
Value Options – DraftKings
Consider these NHL DFS plays to help save you some salary in your lineups on DraftKings. Be sure to stack!
Center: Christian Dvorak ($3500) – Montreal Canadiens
Wing: Barclay Goodrow ($2900) – New York Rangers
Defense: Alexander Edler ($2800) – Los Angeles Kings
Value Options – FanDuel
Consider these NHL DFS plays to help save you some salary in your lineups on FanDuel. Be sure to stack!
Center: Christian Dvorak ($4900) – Montreal Canadiens
Wing: Jimmy Vesey ($4200) – New York Rangers
Defense: Sean Walker ($3900) – Los Angeles Kings
Player Props
In this section, we will highlight some NHL player props that we like for the upcoming NHL slate.
Cole Caufield (MTL): over 0.5 power play points (+205 on DK Sportsbook)
Artemi Panarin (NYR): anytime goal scorer (+250 on DK Sportsbook)
Make sure to hop in our Expert Discord Chat for FREE! Jon and the NHL team will be there answering questions right up until lock! Be sure to be on the look out for future articles at https://windailysports.com/daily-fantasy-hockey/
Sign up and get started with Win Daily Sports! We have your sport and the experts to help make you money. Why lose another buck when you can win TODAY!
What's up everyone, I am Jon Love and I am happy to be here writing hockey articles for Win Daily Sports! I love sports in general and am a die hard Philly sports fan. Hockey and football top my list as favorites. I have been playing DFS hockey for about six years now and while it is the most challenging and volatile of them, it is one of the most fun sports you can play from a DFS standpoint. Looking forward to bringing you hockey content all season long. Find me in our Win Daily Discord or on Twitter @jlove048 and let's talk about anything sports!