DraftKings Super Bowl Showdown: Bengals vs. Rams
Published
10 months ago
on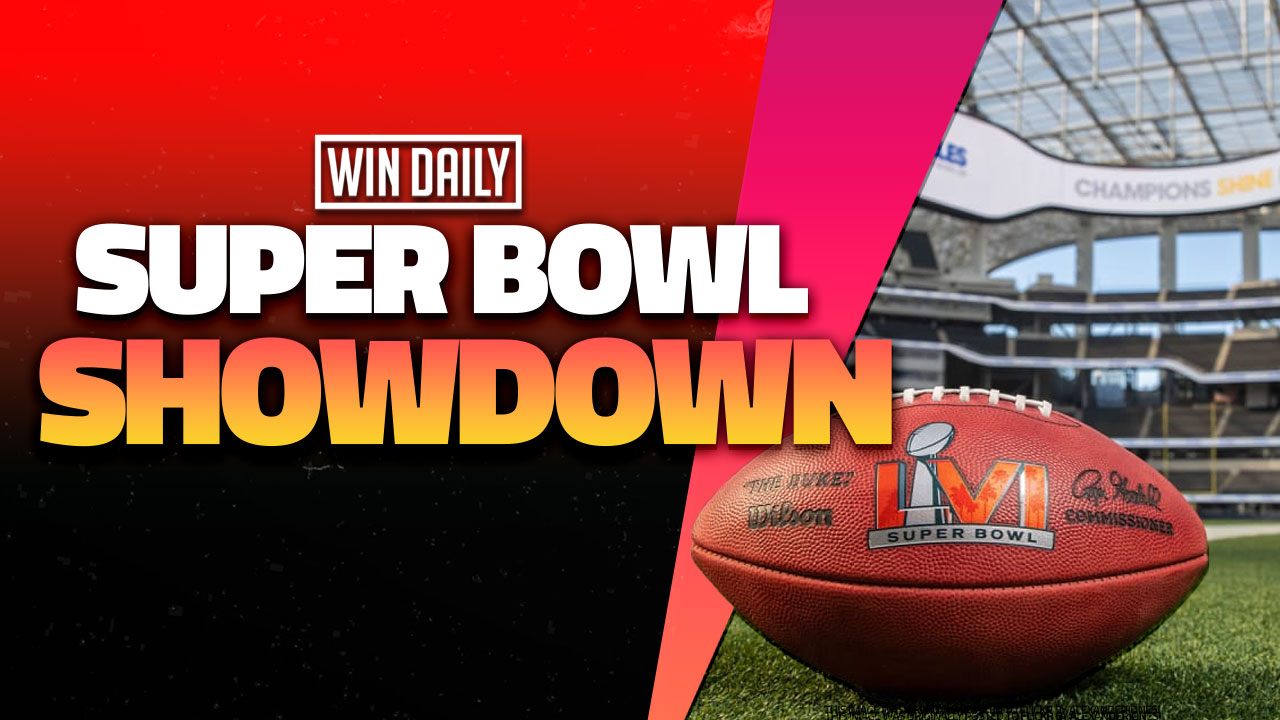 The NFL DFS season concludes with the showdown slates for the Super Bowl, and we've got the breakdown to help you win big in the big game!
NOTE: For a refresher on showdown general rules and strategy, see my first showdown article of 2021. This article will focus on the DraftKings contests, rules and pricing.
Let's get to the game!
Super Bowl NFL DFS MVP candidates (1.5x points)
Some notes on the differences on the Captain slot on DraftKings: DK bumps both the points scored and salary cost to 1.5x – a crucial factor in deciding who we can and cannot afford on the site. This can sometimes allow us to build more creative stacks when we punt the MVP position with a cheap but high-upside player.
Super Bowl Showdown NFL DFS Chalk: Cooper Kupp (DK $17,400)
Pivot #1: Joe Burrow (DK $15,900)
Pivot #2: Matthew Stafford (DK $16,200)
Pivot #3: Ja'Maar Chase (DK $15,600)
Contrarian #1: Joe Mixon (DK $14,400)
Contrarian #2: Tee Higgins (DK $11,400)
DK Value Play: Evan McPherson (DK $6,000)
It's the Cooper Kupp chalk show this week as the NFL's top scoring fantasy WR is drawing heavy ownership as the captain of about 65-70% of projected lineups thus far, but as good as he is, I'd like to start off our discussion with some thoughts on Bengals sophomore QB Joe Burrow.
Burrow suffered grade 3 tears of both his ACL and MCL on November 22, 2020 — Week 11 of his rookie season in a game against the Washington Football Team (now the Commanders). Despite being a few days shy of 15 months after that fateful date, a LOT has changed since then. What looked like a serious roadblock to a promising young QB's career has melted away. The WFT has a new name. We're still forging bravely through a difficult time here on Earth, with folks still getting sick and the many challenges of confronting and navigating a pandemic, and Joey B isn't just recovering and rehabbing from the injury — he's culminating a brilliant season with a trip to the Super Bowl, replete with a host of dangerous offensive weapons who have a nose for the end zone and the ability to take it to the house on any touch.
I don't want to take away from the laudable accomplishments of Kupp after a legendary NFL season or Matthew Stafford leading this Rams team to the big game after toiling away in the purgatory of Detroit for so many years, but what Burrow has accomplished this season is otherworldly — the kind of comeback that's fit for celluloid or the images of a flashing dreamscape.
One of the main reasons Burrow has had so much success is the play of rookie WR Ja'Marr Chase — Burrow's teammate at LSU and a certified surprise given his depleted draft stick last April and the struggles he faced during training camp and the preseason. Chase doesn't need much of a window to find the sunlight of the end zone, and if there's one QB-WR stack we should focus on building around, it's this one.
Bengals notes: After Burrow and Chase, the options are still plentiful, with the sure-handed and statuesque Tee Higgins offering immense upside in both the red zone and between the 20s, veteran WR Tyler Boyd operating skillfully in the slot as a target-rich value play, and Joe Mixon — who's useful on just about any down and distance as well and effective in the red zone as a bruising but nimble runner and pass-catcher. The Bengals DST could be a surprising value as well (despite the matchup), and I'll be crafting plenty of lineups that include kicker Evan McPherson and C.J. Uzomah (questionable with a knee injury) if the TE can suit up and play on Sunday.
Rams notes: The Rams aren't exactly starved for offensive options in this matchup, but knowing who to play could be a little more difficult to discern given the injury issues surrounding RB Cam Akers and TE Tyler Higbee, as well as the absolutely dynamic play of Odell Beckham Jr. over the past few games. A great addition after losing Robert Woods to a season-ending mid-November practice injury, OBJ took a couple weeks to adjust to the playbook and find his happy place in LA, but promptly racked up 19-236-1 on just 23 targets over the first three weeks of the playoffs. Waiting in the wings to help our builds from a value standpoint are Sony Michel, TE Kendall Blanton (the possible fill-ins for Akers and Higbee, respectively) and even RB Darrell Henderson, Jr., who has a good chance to return from IR to be activated for Super Bowl LVI. The Rams DST has a chance to be part of the narrative as well, but they'll need to get some pressure on Burrow and do what no other team this playoffs ahs been able to do — shut down the juggernaut passing game and prevent some of the quick scores that have punctuated their wins.
DK Strategy Notes: If we're willing to fade Kupp, it's pretty simple to get a nice-looking Bengals stack with Burrow/Chase at CPT/UTIL and another top-flight WR (either Higgins or Boyd) and still get a piece of the Rams offense with OBJ or a value RB. If we decide to play Burrow/Chase and squeeze in Kupp at another UTIL spot, we can still make do with the $4K+ for each of the remaining three slots.
Super Bowl Showdown: NFL DFS Final thoughts (and some DOs and DON'Ts)
Remember to build your team based on a narrative that makes sense.
DO: Build a trio (or quartet) of offensive weapons for a team that makes sense together.
DON'T: Be afraid to take some risks.
DO: Use the projected team totals to shade one way or the other with your selections.
DON'T: Worry about spending every dollar.
Now that we've established some NFL DFS narratives and MVP candidates for the big game, the best way (as always) to round out this piece is with a list of my favorite options in descending order, based on overall value (a combo of salary and projected points):
Cooper Kupp
Joe Burrow
Ja'Marr Chase
Matthew Stafford
Tee Higgins
Joe Mixon
Odell Beckham, Jr.
Tyler Boyd
Tyler Higbee (questionable)
C.J. Uzomah (questionable)
Evan McPherson
Cam Akers (questionable)
Matt Gay
Rams DST
Bengals DST
Darrell Henderson (questionable)
Sony Michel (higher if Akers or Henderson sits)
Kendall Blanton (higher if Higbee sits)
Van Jefferson (questionable)
Samaje Perine
Drew Sample
Ben Skowronek
Trent Taylor
Chris Evans
Mike Thomas
Don't forget to read the rest of WinDaily's excellent football articles this week as you prep for the Super Bowl action!
I'm a writer from upstate NY in a cool little Hudson River town called Coxsackie. Too many interests to list, but the films of David Lynch, the books of Kurt Vonnegut, the music of Jack White and the maddening sport of golf are near the top of my list. Big into DFS, specializing in baseball, football, golf and hoops. I've written for FFToday.com, RotoExperts and Baseball America, to name a few.