DraftKings and FanDuel XFL DFS Week One
If you like what you see, sign up for more XFL DFS Win Daily content here.
XFL DFS Week 1
Do you know what The Rock is cooking? Well as it pertains to XFL, you may not. And that's why we're here at WinDaily to give you the tools needed to keep your football action going through the spring and help fill that void of football-less weekends.
The XFL shut down in 2020 after 5 weeks of football due to financial issues. Dwayne Johnson and Danny Garcia paired up to revive the broken product and try, once again, to bring a secondary football league to life. Let's face it, there's a market, especially with the NFL season now over. However, it will be an uphill battle that previous owners have failed at.
But enough of that, the XFL is back for a 3rd try. We remember the original version with Rod Smart, famously named He Hate Me, Yo Murphy (Rams SB Winner), Scott Milanovich, and Tommy Maddox. There were a lot of extra props pushed into each game which left viewers wanting less. This version of the XFL is looking more at the football side and focusing on ways to build players and develop a pipeline to the NFL.
Here's what you need to know from a basics standpoint:
The XFL has 8 teams for the 2023 season. Each team practices in Arlington, TX, and will then travel to their scheduled destination for games. Games will be played in home stadiums for each of the 8 teams which does add some local excitement and potential handicapping advantages (especially dome teams like San Antonio and St Louis). Games will be televised on ABC, ESPN, and FX throughout the season.
The teams and coaches for the 2023 season are:
SOUTH DIVISION
ARLINGTON RENEGADES – Coached by Bob Stoops
HOUSTON ROUGHNECKS – Coached by Wade Phillips
ORLANDO GUARDIANS – Coached by Terrell Buckley
SAN ANTONIO BRAHMAS – Coached by Hines Ward
NORTH DIVISION
DC DEFENDERS – Coached by Reggie Barlow
SEATTLE SEA DRAGONS – Coached by Jim Haslett
ST LOUIS BATTLEHAWKS – Coached by Anthony Becht
LAS VEGAS VIPERS – Coached by Rod Woodson
As you can see, there are some familiar names manning the headsets on the sidelines as well as some new faces taking the reins. What's interesting is the balance between defensive and offensive coaches. In the startup leagues like XFL and USFL, we've seen defenses perform better than offenses early in the season. Which is noteworthy and something to consider for betting and DFS.
But what you're here for is the DFS implications for this weekend's opening games which will be played on both Saturday and Sunday. First off, DraftKings is hosting a guaranteed $300K event with $100K going to 1st place. This is the classic slate that covers all four games this weekend. There are also showdowns available for each game. The other thing to note, is that the lineup consistency is different than NFL DFS and is as follows:
XFL DFS DRAFTKINGS STANDARD LINEUPS (non-showdown)
1 QB
1 RB
2 WR/TE
2 FLEX
1 Defense
The total is 7 positions which ends up being one less than standard football lineups and positions you with an average player salary of $7140.
For showdowns, the lineup makeup is the same as the NFL with one captain and 5 flex players. One important thing to consider is that there are no kicking extra points in the XFL. They have 3 options after a touchdown; 1 point conversion (2 yard line), 2 point conversion (5 yard line), and 3 point conversion (10 yard line).
Lastly, before we get into the games, realize it is week 1 of a "new" league. There are no beat writers and information is scarce. That will make it tough to nail down starters or whether teams decide to share positions. But it also means we're all on the same playing field which adds to the potential of taking down a GPP or showdown.
Now onto the games and players we like for lineup builds.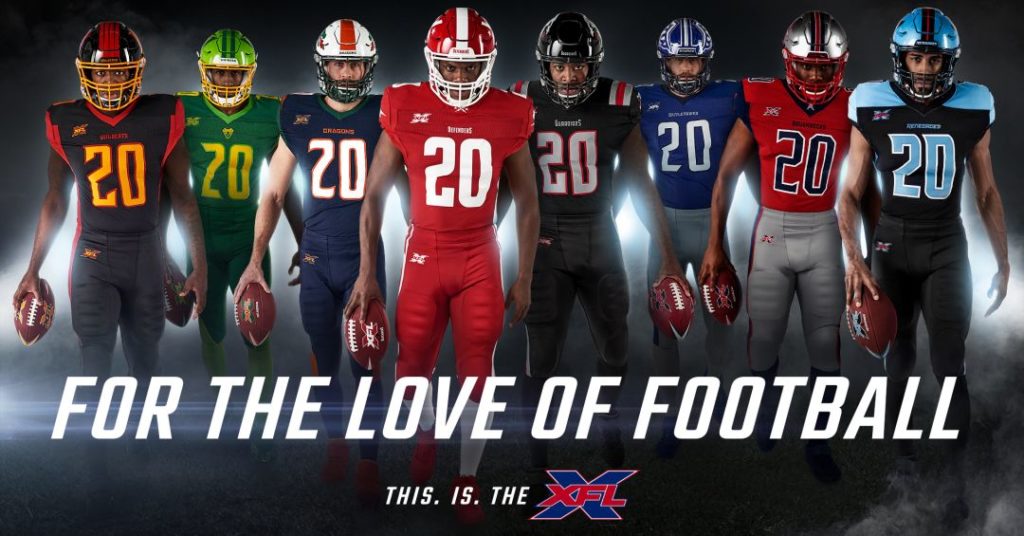 XFL DFS GAME 1: LAS VEGAS VIPERS @ ARLINGTON RENEGADES (Saturday 2/18/23 @ 3pm on ABC)
Both teams in this matchup have rosters that resemble the personality of the coach. For Arlington, the roster is full of Sooners where their head coach, Bob Stoops, once manned the sidelines. For Vegas, their presumed star player amassed 17 career receiving TD's for the Pittsburgh Steelers where their head coach, Rod Woodson, spent most of his career.
Quarterback:
DREW PLITT (ARLINGTON) $7,300: News out of Arlington is that Drew Plitt beat out Kyle Sloter for the starting QB job. Sloter was the favorite based on his experience in NFL training camps and playing in the USFL in 2022. In fact, he was 2nd in the USFL in passing yards. But he was also 2nd in interceptions thrown.
But don't sleep on Drew Plitt who starred at Ball State and in his career amassed over 9000 yards passing with 68 TD's. Plitt can run the ball as well as he averaged almost 10 carries per game in his college career. There is value here with the salary at $7300 and Plitt's ability to get yards on the ground. Keep an eye out on news to ensure there isn't a last minute switch (depth charts shows Plitt OR Sloter).
LUIS PEREZ (LAS VEGAS) $7700: This is another one that Draftkings got wrong as they have Vegas QB Brett Hundley the presumed starter with a salary of $9400. However, news out of Vegas is that Perez will get the start on Saturday. Perez was the opening day starting QB for the New Jersey Generals in the USFL last season and had previous experience in the XFL. My concern is that if Perez struggles, Woodson may be quick to turn to Hundley. Having two competent QB's is a good problem to have for teams but not for DFS players. I'm fading Perez this week based on uncertainty with his grasp on the job and the fact that Arlington boasts a solid secondary.
Running Back:
KEITH FORD (ARLINGTON) $6800: Keith Ford is showing as the top RB on Coach Stoops's depth chart. Makes sense as Ford spent some of his college career at Oklahoma. He is below the average player salary making him an attractive option for DFS.
DE'VEON SMITH (ARLINGTON) $4400: This is a value play and one I like better than Ford based on the $2400 discount. Smith led the USFL in rushing yards for the Tampa Bay Vipers. I believe he will see significant action in this game as he's listed as the alternate to Keith Ford on the depth chart. Also note that the Vipers are considered to have the worst D-line in the league.
ROD SMITH (VEGAS) $7300: Rod Smith spent 4 seasons in the NFL and 2 more on practice squads. He ended his professional career with 6 career touchdowns for the Dallas Cowboys. But now he's looking to resurrect his career in the XFL. The concern with Smith is that he could be sharing time with John Lovett ($7200 DK) combined with the notion that Arlington has the best projected defense in the league.
Wide Receiver/TE:
JORDAN SMALLWOOD (ARLINGTON) $5400: Projected as the slot receiver in Stoops's offense. He also played college football at Oklahoma which gives him a perceived edge. Note that Arlington's #1 WR on the depth chart, Rennell Hall, is not available on DK.
SAL CANNELLA (ARLINGTON) $5400: Cannella is coming over to XFL after playing for the New Orleans Breakers in the USFL in 2022. He as named an All-USFL selection and led all tight ends with 34 receptions and 368 yards. Tight end is not a position of value in these off Broadway leagues but the potential for receptions and conversions are here based on the strength of Arlington's running game.
MARTAVIS BRYANT (VEGAS) $8900: We finally get to one of the more recognizable names in the XFL in Martavis Bryant. The former 4th round draft pick of the Steelers has been out of the NFL since 2019 due to a suspension. However, he was the 5th overall pick in the XFL draft as coach Woodson saw big play potential from the 6' 4" WR. We'll see if that pays off in Week 1 as we hear Woodson preach that he will be aggressive with his offense.
JEFF BADET (VEGAS) $8500 / GERONIMO ALLSION (VEGAS) $7000: Badet is a speedster who has recorded a 4.72 in the 40 yard dash. He's listed as #2 on the depth chart. Geronimo Allison caught balls from Aaron Rodgers and knows how to run crisp routes. He's listed as #1 WR on the depth. I actually like both of these WR's better than Bryant this week.
XFL DFS GAME 2: ORLANDO GUARDIANS @ HOUSTON ROUGHNECKS (Saturday 2/18/23 @ 830pm on ESPN/FX)
This is game environment that isn't necessarily intriguing due to the defensive nature of both head coaches. Vegas has set the line at Houston -3.5 with a total of 35 points (lowest of the weekend). But there are some intriguing value plays that could set your lineups apart.
Wade Phillips returns to the sidelines for Houston and is coaching a team for the first time since he was the Rams DC in 2019. Terrell Buckley, famously a DB for Green Bay, is coming to the XFL from previous defensive coaching positions in the SEC. Both teams have some NFL experience but also significant questions.
Quarterback:
PAXTON LYNCH (ORLANDO) $8,900: The former NFL 1st Round Draft Pick of the Denver Broncos looks to once again resurrect his professional career. This time with the Orlando Guardians. His attempt in the USFL was frankly ugly as he ended with just 500 yards before bowing out with an injury. And now he's listed on the depth chart as starter but Deondre Francois has the "OR" label and is listed right behind him. I don't trust Lynch or his status as QB1 and will look elsewhere for my signal caller this week.
BRANDON SILVERS (HOUSTON) $7,200: Silvers has been anointed the starting QB for the Roughnecks. However, his leash may be short as ex-Hawaii QB Cole McDonald sits 2nd on the depth chart. Silvers played for the Seattle Dragons in the 2020 XFL season as well as The Spring League in 2021. So he has experience but rostering him this week comes with risk.
Running Back:
JAH-MAINE MARTIN (ORLANDO) $6800: Martin is listed as the top back on the Guardians roster. Offensive coordinator is Robert Ford who has spent most of his career as a WR coach. Will that affect how Orlando attacks the Houston D? Possibly. But Martin is in position to see the bulk of the carries this week.
MAX BORGHI (HOUSTON) $4500: Borghi looks like another cheap play that has high ceiling. Borghi had a storied career at Washington State running for over 2000 yards. He caught onto several NFL teams in 2022 (preseason and practice squads) but ultimately did not make a game day roster. He's listed as the #1 RB on the depth chart and should get some space against a questionable Orlando D.
Wide Receiver/TE:
CODY LATIMER (ORLANDO) $3000: VALUE ALERT! Latimer played with the Broncos and won a Super Bowl with Peyton Manning at QB. He projects to be a dual purpose player (listed as H back) who will likely get a few carries along with several targets. I like his potential in this game and am intrigued to see how they'll use him. He's one of my favorite plays on this slate due to his price and prior experience.
ELI RODGERS (ORLANDO) $4100: Here is another ex-Steeler looking to revive his career in the XFL. Eli is listed as the #6 WR on the depth chart but is only $4100. This could be some positioning by HC Terrell Buckely and if so Rodgers could be under-owned and is worth a flyer in some GPPs at this price.
TRAVELL HARRIS (HOUSTON) $6600: Harris is listed as #3 WR on the depth chart but that might be a good thing. Being able to navigate the short routes and find mismatches against a questionable D could lead to heavy volume in the passing game.
DEONTAY BURNETT (HOUSTON) $7900: Burnett was a star at USC. In the 2017 Rose Bowl, he caught 13 balls for 164 yards and 3 touchdowns. He's made some appearances in the NFL, most notably with the NY Jets in 2018. But now he's looking to revive his career in the XFL and he is the clear #1 in Houston which makes him an attractive DFS play.
XFL DFS GAME 3: ST LOUIS BATTLEHAWKS @ SAN ANTONIO BRAHMAS (Sunday 2/19/23 @ 300pm on ESPN)
We finally have a game where there is an established QB and some big-name players to match. Both St Louis and San Antonio have offensive-minded coaches and talent at premium offensive positions. The only concern is the potential for noise in the dome which could make things frenetic and sloppy. But I think there is potential for scoring here and will invest in this game environment.
Quarterback:
AJ MCCARRON (ST LOUIS) $10,500: The former Alabama star QB looks to make noise in the XFL as he takes the helm for the preseason favorites in the St Louis Battlehawks. He is also the highest-priced QB on the slate at $10,500. But I feel like this is a good game environment for McCarron as both teams have talent at key positions and this could be one of the highest scoring games this weekend. Plus, McCarron has some good weapons around him which we'll highlight below.
JACK COAN (SAN ANTONIO) $8,500: Coan had a very productive college career at both Wisconsin and Notre Dame. In his final season in college, he helped the Irish go 11-2 and finish in the top 10. He is also surrounded by talent at RB and WR and should thrive in this game environment.
Running Back:
BRIAN HILL (ST LOUIS) $5,800: Brian Hill was recently sharing the backfield for the Atlanta Falcons and showed promise as a change of pace back. But after leaving Atlanta he was never able to catch on to another 52-man roster. So he's now in St Louis and his salary is way too low for someone listed as #1 on the depth chart as well as the past noted success in the big leagues. The only issue here is that St Louis doesn't have the best OL.
MATAEO DURANT (ST LOUIS) $7700: While Hill is the NFL name, Durant is the younger player with pedigree. He is coming off a senior season where he ran for 1,241 yards at Duke which was a single-season record at the school. I think he has the higher upside between the two backs and will eventually, if not this week, get the majority of the snaps at RB.
KALEN BALLAGE (SAN ANTONIO) $4800 / JACQUES PATRICK (SAN ANTONIO) $7800: Ballage played two seasons in the NFL for the Dolphins and looked prime to be a breakout player. But he ended up inconsistent and faded quickly. However, his loss could be a gain for the Brahmas as his potential is huge in the XFL. Jacques Patrick is listed as the #2 but will likely get a fair share of touches due to his past XFL experience. The $3K discount and being listed as the #1 back is the main reason why I prefer Ballage to Patrick.
Wide Receiver/TE:
MARCELL ATEMAN (ST LOUIS) $9200: Ateman is the most expensive WR on the slate and rightfully so. He has NFL experience with 20 career receptions and a TD. He is 6' 4" and 215 lbs which makes him a big target that will be hard to defend. Those metrics also make him a great redzone target adding to the scoring luster. Ateman should be strongly considered even with the high price tag.
JALEN TOLLIVER (SAN ANTONIO) $7,400: Tolliver had a cup of coffee in the NFL with the Arizona Cardinals. He is listed at 6' 3" which makes him a big target for QB Jack Coan. Additionally, Coan does possess a big arm so we could see several deep ball chances and Tolliver would be the beneficiary of that.
LANDEN AKERS (SAN ANTONIO) $8,200: Akers possesses a Super Bowl ring as he was on the Rams team that won Super Bowl LVI in the 2021 NFL season. I'd prefer to play Tolliver but do think Akers will have a solid game. I will have some rosters that stack both Akers and Tolliver and play Ateman with a run back.
XFL DFS GAME 4: SEATTLE SEA DRAGONS @ DC DEFENDERS (Sunday 2/19/23 @ 800pm on ESPN)
The weekend closes with a very fascinating matchup. The Defenders and Sea Dragons are tied with Arlington with the second best odds to win the XFL at +500. And both have notable QB's in Ben DiNucci and Jordan Ta'amu.
Quarterback:
BEN DINUCCI (SEATTLE) $9,800: Oh Ben DiNucci. That name probably rings a bell as he helped make quarterbacking look hard during the NFL COVID season of 2020. He started just one game but played in parts of 3 and ended with a 10.4 QBR. But experience is good any way you cut it and what makes DiNucci even more intriguing is the fact that June Jones is the OC in Seattle. And he also has a pretty good WR named Josh Gordon. He will be a popular play this week in DFS.
JORDAN TA'AMU (DC) $8,500: The Defenders have one of the best set of QB's in the XFL and have settled on Jordan Ta'amu as their opening day starter. Ta'amu played for Tampa Bay in the USFL last year and led the league in yards (2015) and TD's (14). But he also had 12 INT's which was 1st amongst all USFL QB's. Which brings us to his backups in D'Eriq King and Eric Dungey who both had successful college careers. So as the theme of the weekend goes, the leash could be short if Ta'amu struggles early.
Running Back:
BRENDEN KNOX (SEATTLE) $5,500: Looking at the roster construction of Seattle, and June Jones calling the plays, it looks like they will be a pass heavy team. The Sea Dragons are carrying just 2 RB's on their roster with Knox and Morgan Ellison. And that's just another signal that points to a heavy passing attack. Tread carefully here as I'm likely punting the Seattle backfield this weekend.
ABRAM SMITH (DC) $7,900: I absolutely loved watching Smith play at Baylor. He was a converted defensive player that turned into a star RB for the Bears. The Defenders used their 1st round pick on Smith and expect him to be a workhorse in this offense.
Wide Receiver/TE:
JOSH GORDON (SEATTLE) $9,000: We finally arrive to the most notable name on the slate in Josh Gordon. So much potential and too many suspensions to count. But Gordon now has a fresh start and is the #1 WR in a wide open offense. DiNucci has the arm to get it to Gordon anywhere on the field. Add in June Jones and a likely frenetic pace and this spot seems too good for DFS players.
BLAKE JACKSON (SEATTLE) $3,800: Here's another interesting note as it pertains to Seattle's offensive construction, they have no TE's on the roster. Blake Jackson is listed as WR #3 which means he'll likely be aligned in the slot and in disguise spots. June Jones is known for making stars out of unheralded players. Let's take a flyer that Jackson is that guy in this offense.
JOSH HAMMOND (DC) $6,200 / JEQUEZ EZZARD (DC) $7300: Hammond is projected as #1 WR on the Defenders depth chart and Ezzard is #2. With a good running game and 3 QB's on the roster that can throw the ball well, the Defenders WR's will be in-line for a big game. It's tough to nail down which one to but I'll lean towards Ezzard who starred for Sam Houston State in the FCS and has explosive playmaking ability.
FINAL THOUGHTS:
There is so much uncertainty with the XFL this week. But my strategy is to use the depth charts and try to take advantage of mispricing in the market. With totals set low, and some games being played in hostile environments (SA), I'm going to look to use more 3 RB sets than 4 WR sets. I also think we have to pay up for QB this week and will roster some of the safer landing spots and use our riskier plays at RB/WR/TE.
Good luck this week and let's smash the DFS market and get ahead of the curve here. Football is still alive even if it may look the opposite.
Make sure to hop in our Expert Discord Chat for FREE! Dave will be there answering questions all day and all night! He is not very difficult to find on Discord with the username Dave G. Be sure to be on the lookout for future articles at https://windailysports.com/