In this review, we will cover everything you need to know to start winning with daily fantasy on PrizePicks. We cover the basics of creating an account, and just how simple it is to pick up and play with PrizePicks.
Sign up NOW for WIN DAILY Premium Gold right here! Projections,
weather reports, wagering info, 24/7 expert chats and more!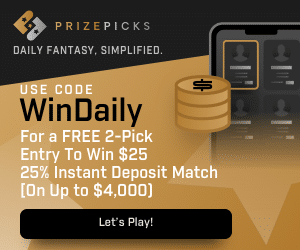 The Story
How do you keep sports fans engaged throughout their favorite sports season, especially when their favorite hometown team or fantasy team is not doing well? This question led to the first iteration of PrizePicks: SidePrize.
SidePrize allowed fantasy league members to raise the stakes on a weekly basis via skill-based side bets — my fantasy team vs. your fantasy team. This allowed for much a greater return on investment from your fantasy league experience. SidePrize went on to win numerous awards from the Fantasy Sports Trade Association but went dark when the New York Attorney General called fantasy sports illegal gambling.
Though business was slow, the company wanted to stay ahead of the curve and wanted to address other threats SidePrize faced: A lot of people want action, but they cannot find someone to take their action. Adam Wexler teamed up with some of his past colleagues at prior ventures, and PredictPicks was born as the second iteration of PrizePicks.
PredictPicks had a clear mission. Create the most simple, fast and fun daily fantasy game the industry has ever seen. By 2018, as they continued to grow one vision always remained constant: Members-First. On October 4, 2018, the team graduated the game from Private Beta under a new brand called PrizePicks: Daily Fantasy, Simplified.
If you're more of a Props player, they're the best of the best when it comes to the new craze of Prop Gaming. The user predicts if players will go over or under their projected fantasy score. Pick two or more players. Choose Over or Under. Profit. It really is that simple.
Create An Account
The process is simple and straightforward. All you need is your email, choose a username and password and you're good to go. If you have a referral from someone, apply it at setup.
Right now PrizePicks is running a refer a friend program. For every friend that signs up & deposits, they give you $20 CASH! If your referral deposits over $100, you'll also receive an ADDITIONAL 10% of the deposited amount in your promo balance instantly!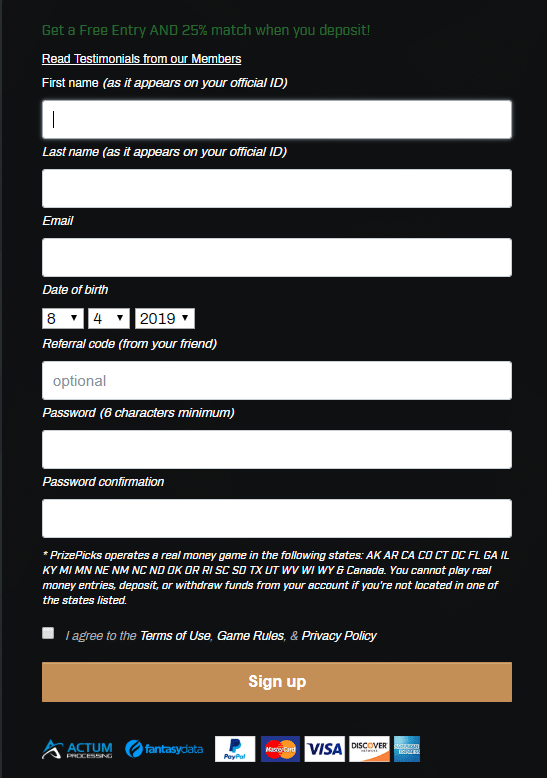 Home Page
Once you have created an account, you'll be directed to the home page. Here you will find everything needed to get started in the wonderful world of PrizePicks.
Right now on PrizePicks if you deposit now you are granted free entry and 25% match instantly. Up to $1,000 deposit match in addition to a free entry.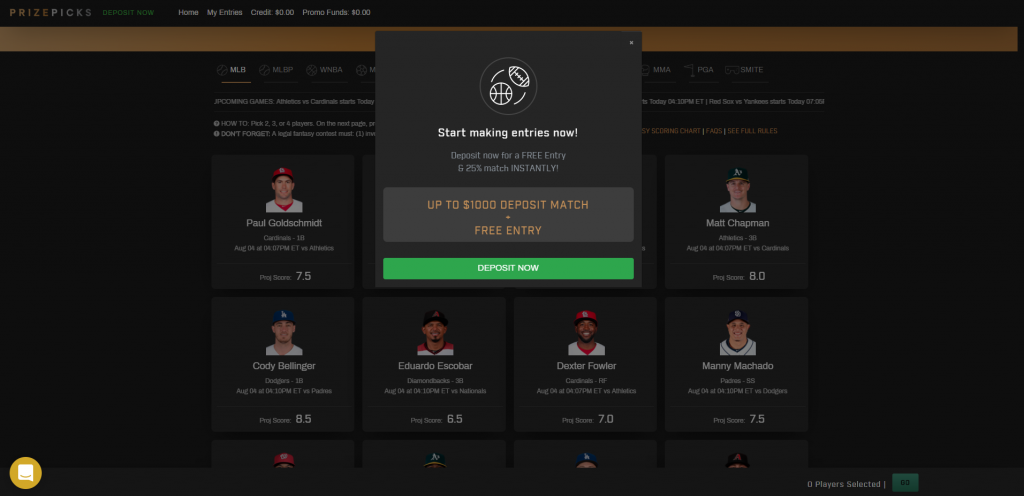 How to Enter A Contest
The dashboard shows the numerous amounts of sports that you can choose players to take unders and overs on their projected fantasy points. These include the NBA, NFL, MLB, MMA, PGA, EPL, MLS, NHL, NCAAF, NCAAB, eSports, and more. Playing the game is as simple as selecting your sport, and selecting 2, 3, or 4 players from the Big Board. The big board is a board of players that you can choose from. Simply click on players to start placing an entry. You just need to make sure that you involve multiple players that represent multiple teams to have a legal daily fantasy contest.
Once you select your players you then select whether you are going over or under on each player. You then select your entry amount and it shows you how much your entry will translate into winnings. The more picks you get correct the more money you win!
The aspect to note here is that payouts increase depending on how many players you select and how many you project correctly.
4-pick pays out 10x
3-pick pays out 5x
2-pick pays out 2.5x
3/4 correct on 4-pick pays out .2x
2/3 correct on 3-pick pays out .15x
1/2 correct on 2-pick pays out .1x
For example, if you enter a $100 4-pick entry and win, $1,000 will be credited into your account.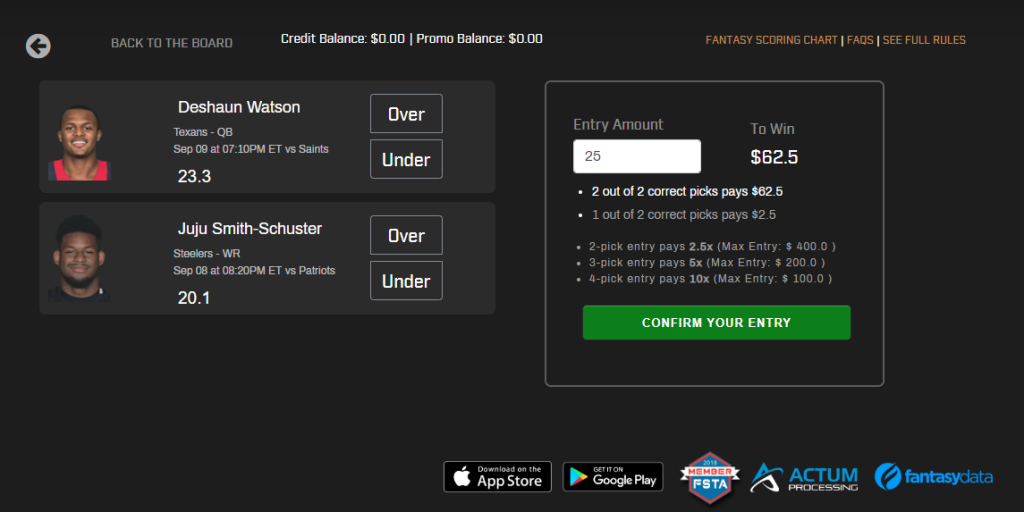 Deposit/Withdrawals
Depositing is no-hassle as there is a multitude of ways to deposit. This includes making a deposit to their PayPal or through an E-Check. Winnings will be paid out the morning following games and credited to your account.
Users can withdraw their account balance once every seven days (maximum of $1,000 a week). The minimum withdrawal amount is $30. Withdrawals are set up through a withdrawal request form.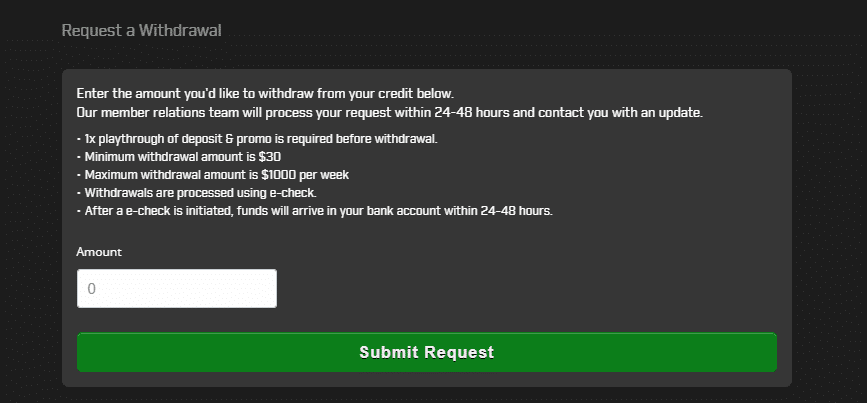 Some additional rules include deposits made to take advantage of promotions must be played through once before members can withdraw. Members must also play through deposited funds at least 1x prior to requesting a payout.
Fantasy Scoring Charts/Other Rules
Each sport has different scoring, but all are listed under the Fantasy Scoring Chart link. For example for NFL, it follows scoring as Points Per Reception (PPR).
Other rules worth highlighting include swapping out players must be submitted within one minute of entry placement. Additionally, if your player does not play the following will take place:
If your entry consists of 2 picks, your money will be refunded
If your entry consists of 3 or more picks, it reverts back to next tier ( eg. 3-player -> 2-player, 4-player-> 3-player)
Conclusion
PrizePicks combines the fun of prop betting with a fantasy spin. It's super simple and not intimidating. Instead of rostering an entire team like other sites, with PrizePicks picking an under or over on as little as two players is super easy to just sign up and play.
THANK YOU FOR READING. YOU CAN READ SOME OF MY OTHER WORK AND THOUGHTS ON MY AUTHOR PAGE. FOLLOW Win Daily DFS ON TWITTER @WinDailyDFS. PLEASE CHECK OUT EVERYTHING THAT Win Daily DFS HAS TO OFFER. NEW ARTICLES, STATISTICS, AND DATA ARE BEING ADDED CONSTANTLY. ALSO, DO NOT FORGET TO LISTEN TO THE WIN DAILY PODCASTS HERE.