Al's UFC Fight Night Deep Dive, DraftKings, FanDuel, Odds, DFS Picks, & Top Plays 9/3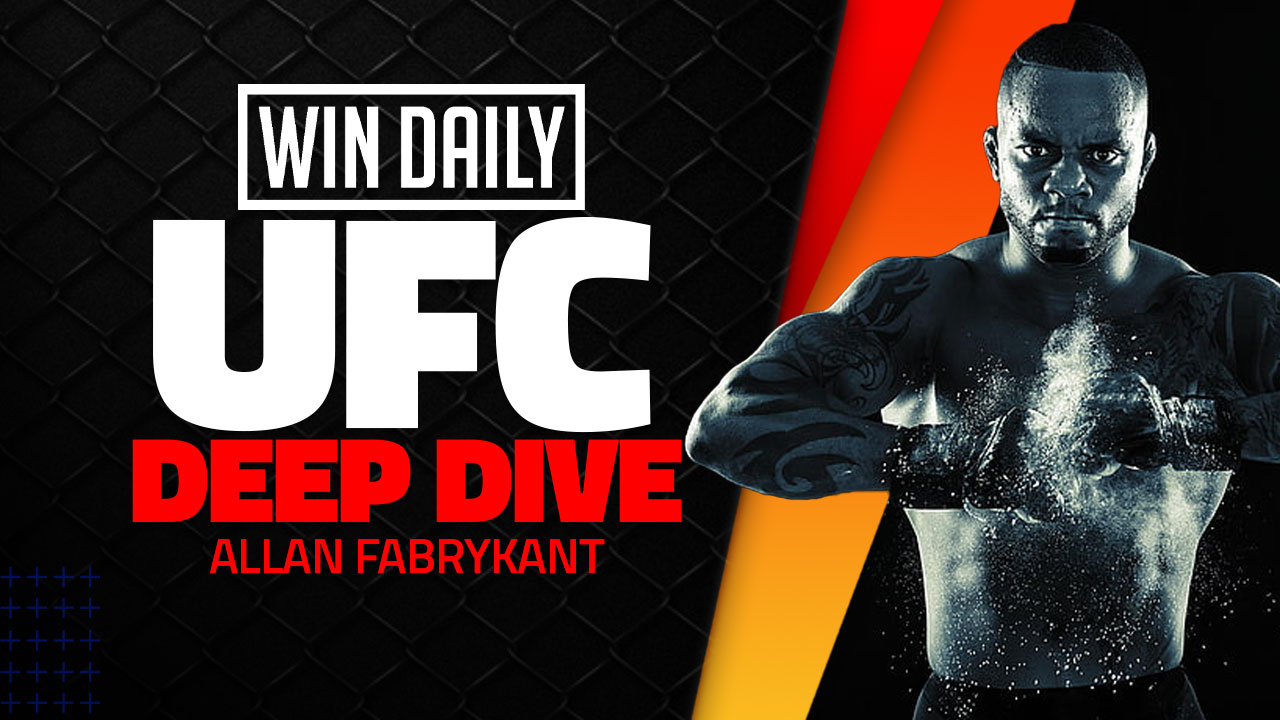 UFC Fight Night 209
GANE V TUIVASA
Welcome back everyone to Win Daily's Fight Night Deep Dive! We had a week long hiatus after an amazing numbered card two weeks ago where we saw the P4P champ dethroned by everyone's favourite dark horse Leon Edwards! The UFC is bringing us all the way to Paris, France for today's Fight Night card featuring top French talents such as William Gomis and former Interim Heavyweight Champion Ciryl Gane. Today's slate will start at 12:00 PM ET. Read more below to find out my takes on tonight's matchups! Tonight there will be 12-fights that will end with a fight highly anticipated heavyweight fight that will have a lot of implications for the top of the rankings! Let's get right into the action!
SLATE STARTS AT 12:00 PM ET
Exposure to the main event is recommended. DFS production in these fights is usually high as they are five-round fights. I may be branching away from the Main Event for some of my lines due to the possibility of low activity among these fighters. There will be three top plays followed by honorable mentions. Now let's get ready to make some money!
Tonight I'm here to give you my top three favorite DFS and Sports betting picks for UFC Fight Night 209 Gane v Tuivasa.
MY UFC VALUE TARGET (CASH&GPP):
Cristian Quiñonez (+100) (DK 7900) (FD $15) vs. Khalid Taha (-125) (DK 8300) (FD $17).

We're starting off today's article with another debuting fighter from the famous Entram Gym in Mexico. Having booked his UFC ticket nearly one year ago in the Dana White Contender Series, he is finally set to make his octagon debut on short-notice against a fighter who has had a rocky start to his UFC career going 1-3-0 (1 NC) over his five UFC appearances. Despite Quiñonez having some time between his last UFC fight, it has been even longer for Taha who hasn't fought since July of 2021. The major sore spot for Taha in this fight is his output, he absorbs way more damage than he lands on his opponents, despite the fact that he can strike fairly hard, the accumulation of damage from Quiñonez will prove to be the difference maker. By contrast Quiñonez had a 5.07 SLpM rate in his last fight along with a 100% takedown rate and a 60% strike defense rate. There are simply too many holes in Taha's striking for me to lean towards him in this matchup.
MY UFC DFS PICK: Cristian Quiñonez (+100) (DK 7900) (FD $15). UNANIMOUS DECISION
MY UFC LOCKED-IN TARGET (CASH):
Benoit Saint-Denis (-275) (DK 9100) (FD $21) vs. Gabriel Miranda (+225) (DK 7100) (FD $8).
This fight is much more about how Saint-Denis rather than will he win. Saint-Denis has a much more developed striking game than Gabriel Miranda and his grappling (where Saint-Denis MMA skills have been best) is also clearly above Miranda's level. I have been concerned with Miranda's record as well, some of his opponents are complete cans and I think there are definitely some questions to answer as to how some of his fights got put together. So even if he has looked good against those fighters that does not mean that he is UFC calibre. Nevertheless, in the UFC he will be facing absolute killers such as his opponent in this matchup. All of Saint-Denis wins have come by finish and I do not expect anything different in Paris tonight. Saint-Denis looks much stronger than Miranda and on paper should run away with this matchup, I will be leaning heavily on the hometown favourite and former French Special Forces Paratrooper in this matchup.
MY UFC DFS PICK: Benoit Saint-Denis (-275) (DK 9100) (FD $21) SECOND ROUND SUBMISSION.
MY UFC TOP SCORING TARGET (GPP):
William Gomis (-220) (DK 8600) (FD $18) vs. Jarno Errens (+180) (DK 7600) (FD $13)
In this matchup we have two debuting UFC fighters in William Gomis and Jarno Errens. Despite that, this fight is a bit of a mismatch. Gomis currently holds a 10-2 record and was set to face off against former long-time UFC champion Renan Barao earlier this year. Both fighters have fought very recently with Gomis fighting three months ago and Errens fighting just under one month ago. To start, Gomis is very skilled at setting the pace early with his kicks allowing him to take a dominant position early on by damaging the mobility of his opponents. Gomis is much more focus on landing good shots and accumulating damage rather than hunting the knockout blow and I think this gives him a strong advantage over Errens and Gomis' fight IQ can definitely run Errens into some problem spots. Gomis also has skill on the ground and will be able to compete with Errens no matter where the fight goes.
MY UFC DFS PICK: William Gomis (-220) (DK 8600) (FD $18) SECOND-ROUND KO (possible UNANIMOUS DECISION).
UFC HONORABLE MENTIONS:
(Not in order)
Ciryl Gane -550 (DK 9500) (FD $23) (5 ROUNDER) (The longer fight benefits Gane way more than Tuivasa)
Robert Whittaker -220 (DK 8800) (FD $19) (Vettori is outmatched on the feet here an his grappling is not strong enough to compete with Bobby Knuckles)
Roman Kopylov -110 (DEEP GPP) (DK 8000) (FD $16)
John Makdessi +187 (DK 7500) (FD $12)
Charles Jourdain -150 (DK 8400) (FD $17)
Abusupiyan Magomedov -275 (DK 8900) (FD $20)
Nassouradine Imavov -250 (DK 9000) (FD $20) (I think some people may still be on the Buckley hype train but that ship has long sailed away and Imavov is a top 10 ranked middleweight fighting in front of the hometown crowd)
Ailin Perez +200 (DK 6900) (FD $8)
Michal Figlak -200 (DK 8500) (FD $18)
SUMMARY:
On Saturday's fourteen-bout MMA UFC DFS slate, I will be building 3 UFC Parlays. I will be focusing on the three targets and my honorable mention fighters listed in my article to be a part of 99.9 percent of my lineups. Some fights in this slate are tricky to predict a winner and all fights are pretty close in skillset as UFC fighters are the elite of the elite. I usually employ a hedging technique on the fights that are closer in odds. I'm focusing on building a GPP winning lineup.
I'm building lineups that can variate from the field and taking bigger risks tonight. I will use my core fighters (Locked-In, Honorable Mention) to be a staple in my DFS lineups, and I will build around them using the available salary with the remainder of my predicted winners. Remember, to take down a GPP; you have to be different and take risks. Scared money doesn't make money in tournaments. For any further questions, I will be available until lock in our WinDaily Discord chat. GOOD LUCK and don't forget to come back and Win Daily!
PARLAY OF THE DAY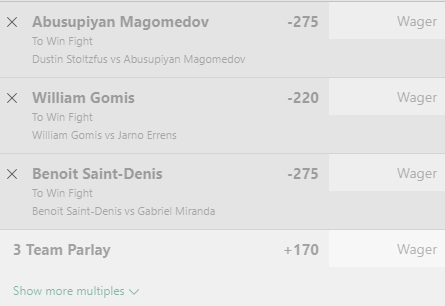 MonkeyKnifeFight: Knockout Kings!
Below I have listed my top three plays for MKF's Knockout Kings Contest!


As an avid hockey fan since 2007, I suffered through the worst moments in Toronto Maple Leafs history and persevered to tell the story. I picked up NHL DFS in 2017 after being introduced to FanDuel by a family member and began writing NHL articles for Daily Play Action since 2018. Since my introduction to DFS, I've surpassed the initial bumps in the road and have continually sought to hone my game season after season. Today, I have solely focused on improving as an NHL and UFC DFS player in order to maximize my output in those sports. This is truly a win-win as I also love the sport itself. In 2019, I notably recommended Sean Kuraly in the NHL Winter Classic, where he went on to be the most valuable player of the slate with a goal and 5 shots. I was also in on Mantha when he had a whopping 12.9x value, Perlini when he posted a 10x value and Ennis, who was my top value play of the year at 14.9x value. My most notable NHL takedown was the NHL 4.44 Breakaway where I won $5,000. You can find me on Twitter @AFabrykant and FanDuel as InAustonWeTrust.