Al's UFC Fight Night Deep Dive, DraftKings, FanDuel, Odds, DFS Picks, & Top Plays 9/17
Published
3 months ago
on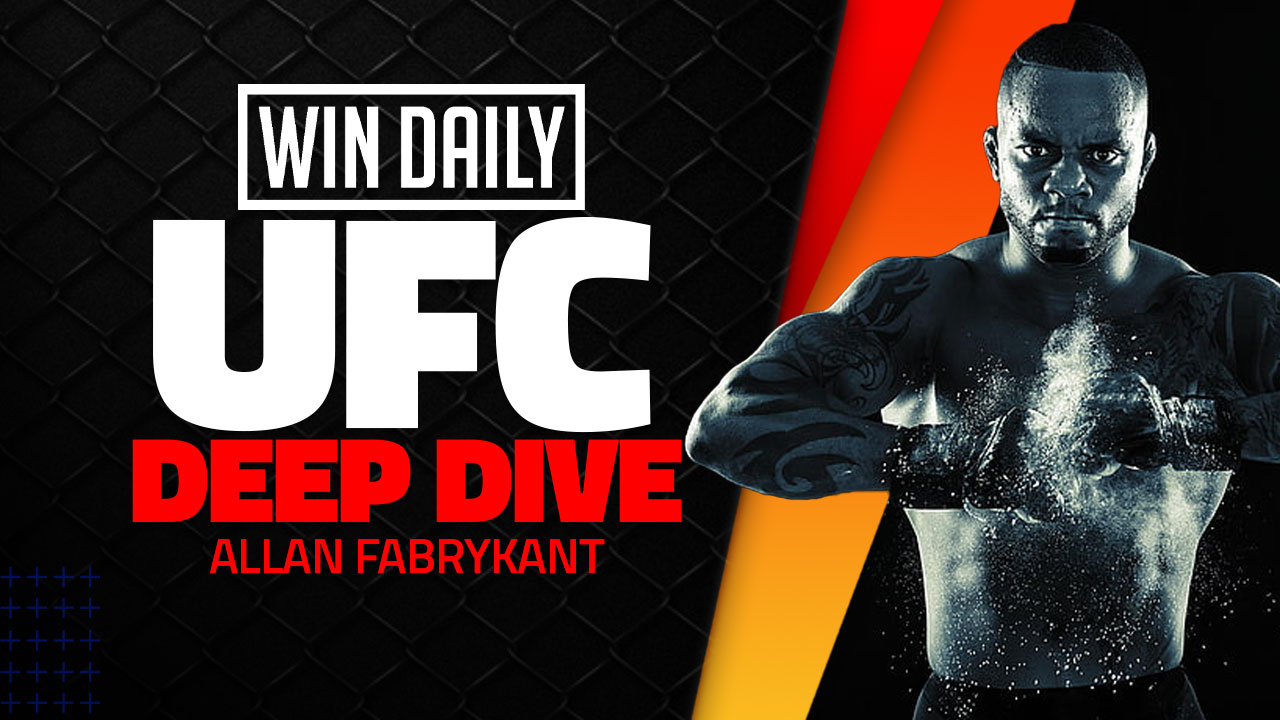 UFC Vegas 60
SANDHAGEN V SONG
Welcome back everyone to Win Daily's Fight Night Deep Dive! Last week's card was nuts, we had three matchups change last minute, and I think the card turned out better for it. Today's slate will start at 4:00 PM ET. Read more below to find out my takes on tonight's matchups! Tonight there will be 13-fights that will end with a fight between two legends of the game that we might not have been able to see if this crazy set of events never happened.! Let's get right into the action!
SLATE STARTS AT 4:00 PM ET
Exposure to the main event is recommended. DFS production in these fights is usually high as they are five-round fights. I may be branching away from the Main Event for some of my lines due to the possibility of low activity among these fighters. There will be three top plays followed by honorable mentions. Now let's get ready to make some money!
Tonight I'm here to give you my top three favorite DFS and Sports betting picks for UFC Vegas 60 Sandhagen vs Song
MY UFC VALUE TARGET (CASH&GPP):
Rodrigo Nascimento vs. Tanner Boser

I am honestly surprised the Boser is coming into this one as the favourite. Even though Nascimento got popped and his last fight was overturned to a No Contest. He is up against one of the worst fighters in the heavyweight division. Tanner Boser only has power, he has zero ground game, zero fight IQ and was a victim to Andrei Arlovski when he was over 40 years old, simply unacceptable. At this point, there are not many fighters in the UFC who I wouldn't take over Boser, especially not a 29 yr old, Brazilian BJJ Purple Belt with an 8-1 record.
MY UFC DFS PICK: Rodrigo Nascimento SECOND ROUND KO
MY UFC LOCKED-IN TARGET (CASH):
Joe Pyfer vs. Alen Amedovski
Pyfer is coming into this one with a lot of hype after his super impressive win on the Contender Series less than two months ago. Pyfer put Ozzie Diaz on the ground with a wicked left hook and proceed to pour on the ground and pound until the referee had to put a stop to it. Amedovski on the other hand has dropped his last three fights in the UFC and will most certainly be looking at his walking papers if he cannot produce a result in tonight's fight. Pyfer is stronger the Amedovski in every aspect of the game, Amedovski has not proven that he has fluency in striking, defending or any sign of a ground game. He even lost to John Phillips by knockout, better known as one of Khamzat Chimaev's victims, whose only win in the UFC came against Amedovski. Honestly, the only question I have in my mind about this fight tonight is if it ends in the first round or the second round, Amedovski does not stand a chance.
MY UFC DFS PICK: Joe Pyfer FIRST ROUND KO.
MY UFC TOP SCORING TARGET (GPP):
Daniel Zellhuber vs. Trey Ogden
Golden Boy Daniel Zellhuber is making his UFC debut after an impressive performance in his Contender Series fight last year against Lucas Almeida. Despite not getting a finish in that fight, nine of his 12 wins have come by finish while Ogden is coming off a split decision loss earlier this year against Jordan Leavitt. Zellhuber has very fast hands and incredible accuracy, two things that give him a clear advantage over Ogden in this matchup. Despite the fact that Zellhuber is very well versed in grappling, Ogden has some skill there too, so it is much more advantageous for Zellhuber to keep things on the feet. Ultimately, I think this will be a quick night at the office for Zellhuber, and I think he will win this one in impressive fashion.
MY UFC DFS PICK: Daniel Zellhuber FIRST-ROUND KO
UFC HONORABLE MENTIONS:
(Not in order)
Cory Sandhagen (5 ROUNDER)
Chidi Njokuani (Rodrigues is a good option in this matchup as well, as an underdog, but Njokuani has better timing and more knockout power)
Bill Algeo GPP
Marc-Andre Barriault DEEP GPP (Hernandez should theoretically win this one but I think Barriault can keep the pressure on him, has a better tank and can ultimately ride out a decision)
Pat Sabatini
Denise Gomes DEEP GPP (I think Gomes is a good value play on tonight's slate considering that Lookboonmee has only won against cans and has had a padded record inside and outside of the UFC and still doesn't have a better record than Gomes. Gomes also fought last month and Loma hasn't fought in nearly a year when she lost to Loopy Godinez when Loopy came in on extremely short notice)
Gillian Robertson
Javid Bashrat
Nicolas Motta
Trevin Giles
SUMMARY:
On Saturday's fourteen-bout MMA UFC DFS slate, I will be building 3 UFC Parlays. I will be focusing on the three targets and my honorable mention fighters listed in my article to be a part of 99.9 percent of my lineups. Some fights in this slate are tricky to predict a winner and all fights are pretty close in skillset as UFC fighters are the elite of the elite. I usually employ a hedging technique on the fights that are closer in odds. I'm focusing on building a GPP winning lineup.
I'm building lineups that can variate from the field and taking bigger risks tonight. I will use my core fighters (Locked-In, Honorable Mention) to be a staple in my DFS lineups, and I will build around them using the available salary with the remainder of my predicted winners. Remember, to take down a GPP; you have to be different and take risks. Scared money doesn't make money in tournaments. For any further questions, I will be available until lock in our WinDaily Discord chat. GOOD LUCK and don't forget to come back and Win Daily!
PARLAY OF THE DAY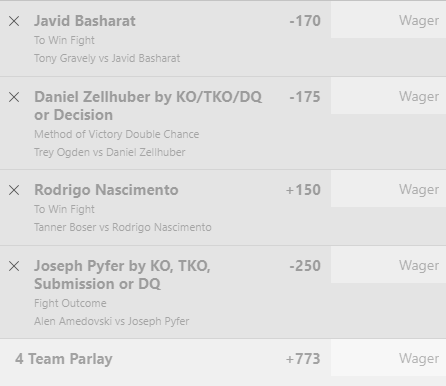 MonkeyKnifeFight: Knockout Kings!
Below I have listed my top three plays for MKF's Knockout Kings Contest!


As an avid hockey fan since 2007, I suffered through the worst moments in Toronto Maple Leafs history and persevered to tell the story. I picked up NHL DFS in 2017 after being introduced to FanDuel by a family member and began writing NHL articles for Daily Play Action since 2018. Since my introduction to DFS, I've surpassed the initial bumps in the road and have continually sought to hone my game season after season. Today, I have solely focused on improving as an NHL and UFC DFS player in order to maximize my output in those sports. This is truly a win-win as I also love the sport itself. In 2019, I notably recommended Sean Kuraly in the NHL Winter Classic, where he went on to be the most valuable player of the slate with a goal and 5 shots. I was also in on Mantha when he had a whopping 12.9x value, Perlini when he posted a 10x value and Ennis, who was my top value play of the year at 14.9x value. My most notable NHL takedown was the NHL 4.44 Breakaway where I won $5,000. You can find me on Twitter @AFabrykant and FanDuel as InAustonWeTrust.