Al's UFC Fight Night Deep Dive, DraftKings, FanDuel, Odds, DFS Picks, & Top Plays 8/6
Published
4 months ago
on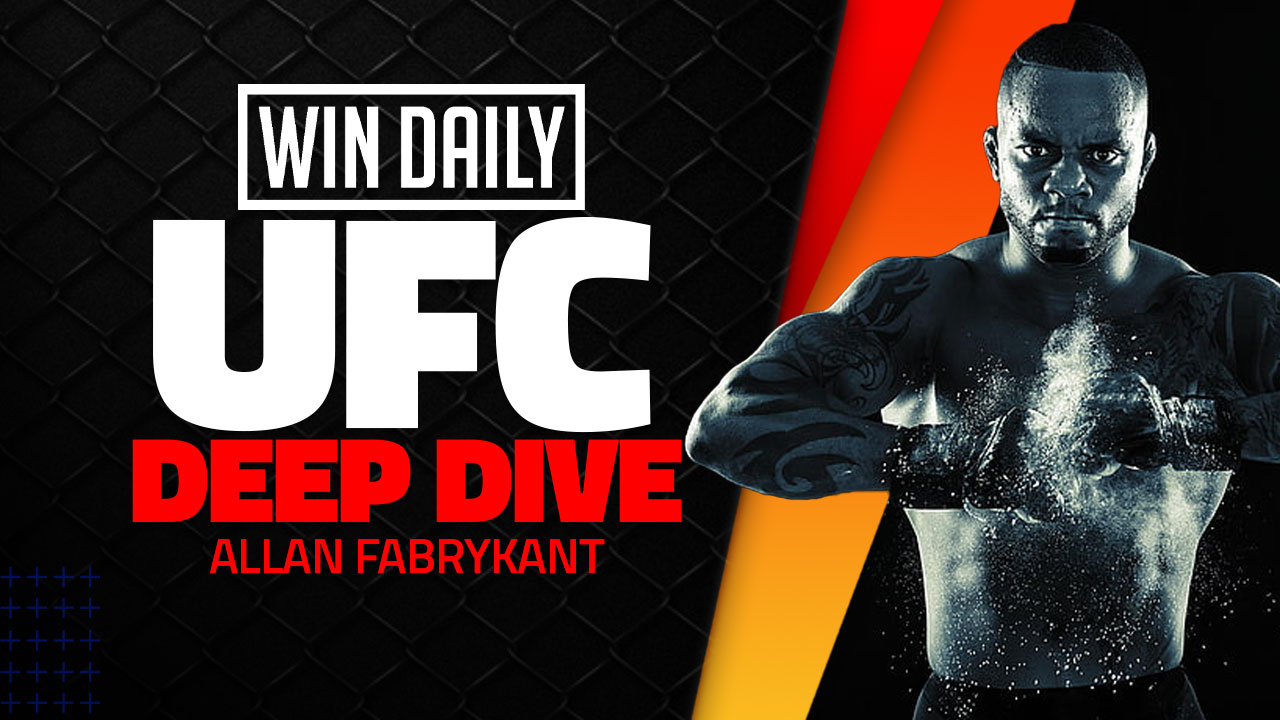 UFC VEGAS 59
SANTOS V HILL
Welcome back everyone to Win Daily's Fight Night Deep Dive! We have a very special card lined up for tongiht! This Fight Night will include the two finale's from this season of the Ultimate Fighter! This is a very favorite heavy article so keep in mind the parlay picks below that can value on your bet slips. Today's slate will start at 7:00 PM ET. Read more below to find out my takes on tonight's matchups! Tonight there will be 11-fights that will end with a lightheavyweight fight with a lot of implications for the top of the rankings. Let's get right into the action!
SLATE STARTS AT 7:00 PM ET
Exposure to the main event is recommended. DFS production in these fights is usually high as they are five-round fights. I may be branching away from the Main Event for some of my lines due to the possibility of low activity among these fighters. There will be three top plays followed by honorable mentions. Now let's get ready to make some money!
Tonight I'm here to give you my top three favorite DFS and Sports betting picks for UFC Vegas 59 Santos vs Hill.
MY UFC VALUE TARGET (CASH&GPP):
Mayra Bueno Silva (+100) (DK 8200) (FD $14) vs. Stephanie Egger (-125) (DK 8000) (FD $16).

We're starting off the article with the first fight of the night between Mayra Bueno Silva and Stephanie Egger. Now, although I am not expecting a lot of fireworks, I would definitely give the edge in this one to Mayra, and since she's coming in as a slight dog, I see a lot of value in selecting her to win via decision. Statistically, Mayra strikes a lot more and absorbs a lot more strikes, while Egger has had more success with the ground game in the UFC, albeit with a 41% takedown accuracy. I am comfortable enough with Bueno Silva's 69% TDEF that she will control the pace and location of the fight to ensure that it stays on the feet where she's have an easier night. For DFS, it is tricky since there is not a lot of value in a low output decision win. Unfortunately, this card does not have a lot of appealing underdogs. For your DFS lineups, if you're plugging in underdogs, I would look at: Usman, Neal, Granger and Santos. All four are in very tough spots tonight but they are the best of a bad bunch.
MY UFC DFS PICK: Mayra Bueno Silva (+100) (DK 8200) (FD $14). UNANIMOUS DECISION
MY UFC LOCKED-IN TARGET (CASH):
Michal Oleksiejczuk (-1000) (DK 9300) (FD $21) vs. Sam Alvey (+600) (DK 6900) (FD $9).
How is this guy still in the UFC, like seriously, Alvey is the most washed up fighter I have ever seen and I don't understand how he keeps getting fights when he clearly cannot keep up with the competition. In Alvey's last eight fights, he's lost seven and had one draw. He has not won since 2018 where he beat Gian Villante via Split Decision, Gian retired last year… Despite a recent loss to Jacoby, Oleksiejczuk is firmly settled on the UFC roster and tonight will simply be an easy night at the office of Oleksiejczuk. I would take him by finish in any round as Alvey can prove to be a bit scrappy but at the end of the day, I truly don't see this fight leaving the first round.
MY UFC DFS PICK: Michal Oleksiejczuk (-1000) (DK 9300) (FD $21) FIRST ROUND KO.
MY UFC TOP SCORING TARGET (GPP):
Terrance McKinney (-1000) (DK 9500) (FD $23) vs. Erick Gonzalez (+600) (DK 6700) (FD $8)
I was really hoping we'd get McKinney again at+100 but unfortunately that is definitely not the case, it seems as though the bookies have learned their lesson, with some lines having McKinney as high as a -1000 favourite. Gonzalez is 0-1 in his UFC career after getting KO'd by a 37-year old Jim Miller last year. Getting KO'd by Miller, especially at his age is an extremely bad look for a fighter looking to break into the UFC brass. Unfortunately for him, the UFC did him no favors by matching him up against T.Wrecks who is 2-1 in his UFC tenure with two back-to-back first round KOs. In fact, 11 of his 12 career wins have come by way of a first-round knockout, that's an incredibly impressive stat and could possibly be foreshadowing how tonight's fight will go. From what I saw in his fight against Miller, Gonzalez was barely throwing and when he did he had a hard time connecting, which ultimately led to him getting flattened out early in the second round. This fight will be an excellent springboard for McKinney to continue his climb to the top 15 in the loaded lightweight division.
MY UFC DFS PICK: Terrance McKinney (-1000) (DK 9500) (FD $23) FIRST-ROUND KO.
UFC HONORABLE MENTIONS:
(Not in order)
Jamahal Hill -334 (DK 9000) (FD $22) (5 ROUNDER)
Vincente Luque -200 (DK 8500) (FD $19)
Zac Pauga -275 (DK 8900) (FD $20) (As mentioned, you could take a shot at Usman here for your DFS lines)
Juliana Miller -138 (DK 8300) (FD $16)
Sergey Spivak -300 (DK 8800) (FD $20)
Ariane Lipski (FADE) -188 (DK 8400) (FD $18) (Neither have been particularly impressive so if you're leaning towards Cachoeira that is a fine option as well, especially considering that Lipski missed weight. Overall I'd fade this one)
Bryan Battle -300 (DK 8700) (FD $17)
Cory McKenna (FADE) -200 (DK 9100) (FD $19)
SUMMARY:
On Saturday's fourteen-bout MMA UFC DFS slate, I will be building 3 UFC Parlays. I will be focusing on the three targets and my honorable mention fighters listed in my article to be a part of 99.9 percent of my lineups. Some fights in this slate are tricky to predict a winner and all fights are pretty close in skillset as UFC fighters are the elite of the elite. I usually employ a hedging technique on the fights that are closer in odds. I'm focusing on building a GPP winning lineup.
I'm building lineups that can variate from the field and taking bigger risks tonight. I will use my core fighters (Locked-In, Honorable Mention) to be a staple in my DFS lineups, and I will build around them using the available salary with the remainder of my predicted winners. Remember, to take down a GPP; you have to be different and take risks. Scared money doesn't make money in tournaments. For any further questions, I will be available until lock in our WinDaily Discord chat. GOOD LUCK and don't forget to come back and Win Daily!
PARLAY OF THE DAY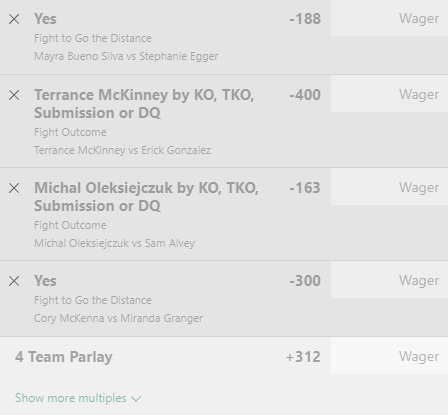 MonkeyKnifeFight: Knockout Kings!
Below I have listed my top three plays for MKF's Knockout Kings Contest!


As an avid hockey fan since 2007, I suffered through the worst moments in Toronto Maple Leafs history and persevered to tell the story. I picked up NHL DFS in 2017 after being introduced to FanDuel by a family member and began writing NHL articles for Daily Play Action since 2018. Since my introduction to DFS, I've surpassed the initial bumps in the road and have continually sought to hone my game season after season. Today, I have solely focused on improving as an NHL and UFC DFS player in order to maximize my output in those sports. This is truly a win-win as I also love the sport itself. In 2019, I notably recommended Sean Kuraly in the NHL Winter Classic, where he went on to be the most valuable player of the slate with a goal and 5 shots. I was also in on Mantha when he had a whopping 12.9x value, Perlini when he posted a 10x value and Ennis, who was my top value play of the year at 14.9x value. My most notable NHL takedown was the NHL 4.44 Breakaway where I won $5,000. You can find me on Twitter @AFabrykant and FanDuel as InAustonWeTrust.