Al's UFC Fight Night Deep Dive, DraftKings, FanDuel, Odds, DFS Picks, & Top Plays 8/13
Published
4 months ago
on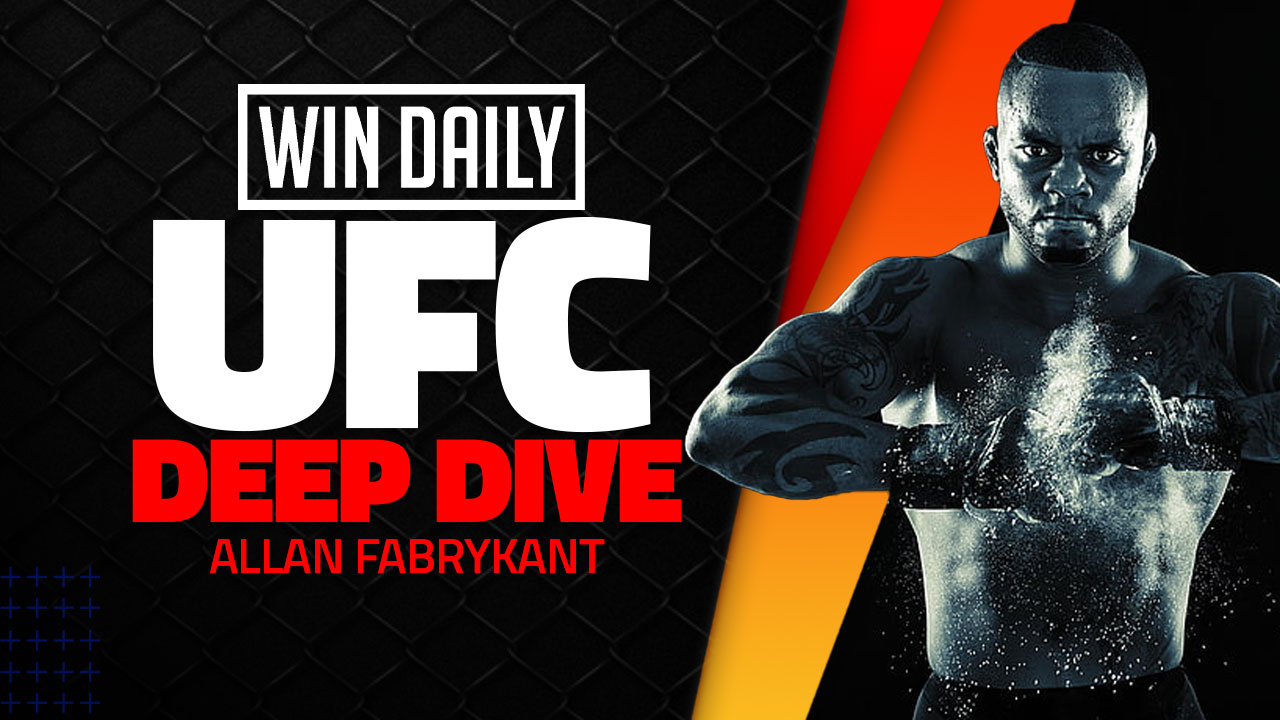 UFC on ESPN 41
VERA V CRUZ
Welcome back everyone to Win Daily's Fight Night Deep Dive! We're back in Cali for this 13-fight UFC card that has a lot of interesting matchups along with being one of the best rookie showcases the UFC has put on this year with the likes of Onama, Quinlan and Jauregui all on the same card. Today's slate will start at 4:00 PM ET. Read more below to find out my takes on tonight's matchups! Tonight there will be 13-fights that will end with a bantamweight fight with a lot of implications for the top of the rankings. Let's get right into the action!
SLATE STARTS AT 4:00 PM ET
Exposure to the main event is recommended. DFS production in these fights is usually high as they are five-round fights. I may be branching away from the Main Event for some of my lines due to the possibility of low activity among these fighters. There will be three top plays followed by honorable mentions. Now let's get ready to make some money!
Tonight I'm here to give you my top three favorite DFS and Sports betting picks for UFC on ESPN 41 Vera vs Cruz.
MY UFC VALUE TARGET (CASH&GPP):
Da'Mon Blackshear (+110) (DK 8000) (FD $15) vs. Youssef Zalal (-138) (DK 8200) (FD $16).

It doesn't surprise me that Zalal is coming in as the favourite in this one, he's had six UFC fights to Blackshear's zero. Unfortunately for Zalal, he's on the wrong side of a three-fight losing streak. After a strong start in his first three UFC fights against absolute cans, his later UFC career has been characterized by fights against better fighter and a propensity to gas out as fights go on. It is also of note that all six of Zalal's UFC fights have ended via decision. That will be a tougher ask against a fighter like Blackshear who has three submission wins in his last four fights. I can't help but feel as though ring rust will also become a factor in this one as Zalal hasn't fought in well over a year, whereas Blackshear booked his ticket into the UFC just under three months ago and has been extremely active since the start of 2021. I think Zalal's UFC career will be in a lot of trouble if he doesn't get the win here but to be honest, I don't have a lot of faith in his tank or his ability to get a finish.
MY UFC DFS PICK: Da'Mon Blackshear (+110) (DK 8000) (FD $15). SECOND-ROUND SUBMISSION
MY UFC LOCKED-IN TARGET (CASH):
Bruno Silva (-300) (DK 9000) (FD $20) vs. Gerald Meerschaert (+240) (DK 7200) (FD $10).
Although, I don't think Meerschaert will get worked like he did against Chimaev, I think the same vulnerabilities exist for Silva to exploit. Meerschaert has honestly become a liability on the feet and whatever he had of a chin has been chipped away through his 49 career pro fights. Silva holds a very high SLpM rate which is what I like to see out of fighters who primarily fight on the feet but on top of that Meerschaert has a negative striking differential, meaning that he absorbs more shots than he lands. Finally, Meerschaert has a very grapple heavy fighting style that has led him to 8 submission wins in the UFC, however for this fight, he is going up against a BJJ Black belt in Bruno Silva. Although, I don't believe that Silva's grappling is at the level of Meerschaert, Silva will know enough to defend himself and stay out of the danger spots. With Silva being able to neutralize Meerschaert's strongest weapon, I don't see a path to victory for Glass-chin Gerald.
MY UFC DFS PICK: Bruno Silva (-300) (DK 9000) (FD $20) FIRST ROUND KO.
MY UFC TOP SCORING TARGET (GPP):
David Onama (-334) (DK 8600) (FD $21) vs. Nate Landwehr (+250) (DK 7600) (FD $9)
I am truly impressed at how high Onama has been able to climb in such a short amount of time. In just his fourth UFC fight, he is already fighting in the co-main event. This comes after two very impressive wins against veteran Gabriel Benitez and debutant Garrett Armfield both in 2022. Onama is sporting an impressive 10-1-0 record with his only loss coming via decision against Mason Jones in his UFC debut. In a fight where Onama shocked a lot of people with his striking ability and power, only losing since Jones would shoot for desperation takedowns whenever he was getting outmatched on the feet. Landwehr is the kind of fighter who will get in the dirty areas to land his shots and as a result, he has a very high SLpM and a very high SApM, much like Onama. As such, I think this will be a very entertaining fight for as long as it lasts but I don't see Landwehr being able to keep up with Onama's power and speed. I think Landwehr should consider himself lucky if he can make it past the second round, I'm taking Onama all the way!
MY UFC DFS PICK: David Onama (-334) (DK 8600) (FD $21) FIRST-ROUND KO.
UFC HONORABLE MENTIONS:
(Not in order)
Marlon Vera -250 (DK 8500) (FD $22) (5 ROUNDER)
Yazmin Jauregui -225 (DK 8700) (FD $18)
Azamat Murzakanov -160 (DK 8400) (FD $17) (Watch his contender series fight, this man is an animal)
Lupita Godinez -350 (DK 9200) (FD $23)
Martin Buday -275 (DK 8900) (FD $20)
Ariane Lipski (FADE) -188 (DK 8700) (FD $18) (Neither have been particularly impressive so if you're leaning towards Cachoeira that is a fine option as well. Overall I'd fade this one)
Josh Quinlan -275 (DK 9100) (FD $19)
Cynthia Calvilo (FADE) -188 (DK 8300) (FD $17)
Ode Osbourne -334 (DK 8800) (FD $19)
Gabriel Benitez -450 (DK 9300) (FD $22) (I don't mind Ontiveros as a DEEP GPP Shot here)
SUMMARY:
On Saturday's fourteen-bout MMA UFC DFS slate, I will be building 3 UFC Parlays. I will be focusing on the three targets and my honorable mention fighters listed in my article to be a part of 99.9 percent of my lineups. Some fights in this slate are tricky to predict a winner and all fights are pretty close in skillset as UFC fighters are the elite of the elite. I usually employ a hedging technique on the fights that are closer in odds. I'm focusing on building a GPP winning lineup.
I'm building lineups that can variate from the field and taking bigger risks tonight. I will use my core fighters (Locked-In, Honorable Mention) to be a staple in my DFS lineups, and I will build around them using the available salary with the remainder of my predicted winners. Remember, to take down a GPP; you have to be different and take risks. Scared money doesn't make money in tournaments. For any further questions, I will be available until lock in our WinDaily Discord chat. GOOD LUCK and don't forget to come back and Win Daily!
PARLAY OF THE DAY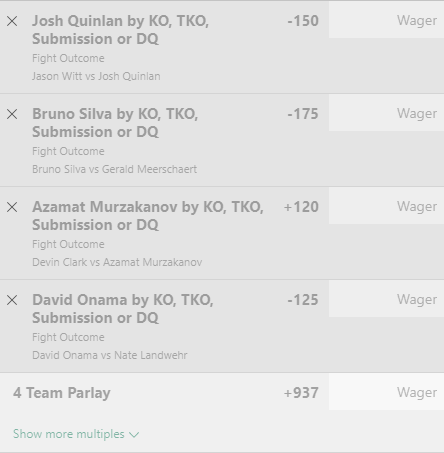 MonkeyKnifeFight: Knockout Kings!
Below I have listed my top three plays for MKF's Knockout Kings Contest!


As an avid hockey fan since 2007, I suffered through the worst moments in Toronto Maple Leafs history and persevered to tell the story. I picked up NHL DFS in 2017 after being introduced to FanDuel by a family member and began writing NHL articles for Daily Play Action since 2018. Since my introduction to DFS, I've surpassed the initial bumps in the road and have continually sought to hone my game season after season. Today, I have solely focused on improving as an NHL and UFC DFS player in order to maximize my output in those sports. This is truly a win-win as I also love the sport itself. In 2019, I notably recommended Sean Kuraly in the NHL Winter Classic, where he went on to be the most valuable player of the slate with a goal and 5 shots. I was also in on Mantha when he had a whopping 12.9x value, Perlini when he posted a 10x value and Ennis, who was my top value play of the year at 14.9x value. My most notable NHL takedown was the NHL 4.44 Breakaway where I won $5,000. You can find me on Twitter @AFabrykant and FanDuel as InAustonWeTrust.