Al's UFC Fight Night Deep Dive, DraftKings, FanDuel, Odds, DFS Picks, & Top Plays 7/16
Published
3 months ago
on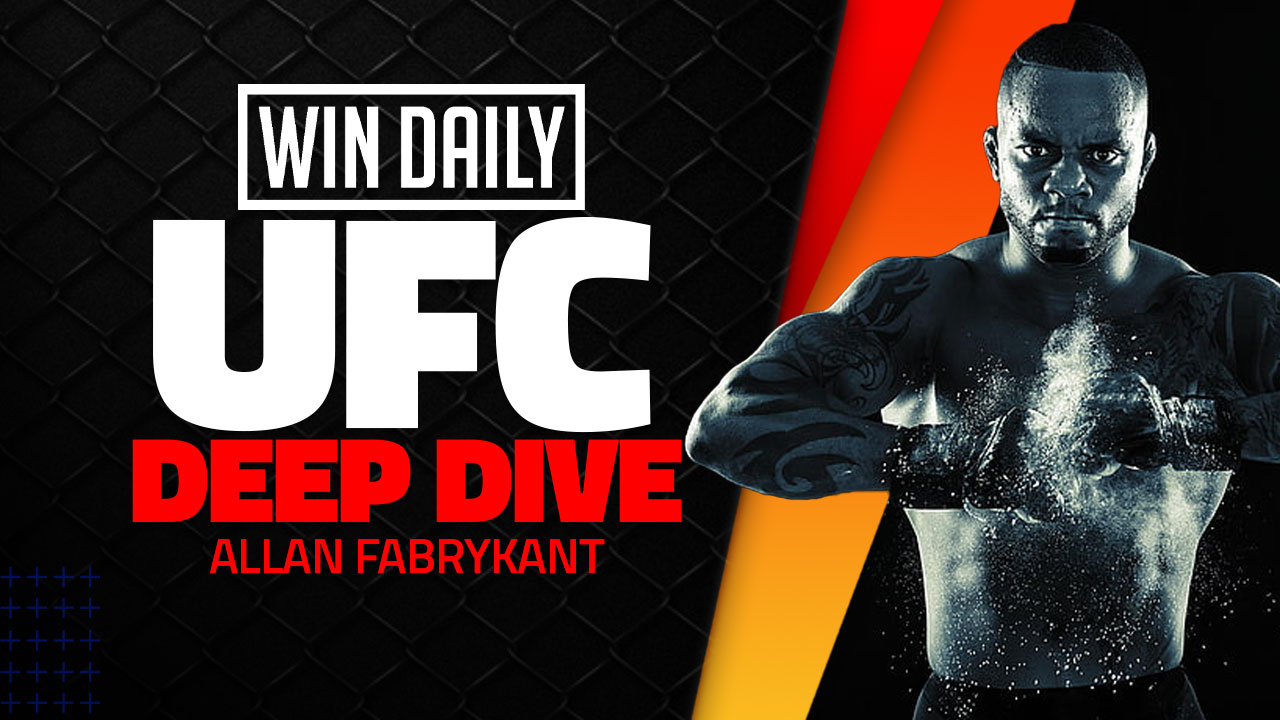 UFC on ABC 3
ORTEGA V RODRIGUEZ
Welcome back everyone to Win Daily's Fight Night Deep Dive! We have what is in my opinion one of the best free cards of the year, and it's coming to you direct on ABC! I had this one circled in my calendar for a while and I can't wait to watch two featherweight title contenders duke it out for a title shot. Today's slate will start at 11:00 AM ET. Read more below to find out my takes on tonight's matchups! Tonight there will be 12-fights that will end with a possible title eliminator between a nifty striker and one of the best grapplers the UFC has ever seen. Looking forward to breaking this one down! Let's get started!
SLATE STARTS AT 11:00 AM ET
Exposure to the main event is recommended. DFS production in these fights are usually be high as they are five-round fights. I may be branching away from the Main Event for some of my lines due to the possibility of low activity among these fighters. There will be three top plays followed by honorable mentions. Now let's get ready to make some money!
Tonight I'm here to give you my top three favorite DFS and Sports betting picks for UFC on ABC 3 Ortega vs Rodriguez.
MY UFC VALUE TARGET (CASH&GPP):
Herbert Burns (+170) (DK 7500) (FD $10) vs. Bill Algeo (-200) (DK 8700) (FD $20).

I had a few options that could have gone in the value plays. We have many solid choices including Charles Jourdain and Li Jingliang, both of whom, I believe are criminally underrated. But the odds in this matchup threw me for a loop. I understand that Burns has had a bit of a rocky last fight in 2020 following a strong 2-0 start to his UFC career where many thought (including Gilbert) that he could surpass his brother's achievements in MMA. Whether he will reach that summit is hard to tell but getting past Algeo here should not be an earthshattering challenge for Burns. Herbert has such an advantage in the grappling department that if the fight hits the ground, Algeo is a goner. I think bookies are looking at the layoff and the last fight a little too heavily and Burns should walk away with the win in this matchup.
MY UFC DFS PICK: Herbert Burns (+170) (DK 7500) (FD $10). SECOND ROUND SUBMISSION
MY UFC LOCKED-IN TARGET (CASH):
Amanda Lemos (-334) (DK 9400) (FD $23) vs. Michelle Waterson (+250) (DK 6800) (FD $8).
In women's MMA there are some fighters who stand well above their competition. They're not hard to spot either, Nunes, Shevchenko, Andrade and just below that upper class of Women's MMA, you'll see Amanda Lemos. She can tear through the lower ranks of the women's divison but will usually fall short when making that final leap as we saw against Andrade. Thankfully for Lemos, Waterson is not Andrade. Waterson is much more akin to Lemos' old opponent Angela Hill. A UFC mainstain with legitimate talent but will ultimately have trouble competing with the best. Waterson has made a career for herself through her karate but has also smoothed out a good MMA skillset throughout her career. Unfortunately for Waterson, she's had some trouble with hard hitters like Lemos, which leads her to finding herself on the wrong side of unanimous decisions after slowly letting the fight slip away. I think Waterson can push this fight to a decision which is why I made room for the possibility but I think that Lemos' power will simply be too much for Waterson to handle, I'll be taking the Brazilian in this matchup.
MY UFC DFS PICK: Amanda Lemos (-334) (DK 9400) (FD $23) FIRST ROUND KO (possible UNANIMOUS DECISION)
MY UFC TOP SCORING TARGET (GPP):
Punahele Soriano (-225) (DK 9200) (FD $22) vs. Dalcha Lungiambula (+187) (DK 7000) (FD $9)
Despite dropping his last two, Soriano is in a golden position tonight against Lungiambula who has also dropped his last two UFC fights. Puna lost a couple of fights by decision with a razor thin split against Nick Maximov. Whereas Dalcha lost convincingly to both Brundage and Barriault. Although Dalcha has power, he doesn't have much more beyond that. His footwork is not great, his technique is questionable at best and his speed is not at Soriano's level. On top of that Lungiambula can gas out pretty hard, leaving openings for Puna if the fight goes into the deeper rounds. Punahele has a clean striking technique and enough power to put out some top competitors in the Middleweight division. I am confident that Soriano will be able to get it done tonight in convincing fashion.
MY UFC DFS PICK: Punahele Soriano (-225) (DK 9200) (FD $22) FIRST-ROUND KO.
UFC HONORABLE MENTIONS:
(Not in order)
Brian Ortega -175 (DK 8500) (FD $21) (5 ROUNDER)
Li Jingliang +130 (DK 7600) (FD $11)
Su Muderaji -275 (DK 9100) (FD $22)
Charles Jourdain +140 (DK 7200) (FD $12)
Miesha Tate (FADE) -210 (DK 8800) (FD $21)
Jack Shore -160 (DK 8400) (FD $17) (Close one, could go either way)
Dustin Jacoby -110 (DK 8300) (FD $15) (Great matchmaking, hard to find a definitive edge between the two)
Dwight Grant -110 (DK 8900) (FD $17)
Emily Ducote (FADE) -163 (DK 8200) (FD $16)
SUMMARY:
On Saturday's fourteen-bout MMA UFC DFS slate, I will be building 3 UFC Parlays. I will be focusing on the three targets and my honorable mention fighters listed in my article to be a part of 99.9 percent of my lineups. Some fights in this slate are tricky to predict a winner and all fights are pretty close in skillset as UFC fighters are the elite of the elite. I usually employ a hedging technique on the fights that are closer in odds. I'm focusing on building a GPP winning lineup.
I'm building lineups that can variate from the field and taking bigger risks tonight. I will use my core fighters (Locked-In, Honorable Mention) to be a staple in my DFS lineups, and I will build around them using the available salary with the remainder of my predicted winners. Remember, to take down a GPP; you have to be different and take risks. Scared money doesn't make money in tournaments. For any further questions, I will be available until lock in our WinDaily Discord chat. GOOD LUCK and don't forget to come back and Win Daily!
PARLAY OF THE DAY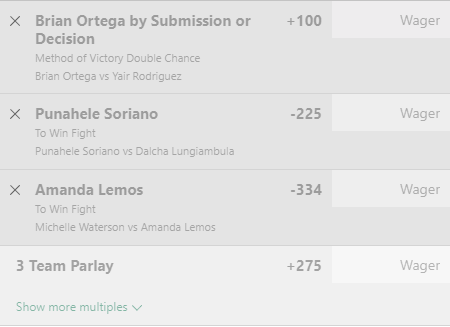 MonkeyKnifeFight: Knockout Kings!
Below I have listed my top three plays for MKF's Knockout Kings Contest!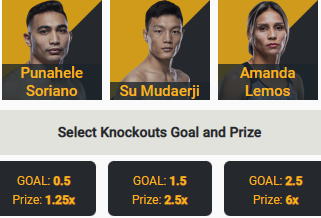 As an avid hockey fan since 2007, I suffered through the worst moments in Toronto Maple Leafs history and persevered to tell the story. I picked up NHL DFS in 2017 after being introduced to FanDuel by a family member and began writing NHL articles for Daily Play Action since 2018. Since my introduction to DFS, I've surpassed the initial bumps in the road and have continually sought to hone my game season after season. Today, I have solely focused on improving as an NHL and UFC DFS player in order to maximize my output in those sports. This is truly a win-win as I also love the sport itself. In 2019, I notably recommended Sean Kuraly in the NHL Winter Classic, where he went on to be the most valuable player of the slate with a goal and 5 shots. I was also in on Mantha when he had a whopping 12.9x value, Perlini when he posted a 10x value and Ennis, who was my top value play of the year at 14.9x value. My most notable NHL takedown was the NHL 4.44 Breakaway where I won $5,000. You can find me on Twitter @AFabrykant and FanDuel as InAustonWeTrust.