Al's UFC Fight Night Deep Dive, DraftKings, FanDuel, Odds, DFS Picks, & Top Plays 6/25
Published
7 months ago
on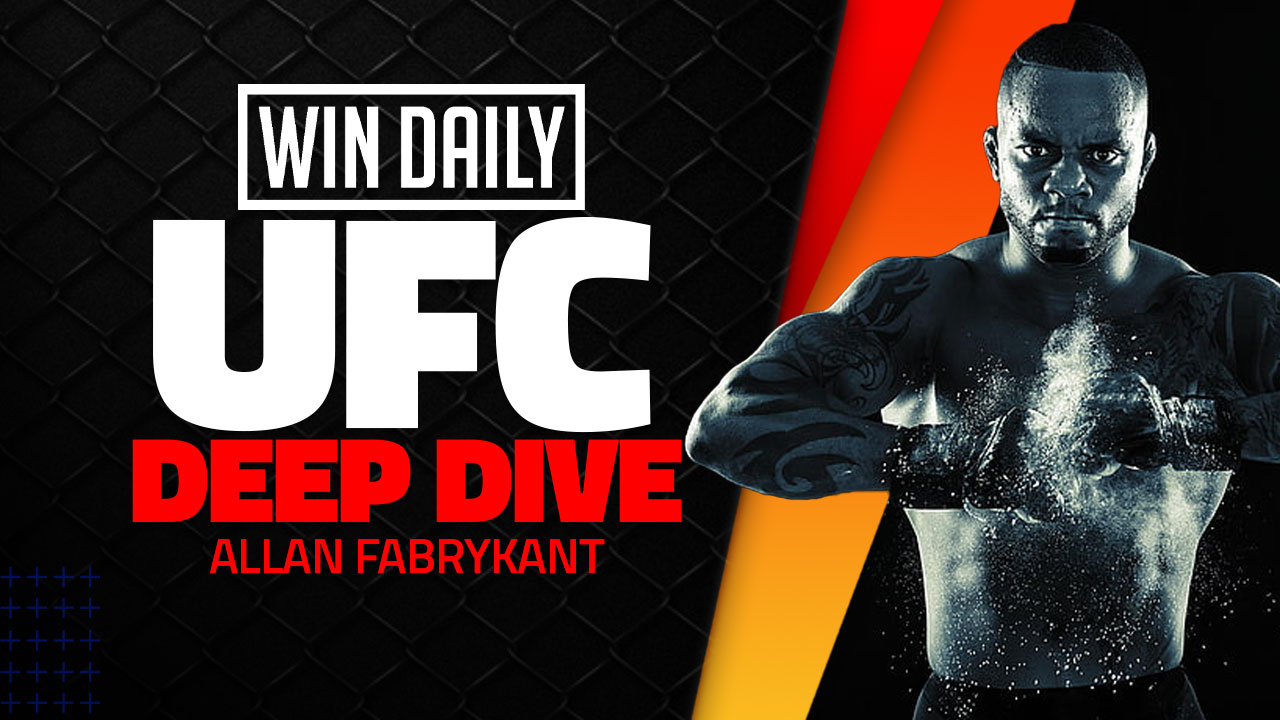 UFC Vegas 57
TSARUKYAN V GAMROT
Welcome back everyone to Win Daily's Fight Night Deep Dive! We hit an excellent 5/5 on last week's parlay of the day! Let's hope we can continue our hot streak for this week's slate. Today's slate will start at 7:00 PM ET. Read more below to find out my takes on tonight's matchups! Tonight there will be 12-fights that will end with a lightweight fight between two future top contenders. Looking forward to breaking this one down! Let's get started!
SLATE STARTS AT 7:00 PM ET
Exposure to the main event is recommended. DFS production in these fights are usually be high as they are five-round fights. I may be branching away from the Main Event for some of my lines due to the low activity among these fighters. There will be three top plays followed by honorable mentions. Now let's get ready to make some money!
Tonight I'm here to give you my top three favorite DFS and Sports betting picks for UFC Vegas 57 Tsarukyan vs Gamrot. If you haven't already, be sure to check out this week's WinDaily MMA Gambling Academy!
MY UFC VALUE TARGET (CASH&GPP):
Cody Durden (+100) (DK 8000) (FD $15) vs. JP Buys (-125) (DK 8200) (FD $15).

Honestly, this is low level all around but I cannot understand why the odds are close in this one. After lucking his way into the UFC of a blown call, he's absolutely bungled his shot in the UFC. It may not be all his fault as he did have a turbulent time outside of the Octagon but the fact of the matter is, Buys is not UFC caliber. Buys does not have a strong choke, throws nothing behind his punches and has a SLpM rate of below 2. Durden on the other hand had a strong fight against Aoriqileng, said some (really) gross stuff during the post fight presser and got demolished by a massive prospect in Mokaev for his last fight seemingly as punishment. Buys is nowhere near the threat Mokaev was. Buys cannot compete with Durden on the ground and would be lucky if he doesn't get put out in the first round as he has been knocked down SEVEN times over his past two UFC bouts. Durden is by no means a UFC star and in fact, far from it but he should have no problem taking care of Buys in this one.
MY UFC DFS PICK: Cody Durden (+100) (DK 8000) (FD $15). SECOND ROUND KO. (possible UNANIMOUS DECISION)
MY UFC LOCKED-IN TARGET (CASH):
Umar Nurmagomedov (-1200) (DK 9500) (FD $22) vs. Nate Maness (+700) (DK 6700) (FD $8).
Nate Maness is a skilled MMA fighter and has a bright future in the UFC. Unfortunately, he's coming up against a behemoth tonight. Anyone with the last name Nurmagomedov should automatically strike fear into their opponent's hearts and although Umar is definitely not at Khabib's level (yet), he doesn't have to be in this one. Umar is skilled enough in Combat Sambo to take a clear advantage in this fight as soon as it hits the round. Umar has clean takedowns, very much akin to the Dagestani wrestling style with multiple attempts until your opponent runs out of defensive resources. Umar's last three fights have all ended by Rear Naked Choke with half of the wins in his 14-0-0 record coming by submission.
MY UFC DFS PICK: Umar Nurmagomedov (-1200) (DK 9500) (FD $22) FIRST ROUND SUBMISSION (possible UNANIMOUS DECISION)
MY UFC TOP SCORING TARGET (GPP):
Shavkat Rakhmonov (-450) (DK 9300) (FD $22) vs. Neil Magny (+350) (DK 6900) (FD $9)
Here we have a matchup between one of the UFC's hottest Welterweight prospects in Shavkat Rakhmonov against one of the older gatekeeper's in the Welterweight division, Neil Magny. Neil has had a storied history in the UFC, having fought on the 2012 edition of the Ultimate Fighter and parlaying his success there into a long and successful UFC career which saw him headline multiple UFC fight nights and even crack the top 10 in the Welterweight division. He currently sits within the top 15 and it looks as though the UFC is ready for him to pass the torch as they put him up against an undefeated prospect in Rakhmonov. Shavkat is a former M1 Global Champion, a Master of Sport in Combat Sambo and MMA, while also holding a perfect 100% finish rate with 8 KOs and 7 Submissions. To say he is an extremely versatile MMA fighter doesn't do his skill set justice. Rakhmonov has crazy powerful kicks, fast punches that pack a lot of power and slick chokes that can completely take his opponents out of fights, once the action hits the mat. Rakhmonov is coming into his fourth UFC fight tonight with two of his first three ending in the first round, on top of that, his Highlight Reel KO against Carlston Harris in his last fight earned him a performance of the night bonus. I've also always appreciated Shavkat's defensive skill set and I think it has been a large reason to his success in the UFC thus far and will contribute to his success tonight and moving forward. Rakhmonov is a heavy favourite in this one for a reason, strongly consider him for your lineups tonight.
MY UFC DFS PICK: Shavkat Rakhmonov (-450) (DK 9300) (FD $22) FIRST-ROUND KO (possible FIRST-ROUND SUMBISSION).
UFC HONORABLE MENTIONS:
(Not in order)
Arman Tsarukyan -300 (DK 9100) (FD $23) (5 ROUNDER)
Josh Parisian (FADE) +100 (DK 7800) (FD $15)
Thiago Moises -250 (DK 9000) (FD $21)
Rodolfo Vieira +100 (DK 7600) (FD $14)
Carlos Ulberg +100 (DK 8300) (FD $14)
TJ Brown -210 (DK 8900) (FD $20)
Jinh Yu Frey (FADE) -225 (DK 9200) (FD $21)
Raulian Paiva +110 (DK 7700) (FD $13)
Mario Bautista -175 (DK 8700) (FD $19)
SUMMARY:
On Saturday's fourteen-bout MMA UFC DFS slate, I will be building 3 UFC Parlays. I will be focusing on the three targets and my honorable mention fighters listed in my article to be a part of 99.9 percent of my lineups. Some fights in this slate are tricky to predict a winner and all fights are pretty close in skillset as UFC fighters are the elite of the elite. I usually employ a hedging technique on the fights that are closer in odds. I'm focusing on building a GPP winning lineup.
I'm building lineups that can variate from the field and taking bigger risks tonight. I will use my core fighters (Locked-In, Honorable Mention) to be a staple in my DFS lineups, and I will build around them using the available salary with the remainder of my predicted winners. Remember, to take down a GPP; you have to be different and take risks. Scared money doesn't make money in tournaments. For any further questions, I will be available until lock in our WinDaily Discord chat. GOOD LUCK and don't forget to come back and Win Daily!
PARLAY OF THE DAY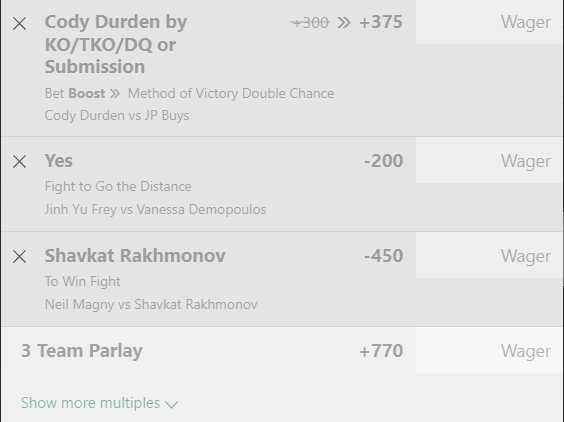 MonkeyKnifeFight: Knockout Kings!
Below I have listed my top three plays for MKF's Knockout Kings Contest!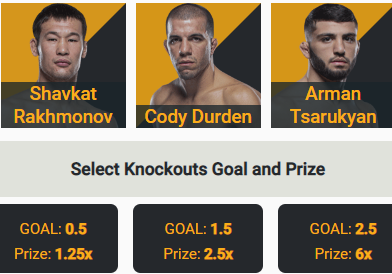 As an avid hockey fan since 2007, I suffered through the worst moments in Toronto Maple Leafs history and persevered to tell the story. I picked up NHL DFS in 2017 after being introduced to FanDuel by a family member and began writing NHL articles for Daily Play Action since 2018. Since my introduction to DFS, I've surpassed the initial bumps in the road and have continually sought to hone my game season after season. Today, I have solely focused on improving as an NHL and UFC DFS player in order to maximize my output in those sports. This is truly a win-win as I also love the sport itself. In 2019, I notably recommended Sean Kuraly in the NHL Winter Classic, where he went on to be the most valuable player of the slate with a goal and 5 shots. I was also in on Mantha when he had a whopping 12.9x value, Perlini when he posted a 10x value and Ennis, who was my top value play of the year at 14.9x value. My most notable NHL takedown was the NHL 4.44 Breakaway where I won $5,000. You can find me on Twitter @AFabrykant and FanDuel as InAustonWeTrust.