Al's UFC Fight Night Deep Dive, DraftKings, FanDuel, Odds, DFS Picks, & Top Plays 3/18
Published
3 months ago
on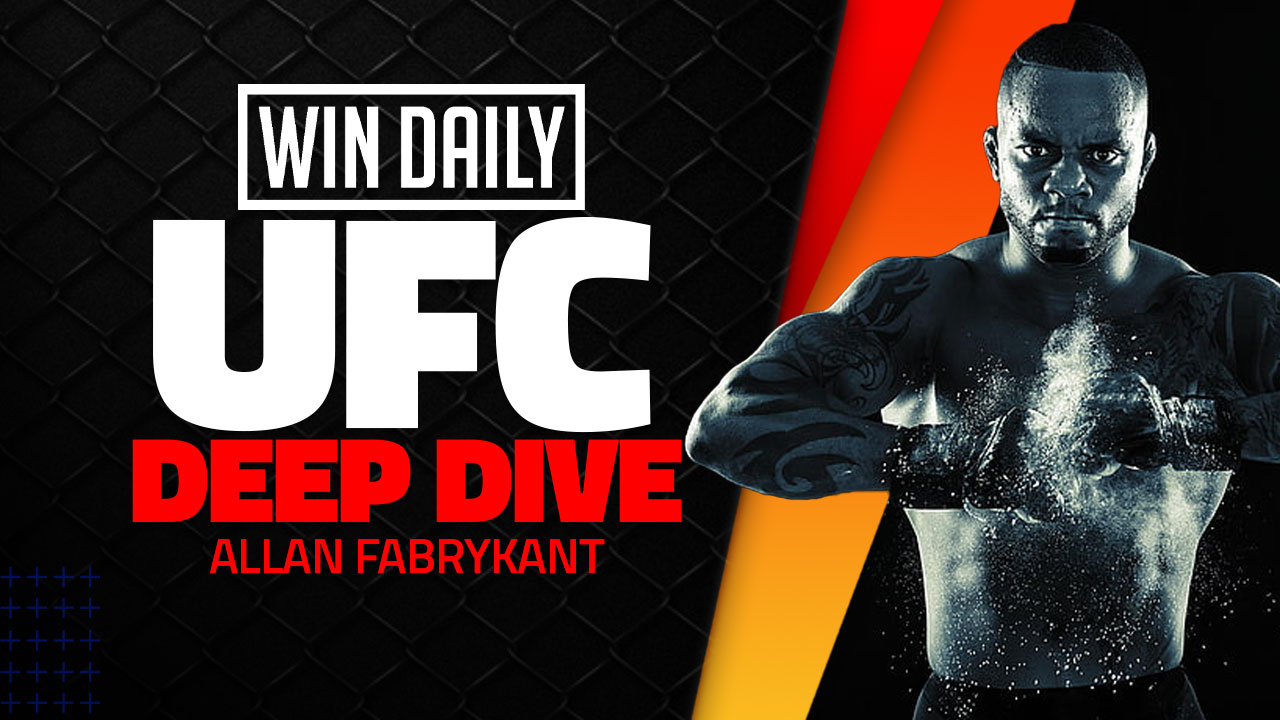 UFC 286
EDWARDS V USMAN 2
Today the UFC will be taking us across the pond to O2 Arena in London, England for UFC 286! Today's action will kick off at 12:30 PM ET. Read more below to find out my takes on tonight's matchups! Tonight there will be 15 fights that will end with a welterweight title rematch after Edwards' miraculous KO of Usman last year. Now, with all that out of the way, let's get right into the action!
SLATE STARTS AT 12:30 PM ET
Exposure to the main event is recommended. DFS production in these fights is usually high as they are five-round fights. I do not recommend branching away from the Main Event, as these fighters are both usually active and can rack up a lot of points. There will be three top plays followed by honorable mentions. Now let's get ready to make some money!
Tonight I'm here to give you my top three favorite DFS and Sports betting picks for UFC 286 Edwards vs Usman 2.
MY UFC VALUE TARGET (CASH&GPP):
Roman Dolidze vs Marvin Vettori
I know that Dolidze did not look good against Starapoli (a fight he ended up winning too) but since then he has racked off three impressive finishes and redeemed himself in my eyes. Tonight, he'll be up against Marvin Vettori, a top-level Middleweight who holds wins over some of the division's best talents but was never able to capture the title after a dominant performance from Israel Adesanya. Since that title fight, Vettori has gone 1-1 and will be looking to get back into the top 5 with a win today. Dolidze on the other hand has all the momentum in the world along with a unique skill set which has both grappling and striking. Realistically, when Vettori takes over a fight, he's usually fighting a one-dimensional fighter and brings a gameplan to exploit their weaknesses, with Dolidze that will be very hard, I expect Dolidze to put up a big challenge for Vettori and ultimately take a decision win or even a late round finish.
MY UFC DFS PICK: Roman Dolidze UNANIMOUS DECISION (possible THIRD-ROUND KO).
MY UFC LOCKED-IN TARGET (CASH):
Muhammad Mokaev vs. Jafel Filho
Muhammad Mokaev will win this fight, now I know that the second last time he fought he ruined his DFS value by not getting the finish and coasting to a victory and in the fight after that he got a late third-round submission. But tonight, he is the much more talented fighter and he will have something to prove. His opponent Jafel has had a good run as of late with five straight finishes but he has never fought anyone like Mokaev, and with Mokaev competing in his home country, he'll have an even stronger advantage in this one. Mokaev is just a different kind of athlete, what we've been able to see him do in the octagon is extremely impressive and although he will get challenged the further he goes in the UFC, I don't think this matchup is it.
MY UFC DFS PICK: Muhammad Mokaev FIRST-ROUND SUBMISSION.
MY UFC TOP SCORING TARGET (GPP):
Jack Shore vs. Makwan Amirkhani
Yes, Jack Shore lost his perfect record in his last fight but he was fighting an extremely talented wrestler in Ricky Simon, tonight he is fighting close to home against Amirkhani who has only won one of his last five fights. Amirkhani has gotten finished by Lerone Murphy and Jonathan Pearce recently, I think Shore is better than both of those fighters and I think he will cruise to an easy finish in this one. Amirkhani is washed up, he has not been good for a while, his win against Grundy has kept him in the UFC but after tonight I think his luck will have run out and he'll be let go by the UFC.
MY UFC DFS PICK: Jake Shore SECOND-ROUND KO.
UFC HONORABLE MENTIONS:
(Not in order)
Kamaru Usman 5 ROUNDER (Let's be honest here, before that last-minute KO Usman was cruising to a boring UD victory, he won every minute of every round before that kick but that is the sport we love. Anything can change in an instant and Usman found that out the hard way. Now the dynamics are different, Usman is the challenger, and maybe he'll be a little more gunshy given what happened the last time he fought Edwards. Although I think Edwards can definitely repeat his success, Usman has a clear gameplan, wrestle, wrestle, wrestle.)
Rafael Fiziev (This is truly Fiziev's biggest test in the octagon and I'm expecting a wild back and forth here with a lot of DFS output on both sides of this fight. Both of these fighters are so well rounded but I think that Fiziev is a little faster on his feet and a little sharper with his strikes. This one is super close in my opinion and I know both fighters will leave everything out there but I would have to give a tactical edge to Fiziev.)
Gunnar Nelson (By Submission.)
Casey O'Neill
Chris Duncan
Yanal Ashmoz DEEP GPP (Patterson is a pretty clear favourite according to the Vegas odds and they're giving him a lot of props for his grappling ability which is at a high level for his competition but I think this fight is a lot closer than they are making it out to be and the DFS value is on Ashmoz. Although, if you are looking to include Ashmoz in a parlay, I wouldn't recommend it.)
Lerone Murphy (Gabriel Santos has good DFS Value but I do think that Lerone Murphy will win this fight.)
Joanne Wood FADE
Christian Leroy Duncan
Jake Hadley (Gordon came in three and a half pounds overweight, so not only did I think that Hadley had an advantage in this one, I think he will be coming into this fight with a chip on his shoulder.)
Juliana Miller (Miller could actually get a finish here, she has good grappling fundamentals and her opponent, Hardy, is terrible and only holds one win in five UFC fights with the win coming back in 2019. Miller on the other hand is coming off a win on the Ultimate Fighter.)
L'udovit Klein
SUMMARY:
On Saturday's fourteen-bout MMA UFC DFS slate, I am finally allowed to bet again on UFC as restrictions have now been lifted in my area, As such, I will play 2 Parlays. Remember, to take down a GPP, you have to be different and take risks. Scared money doesn't make money in tournaments. For any further questions, I will be available until lock in our WinDaily Discord chat. GOOD LUCK, and don't forget to come back and Win Daily!
PARLAY OF THE DAY
Muhammad Mokaev -1000
Jack Shore to Finish -135
Jake Hadley to Finish -180
Chris Duncan -110
As an avid hockey fan since 2007, I suffered through the worst moments in Toronto Maple Leafs history and persevered to tell the story. I picked up NHL DFS in 2017 after being introduced to FanDuel by a family member and began writing NHL articles for Daily Play Action since 2018. Since my introduction to DFS, I've surpassed the initial bumps in the road and have continually sought to hone my game season after season. Today, I have solely focused on improving as an NHL and UFC DFS player in order to maximize my output in those sports. This is truly a win-win as I also love the sport itself. In 2019, I notably recommended Sean Kuraly in the NHL Winter Classic, where he went on to be the most valuable player of the slate with a goal and 5 shots. I was also in on Mantha when he had a whopping 12.9x value, Perlini when he posted a 10x value and Ennis, who was my top value play of the year at 14.9x value. My most notable NHL takedown was the NHL 4.44 Breakaway where I won $5,000. You can find me on Twitter @AFabrykant and FanDuel as InAustonWeTrust.