Al's UFC Fight Night Deep Dive, DraftKings, FanDuel, Odds, DFS Picks, & Top Plays 12/3
Published
2 months ago
on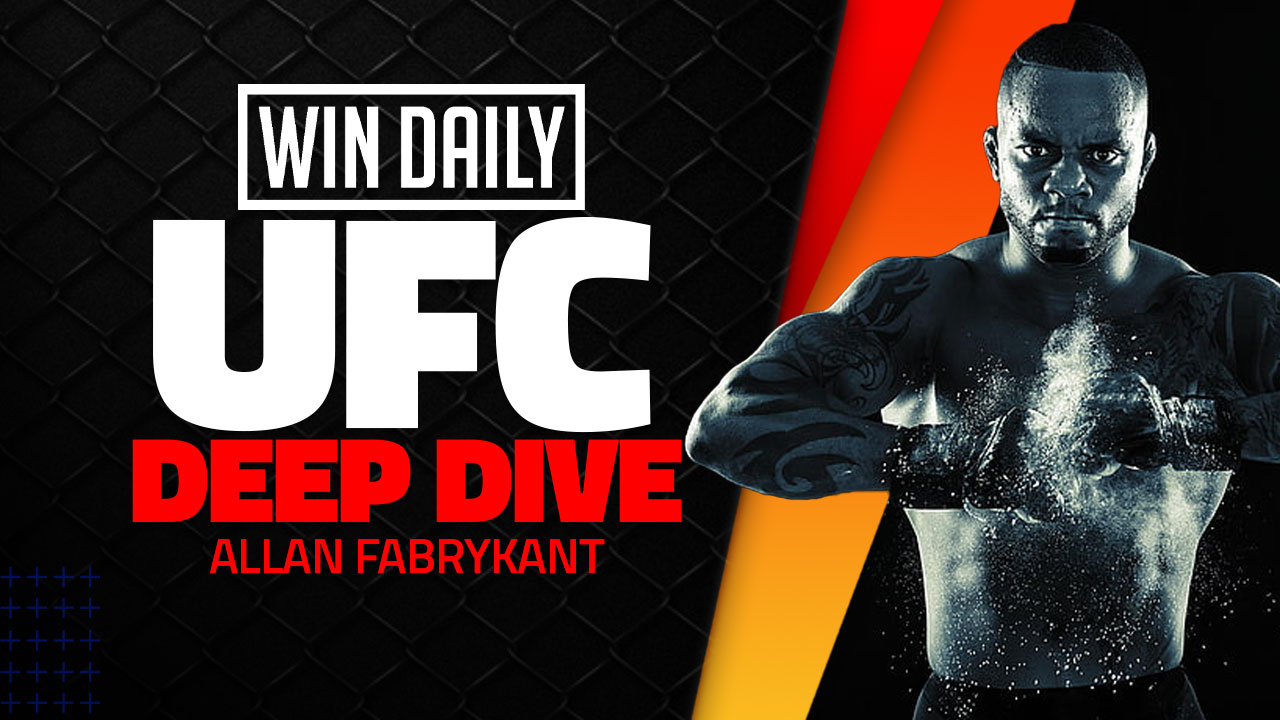 UFC on ESPN 42
THOMPSON V HOLLAND
After a two week-long layoff, we are back in the sunshine state for our first UFC card in December! After some shenanigans outside the octagon, we are back in Orlando for tonight's card, and today's action will kick off at 7:00 PM ET. Read more below to find out my takes on tonight's matchups! Tonight there will be 15 fights that will end with an interesting welterweight matchup between the nicest fighter on the roster (Stephen Thompson) and Big Mouth Kevin Holland! (who usually fights at Middleweight) Now, let's get right into the action!
SLATE STARTS AT 7:00 PM ET
Exposure to the main event is recommended. DFS production in these fights is usually high as they are five-round fights. I may be branching away from the Main Event for some of my lines due to the possibility of low activity among these fighters. There will be three top plays followed by honorable mentions. Now let's get ready to make some money!
Tonight I'm here to give you my top three favorite DFS and Sports betting picks for UFC on ESPN 42 Thompson vs Holland.
MY UFC VALUE TARGET (CASH&GPP):
Bryan Barberena vs Rafael Dos Anjos

Hear me out, yes a prime RDA MAULS any version of Barberena. However, RDA is 38 years old and Barberena is on a three-fight winning streak including a second-round finish of Robbie Lawler. Considering Barberena's last two opponents are over 40, it seems like RDA is on the younger side of Barberena's competition, but there is no arguing that the former Lightweight Champs' best years are behind him. Not to mention, RDA is only a few months removed from a brutal knockout at the hands of Rafael Fiziev where he absorbed 96 sig strikes and was 2 for 16 on takedowns. Although we have some greatness out of RDA in the later years of his career, it does look like he's past the hill and he's even admitted, that he's done chasing Makachev. Unfortunately, we may see the last of the legend in the octagon tonight.
MY UFC DFS PICK: Bryan Barberena SECOND-ROUND KO
MY UFC LOCKED-IN TARGET (CASH):
Jonathan Pearce vs. Darren Elkins
"The Damage" is one of the most accurate nicknames in the UFC because it is exactly how Elkins fights. He absorbs an absurd amount of damage and somehow finds himself back in the fight and locks in a submission. We saw this against Eduardo Garragori and … Darrick Minner, he dropped a round or two clearly and came back to win. Unfortunately for Elkins, I don't think he'll be able to do that against Jonathan Pearce. JSP is currently on a 4-fight winning streak coming into tonight's fight which included two second-round knockouts and a second-round submission. He also currently holds an impressive strike differential (strikes landed per minute – strikes absorbed per minute) of over 2, while Elkins' is just over 0.4. Now the most important stat that I think puts me squarely in the Pearce camp is the fact that Pearce holds a takedowns per 15 rate of 6.75, whereas, Elkins, who goes for desperate takedowns, only has a takedowns per 15 rate of 2.76, with only a 33% takedown success rate. Although I don't think the fight will get to the later rounds, I think there's a chance Pearce can win by submission, so keep that in mind as well.
MY UFC DFS PICK: Jonathan Pearce SECOND-ROUND KO (THIRD-ROUND SUBMISSION).
MY UFC TOP SCORING TARGET (GPP):
Kyle Daukaus vs. Eryk Anders
This matchup is a clear mismatch when it comes to the ground game. Eryk Anders will simply be out of his element if he tries to grapple with Kyle Daukaus (Anders is a BJJ Brown Belt and Daukaus is a BJJ Black Belt. Daukaus has around 2.5 takedowns on average per 15 but he'll only need one to get a clear advantage in this fight. Not only that but we've seen a bit of a regression in Anders recent fights as he's gone 1-3-1 over his last five fights, with his only win coming against Darren Stewart who recently lost his first fight back in Cage Warriors since being released from the UFC. I think that Anders might have a slight advantage on the feet but the difference between the two in the grappling department is enough for me to clearly side with Daukaus in this fight. Keep an eye on Daukaus' D'Arce Choke, his nickname is the D'Arce Knight after all…
MY UFC DFS PICK: Kyle Daukaus FIRST-ROUND SUBMISSION.
UFC HONORABLE MENTIONS:
(Not in order)
Kevin Holland (5 ROUNDER)
Matheus Nicolau (Schnell is playable on DFS as an underdog play, but Nicolau should win this fight)
Sergei Pavlovich (This fight is very close and I think no matter what, it will have fireworks and I don't think it goes past 15 minutes. I would understand taking either side of this fight)
Niko Price
Jack Hermansson
Emily Ducote FADE
Clay Guida (Although he is getting very old, Holtzman is only one year younger and has declined quite a bit since his strong start in the UFC back in 2015)
Mark Diakiese FADE
Natan Levy (Long-time readers would know how highly I think of Levy, Valdez makes way too many defensive errors and makes mistakes that you can't make against Levy, this may go all 15 but I think Levy will win this one cleanly)
Francis Marshall (Francis is a clear favourite for a reason and I think he will win this one but it's hard to completely count out Rojo, he hasn't been able to produce in the UFC what he did in Combate but he is still a very talented and durable fighter, he may be worth a look in a DEEP GPP format against the UFC newcomer, Marshall)
Yasmine Jauregui
SUMMARY:
On Saturday's fourteen-bout MMA UFC DFS slate, I will not be building any UFC Parlays, due to recent events involving suspicious betting patterns in a recent UFC fight. Remember, to take down a GPP; you have to be different and take risks. Scared money doesn't make money in tournaments. For any further questions, I will be available until lock in our WinDaily Discord chat. GOOD LUCK, and don't forget to come back and Win Daily!
PARLAY OF THE DAY
Jauregui -330
Levy -200
Pearce -500
MonkeyKnifeFight: Knockout Kings!
Below I have listed my top three plays for MKF's Knockout Kings Contest!


As an avid hockey fan since 2007, I suffered through the worst moments in Toronto Maple Leafs history and persevered to tell the story. I picked up NHL DFS in 2017 after being introduced to FanDuel by a family member and began writing NHL articles for Daily Play Action since 2018. Since my introduction to DFS, I've surpassed the initial bumps in the road and have continually sought to hone my game season after season. Today, I have solely focused on improving as an NHL and UFC DFS player in order to maximize my output in those sports. This is truly a win-win as I also love the sport itself. In 2019, I notably recommended Sean Kuraly in the NHL Winter Classic, where he went on to be the most valuable player of the slate with a goal and 5 shots. I was also in on Mantha when he had a whopping 12.9x value, Perlini when he posted a 10x value and Ennis, who was my top value play of the year at 14.9x value. My most notable NHL takedown was the NHL 4.44 Breakaway where I won $5,000. You can find me on Twitter @AFabrykant and FanDuel as InAustonWeTrust.