Al's UFC Fight Night Deep Dive, DraftKings, FanDuel, Odds, DFS Picks, & Top Plays 11/5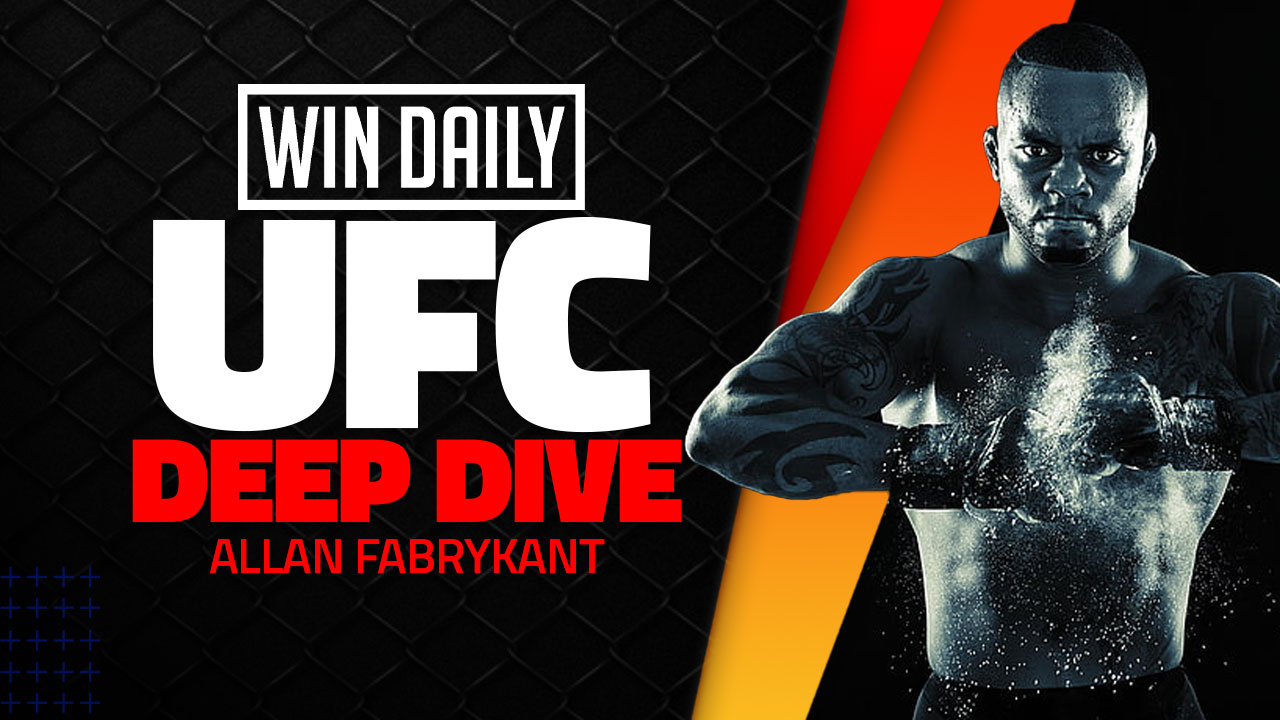 UFC Vegas 64
RODRIGUEZ V LEMOS
We're back with another UFC Vegas card, after a lot of surprises in last weeks card, today we have a lot of fighters who will be looking to propel their position in the rankings with a statement win. Today's slate will start at 4:00 PM ET. Read more below to find out my takes on tonight's matchups! Tonight there will be 12-fights that will end with two top 10 female strawweight fighters that are looking to propel themselves into the top 5 with a win here tonight. Now, let's get right into the action!
SLATE STARTS AT 4:00 PM ET
Exposure to the main event is recommended. DFS production in these fights is usually high as they are five-round fights. I may be branching away from the Main Event for some of my lines due to the possibility of low activity among these fighters. There will be three top plays followed by honorable mentions. Now let's get ready to make some money!
Tonight I'm here to give you my top three favorite DFS and Sports betting picks for UFC Vegas 64 Rodriguez vs Lemos.
MY UFC VALUE TARGET (CASH&GPP):
Daniel Rodriguez vs Neil Magny

We are seeing a resurgence in Daniel Rodriguez. After a surprise loss to Nicholas Dalby, D-Rod has rattled off four wins, including a win less than two months ago against Li Jingliang. Both of these fighters have different things in their favour for this matchup. In Magny's case its the reach and the height, he holds a two in height advantage and a six inch reach advantage over Rodriguez, as he does over most of his opponents. Rodriguez has the advantage in the striking deparment as he rattles off a 7.75 Strikes Landed per Minute rate compared to Magny's 3.59. This is a significant discrepancy that cannot be ignored. Rodriguez also packs a crazy amount of power in his hands and Magny needs to be really careful not to get caught. Also, the only one with a real chance at finishing this fight is Rodriguez, 6 of Magny's last 7 fights ended by decision with the only other fight being a loss to Shavkat Rakhmonov. On top of that Magny has had a shaky tenure in the UFC as of late going 2-2 in his last four including a split decision win over Chiesa. I think that Magny has a lot of holes in his game and that eventually Rodriguez will find the right moment to end the fight.
MY UFC DFS PICK: Daniel Rodriguez SECOND-ROUND KO
MY UFC LOCKED-IN TARGET (CASH):
Miranda Maverick vs. Shana Young
I honestly cannot believe they made this matchup. I ccan understand them wanting to do Maverick a favour or two after her shock split decision loss to Maycee Barber last year followed by a matchup against Erin Blanchfield few months later but this is quite the gimme fight. The only person Shana Young has beaten in the UFC (Gina Mazany) has since been cut. Young has had a really rough tenure in the UFC suffering losses to both Macy Chiasson and Stephanie Egger and one could argue that she didn't do a whole lot to earn her UFC shot in the first place. She lost her Contender Series fight to Sarah Alpar and made it in off a unanimous decision win in Invicta that she was very much expected to win. Now, she has a matchup with a top 15 flyweight, this should not be close. Not to mention, Maverick and Young have already fought in an exhibition fight in 2019 in Invicta, a fight which Maverick won handily by RNC in the first round. I see the same thing happening in this fight.
MY UFC DFS PICK: Miranda Maverick FIRST-ROUND SUBMISSION.
MY UFC TOP SCORING TARGET (GPP):
Jake Hadley vs. Carlos Candelario
This fight will be the second fight of the night and they really want to kick things off with some fireworks. In his Contender Series fight, he truly dominated against Ultimate Fighter alum Mitch Raposo with a second-round submission finish following a first round that he dropped to Raposo. His contract wasn't guaranteed after his statement win however since he came into that fight a pound over the limit. Dana White decided to take a chance on him anyways and since then Hadley has had one UFC fight where he largely got dominated on the ground for three rounds. Candelario on the other hand has had two UFC fights and two decision losses and if he doesn't produce a result in this fight then he could easily find himself outside of the UFC (even more so considering that Candelario missed weight bad for this fight). Technically speaking, Hadley is much more skilled than Candelario and that will be very apparent when the fight reaches the mat. Like in his matchup against Taira, Candelario will spend most of the fight in defensive grappling positions trying not to get submitted. At the end of the day I don't think Candelario has enough skill to counteract Hadley's grappling and even though there is a chance of a deicison I am leaning more towards a Submission win for Hadley
MY UFC DFS PICK: Jack Hadley SECOND-ROUND SUBMISSION (possible UNANIMOUS DECISION).
UFC HONORABLE MENTIONS:
(Not in order)
Marina Rodriguez (5 ROUNDER) (Lemos has power but Rodriguez has some of the most technical striking I've seen in the womens featherweight division. I think that Rodriguez will use her jab to set the pace of the fight and even though it'll be close I see Rodriguez having a clear advantage)
Grant Dawson (I expect a bit of a grappling match in this one and even though Madsen may have a clear advantage in experience, the 10 year age gap is too significant to ignore. On top of that we have seen Dawson finish some good fighters like Jared Gordon and Mike Triziano, whereas Madsen isn't really finishing anyone anymore. Madsen might work for DFS but I'm leaning quite strongly towards Dawson to get the win here)
Tagir Ulanbekov (Big Exception here: I like Maness a lot for DFS, Ulanbekov is going to try to grapple his way to a win as he did in his three UFC fights thus far. This strategy really backfired for him in his last fight against Tim Elliott and Nate Maness is can exploit the same holes that Elliott did. I would consider Maness for DFS purposes)
Shaylian Nuerdanbieke
Josh Parisian
Mario Bautista
Polyana Viana FADE (This matchup is bad vs worse, after he loss against Tabatha Ricci, I didn't see myself taking Viana in any other fight but against Jinh Yu Frey, I dont think it'll be too hard for her. Ultimately, this fight is difficult to confidently pick and I'd recommend avoiding it overall)
Johnny Munoz Jr.
Tamires Vidal FADE (This one is more playable than the Viana vs Frey fight as I am more confident in Vidal but for DFS purposes I would avoid this fight as I see a low scoring decision win with an outside chance of a submission coming from Vidal. There are better fights to target on this card)
SUMMARY:
On Saturday's fourteen-bout MMA UFC DFS slate, I will be building 1 UFC Parlays. I will be focusing on the three targets and my honorable mention fighters listed in my article to be a part of 99.9 percent of my lineups. Some fights in this slate are tricky to predict a winner and all fights are pretty close in skillset as UFC fighters are the elite of the elite. I usually employ a hedging technique on the fights that are closer in odds. I'm focusing on building a GPP-winning lineup.
I'm building lineups that can variate from the field and taking bigger risks tonight. I will use my core fighters (Locked-In, Honorable Mention) to be a staple in my DFS lineups, and I will build around them using the available salary with the remainder of my predicted winners. Remember, to take down a GPP; you have to be different and take risks. Scared money doesn't make money in tournaments. For any further questions, I will be available until lock in our WinDaily Discord chat. GOOD LUCK, and don't forget to come back and Win Daily!
PARLAY OF THE DAY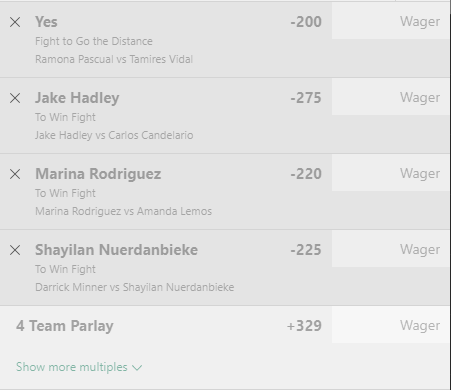 MonkeyKnifeFight: Knockout Kings!
Below I have listed my top three plays for MKF's Knockout Kings Contest!


As an avid hockey fan since 2007, I suffered through the worst moments in Toronto Maple Leafs history and persevered to tell the story. I picked up NHL DFS in 2017 after being introduced to FanDuel by a family member and began writing NHL articles for Daily Play Action since 2018. Since my introduction to DFS, I've surpassed the initial bumps in the road and have continually sought to hone my game season after season. Today, I have solely focused on improving as an NHL and UFC DFS player in order to maximize my output in those sports. This is truly a win-win as I also love the sport itself. In 2019, I notably recommended Sean Kuraly in the NHL Winter Classic, where he went on to be the most valuable player of the slate with a goal and 5 shots. I was also in on Mantha when he had a whopping 12.9x value, Perlini when he posted a 10x value and Ennis, who was my top value play of the year at 14.9x value. My most notable NHL takedown was the NHL 4.44 Breakaway where I won $5,000. You can find me on Twitter @AFabrykant and FanDuel as InAustonWeTrust.