Al's UFC Fight Night Deep Dive, DraftKings, FanDuel, Odds, DFS Picks, & Top Plays 11/12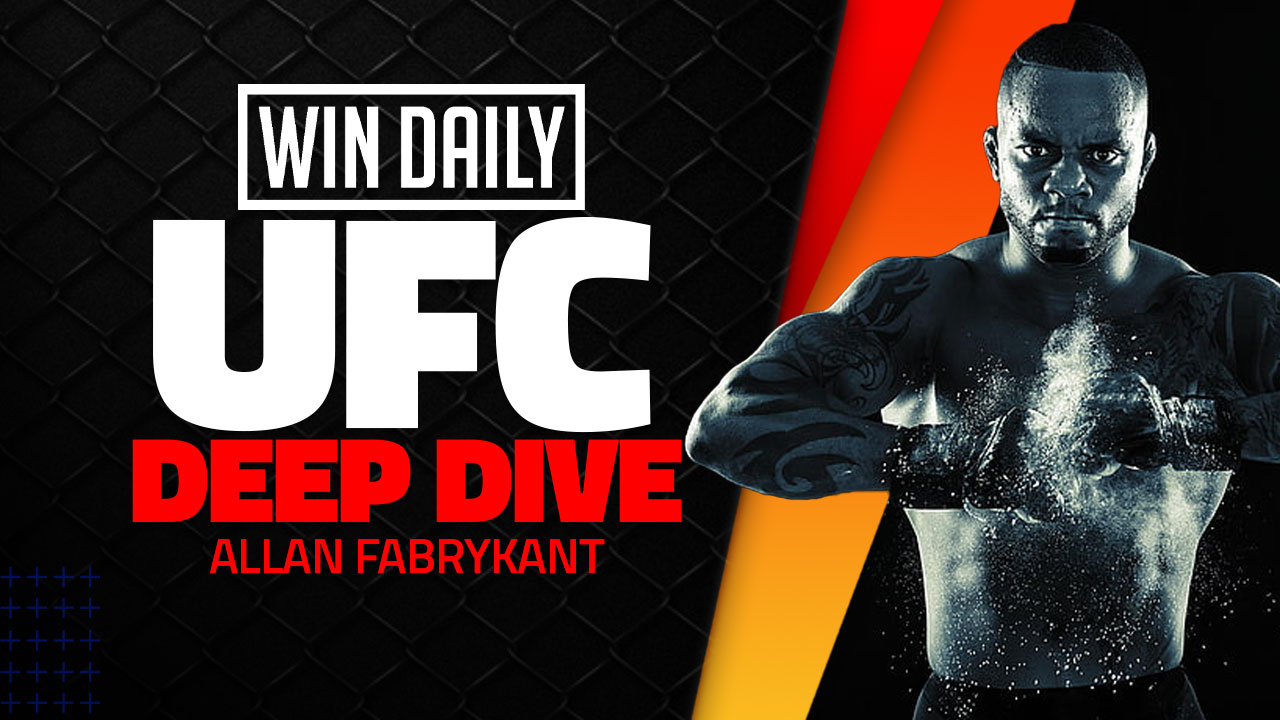 UFC 281
ADESANYA V PEREIRA
We have a BIG card coming straight from the BIG Apple tonight! As the fighters gear up to compete in Madison Square Garden, WinDaily will bring you an in-depth analysis of our top three plays as well as quick hits on the rest of the monster card. Today's action will kick off at 6:00 PM ET. Read more below to find out my takes on tonight's matchups! Tonight there will be 14-fights that will end with two MASSIVE Title Fights between City Kickboxing Star Israel Adesanya and his old nemesis Alex Pereira as well as Carla Esparza in her first strawweight title defence against former champ Zhang Weili. Now, let's get right into the action!
SLATE STARTS AT 6:00 PM ET
Exposure to the main event is recommended. DFS production in these fights is usually high as they are five-round fights. I may be branching away from the Main Event for some of my lines due to the possibility of low activity among these fighters. There will be three top plays followed by honorable mentions. Now let's get ready to make some money!
Tonight I'm here to give you my top three favorite DFS and Sports betting picks for UFC 281 Adesanya vs Pereira.
MY UFC VALUE TARGET (CASH&GPP):
Alex Pereira vs Israel Adesanya

We are starting off the card with what might be the most contentious pick in the article. We got even riskier as Pereira made weight with minutes to spare. As we know, Adesanya is a superb athlete, he's been extremely dominant in both UFC and Kickboxing. Throughout his entire career, he's only lost to the same person twice only once in his career, those losses came against Alex Pereira. People know the story, and the history between these two, so why point out their kickboxing record head-to-head? Both of these fighters have a very similar approach in MMA. Namely, to pretend grappling doesn't exist and use their elite-level kickboxing to get the job done. Israel Adesanya got held down but Jan Blachowicz in a title fight. If that doesn't scream poor grappling, I don't know what does. For his part, Pereira does not have a strong BJJ background either, but he does train with one of the best BJJ practitioners in UFC history, former Lightheavyweight Champ, Glover Texeira and that can definitely help Periera adapt to whatever Israel's gameplan happens to be or even can lead to Pereira adding a new dimension to the fight of his own. Israel has far more experience in the UFC and MMA in general, but Pereira's meteoric rise is backed by dominant performances against top-level talent and a wealth of history in the world of kickboxing, including two clear victories against his opponent tonight. (As far as stats, they have been fighting for essentially the same amount of time as they both started their kickboxing careers in 2010 and Pereira is only two years older than the champ. Their height and reach are identical and I'd imagine that Pereira would have more of a weight advantage coming into fight night)
MY UFC DFS PICK: Alex Pereira SECOND-ROUND KO
MY UFC LOCKED-IN TARGET (CASH):
Dominick Reyes vs. Ryan Spann
Spann is the definition of terrible. His wins have been against questionable competition and his losses have really exposed major flaws in his MMA (Keeps his chin high at times and zero ground game, to name a few). Reyes on the other hand is a two time Light Heavyweight title challenger with his only three losses coming against champions (two title fights and a loss to Prochazka who would go on to win the belt in his next fight against Texeira) That is all to say that Reyes has only lost to the best of the best. It doesn't look great on his record that the losses all came one after the other but nonetheless Reyes' competition was very high and Spann is not at that level. I think the strength of schedule will make the story of this fight. Reyes is a much more technical fighter, he has a better strike differential (Lands around one more strike than he absorbs per minute compared to Spann) and if Spann tries to take him down and hold on for most of the fight, Reyes has a lot of experience defending the takedown as he stopped 7 of Jones' 9 takedown attemps. Spann is no Jon Jones and I don't see this being a competitive matchup for very long.
MY UFC DFS PICK: Dominick Reyes SECOND-ROUND KO.
MY UFC TOP SCORING TARGET (GPP):
Ottman Azaitar vs. Matt Frevola
Azaitar is a beast and honestly I'm surprised the odds are as close as they are. Azaitar is 13-0-0 with two wins in the UFC (both of which came by First Round KO) and is coming up against a guy who has lost two of his last three UFC fights including an embarrassing 7-second finish against Terrance McKinney. The only concerns I have for Azaitar is ring rust since he has not fought in the octagon since late 2020 whereas Frevola fought earlier this year. With that, I would also be concerned with Azaitar's tank if the fight does go into the later rounds but I don't think the fight will get that far. Azaitar packs too much power in his punches and Frevola is definitely suceptible to Azaitar's overhand right. Due to Azaitar's finishes, we don't have the largest stat sample from his UFC fights but what we can tell is that Frevola absorbs more strikes than he lands, that Azaitar lands his strikes at a better rate than Frevola does and that Azaitar defends strikes better than Frevola does. I think Azaitar will make quick work of Frevola tonight.
MY UFC DFS PICK: Ottman Azaitar FIRST-ROUND KO.
UFC HONORABLE MENTIONS:
(Not in order)
Zhang Weili (5 ROUNDER) FADE
Dustin Poirier
Chris Gutierrez (Frankie Edgar should not be fighting in the UFC, he has taken enough damage and I think this matchup is one of the less competitive fights on tonight's card)
Dan Hooker (They're pushing Puelles too far too fast here. I get that Hooker has adopted more of a gatekeeper role as of late but he's only really lost to top-level talent like Poirier, Chandler, Makachev and most recently Arnold Allen. Puelles is not in that same category. I have seen some really uninspiring performances from him and to me he'd need to prove himself a bit more before I think he could take on a challenge like Hooker)
Renato Moicano (I like Brad Riddell as a value play on DFS, he definitely has a path to victory in this fight and I certainly wouldn't count him out as I am only slightly leaning towards Moicano)
Erin Blanchfield (I get that there is a lot of hype behind Molly McCann, but talent beats hype… every time. Blanchfield is much more technical and I think this matchup might have been more than Meatball can handle. Blanchfield is one of the best technical fighters in the Flyweight division, and Molly has shown a lot of technical holes outside of the flashy knockout wins. A win here from Blanchfield will definitely see her propelled into the Women's Flyweight top 10 with a win here tonight.)
Silviana Gomez Juarez FADE
Andre Petroski
Seung-Woo Choi
Montel Jackson
Nicolae Negumereanu (I have seen a lot of impressive stuff from Negumereanu, and on the flip side, I have seen some moments from Ullberg that make me doubt his skill set. Namely, getting gassed and losing to Kennedy Nzechukwu. Since that fight, the UFC has matched Ullberg up with a couple of cans, and I think that Negumereanu will be Ullberg's first real test since the loss against Nzechukwu. Ullberg can most definitely win this fight, but I have a lot of question marks on his past performances and his ground game)
SUMMARY:
On Saturday's fourteen-bout MMA UFC DFS slate, I will be building 1 UFC Parlays. I will be focusing on the three targets and my honorable mention fighters listed in my article to be a part of 99.9 percent of my lineups. Some fights in this slate are tricky to predict a winner and all fights are pretty close in skillset as UFC fighters are the elite of the elite. I usually employ a hedging technique on the fights that are closer in odds. I'm focusing on building a GPP-winning lineup.
I'm building lineups that can variate from the field and taking bigger risks tonight. I will use my core fighters (Locked-In, Honorable Mention) to be a staple in my DFS lineups, and I will build around them using the available salary with the remainder of my predicted winners. Remember, to take down a GPP; you have to be different and take risks. Scared money doesn't make money in tournaments. For any further questions, I will be available until lock in our WinDaily Discord chat. GOOD LUCK, and don't forget to come back and Win Daily!
PARLAY OF THE DAY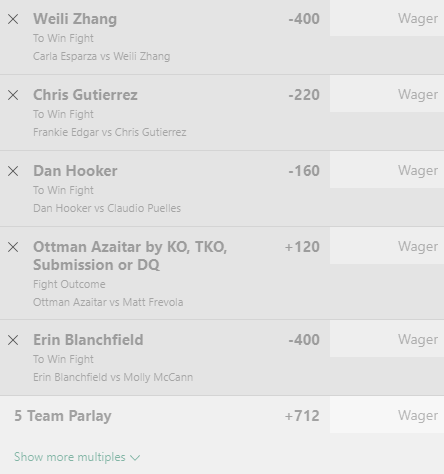 MonkeyKnifeFight: Knockout Kings!
Below I have listed my top three plays for MKF's Knockout Kings Contest!


As an avid hockey fan since 2007, I suffered through the worst moments in Toronto Maple Leafs history and persevered to tell the story. I picked up NHL DFS in 2017 after being introduced to FanDuel by a family member and began writing NHL articles for Daily Play Action since 2018. Since my introduction to DFS, I've surpassed the initial bumps in the road and have continually sought to hone my game season after season. Today, I have solely focused on improving as an NHL and UFC DFS player in order to maximize my output in those sports. This is truly a win-win as I also love the sport itself. In 2019, I notably recommended Sean Kuraly in the NHL Winter Classic, where he went on to be the most valuable player of the slate with a goal and 5 shots. I was also in on Mantha when he had a whopping 12.9x value, Perlini when he posted a 10x value and Ennis, who was my top value play of the year at 14.9x value. My most notable NHL takedown was the NHL 4.44 Breakaway where I won $5,000. You can find me on Twitter @AFabrykant and FanDuel as InAustonWeTrust.