Al's UFC Fight Night Deep Dive, DraftKings, FanDuel, Odds, DFS Picks, & Top Plays 10/29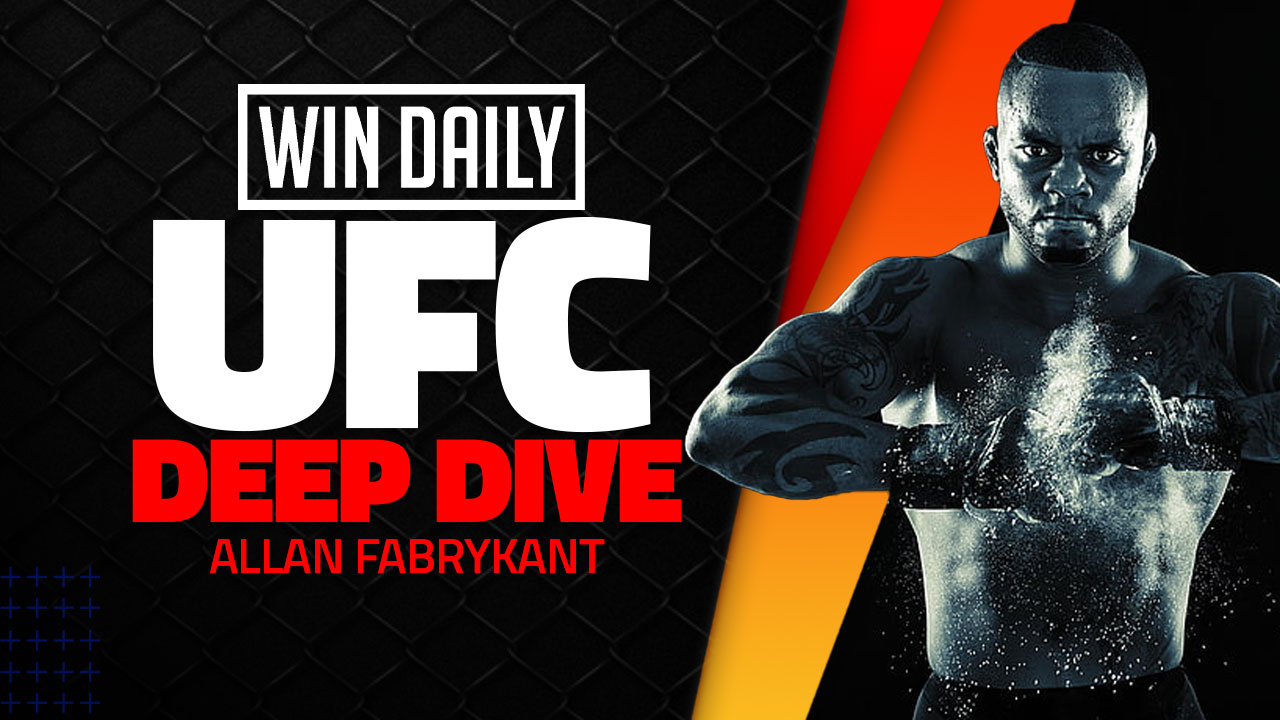 UFC Vegas 63
KATTAR V ALLEN
After an insane card last week in Abu Dhabi, we are back state-side for a UFC Fight Night card that is jam-packed with action. We have some newcomers and some returning faces on this card, and I can't wait to break down today's top plays. Today's slate will start at 4:00 PM ET. Read more below to find out my takes on tonight's matchups! Tonight there will be 11-fights that will end with an action-packed featherweight fight which will have a lot of implications for the future of the division as both of these fighters are looking to propel themselves into the top 5 with a win here tonight. Now, let's get right into the action!
SLATE STARTS AT 4:00 PM ET
Exposure to the main event is recommended. DFS production in these fights is usually high as they are five-round fights. I may be branching away from the Main Event for some of my lines due to the possibility of low activity among these fighters. There will be three top plays followed by honorable mentions. Now let's get ready to make some money!
Tonight I'm here to give you my top three favorite DFS and Sports betting picks for UFC Vegas 63 Kattar vs Allen.
MY UFC VALUE TARGET (CASH&GPP):
Andrei Arlovski vs Marcos Rogerio de Lima

This matchup just goes to show how far the heavyweight division has fallen as an overall pool of talent. It's now at a point where a 43-year-old fighter is finding himself on a four-fight win streak and six wins in his last seven, only losing to Tom Aspinall. However, de Lima is no Aspinall. De Lima has very little talent and is surviving in a UFC division that is deprived of talent. Let's be honest about the situation, a 43-year-old would not be in the top 15 of a middleweight or flyweight division. This circus could only take place in the heavyweight or light heavyweight division. But let's face facts, Arlovski has been outclassing these fighters for about a round and a half, then he gasses out. He does enough to win decisions, and oftentimes, his opponents will gas out, too and will be unable to finish him in the third round. This is a consistent trend in Arlovski's recent fights. I am happy the legend has been able to extend his career in this way with a lot of wins, and I don't see the story ending here since de Lima does not have the talent to beat Arlovski on the feet. Unless Arlovski's skills really fell off a cliff since his last fight in April, I see a very similar story for his third fight of the year, and I like Arlovski in an underdog position tonight.
MY UFC DFS PICK: Andrei Arlovski UNANIMOUS DECISION
MY UFC LOCKED-IN TARGET (CASH):
Christian Rodriguez vs. Joshua Weems
Weems is making his UFC debut tonight against Christian Rodriguez, who himself is appearing in his second UFC fight tonight following a close loss to Jonathan Pearce, where Rodriguez was held on the ground for over 11 minutes of the fight. Rodriguez did have some impressive moments on the feet despite getting outclassed on the mat. Weems does have some skill on the ground, but his striking game is far behind Rodriguez's to the point where I think Rodriguez will be able to set the pace of the fight with his sheer volume and based on the output of both of these fighters, I can see Weems just getting run over by the aggression of Rodriguez. We're gonna see a lot of action in this one, and if Rodriguez can avoid the mat, he will fare well in this one.
MY UFC DFS PICK: Christian Rodriguez SECOND-ROUND KO.
MY UFC TOP SCORING TARGET (GPP):
Waldo Cortez-Acosta vs. Jared Vanderaa
For those who have kept an eye on the Arlovski late-career run. You may remember Vanderaa as one of Arlovski's victims, as he lost to him in February of 2022. Since then, Vanderaa has lost two more times and is on a four-fight losing streak. It just goes to show how weak the heavyweight division in the UFC actually is that he's been able to secure another fight in the UFC. I have seen Vanderaa's poor MMA abilities since his appearance on Dana White's Contender Series where he almost lost to Harry Hunsucker… yes, the one who went 0-3 in the UFC as well. It's beyond me that either fighter from that matchup had any UFC career at all. Just to illustrate the point, Vanderaa has only had one win following the Hunsucker win back in 2020 and has racked up five losses. On the other side of this fight is Waldo Cortez-Acosta, an undefeated fighter out of the Dominican Republic who currently sits 7-0-0, with his last three fights coming by way of knockout (all of which took place in 2022). This fight won't be competitive, and I don't see Vanderaa having much of a UFC career beyond this fight, despite the fact that the heavyweight division is a shell of its former self.
MY UFC DFS PICK: Waldo Cortez-Acosta FIRST-ROUND KO
UFC HONORABLE MENTIONS:
(Not in order)
Arnold Allen (5 ROUNDER)
Max Griffin
Tresean Gore DEEP GPP (A lot of people have Fremd winning this fight, and it is true that Gore has not shown a lot of ability following his injury that kept him out of the finale of the Ultimate Fighter as he lost to Bryan Battle and Cody Brundage, but Fremd has not been that impressive either as he lost his only fight in the UFC. Fremd will have a significant height advantage and a sizeable reach advantage, but Gore has the talent to make this a competitive fight, and I think he can work as a value piece for DFS)
Dustin Jacoby
Phil Hawes (Roman Dolidze can work as a value piece in this matchup, but this fight is between two high-level strikers, and what has me leaning ever so slightly towards Hawes is the fact that he strikes a lot more often than Dolidze with over three more SLpM and Hawes is a much harder striker as well. Dolidze's path to victory in this one is a grapple fest like he did against Laureano Starapoli. That will be harder against Hawes, who currently sports a 100% Takedown Defence rate.)
Jun Yong Park
Chase Hooper (Chase will be shooting for Submissions for the entire fight, don't expect a lot of standup in this one)
Carlos Mota (I like Mota by knockout in this one)
SUMMARY:
On Saturday's fourteen-bout MMA UFC DFS slate, I will be building 2 UFC Parlays. I will be focusing on the three targets and my honorable mention fighters listed in my article to be a part of 99.9 percent of my lineups. Some fights in this slate are tricky to predict a winner and all fights are pretty close in skillset as UFC fighters are the elite of the elite. I usually employ a hedging technique on the fights that are closer in odds. I'm focusing on building a GPP-winning lineup.
I'm building lineups that can variate from the field and taking bigger risks tonight. I will use my core fighters (Locked-In, Honorable Mention) to be a staple in my DFS lineups, and I will build around them using the available salary with the remainder of my predicted winners. Remember, to take down a GPP; you have to be different and take risks. Scared money doesn't make money in tournaments. For any further questions, I will be available until lock in our WinDaily Discord chat. GOOD LUCK, and don't forget to come back and Win Daily!
PARLAY OF THE DAY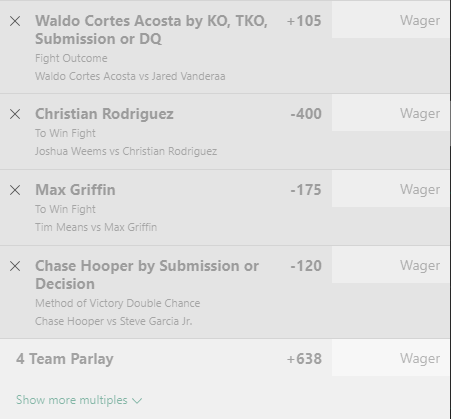 MonkeyKnifeFight: Knockout Kings!
Below I have listed my top three plays for MKF's Knockout Kings Contest!


As an avid hockey fan since 2007, I suffered through the worst moments in Toronto Maple Leafs history and persevered to tell the story. I picked up NHL DFS in 2017 after being introduced to FanDuel by a family member and began writing NHL articles for Daily Play Action since 2018. Since my introduction to DFS, I've surpassed the initial bumps in the road and have continually sought to hone my game season after season. Today, I have solely focused on improving as an NHL and UFC DFS player in order to maximize my output in those sports. This is truly a win-win as I also love the sport itself. In 2019, I notably recommended Sean Kuraly in the NHL Winter Classic, where he went on to be the most valuable player of the slate with a goal and 5 shots. I was also in on Mantha when he had a whopping 12.9x value, Perlini when he posted a 10x value and Ennis, who was my top value play of the year at 14.9x value. My most notable NHL takedown was the NHL 4.44 Breakaway where I won $5,000. You can find me on Twitter @AFabrykant and FanDuel as InAustonWeTrust.