Al's UFC Fight Night Deep Dive, DraftKings, FanDuel, Odds, DFS Picks, & Top Plays 10/21
Published
2 months ago
on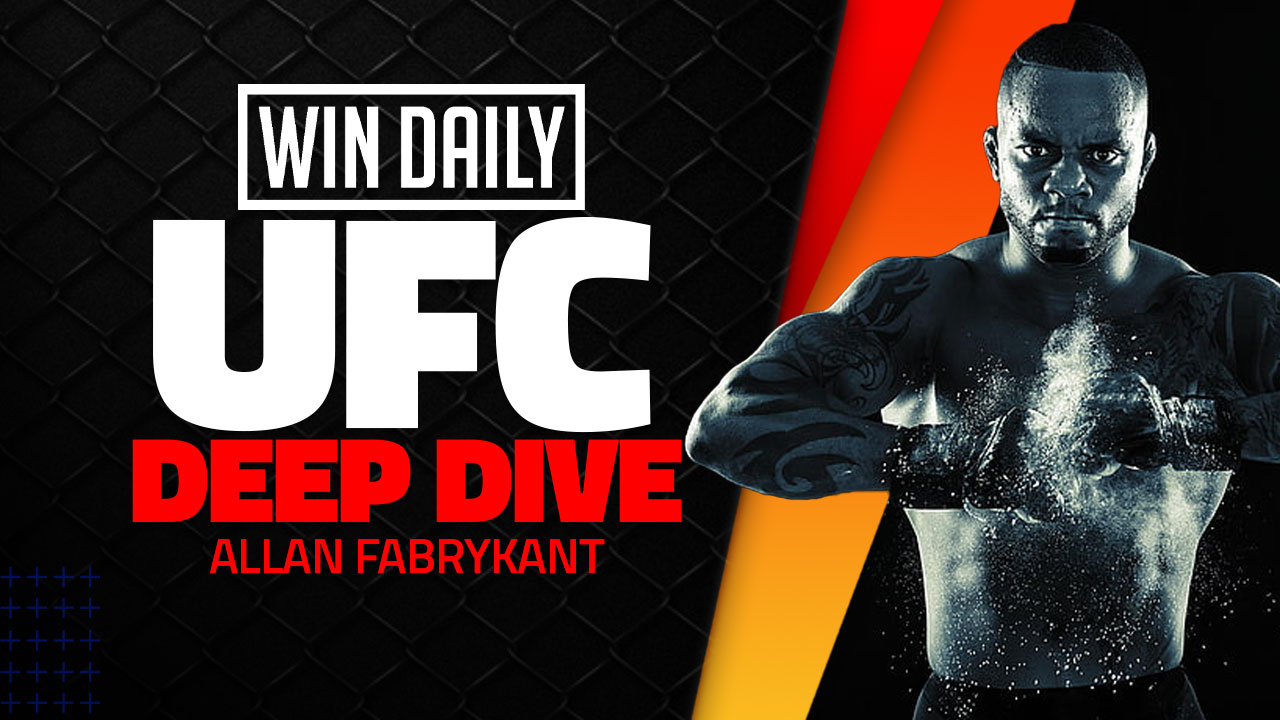 UFC 280
OLIVEIRA V MAKACHEV
We got a banger… Welcome back, everyone, to Win Daily's Fight Night Deep Dive! We are back after two weaker cards we are coming into today with one of the BIGGEST, MOST ANTICIPATED cards of the year! Today's slate will start at 10:00 AM ET. Read more below to find out my takes on tonight's matchups! Tonight there will be 12-fights that will end with two title fights in the Men's Lightweight and Bantamweight Divisions. Let's get right into the action!
SLATE STARTS AT 10:00 AM ET
Exposure to the main event is recommended. DFS production in these fights is usually high as they are five-round fights. I may be branching away from the Main Event for some of my lines due to the possibility of low activity among these fighters. There will be three top plays followed by honorable mentions. Now let's get ready to make some money!
Tonight I'm here to give you my top three favorite DFS and Sports betting picks for UFC 280 Oliveira vs Makachev.
MY UFC VALUE TARGET (CASH&GPP):
Charles Oliveira vs. Islam Makachev

I usually don't do this, I never list the main event within my three plays of the day, but this card is different. There are a couple of underdogs who could do some damage, AJ Dobson, Sean O'Malley and Gadzhi Omargadzhiev, but something about this fight makes me lack a lot of confidence in Makachev. Trust me, I've been burned by Oliveira wins before, whenever he is an underdog, he rises to the occasion. That's been a theme of the 11-fight winning streak he is currently on. On the Makachev side of things, he's a known quantity, his grappling is the same, and overall he's a little below Khabib's level but has adopted a very similar fighting style, and the Eagle will be in his corner to give directions on how to take control of the fight. Makachev has some serious holes in his game, he's been able to cover them up against guys who are not on the same level as him when it comes to grappling, but Oliveira will be a problem for him on the ground. I think this is a very likely upset, and although I wouldn't include it in your safe parlays, I would definitely take the risk in DFS and on some riskier parlays.
MY UFC DFS PICK: Charles Oliveira THIRD-ROUND KO
MY UFC LOCKED-IN TARGET (CASH):
Sean Brady vs. Belal Muhammad
Here we have a Philly v Chicago matchup, and no, this is not the Blackhawks vs the Flyers. This matchup is going to be more of a wrestling exhibition, as I don't think I've seen either of these fighters rely on anything but their grappling to rack up UFC wins. Muhammad is known for having one of the most boring fight styles in the UFC, and although Brady keeps things more interesting, he still has a fighting game largely dominated by wrestling. Belal has an average fight time of 14 minutes, and Brady's is around 13 minutes, so they both go to the judges' cards a lot. Similarly, both hold similar striking stats, with their Strikes Landed per Minute (or SLpM) around 4 and their Strikes Absorbed per Minute (or SApM) around 3. Evens out to a Strike Differential (or SD) of around +1. Where they break apart, however, is in the grappling department. Brady has a much better takedown accuracy of 60% compared to Belal's 35%, and Brady averages nearly one more takedown more than Belal per fight. Brady also currently carries a perfect record and has a much more developed grappling game than Belal, I think that this matchup will kick Belal out of the top five and out of the title conversation. He is simply punching above his weight right now.
MY UFC DFS PICK: Sean Brady UNANIMOUS DECISION.
MY UFC TOP SCORING TARGET (GPP):
Muhammad Mokaev vs. Malcolm Gordon
This is easily the biggest mismatch on the card. Mokaev is an undefeated prospect coming out of the United Kingdom and has some of the greatest fundamentals out of any prospect that we've seen in a long time. Gordon has been dealt a really bad hand in this matchup, and I see Mokaev getting the job done quickly in the first round. Gordon can keep things competitive on the feet, but once he gets taken down, it's game over. I think there is some good value in an under two rounds or even first-round finish prop, but if you can find Mokaev by finish (both KO and SUB), then I would definitely recommend hopping on that line for your parlays. Bet365 currently has it listed as -250. This is not to say that Mokaev won't face some challenges as he rises through the UFC ranks, but this matchup should not be competitive, and I can definitely see Mokaev reaching the potential of a top-5 flyweight or maybe even a champion or title contender one day.
MY UFC DFS PICK: Muhammad Mokaev FIRST-ROUND SUBMISSION
UFC HONORABLE MENTIONS:
(Not in order)
TJ Dillashaw (5 ROUNDER) (Very close matchup between Dillashaw and Sterling, although I know that Sterling has a very good grappling pedigree [which is why he can be known as the human backpack], I think this fight stays on the feet for the majority of the time and assuming it goes to the judges, in a 25-minute grudge match, I think Dillashaw is more consistent and has a better long term game that will make the difference.)
Petr Yan (Although I like Yan to win based on his hand speed and punching power, I think there is some value in O'Malley as an underdog, on paper Petr Yan should be ahead of O'Malley, but Yan usually takes a round to settle in if O'Malley could use that to his advantage and put the pressure on early, he could surprise people. Despite that, I still can't underestimate Yan's Muy Thai kicks, and we have seen O'Malley get severely compromised by kicks in the past that were nowhere near the level of what Yan will be able to do)
Mateusz Gamrot (This one was tricky for me to decide on, both fighters have their strengths and are definitely deserving of their place in the Lightweight division, but I think that Gamrot has more experience, is more well-rounded and has had a stronger strength of schedule. Not to mention, I cannot even explain how impressive it is to hold a win over Arman Tsarukyan. That fight is rightly considered a contender for fight of the year.)
Manon Fiorot
Caio Borralho
Nikita Krylov
Gadzhi Omargadzhiev (This is definitely one of the closer fights on the card, and although it could go either way, I think Omargadzhiev has been the more consistent fighter, and I like him in this position as an underdog.)
Armen Petrosyan
Karol Rosa FADE
SUMMARY:
On Saturday's fourteen-bout MMA UFC DFS slate, I will be building 2 UFC Parlays. I will be focusing on the three targets and my honorable mention fighters listed in my article to be a part of 99.9 percent of my lineups. Some fights in this slate are tricky to predict a winner and all fights are pretty close in skillset as UFC fighters are the elite of the elite. I usually employ a hedging technique on the fights that are closer in odds. I'm focusing on building a GPP-winning lineup.
I'm building lineups that can variate from the field and taking bigger risks tonight. I will use my core fighters (Locked-In, Honorable Mention) to be a staple in my DFS lineups, and I will build around them using the available salary with the remainder of my predicted winners. Remember, to take down a GPP; you have to be different and take risks. Scared money doesn't make money in tournaments. For any further questions, I will be available until lock in our WinDaily Discord chat. GOOD LUCK, and don't forget to come back and Win Daily!
PARLAY OF THE DAY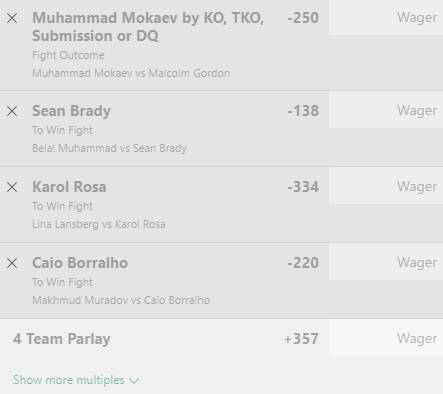 MonkeyKnifeFight: Knockout Kings!
Below I have listed my top three plays for MKF's Knockout Kings Contest!


As an avid hockey fan since 2007, I suffered through the worst moments in Toronto Maple Leafs history and persevered to tell the story. I picked up NHL DFS in 2017 after being introduced to FanDuel by a family member and began writing NHL articles for Daily Play Action since 2018. Since my introduction to DFS, I've surpassed the initial bumps in the road and have continually sought to hone my game season after season. Today, I have solely focused on improving as an NHL and UFC DFS player in order to maximize my output in those sports. This is truly a win-win as I also love the sport itself. In 2019, I notably recommended Sean Kuraly in the NHL Winter Classic, where he went on to be the most valuable player of the slate with a goal and 5 shots. I was also in on Mantha when he had a whopping 12.9x value, Perlini when he posted a 10x value and Ennis, who was my top value play of the year at 14.9x value. My most notable NHL takedown was the NHL 4.44 Breakaway where I won $5,000. You can find me on Twitter @AFabrykant and FanDuel as InAustonWeTrust.