Al's UFC Fight Night Deep Dive, DraftKings, FanDuel, Odds, DFS Picks, & Top Plays 10/15
Published
2 months ago
on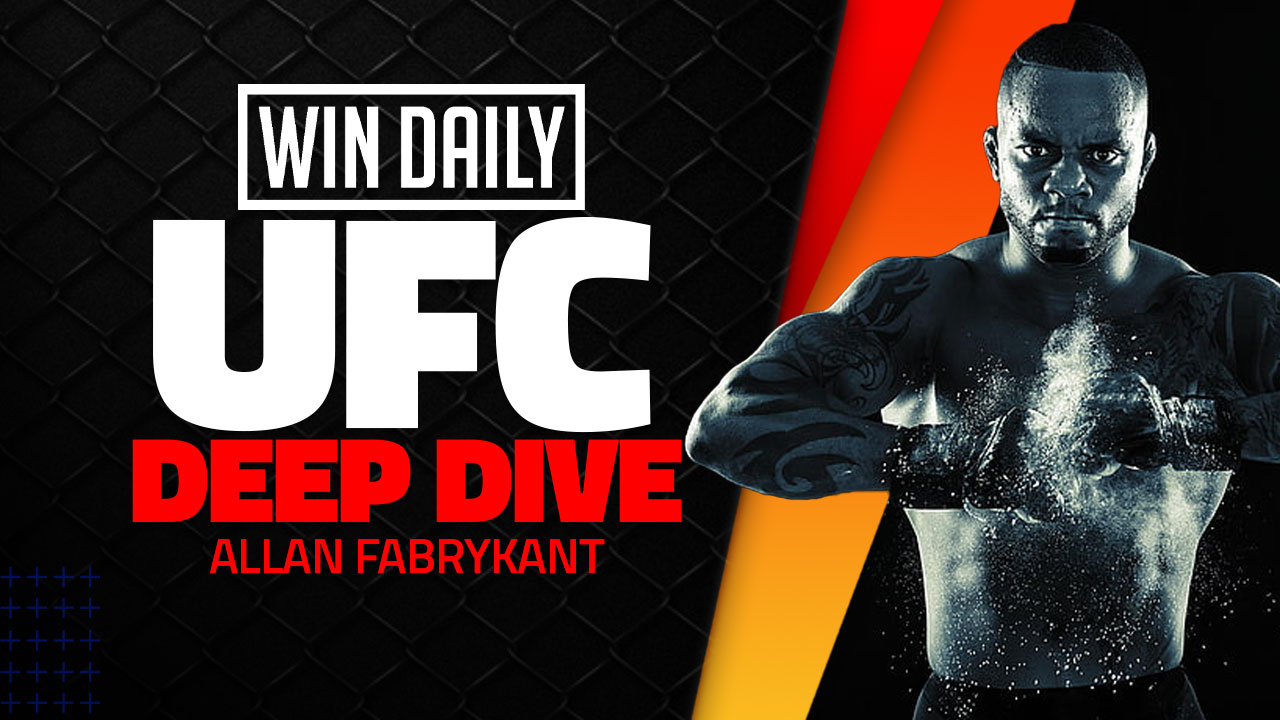 UFC Vegas 62
GRASSO V ARAUJO
Welcome back, everyone, to Win Daily's Fight Night Deep Dive! We are back for our first card in two weeks! Like our last UFC card, we have a lighter card for today's UFC Fight Night Slate. Today's slate will start at 4:00 PM ET. Read more below to find out my takes on tonight's matchups! Tonight there will be 11-fights that will end with a fight between two top women's flyweights who can get themselves into the title picture with a win tonight. Let's get right into the action!
SLATE STARTS AT 4:00 PM ET
Exposure to the main event is recommended. DFS production in these fights is usually high as they are five-round fights. I may be branching away from the Main Event for some of my lines due to the possibility of low activity among these fighters. There will be three top plays followed by honorable mentions. Now let's get ready to make some money!
Tonight I'm here to give you my top three favorite DFS and Sports betting picks for UFC Vegas 62 Grasso vs Araujo
MY UFC VALUE TARGET (CASH&GPP):
Cub Swanson vs. Jonathan Martinez

If this fight took place even 5 years ago, this wouldn't be a question, but with Cub coming in at 38 years old and with a 10-year age difference from his opponent, it's hard to say that this matchup is so clear-cut for him. What impresses me the most about Cub is even though he came in this one on weight, he is coming from featherweight, so he cut an extra 10 pounds more than he usually would in order to make bantamweight. The biggest thing Cub has going for him is his experience. Even though Martinez has 10 fights in the UFC (not all of which have gone to plan), Swanson has a whopping 29 fights in the UFC and WEC, including wins over Charles Oliveira and Dustin Poirier. Cub has had a legendary career and looks ready coming out of this fight camp. I don't see any signs of him slowing down, and I think he'll be able to pull out a decision win in the co-main tonight.
MY UFC DFS PICK: Cub Swanson UNANIMOUS DECISION
MY UFC LOCKED-IN TARGET (CASH):
Mike Jackson vs. Pete Rodriguez
Both of these fighters have interesting stories about how they got into the UFC and their time in the organization. Pete Rodriguez won four professional fights in iKon by knockout in the first round and was granted a UFC debut against Jack Della Maddalena, who then proceeded to knock him out in the first round with a clean counter left. Mike Jackson… well, he's been in the UFC since 2016 when he lost to Mickey Gall and has had two fights since then, a win against CM Punk which turned into a no-contest after he tested positive for Marijuana and a DQ win over Dean Barry earlier this year when he got eye poked and could not continue. His performance against CM Punk was so bad that Dana famously stated that Mike Jackson would not fight again in the UFC but fast forward six years later, and he's in his second fight of the year! This fight should be very straightforward. Rodriguez is going to pick Jackson apart as Barry was before the eye poke. I don't see this fight going out of the first round, and has clear potential to finish in the first minute as well.
MY UFC DFS PICK: Pete Rodriguez FIRST-ROUND KO.
MY UFC TOP SCORING TARGET (GPP):
Tatsuro Taira vs. CJ Vergara
Taira came into the UFC with massive hype around his ground game, but in his first UFC fight, he showed off a good striking ability as well. If it weren't for the fight inside Carlos Candelario that night, it would've ended earlier via Submission in the second round. I haven't seen enough out of Vergara to prove to me that he can keep up with Taira, and in fact, I have seen Vergara get really lucky in a few of his fights with either his matchups against much weaker opponents or some help from the judges on the scorecard. For Taira, no matter where the fight goes, he can be competitive, and once he brings Vergara to the ground, it's game over.
MY UFC DFS PICK: Tatsuro Taira SECOND-ROUND SUBMISSION
UFC HONORABLE MENTIONS:
(Not in order)
Alexa Grasso (5 ROUNDER)
Dusko Todorovic (Both of these fighters have had shaky UFC careers and have serious knockout power, but I think Dusko has a bit more of an advantage in this matchup. I could understand if you lean towards Wright in this matchup)
Alonzo Menifield (Cirkunov has been so bad lately, and I think he's at actual risk of getting cut if he doesn't perform tonight. On top of that pressure, he's fighting a weight class up at light heavyweight, where Menifield usually fights. I think Cirkunov only works in deep GPP formats (especially when putting in a lot of lines). I wouldn't recommend him in most cases)
Mana Martinez (Davis is really bad… I don't see him lasting very long in the UFC)
Victor Henry (I wasn't aware that Assuncao was still in the UFC, but at 40 years old and on a 4-fight losing streak coming into it, I don't see him lasting much longer. Henry will win convincingly)
Nick Maximov GPP (Malkoun has recorded a few wins that I didn't think he would get, but he got those wins via laying on top of his opponent for 10 minutes and occasionally throwing some punches. Maximov is a seasoned Jiu-Jitsu fighter coming out of the Diaz Brother's gym in Stockton, so Malkoun's usual fight strategy will be very ineffective tonight)
Joanderson Brito
Piera Rodriguez FADE (Sam Hughes is not good, but in her wins, her opponents managed to be worse than she is. Rodriguez will pick her apart for 15 minutes I see this one going directly to the judges score cards in a UD win for Rodriguez)
SUMMARY:
On Saturday's fourteen-bout MMA UFC DFS slate, I will be building 1 UFC Parlay. I will be focusing on the three targets and my honorable mention fighters listed in my article to be a part of 99.9 percent of my lineups. Some fights in this slate are tricky to predict a winner and all fights are pretty close in skillset as UFC fighters are the elite of the elite. I usually employ a hedging technique on the fights that are closer in odds. I'm focusing on building a GPP-winning lineup.
I'm building lineups that can variate from the field and taking bigger risks tonight. I will use my core fighters (Locked-In, Honorable Mention) to be a staple in my DFS lineups, and I will build around them using the available salary with the remainder of my predicted winners. Remember, to take down a GPP; you have to be different and take risks. Scared money doesn't make money in tournaments. For any further questions, I will be available until lock in our WinDaily Discord chat. GOOD LUCK, and don't forget to come back and Win Daily!
PARLAY OF THE DAY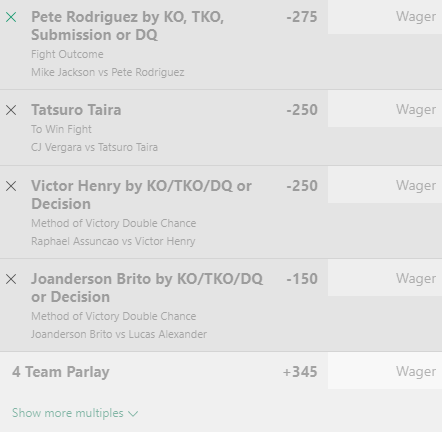 MonkeyKnifeFight: Knockout Kings!
Below I have listed my top three plays for MKF's Knockout Kings Contest!


As an avid hockey fan since 2007, I suffered through the worst moments in Toronto Maple Leafs history and persevered to tell the story. I picked up NHL DFS in 2017 after being introduced to FanDuel by a family member and began writing NHL articles for Daily Play Action since 2018. Since my introduction to DFS, I've surpassed the initial bumps in the road and have continually sought to hone my game season after season. Today, I have solely focused on improving as an NHL and UFC DFS player in order to maximize my output in those sports. This is truly a win-win as I also love the sport itself. In 2019, I notably recommended Sean Kuraly in the NHL Winter Classic, where he went on to be the most valuable player of the slate with a goal and 5 shots. I was also in on Mantha when he had a whopping 12.9x value, Perlini when he posted a 10x value and Ennis, who was my top value play of the year at 14.9x value. My most notable NHL takedown was the NHL 4.44 Breakaway where I won $5,000. You can find me on Twitter @AFabrykant and FanDuel as InAustonWeTrust.