9/2 MLB DFS Pitching and Prop Picks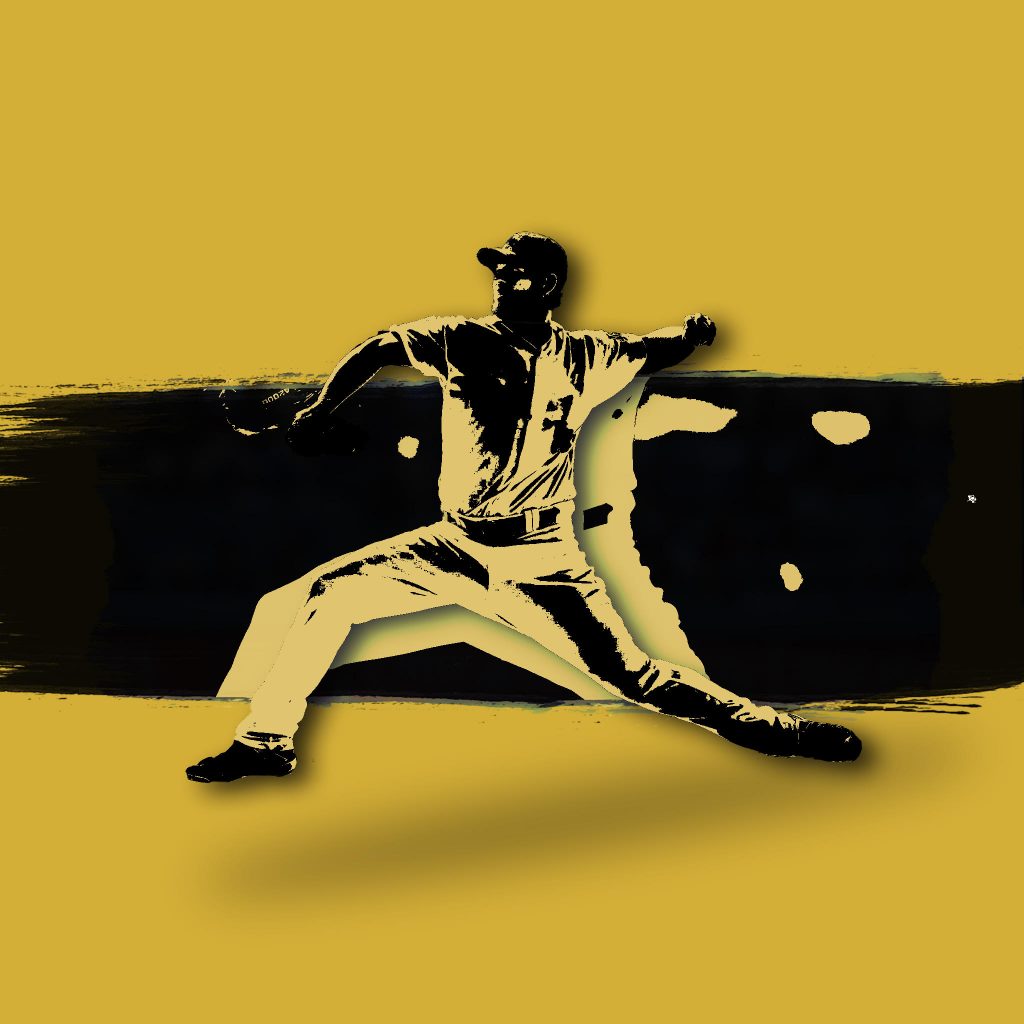 Here we are, it's Labor Day. While most of you were still sleeping, I was sitting here spinning records, and poring over the 9/2 MLB DFS Pitching Picks. One of the things I love about having a Monday holiday is a bevy of MLB games to watch.
On this 9/2 MLB DFS slate we are starting a new format, besides giving you my top pitching picks to play, I will also be giving you some top pitching picks to attack. This all part of our continuing effort to bring you the highest quality analysis in the industry. Speaking of quality analysis, if you did not already know we now have a show on Sirius XM Fantasy Sports Radio on Saturday nights from 11 pm to 1 am EST. Make sure you tune in. So, without further delay, I bring you today's top plays.
Sign up NOW for WIN DAILY Premium Gold right here! Projections, weather reports, wagering info, 24/7 expert chats and more!
On the Defense
Jake Odorizzi vs. Detroit Tigers
$9,700 FD / $10,500 DK
The Detroit Tigers are a prime team to attack on any given day, and this 9/2 MLB DFS slate is no different. They are striking out 27.3 percent of the time (1st in MLB) with a .292 wOBA versus RHPs this season. Meanwhile, Odorizzi has been steady mobbin' to the tune of RHBs, hitting a whopping .187 off him this season. With the Tigers being extremely right-handed heavy, Jake not from State Farm should dominant this Little League lineup today.
Noah Syndergaard vs Washington Nationals
$9,000 FD / $10,000 DK
In GPP play on this 9/2 MLB DFS slate, even facing a team that mashes RHPs like the Nationals, I would seriously consider using Thor. Even though the Nats have ugly numbers versus opposing pitchers this season, they do not versus Syndergaard. Over three starts versus Washington this season Thor has 18 strikeouts over 21 innings with eight earned runs, four of them coming in his first start back in late March. With Syndergaard having a road ERA of 3.49 versus his 4.73 ERA at home, everything appears to be a go for him today.
Masahiro Tanaka vs. Texas Rangers
$8,000 FD / $8,100 DK
Tanaka, much like Julio Teheran of years past, is much more dominant at home. So far this season he is posting a 3.26 home ERA as opposed to his 5.93 ERA on the road. The Rangers are striking out 24.2 percent of the time versus RHPs with a low wRC+ of 86, while batting a pathetic .202 over the last seven. Despite Masahiro's ups and downs as of late, in his last start facing Seattle he sent seven to the dugout mad while pitching a seven-inning shutout. On this 9/2 MLB DFS slate Tanaka is one of my favorite plays for the price.
Joe Ross vs. New York Mets
$6.800 FD / $6,600 DK
For the record on this 9/2 MLB DFS slate I prefer this play a lot more on DK over FD. Although the price is still nice on FD, I think the value is better served in the SP2 slot on DK. The Mets can be very dangerous to attack in MLB DFS versus RHPs, they are in the middle of the pack striking out 20 percent of the time with a .319 wOBA. But Ross has looked too good as of late to pass up here. Over his last five starts spanning a little more than 25 innings, he has only allowed three earned runs while striking out 16 batters. My biggest concern is innings here, as he does have a few starts in that span where he failed to reach the five-inning mark.
On the Attack
Drew Smyly vs. Cincinnati Reds
For fantasy owners Drew Smyly has done anything but make you smile. Over his last five starts he has allowed 20 earned runs over his last 26 innings, making the Reds a prime stack on this 9/2 MLB DFS slate. Cincinnati has some powerful RHBs, and is posting a .328 wOBA versus LHPs, Smyly is in serious trouble today in the Great American Small Park.
Notable Bats
Aristides Aquino has a .578 wOBA and 261 wRC+ versus LHPs with four straight games without a HR.
Phillip Ervin has .488 wOBA and 202 wRC+ versus LHPs while batting .333 with two home runs over the last seven days. He also has found his way into the three spot.
Eugenio Suarez has .423 wOBA and 160 wRC+ versus LHPs and has seven home runs over his last nine games. He did leave yesterday's second game of the doubleheader with a hand injury so keep your eyes peeled here.
Jordan Zimmerman vs. Minnesota Twins
The McRib, Roller skates, and Sandy Koufax are three things that all had to come to an end. Much like Jordan Zimmerman's good starts as of late. Although he has three starts in a row allowing two earned runs or less, the last time he faced Minnesota they bombed him for five runs over three innings sending the Zim home in dismay. I see serious regression here today and will stack against this geriatric pitcher on this 9/2 MLB DFS slate facing a Twins team posting a .345 wOBA versus RHPs.
Notable Bats
Nelson Cruz is crushing everyone and RHPs are not different. He is posting .411 wOBA and wRC+ of 158 versus RHPs this season.
Mitch Garver currently has a .396 wOBA versus RHPs with a wRC+ of 147. Over the last seven days he is also batting .455 with three home runs.
Luis Arraez, if he gets the start today, which I believe he will, has a .374 wOBA versus RHPs with a complimentary 133 wRC+.  With bigger bats, and $4,000 price tag on DK, you can get him at a low ownership today for sure.
Mike Minor vs. New York Yankees
The New York Yankees hit home runs like I eat Beyond Burgers, pretty much every day. I know this, does Mike Minor? If not, he will soon enough. The Yankees are crushing lefties to the tune of .360 wOBA this season with a wRC+ of 121, both which are 4th in MLB. The magic number is 55, remember that number on this 9/2 MLB DFS slate, it is how many dingers the Yanks have launched this season versus lefties. With Minor allowing 10 earned runs in his last 12 1/3 innings, I suspect the number will be much higher tomorrow. Keep in mind that Minor has reverse splits, so do not be afraid to go lefty on lefty here in GPPs.
Notable Bats
D.J. LeMahieu is posting .476 wOBA and 202 wRC+ versus LHPs this season. Despite the horrible BVP versus Minor I would still rank him at the top batting .400 with two home runs over the last seven days.
Aaron Judge has returned to pass judgement with his .470 wOBA versus LHPs. He is batting .375 with three home runs over the last seven days and I fully see him putting one out today.
Luke Voit has posted a .354 wOBA this season along with a wRC+ of 120 versus LHPs. I like the pricing for him on both sites today and will have a lot of exposure to him. If Mike Ford somehow draws the start, that will certainly be my pivot.
Sign up and get started with WinDailySports! We have your sport and the experts to help make you money. Why lose another buck when you can win TODAY!
Monkey Knife Fight Prop Pick
With the Tigers striking out 27.2 percent of the time versus RHPs, and Odorizzi striking out six batters or more in four out of his last five starts the over here seems to easy.
Zimmerman more-than-likely will not see enough innings after the Twins bats get a hold of him today, so the under here is where I am looking.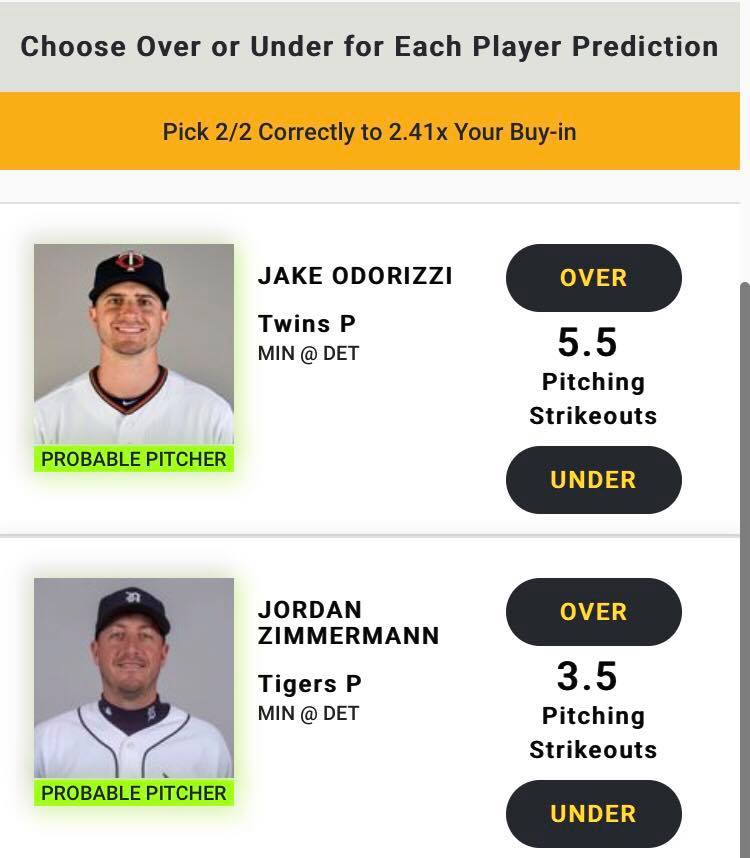 FOLLOW Win Daily DFS ON TWITTER ​
​ @WinDailyDFS. PLEASE CHECK OUT EVERYTHING THAT ​ Win Daily DFS ​ HAS TO OFFER. NEW ARTICLES, STATISTICS AND DATA ARE BEING ADDED CONSTANTLY. ALSO, DO NOT FORGET TO LISTEN TO THE WIN DAILY PODCASTS ​ HERE ​
Jerry Colvin is a veteran DFS player who has spent several years working in the industry. His repertoire includes writing regular articles for Fantasy Alarm, So Called Fantasy Experts, and Elite Fantasy, as well as making appearances on Sirius XM Fantasy Sports Radio, and FNTSY. In his spare time he runs his own bar, record label, and online music store while finding the time to raise six kids.