2022 NFL Season Team Futures – Win Totals and More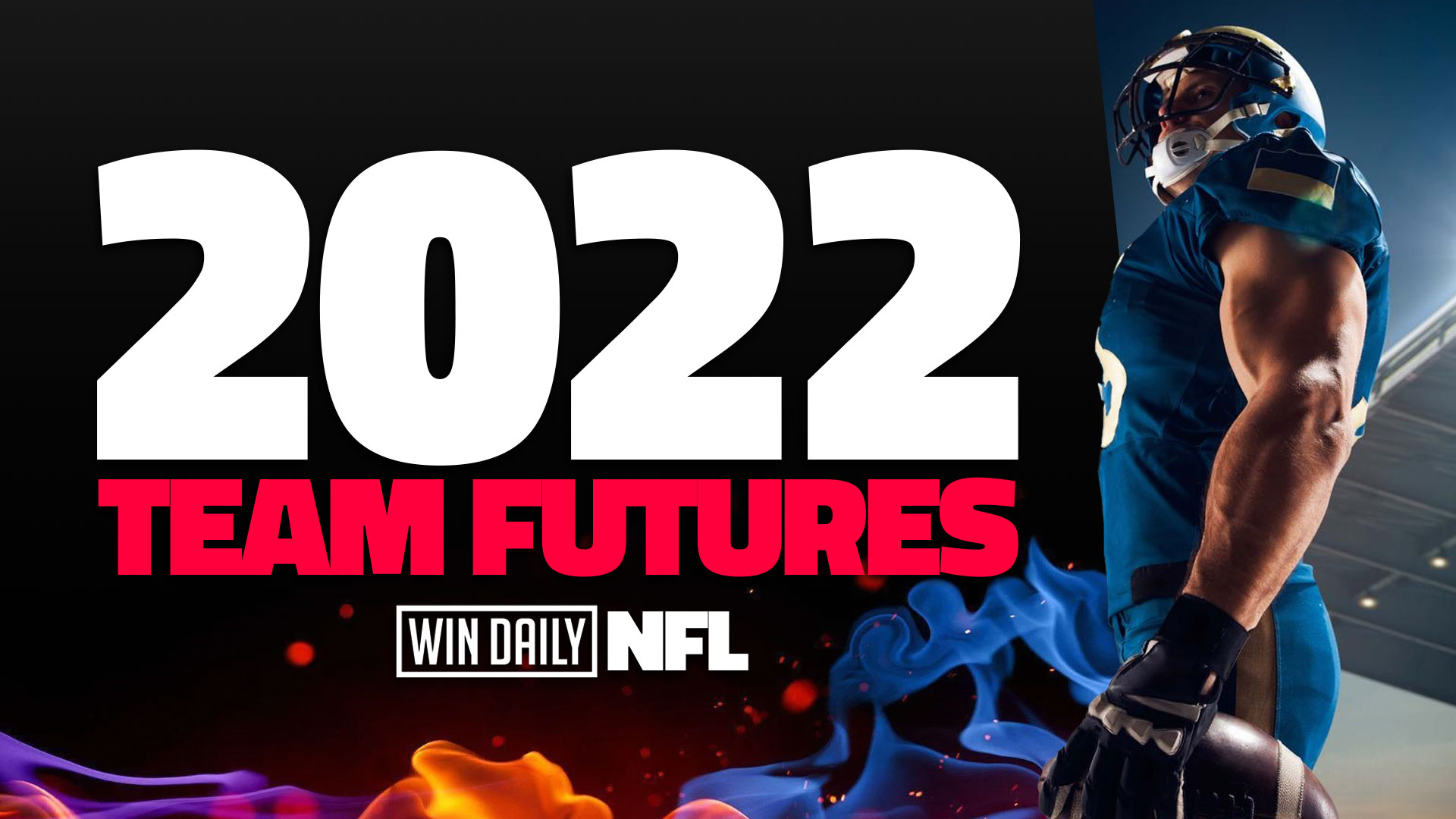 We are just 10 short days until the NFL Season officially kicks off with an exciting matchup between the Buffalo Bills and Los Angeles Rams on Thursday Night Football. In the time between now and real football, we'll all be drafting fantasy teams, looking at the futures market, and putting money into our favorite season long bets.
We will have NFL content daily here at WinDaily so make sure you check in regularly for all the insider content. Also, if you're drafting this week, make sure to check out our season long rankings which will put you ahead of the field and set you up for a profitable season.
Today, I'll be looking at the team future market and focus on my favorite win totals and division/conference bets. In order to get started, I like to look at past season trends so I can align myself with reality. And the reality is, the NFL is ever-changing. Did you have the Bengals in the Super Bowl last season? How about the Eagles in 2017 or the 49ers in 2018? All those teams failed to make the playoffs the season before they shot to NFL supremacy.
So where do I start to formulate the craziness of year to year parity in the world's most famous professional sports league. The first thing I do is look at playoff teams over the past 4 seasons as well as Division winners. By peeling back that onion, we came up with the following numbers:
In the past 4 NFL seasons, 26 of the 50 playoff teams made the playoffs the season before (52%)
In the past 4 NFL seasons, 15 of the 32 Division Winners won their Division the season before (47%)
Just with that data, we can start to see there will be significant change in 2022 as far as playoff teams go. What we saw last season is often an existing memory that may warp the information that is out there. Know there is change and find the change. So with that in mind, I've banded my returning playoff teams at 6 to 8 and project 3 to 4 Division winners will be repeat champs.
Next, I look at a simple metric called Pythagorean win percentage. This gives me a feel on what teams actually played above, or below, their expectations based on points for and against. Using this information, we can look at teams that got "lucky" and "unlucky". First off, here are the teams that outperformed their Pythagorean win totals by more than 1:
Miami Dolphins: 9 wins / 7.5 Pythagorean wins (1.5 wins over)
Pittsburgh Steelers: 9 wins / 7 Pythagorean wins (2 wins over)
Tennessee Titans: 12 wins / 10 Pythagorean wins (2 wins over)
Las Vegas Raiders: 10 wins / 7 Pythagorean wins (3 wins over)
Green Bay Packers: 13 wins / 10.5 Pythagorean wins (2.5 wins over)
Atlanta Falcons: 7 wins / 5 Pythagorean wins (2 wins over)
Los Angeles Rams: 12 wins / 10.5 Pythagorean wins (1.5 wins over)
Arizona Cardinals*: 11 wins / 10 Pythagorean wiins (1 win over)
What stands out in this group is that there are 6 playoff teams that outperformed their projected win total based on PF and PA. Three of those teams are Division winners. So, we now have to assess out of these teams, which truly got lucky and unlucky. For example, the Green Bay Packers sat their starters in Week 18 and lost to the Lions 37-30. They also got smoked 38-3 by the Saints in Week 1. Take those results away and they have 12 Pythagorean wins which is much closer to their actual record.
The next area I look at is TO Differential and two teams stand out from this group and they are the Las Vegas Raiders and Arizona Cardinals. They are on different ends of the spectrum but both had alarming numbers. First, the Cardinals ended plus 12 in the TO differential which was good for 4th in the NFL. However, their defense isn't the strongest (PFF ranks the DL and Secondary as the 27th best units in the NFL) and they led the league in fumbles recovered (14) and were 4th in fumble recovery percentage (50%). That doesn't translate year to year especially with as weak of defense as AZ has.
As for the Raiders, they ended -9 in TO differential which explains their -65 point differential but it doesn't explain how they were 10-7, Instead, their 7-1 record in games decided by 6 points or less does tell us how they made the playoffs. Luck like that is often hard to carry over to the next season.
On the other hand, we look at teams that were "unlucky" according to Pythagorean wins. Those teams are:
Buffalo Bills: 11 wins / 13 Pythagorean wins (2 wins under expected)
New England Patriots: 10 wins / 12.5 Pythagorean wins (2.5 wins under)
Indianapolis Colts: 9 wins / 10.5 Pythagorean wins (1.5 wins under)
Denver Broncos: 7 wins / 9 Pythagorean wins (2 wins under)
Detroit Lions: 3 wins / 5 Pythagorean wins (2 wins under)
Seattle Seahawks: 7 wins / 9 Pythagorean wins (2 wins under)
As we stare at these teams, two standout in this pack for varied reasons. First, the Indianapolis Colts led the league in TO Differential at 14. For all the blame they pointed to Carson Wentz, it wasn't necessarily his TO's that cost them. It was the timing of the TO's (and his lack of leadership) that crippled the team. Matt Ryan and his veteran leadership should be the short term fix. And on the other side of the ball, the defense is still intact and consistent. They were 2nd in TO differential in 2020 and have averaged 30 takeaways over the past 3 seasons. So I could see the forced TO's take a small dip but the impactful TO's on offense should also go away.
The other team is the Buffalo Bills who led the league in point differential at +194 but only won 11 of 17 games. That was because their record in close games was abysmal. They were 0-5 in games decided by 7 points or less in the regular season and carried that into the playoffs as they lost the overtime heartbreaker to the Chiefs by a score of 42-36. Of the 11 games they won, all were by double digits and the closest a team came was 12 points. They were really good, unless you kept it close in the 4th. They should grow from that, or just get lucky once or twice in 6 games, and be able to build on last years record.
So with that being said, here are my favorite win total plays this NFL season:
#1 Buffalo Bills over 11.5 wins (-140 DK)
For all the reasons mentioned above including their record in close games should give us confidence to hammer the over here. The Buffalo Bills are built strongly on both sides of the ball and can dominate any given game. Josh Allen is the odds on favorite to win MVP and their offense added RB James Cook in the draft to help add another dimension to it.
#2 Minnesota Vikings over 9.5 wins (-110 DK)
While the Vikings don't show up in the Pythagorean wins column, their NFC North rivals do in the Green Bay Packers. The Packers have 3 straight seasons of 13 wins and 3 consecutive Division titles to suit. Their reign at the top should be challenged this year as Rodgers is one year closer to permanent State Farm commercials and he lost key pieces such as DeVante Adams and Z'Darius Smith that were leaders on this team. Bring in the Vikings who replaced HC Mike Zimmer with Rams OC Kevin O'Connell. The Vikings decided to keep most of their core together deciding to give Kirk Cousins one more run with Cook, Jefferson and Theilen.
The schedule isn't completely easy but instead of getting the Rams and Bucs (who the Packers get because of their 1st place finish) they get the Saints and Cardinals. They also face the AFC East and bring New England and the Jets to town which is favorable.
Overall, if there is one team that can challenge Green Bay, it is the Vikings and I see a path to 10 wins with Minnesota based on it's past performance, their core and the schedule.
#3 San Francisco 49ers over 10 wins (-110 DK) & Win NFC West (+150)
We have two teams from the NFC West that outperformed their Pythagorean wins; the Los Angeles Rams and Arizona Cardinals. And the other team in the Division just named Geno Smith as their starting QB. So things are pointing upwards for the team from the Bay Area. First, the transition to Trey Lance as the starting QB was necessary. Jimmy Garopollo had limitations as witnessed in the Green Bay win as well as the Conference Championship loss to LA. Lance will bring the arm strength and dynamic play from the position that can open up new opportunities for Kyle Shanahan and his zone blocking scheme.
There's also the fact that Sean McVay is just 3-7 versus Kyle Shanahan. And then there's the schedule factor where the Rams pick up extra games against the Cowboys, Packers and Bills. The 49ers based on their 3rd place finish get the Bears, Commanders and Dolphins. That's a considerable advantage that I think will amount to enough wins to secure the NFC West and be one of our "new" Division winners.
#4 Baltimore Ravens over 9.5 wins (-160 DK) & Win AFC North (+140 DK)
We saw one team on our list of over performers reside in the AFC North and that was the Pittsburgh Steelers. The Steelers seems to be in a transition season but we all know Mike Tomlin has never had a losing record. So while there's still respect for the Black & Gold, the Bengals and Ravens seem to be much better equipped to serve as champions of the AFC North. Just looking at last season, the Ravens were the most injured team in the history of the NFL. They were down to RB's who were home playing video games. And QB Lamar Jackson missed 5 games due to an ankle injury. In fact, only 6 of the Ravens 22 starters played 17 games last year. Because of that, coach John Harbaugh has changed his offseason workouts and practices to help lower the stress and workload.
Lastly, I like what they did in the draft this year (Hamilton and Ojabo will help a defense right away that was ranked 28th in DVOA) and have to believe they will be able to stay more healthy. Because of that, and some of the other teams in the Division likely regressing, I like the Ravens to rebound with authority this year.
#5 Arizona Cardinals under 8.5 wins (-110 DK)
I'll keep this short, but the Kliff Kingsbury experiment may end this season. From the curious play calling and botching of games, Kingsbury has kept a weak grip on his job. Besides the coach, they didn't have a great offseason. Going into the 2022 season, they are without star WR De'Andre Hopkins for 6 games due to suspension. They also lost their slot WR in Chris Kirk to the Jags. The Cards also had public battles with their QB, Kyler Murray, and had to rephrase contract language that insinuated Murray didn't prepare properly for NFL games. The Defense was fortunate last year and has two of the lower ranked units in the league. It just feels like a mess and the numbers point that way too.
#6 Las Vegas Raiders under 8.5 wins (+100 DK)
Another short one here because I pointed out their fortunate play above. But simply put, this was a 10 win team that should have won 7 games. They were 7-1 in close games which is unheard of in the NFL. The Raiders reside in the best Division in football as the Denver Broncos, Los Angeles Chargers and Kansas City Chiefs all have win totals of 10 or more. For all the love affair being thrown at the Silver and Black due to the Carr & Adams combo, that won't be enough to keep this team afloat in the NFC West. I like what the Raiders did last year and they were a great story, but this looks and feels like the worst team in the Division. If only they played in the AFC South….