2022 NFL Late Round Fantasy Football Sleepers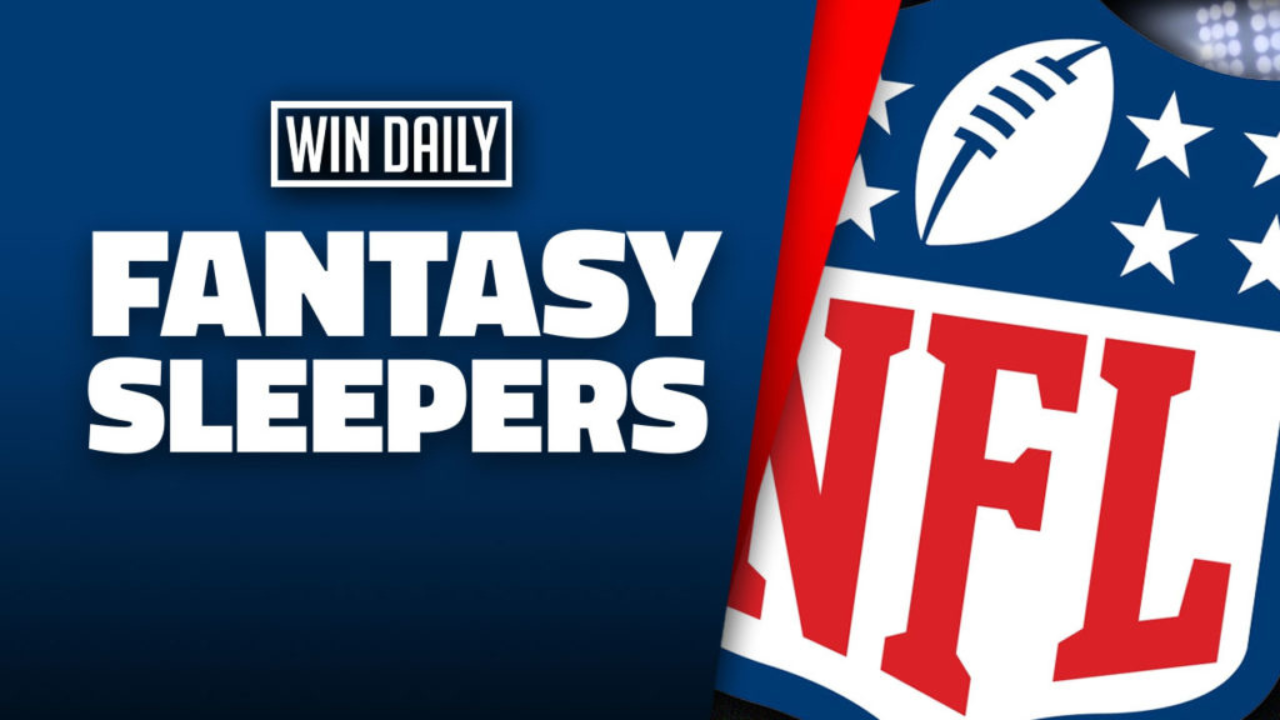 What inexperienced fantasy football owners do not realize, is that championships are won in the later rounds of the draft and the waiver wire. Sure, your team might have some injuries or you might have the most points against, but having a deep roster is what will turn an average owner to a champion. Anyone can pick good players in the early rounds when they are sitting at the top of the draft board, but how do you find the diamonds in the rough?
The key to the later rounds is to look at skill and opportunity. The goal is to acquire as many players as possible that can hit it big. When you play it safe and take players with low ceilings, you end up scrambling weeks 13-15 looking for someone to fill in for your injured 2nd round draft pick. I am going to give you 14 players who are all below the 100th ADP and who all have the potential to be top performers in their respected position given their circumstance. Now, not all of these will hit it big, but I guarantee you a handful of them will. Giving you the perfect opportunity to win it all come December. Even if you do not have any injuries and these players blow up, you have great trade value to take your team to the next level.
Keep in mind these players are rated on their value, meaning the chance of them making a big impact mixed with where you can take them in the draft.
14. James Cook
ADP: 120
Position: RB
Team: Bills
Summary:
The little brother of Dalvin Cook looks like he could make a big impact as a rookie running back this year in Buffalo. He was one of the most efficient runners in this class with 6.5 yards per carry at Georgia. It is important to note he played in the SEC because that is where most NFL defenders come from. Obviously, the NFL is a step up, but he is used to playing against elite talent unlike most rookie RBs this year. He is extremely explosive and fast, running a 4.42 40-yard dash. But the number one thing he has going for him is his ability to catch the football. Buffalo has been looking for a solid RB on passing downs, and if Cook can prove his pass blocking, he will be that guy. Which is great considering he is in a pass-heavy offense. The down side is the Bills already have their go to rushing RB in Devin Singletary, but if he struggles with any injuries this year, Cook could easily be a top 12 RB in fantasy.
Pros:
Fast
Explosive
Good hands
Receiving back in a pass heavy offense
Huge upside in PPR format
Cons:
Second back behind Devin Singletary
Unproven in the NFL
Smaller frame
13. Brian Robinson
ADP: 161
Position: RB
Team: Commanders
Summary:
Robinson was my #1 on this list until this past Sunday where he was tragically shot in an attempted car jacking. Since then a lot of good news has happened for him. The injuries were not serious and he should be able to come back around Week 4. Robinson has already established that he can be the number 1 back in Washington, and has seemed to become Ron Rivera and Scott Turner's favorite RB on the depth chart. And with this injury, he has even more to prove when he returns. Do not expect a lot out of him early on, but come playoff time, he can easily be a RB2 with RB1 upside.
Pros:
Good speed
Great size
Elusive
Elite field awareness
Red zone threat
Will most likely take over as the 1st and 2nd down back
Cons:
Not officially named starter
Coming off gunshot injury
Will not get a lot of reps on passing downs
Unproven in the NFL
12. Darell Henderson Jr.
ADP: 164
Position: RB
Team: Rams
Summary:
If you drafted Henderson last year, you already know the upside he brings to the table. Last year, he went into the preseason as the second string behind Cam Akers before Akers suffered an unfortunate Achilles injury. This year he is coming back in a similar way but with much more upside. In the 2021 season, Henderson developed a great rapport with the new Rams QB, Matthew Stafford, especially when it came to receiving TDs in the red zone. And even though Akers is healthy, the Rams will most likely keep Henderson as their receiving back. Given Henderson's larger frame, he might also be looking at red zone carries as well, even though that has not been proven quite yet. Also, Akers already dealt with a minor injury in this preseason, so it looks like he could potentially continue to get hurt. If that is the case, Henderson would step in a be the Rams #1 RB in LA which is a high scoring offense. The one red flag is Henderson also suffered an injury late last season but he seems to have bounced back from that and is currently as healthy as ever.
Pros:
Great rapport with Stafford
Receiving RB in high scoring offense
Proven RB after last season
Can still get receiving and red zone TDs as the #2 back
Cons:
Backup RB behind Cam Akers
Coming off an injury from late last season
11. Parris Campbell
ADP: 233
Position: WR
Team: Colts
Summary:
The NFL draft can be a funny thing sometimes. In 2019, both Parris Campbell and Terry McLaurin came out of Ohio State, but almost every scouting report had Campbell as the better receiver. In fact, Campbell was taken a whole round ahead of McLaurin. However, McLaurin has gone on to have consecutive 1,000 yard receiving seasons and Campbell has yet to make any name for himself. Both WRs had to deal with inconsistent QB play but Campbell's real issues have been injuries and being stuck in a run-heavy offense. But now the Colts have Matt Ryan who loves to throw the ball, and made that known when 2 years ago both Julio Jones and Calvin Ridley had great seasons in Atlanta. If Campbell can stay healthy, he could be a huge threat. He can line up anywhere on the field and now has a steady QB throwing him the ball. And at an ADP of 251, there is really no reason not to take him.
Pros:
Lots of potential for a receiver out wide or in the slot
New QB that loves to throw the ball and has a history of spreading it out to different receivers
Cons:
Dealing with a hamstring issue
Has never reached full capability in first 3 season
Still fighting for clear cut spot as a starter
In a run heavy offense
10. Jamison Crowder
ADP: 182
Position: WR
Team: Bills
Summary:
Jamison Crowder started off relatively unknown coming out of Duke University. But once he got to Washington, he quickly became known as the most reliable hands on the team. Almost every important 3rd down, they would hit him for a short, quick slant route for the first down. He became so good, Washington could no longer afford him, so he got a big check from the Jets and moved to New York. And even on a lackluster offense, he produced many catches there. But Crowder's biggest issue has been staying healthy. Now that he is on a very pass heavy offense, with a fantastic QB, Crowder could quickly emerge once again as the go-to receiver if he stays healthy. The good news is he is only 29 which means he should still have plenty of juice left in him.
Pros:
Already proven to be a reliable slot receiver
Quick
Great hands
In a pass heavy offense where the QB loves to spread the ball
Huge upside for PPR format
Cons:
Dealing with injuries for consecutive years
9. Treylon Burks
ADP: 130
Position: WR
Team: Titans
Summary:
Drafting a rookie will always come with its uncertainties, but Treylon Burks is one that you can go in feeling a lot more confident than most. He has a great frame, fast, very strong and reliable hands. He could easily emerge as the #1 WR in Tennessee. However he does have some competition. Granted, AJ Brown went to Philly and Julio Jones went to Tampa Bay, but the Titans did bring Robert Woods in from LA, and he is no joke. Woods consistently put up good numbers for the Rams when he was there and healthy. However, Woods tore his ACL last year and there is no guarantee that he will return back to his usual form. With all that being said, Burks is a great option for owners to grab in the later rounds.
Pros:
Big
Fast
Great hands
Versatile receiver
Potential top receiver in tennessee
Cons:
Unproven in the NFL
Possible #2 receiver if Robert Woods is healthy
8. Chris Olave
ADP: 101
Position: WR
Team: Saints
Summary:
In this year's NFL draft, Chris Olave was taken early at the 11th pick and for a good reason. He ran a 4.39 40-yard dash which means he's lightning fast. And he can line up out wide or in the slot. And having Jameis Winston as his QB, in my opinion, has a huge upside. In Tampa Bay, Winston was #2 in passing TD's, only behind Lamar Jackson who ended up winning the MVP that year. So it has been established that Winston loves airing the ball out. And reports show that Olave and Winston are already starting to build a great chemistry together. So this extremely fast rookie could be looking at a huge target share in his first season in the NFL. He does have to beat Michael Thomas, who has consistently struggled with injury, and Jarvis Landry who is a little past his prime.
Pros:
Amazing speed
Great talent
In a good position to succeed
Cons:
Unproven in NFL
Uncertain position in the Saints target share
7. Romeo Doubs
ADP: 203
Position: WR
Team: Packers
Summary:
There is no doubt about it, the Packers struggle when it comes to drafting WRs for Aaron Rodgers. Jordy Nelson and Davante Adams were both huge standouts, but Green Bay eventually let them both go. Now that Adams left this offseason, there is a massive void on who will be Rodgers go-to guy. Allen Lazard is assumed to take over that role, but that is not guaranteed. However the 4th round rookie, Romeo Doubs, could emerge as that guy. He has great size, solid hands and loves to go deep and spread the field. He still needs to build chemistry with Rodgers, but if he does that early on in the season, he could have a stellar year.
Pros:
Great size
Good speed
Solid hands
In a pass heavy offense with elite QB
Cons:
Unproven in NFL
Fighting for a starting spot
6. Tyler Allgeier
ADP: 169
Position: RB
Team: Falcons
Summary:
Tyler Allgeier is coming into the NFL as one of the most successful collegiate backs in this year's class. He was top 5 in carries (276), rushing yards (1,606) and rushing TDs (23). It should be noted that he did play at BYU, so his level of competition was a little bit lower than most, however he was still extremely efficient. On top of that, all the signs point to him starting off as the #1 back in Atlanta. If he does immediately step into that role, expect him to consistently put up top 20 numbers. What he lacks in speed, he makes up for in size. So it is a no brainer that he will get the red zone carries. Unfortunately, Atlanta just got a new QB so no one knows how exactly their offense will look or how successful they will be. But Allgeier should be the focal point of that squad.
Pros:
Big
Elusive
Potential starter
Red zone carries
Cons:
Unproven in NFL
Lower scoring offense
5. Skyy Moore
ADP: 117
Position: WR
Team: Chiefs
Summary:
The Kansas City Chiefs might have one of the most explosive offenses in the entire league. They are blessed to have one of the best coaches of all time in Andy Reid and a superstar QB, Patrick Mahomes. This makes anyone fortunate enough to be a receiver on this team an immediate threat in fantasy football. The bad news is the Chiefs already have Kelce and Juju Smith-Schuster who already established talents. But the good news is they lost Tyreek Hill, their leading receiver in the offseason. Hill was a speed guy who would love to spread the field, and Skyy Moore just might be able to fill that void. He is a versatile receiver and can line up inside or out and has huge hands with a secure catch. If he can click well with Mahomes he can easily be considered a WR2 or even a WR1 by the end of the season.
Pros:
Big and excellent hands
On a high scoring offense
Athletic
Cons:
Unproven in the NFL
Competing with Smith-Schuster, Kelce and Hardman for targets
Smaller frame
4. Logan Thomas
ADP: 248
Position: TE
Team: Commanders
Summary:
Washington has built their receiving corps on quick, fast guys like Terry McLaurin, Jahan Dotson and Curtis Samuel, but what they really lack is a big target. That is where Logan Thomas comes in. He is a huge guy that can make room for himself in the endzone. Last season, he scored 2 out of the first 3 games before having a hamstring injury. But when he came back later in the season, he was on the receiving end of a cheap hit that tore his ACL. You could argue that he is injury prone, but the truth is, the second injury was just a fluke accident. If he can stay healthy, there is no question in my mind that he will be a TE1
Pros:
Elite catching
Redzone target
Ability to make room and get open
Cons:
Multiple injuries last season
3. Chargers D/ST
ADP: 189
Summary:
This defense is absolutely loaded with talent. They already had Joey Bosa as an elite pass rusher, but then they went out and got Khalil Mack to rush the otherside. They have their leader, Derwin James, returning from injury at safety. They signed Bryce Callahan, who is a solid CB and on top of all of that they got J.C. Jackson this offseason. Jackson has 8+ interceptions the past 2 years with the Patriots and is an absolute monster at CB. From top to bottom this squad is stacked. And the crazy thing is, their ADP doesn't even have them going as a top 10 defense. If you are able to get them and another good defense to pair them with, you will be set for this position. The one downside is they are in, what many consider, the most competitive division in the NFL. They have to go against Patrick Mahomes, Russel Wilson and Derek Carr twice this year. Fortunately they play one of the Broncos games in the last week of the season so you'll probably only see Wilson once this year if your championship ends in Week 17 like most do.
Pros:
Great new additions to the squad
Star safety/leader returning from injury
Elite talent across the board
Cons:
In a tough division
New chemistry with new and returning players
2. Hunter Henry
ADP: 125
Position: TE
Team: Patriots
Summary:
Hunter Henry finally lived up to the hype late into the 2021 season. We all expected big things from him when he left the Chargers the year before but it took some time to get there. By the end of the season, he ranked first in TDs (9) and second in red zone targets (12). It took some time to build a rapport with rookie QB, Mac Jones, but it finally started to happen once they both got comfortable in their new surroundings. Now that they know each, I only expect his numbers to increase both in and outside the red zone. Do expect some down weeks because the Patriots coach, Bill Belichick, has made it abundantly clear he does not care about fantasy, only about winning games. So the game plan might vary from week to week.
Pros:
Redzone target
Elite talent
Cons:
In an inconsistent offense. Continues to change game plan depending on the opponent
Not a lot of targets outside of the endzone
1. Trey Lance
ADP: 103
Position: QB
Team: 49ers
Summary:
For most QBs in fantasy there is not a huge difference in scoring. In fact, a lot of owners end up using players they got off the waiver wire. But for the top tier QBs, there are 2 different types. First type is the big arms that love to air it out in the pass-heavy offense like Patrick Mahomes or Aaron Rodgers. But then there is the other type that still has very good passing ability and also likes to run the football like Lamar Jackson and Josh Allen. I prefer the second type because those are the types of players that can give you a huge advantage every week when they put up 30 to 40 points in any given game. That's why Jackson and Allen both finished as the #1 QB in fantasy over the past 3 years. The problem is having to forfeit a premium pick on these types of QBs. Well this year you are in luck because you can get a top level QB later in the draft. Now Trey Lance has not proven anything quite yet, but he shows all the signs of an elite fantasy football QB. He's an excellent runner and can really air it out. Plus he has the added benefit of being surrounded by top talent with Kittle, Samuel, Aiyuk and even his pass friendly RB corps. Now he will most likely have some rough games, but for this value, there is no other QB I would say is worth having.
Pros:
Speed
Top talent rusher for a QB
Strong arm
Great supporting cast of receivers
Cons:
Inexperience as a starter
I spent the 2018 football season scouting and analyzing both NFL and NCAA football at one of the largest scouting agencies in the US, Sports Info Solutions. From there I have won thousands of dollars on FanDuel and Draft Kings sports betting and DFS. In addition, I have won multiple championships in my personal leagues. I am hoping to use Win Daily Sports as an avenue to help spread what I have learned about football, more specifically fantasy football, to a broader audience.