1/8 DFS Winners: Laying the Foundation
A look back at some of the best performances from the Wednesday slate plus their outlooks for the remainder of the season. Some nights, all you need to do is build a bankroll for your next point of attack. All that and more on the 1/8 DFS and Betting review and look ahead.
Sign up NOW for WIN DAILY Gold right here! DFS Pro Cheat Sheets, projections, wagering info, 24/7 expert chats with our DFS Pros and more!
1/8 Win Daily DFS: Win Daily's David Jones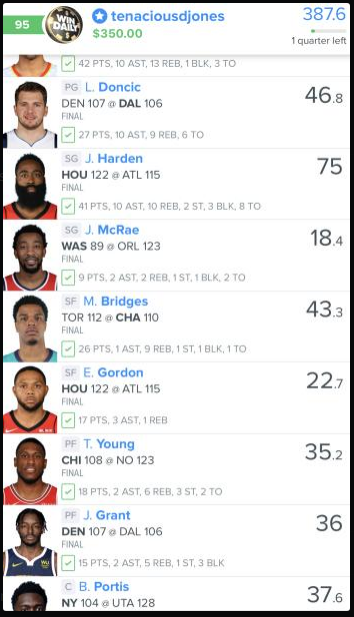 One of the best DFS experts you can find had a nice day with this NBA DFS lineup. David Jones managed to score 387.6 points but still manage just 95th place. Winning $350 is a bit of a letdown with the points but is still nothing to scoff at. Do you want to learn the tactics that make you win major, life-altering money? That is to become a Premium member and pay attention to what the DFS experts are doing. The ability to ask questions on how and why they build their lineups is valuable beyond a price point. Become a member today and start winning!
Cash with Flash 30 Day Sports Handicapping Challenge
Our content director Phil Naessens raised his record in the 30 Day Sports Handicapping Challenge to 6-2 with his Day Eight pick of the Dallas Stars beating the Los Angeles Kings.
1/8 Win Daily Winner: Win Daily Jacob aka Pick Management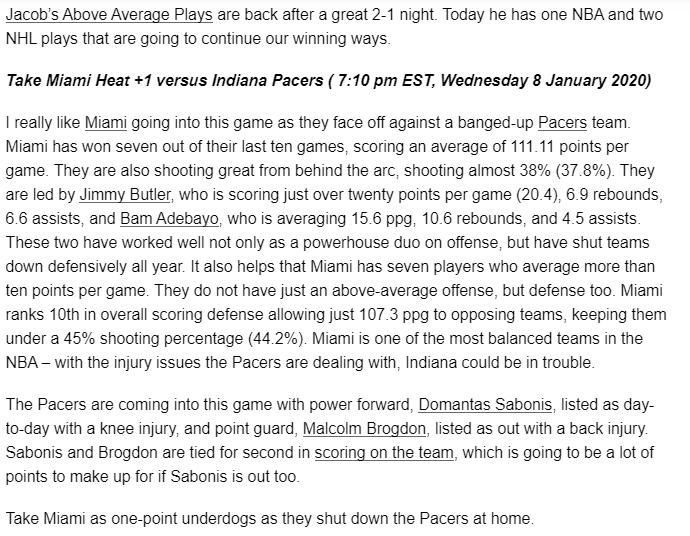 Second straight night that Jacob's Above Average Plays had a 2-1 record including the screenshot above. He seems to know what he is talking about and you should pay attention to what he is saying if you like winning money. You could become a Premium Gold member and take your DFS experience to the next level. Start 2020 with a huge piece of help in landing in the green at all times.
1/8 Win Daily Winner: Win Daily Gold Member Pickett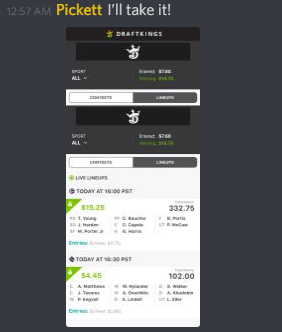 This is from our Discord channel and Pickett showed a small victory with his $19.70 winnings on the night. It isn't always about winning the huge tournaments, it is about laying the foundation to success with successful nights like this. Do you want to know how to become an expert-level DFS player? You should become a Premium member for all the up-to-the-minute updates from our DFS experts. Also, the ability to chat with other users and the experts whenever you like on our private Discord server is priceless in itself. You also get access to many great money-making articles like this one. What are you even waiting for at this point?
1/8 Winner: Capper Steve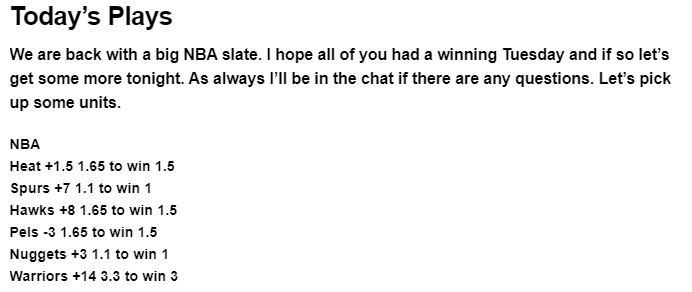 Capper Steve had a perfect night with his NBA action. If you followed all his advice, you would have added 9.5 units to your bankroll! That could be a huge amount of money depending on the value of a single unit. Capper Steve is usually ending up in the green and make sure to follow his articles to know his latest action and we can all win together. Make sure to check out Win Daily on SiriusXM, our podcasts and the live streams on our YouTube channel so you can always be informed with the most important DFS news. Also, becoming a Premium member doesn't hurt either with access to the entire Win Daily Family whenever you want.