A look back at some of the best performances from the Tuesday slate plus their outlooks for the remainder of the season. Some nights, all you need to do is build a bankroll for your next point of attack. All that and more on the 1/7 DFS and Betting review and look ahead.
Sign up NOW for WIN DAILY Gold right here! DFS Pro Cheat Sheets, projections, wagering info, 24/7 expert chats with our DFS Pros and more!
Cash with Flash 30 Day Sports Handicapping Challenge Day 6
If you haven't been following, our content director and professional sports handicapper Phil Naessens is running a 30 Day Sports Handicapping Challenge. Day seven saw Phil move to 5-2 when he correctly picked the Detroit Pistons to defeat the Cleveland Cavaliers. Phil is one of the most well known and successful sports handicappers on the planet and whether you participate in this contest or not, take a look at his daily videos and make Cash with the Flash.
1/7 Win Daily DFS: Win Daily's Jacob aka Pick Management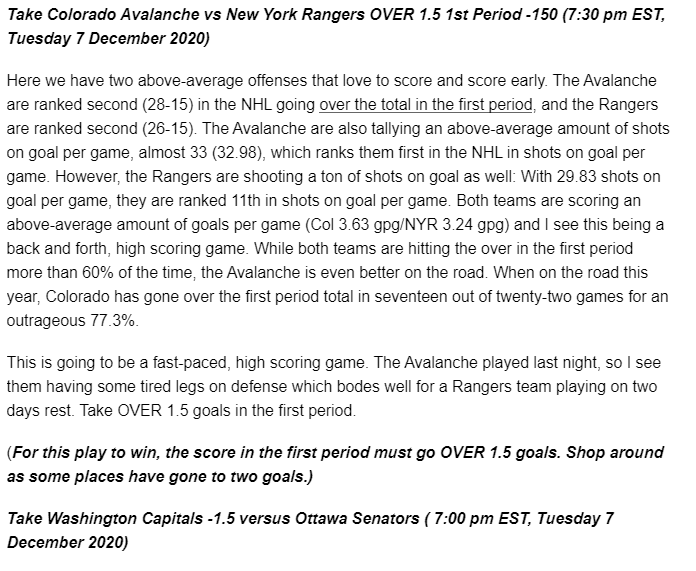 One of the newest members to the Win Daily staff is Jacob aka Pick Management. He has an article Jacob's Above Average Plays where he goes in-depth on certain betting picks as shown above. He went 2-0 in NHL and 2-1 overall on the day. Adding his article to your daily material is a must if you like adding money to your bankroll. Do you want to learn the tactics that make you win major, life-altering money? That is to become a Premium member and pay attention to what the DFS experts are doing. The ability to ask questions on how and why they build their lineups is valuable beyond a price point. Become a member today and start winning!
1/7 Win Daily Winner: Win Daily Gold Member Irish_papa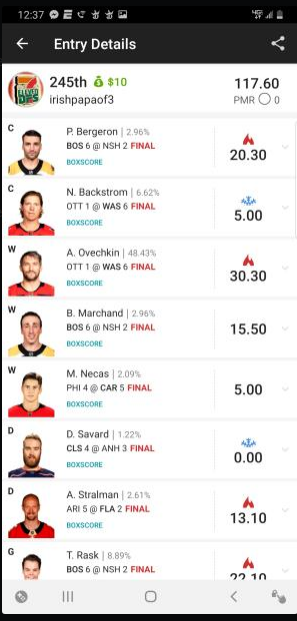 One of our Gold members won $10 to add to his bankroll as Irish-papa played some NHL DFS. It isn't always about the big prizes and just landing in the green. You could become a Premium Gold member and take your DFS experience to the next level. Start 2020 with a huge piece of help in landing in the green at all times.
1/7 Win Daily Winner: Toronto Maple Leafs First Line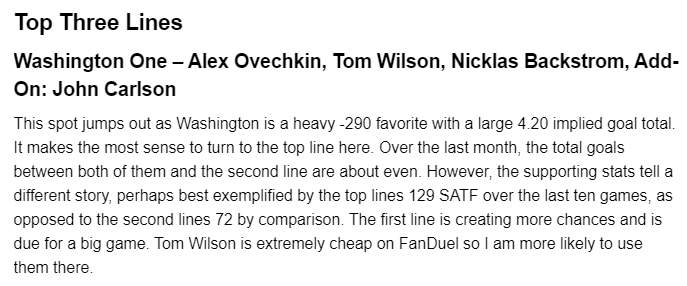 This is from The Daily Hot Shot article written by Richard Masana. The combination of Alex Ovechkin, Tom Wilson, Nicklas Backstrom and John Carlson dominated against the Ottawa Senators. The quartet finished with a pair of goals and five assists totaling to seven points. If you had this line, you probably cashed out big time. Do you want to know how to become an expert-level DFS player? You should become a Premium member for all the up-to-the-minute updates from our DFS experts. Also, the ability to chat with other users and the experts whenever you like on our private Discord server is priceless in itself. You also get access to many great money-making articles like this one. What are you even waiting for at this point?
1/7 Winner: Markelle Fultz

Here is a preview of what to expect from the NBA DFS Game Previews article written daily by Brandon C. Williams. Sitting in the sleeper spot for the Sacramento Kings, Nemanja Bjelica had a great game against the Phoenix Suns. He finished with 19 points, seven rebounds, one assist and three steals in 38 minutes of action. Make sure to check out Win Daily on SiriusXM, our podcasts and the live streams on our YouTube channel so you can always be informed with the most important DFS news. Also, becoming a Premium member doesn't hurt either with access to the entire Win Daily Family whenever you want.