A look back at some of the best performances from the Tuesday slate plus their outlooks for the remainder of the season. Some nights, all you need to do is build a bankroll for your next point of attack. All that and more on the 1/14 DFS and Betting review and look ahead.
Sign up NOW for WIN DAILY Gold right here! DFS Pro Cheat Sheets, projections, wagering info, 24/7 expert chats with our DFS Pros and more!
Cash with Flash 30 Day Sports Handicapping Challenge
Our content director Phil Naessens is holding a 30 Day Sports Handicapping Challenge. Phil improved to 10-4 when the Rutgers Scarlet Knights defeated the Indiana Hoosiers last night.
1/15 Win Daily Winner: Win Daily Gold Member Bgbg22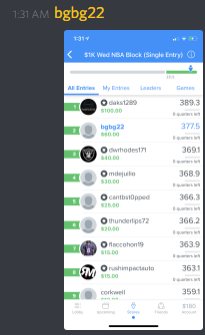 This screenshot is from our NBA Discord server as one of our Gold Members won $60 with a second-place finish. It isn't life-changing money but building the bank is essential. You could become a Premium Gold member and take your DFS experience to the next level. Start 2020 with a huge piece of help in landing in the green at all times.
1/15 Win Daily Winner: Markelle Fultz

This is a snippet from Brandon C. Williams' NBA DFS Game Previews article. Markelle Fultz had an amazing game in the sleeper position here against the Los Angeles Lakers. Fultz finished with a triple-double: 21 points, 11 rebounds, 10 assists. He also added a steal in his game-clinching performance. Do you want to know how to become an expert-level DFS player? You should become a Premium member for all the up-to-the-minute updates from our DFS experts. Also, the ability to chat with other users and the experts whenever you like on our private Discord server is priceless in itself. You also get access to many great money-making articles like this one. What are you even waiting for at this point?
1/15 Winner: Michael Porter Jr.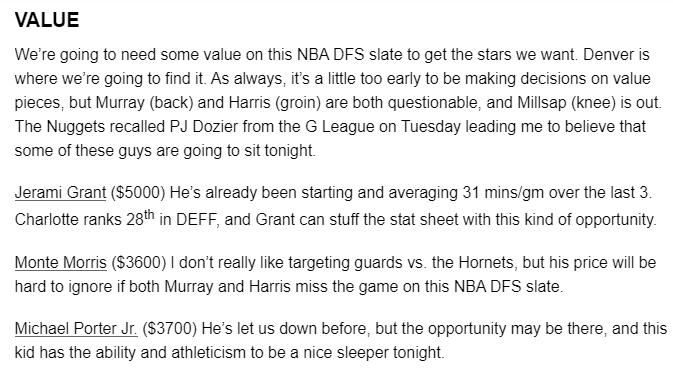 Here is a snippet from Isaiah's Protocol for the NBA DFS Slate article. In the value section, he mentions how Michael Porter Jr has the ability to be a nice sleeper option and he definitely was! Against the Charlotte Hornets, he had: 19 points, eight rebounds, an assist, two steals, and a block. Make sure to check out Win Daily on SiriusXM, our podcasts and the live streams on our YouTube channel so you can always be informed with the most important DFS news. Also, becoming a Premium member doesn't hurt either with access to the entire Win Daily Family whenever you want.