A look back at some of the best performances from the Monday slate plus their outlooks for the remainder of the season. Some nights, all you need to do is build a bankroll for your next point of attack. All that and more on the 1/13 DFS and Betting review and look ahead.
Sign up NOW for WIN DAILY Gold right here! DFS Pro Cheat Sheets, projections, wagering info, 24/7 expert chats with our DFS Pros and more!
1/13 Win Daily DFS: Win Daily Gold Member Wesp36305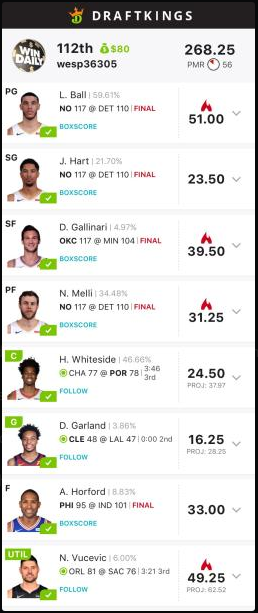 While most people had their eyes on the National Championship Game, some of our guys were adding to their bankrolls. This includes Gold member Wesp36305 as he won himself $80 with this NBA DFS lineup on DraftKings behind a huge night for Lonzo Ball. Do you want to learn the tactics that make you win major, life-altering money? That is to become a Premium member and pay attention to what the DFS experts are doing. The ability to ask questions on how and why they build their lineups is valuable beyond a price point. Become a member today and start winning!
1/13 Win Daily Winner: Win Daily's Brandon C. Williams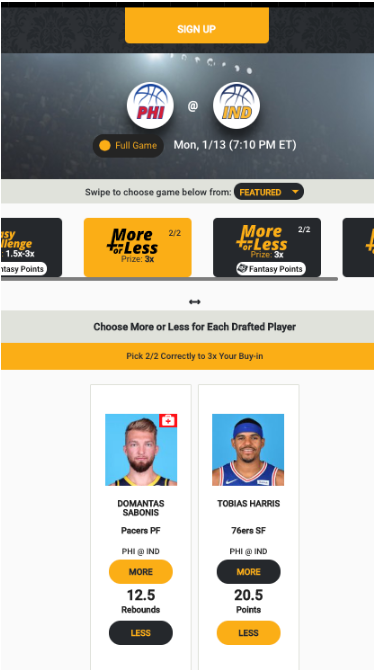 This screenshot is from the NBA DFS Game Previews article that is written daily by Brandon C. Williams. In his Monkey Knife Fight plays last night, he had Domantas Sabonis over 12.5 rebounds and Tobias Harris under 20.5 points. Both of these hit as Sabonis finished with 16 rebounds and Harris had 15 points. If you followed his action, you would have +300 odds and could've gained some serious money. You could become a Premium Gold member and take your DFS experience to the next level. Start 2020 with a huge piece of help in landing in the green at all times.
1/13 Win Daily Winner: Win Daily Gold Member Billsabres86

Welcome to the Winners circle Billsabres86! One of our Gold members posted this screenshot on our Discord server showcasing a $94 winning NHL DFS lineup. Do you want to know how to become an expert-level DFS player? You should become a Premium member for all the up-to-the-minute updates from our DFS experts. Also, the ability to chat with other users and the experts whenever you like on our private Discord server is priceless in itself. You also get access to many great money-making articles like this one. What are you even waiting for at this point?
1/13 Winner: Win Daily's Rich Masana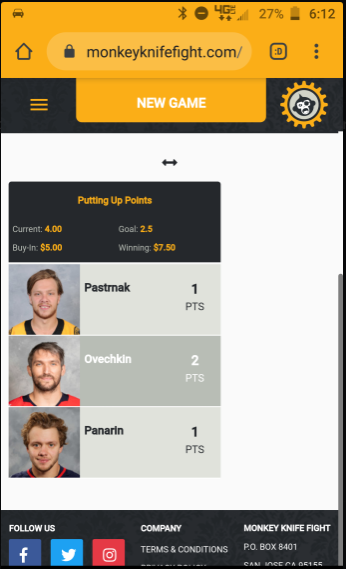 This was another screenshot on our NHL Discord chat as our very own Richard Masana. He won himself $7.50 with his NHL trio scoring four points, beating the 2.5 goals on Monkey Knife Fight. MKF is one of the most fun betting you could have and make sure to use this link when starting up if you are new. Make sure to check out Win Daily on SiriusXM, our podcasts and the live streams on our YouTube channel so you can always be informed with the most important DFS news. Also, becoming a Premium member doesn't hurt either with access to the entire Win Daily Family whenever you want.